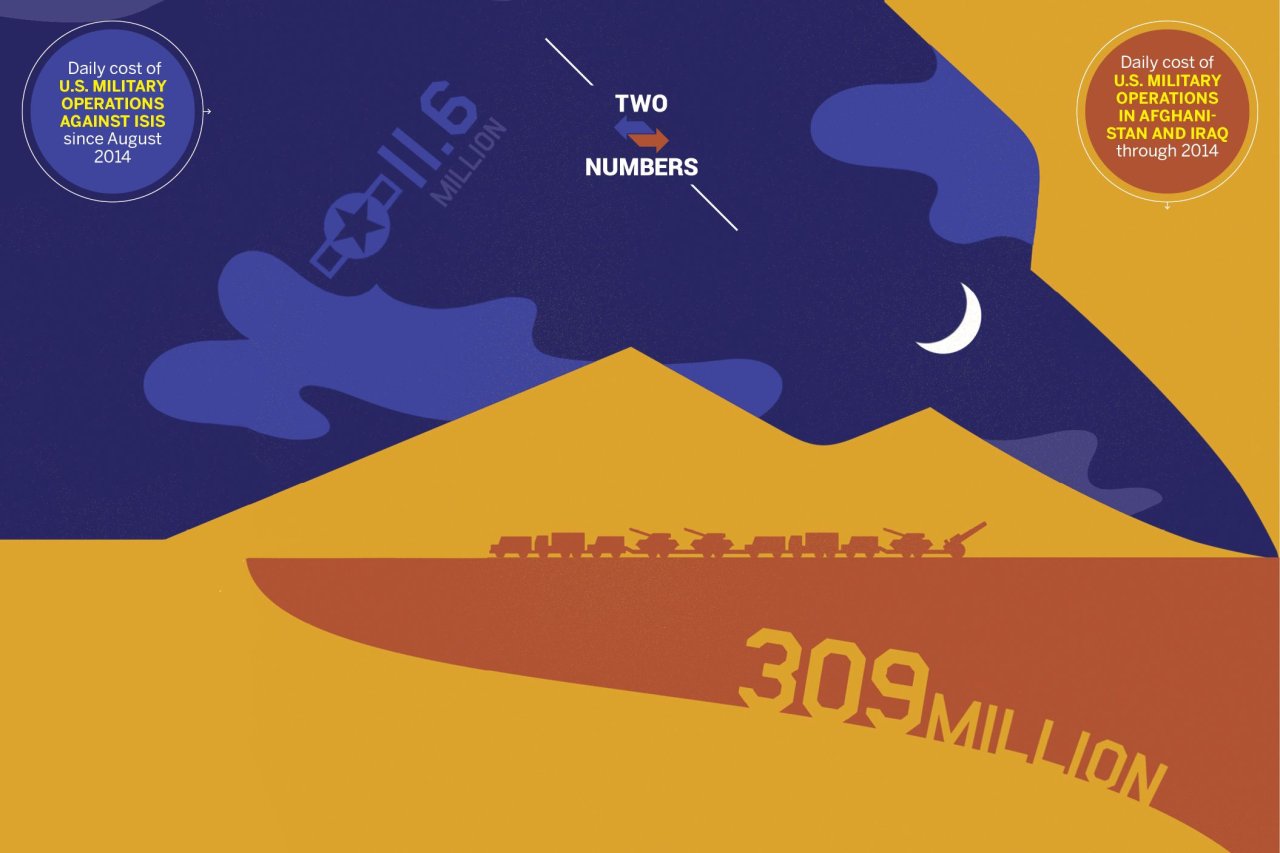 Americans may not feel as if they're at war, but most of them know the U.S. is engaged in a battle against the Islamic State militant group, also known as ISIS, in an operation dubbed Operation Inherent Resolve. The Pentagon says the daily cost of that fight is $11.6 million—which looks downright cheap compared with the wars of the past decade in Afghanistan and Iraq.
Since August 2014, the U.S. has launched airstrikes and sent limited numbers of special operations forces and other advisers to Syria and Iraq to help fight ISIS, at a cost that is just 4 percent of what it spent in the invasion and occupations of Afghanistan and Iraq between 2001 and 2014. Counting just Defense Department appropriations and spending, the combined daily cost of operations in Iraq and Afghanistan was $309 million.
The United States has reduced its presence in Afghanistan to 9,800 active duty troops and in Iraq to 3,550, and has resisted calls to deploy substantial numbers of ground troops to Syria, sending just 300 special operations forces to work with local forces.
But the so-called War on Terror is expanding in other ways, according to Neta Crawford, a professor of political science at Boston University, who did a comprehensive study on the costs of the wars in Iraq and Afghanistan. The U.S. military is fighting more militant groups in more countries than ever before. Just as the Bush administration chased extremist violence to places like the Philippines, Indonesia, Uzbekistan and Pakistan, President Barack Obama has expanded the fight to Libya, Syria and East Africa—with mixed results.
"[The war is] getting bigger and more diffuse geographically and in the number of actors involved," says Crawford.
Moreover, she says, the initial cost estimates for that war from the Pentagon are only a fraction of what it will cost the U.S. to defeat ISIS and deal with the consequences of the conflict in Syria.
In terms of costs, "it's like an iceberg," Crawford says, because early estimates generally don't take into account long-term costs, such as health care and pensions for veterans or foreign aid needed during and after military action. Those costs for Iraq and Afghanistan will add up to more than $4.4 trillion, she says.
Bombing ISIS may be "cheap" now, but the costs are hardly all accounted for.