It was a spectacle, all right. The 100th running of the Indianapolis 500, which was staged over Memorial Day weekend, marked the first sellout in the history of what is known as The Greatest Spectacle in Racing. Approximately 350,000 people witnessed rookie driver Alexander Rossi taking the checkered flag in Speedway, Indiana, making it the largest attended single-day sporting event in history.
Or was it? Speedway, a suburb of Indianapolis, is a town of fewer than 15,000 whose roads are not ideally suited to accommodate the sudden influx of thousands of vehicles of all sizes. Cars, trucks and RVs arranged bumper to bumper snaked in lines 2 miles long outside the Indianapolis Motor Speedway. Thus, an attendee of this latest Indy 500 sat in hours of traffic in the pursuit of watching hours of traffic. Where does commuting end and sport begin?
"We think it's a sport if the machine is a car?" asks David Goldblatt, author of The Games: A Global History of the Olympics. "Why have we invested so much of our identities in the internal combustion engine? I've never heard anything so ridiculous in all my life."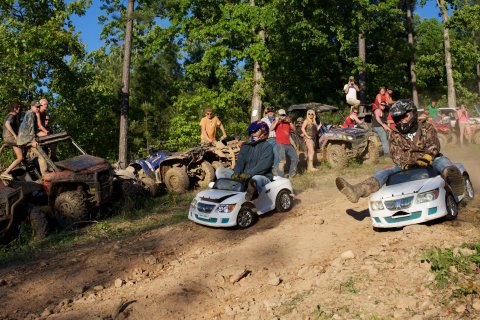 To be fair to Goldblatt, a cheeky Brit, he was discussing Formula One racing, a close cousin of IndyCar racing. And to be fair to auto racing, we are not here to vilify its worthiness as a sport. Rather, we come to ask a more rudimentary question: What is sport?
Last month, ESPN, the self-proclaimed "Worldwide Leader in Sports," televised both the Indy 500 and the Scripps National Spelling Bee, as it has done for years. Next month, it will air both the World Series of Poker and the Nathan's Hot Dog Eating Contest. This month, ESPN is airing the NBA Finals and a plethora of Major League Baseball, both "traditional" sports, but are they any more or less valid than the aforementioned endeavors?
"Does it matter?" asks Scott Van Pelt, host of ESPN's midnight SportsCenter telecast. "If people are enjoying, if they are keeping score, isn't that enough?"
Two summers ago, ESPN3 streamed the world championships of Dota 2, a popular video game, that were being held in front of 17,000-plus fans at KeyArena in Seattle. In September of that year, ESPN President John Skipper famously said of the event, "It's not a sport—it's a competition. Chess is a competition. Checkers is a competition. Mostly, I'm interested in doing real sports."
Skipper's words drew a generational line in the sand. Two months earlier, the United States government had decided to grant professional gamers, as they are known, the same travel visas it grants to professional athletes. Uncle Sam says esports are a sport, even if the head of the Worldwide Leader in Sports disagrees with him. And Skipper's not the only one. "Gamers, you know, pffft," says Goldblatt, who teaches a course on the Olympics at Pitzer College in Claremont, California, where many of his students are esport enthusiasts. "Are they sports? It's just like, thumbs, man. Esports is just people using their thumbs. I'm not enjoying the thumbs."
Cheese-rolling. Pole-vaulting. Wife-carrying. Figure skating. Cup-stacking. Bobsledding. Ferret-legging. Golf. Somewhere someone right now is endeavoring to become more proficient at every one of these activities. Half the sports on that list are imbued with the prestige and promise of an Olympic medal, but is there anything more intrinsically worthy about performing a triple salchow than there is about keeping an angry ferret inside your trousers for two minutes?
The upcoming Summer Olympics from Rio de Janeiro will feature 306 different events in 42 sports, or so the official Rio2016.com site tells us. But how many of those sports, such as synchronized swimming or equestrian events, do you consider a sport? "If someone invented gymnastics today," says Goldblatt, "it would just be a specialized form of Zumba."
Each of us brings our biases and tastes to the question of whether any activity is a sport. Most of us require less time to decide than Stephen Curry needs to get off a three-pointer. "Chess is as pure a sport as there is because it is in no way left up to the judgment of other people," says Tim Crothers, a former senior writer at Sports Illustrated who teaches sports journalism at the University of North Carolina. "At the bottom of the barrel, you have figure skating, which is just an exhibition judged by people we have no trust in."
Crothers is adamant that chess is a sport, while Amelia Boone, the world's premier female obstacle racer, is just as adamant that it is not. How about a cheerleading contest? "Yes," says Boone.
"In high school, I wrote a column titled 'Cheerleading Is Not a Sport,'" says best-selling sports book author Jeff Pearlman. "The next day in the cafeteria, I was surrounded by a group of angry cheerleaders. That was the greatest thing, to that point in my life, that had ever happened to me."
Pearlman does not believe golf is a sport, but Van Pelt, a former Golf Channel studio host, insists it is. "Before you even factor in striking the ball, just walk 7,500 yards in one afternoon," he says, "and see how sore you'll be the next day. Oh, and then I'll play poorly on top of that.
"A spelling bee is not a sport, though. For starters, it's an antiquated skill. If I spell something incorrectly, a red line just pops up under the word."
"How can a spelling bee be a sport?" asks Goldblatt. "Even Stephen Hawking can win a spelling bee."
Angela Gleason teaches a seminar at Yale University titled History of Sport, and she approaches the course with the objectivity of a scholar. Each semester, she opens class with the same succinct speech. "Whatever we discuss, you'll never know if it is my opinion or not. Except for one thing: I feel very strongly—it is not just my opinion but also my conviction—that NASCAR is not a sport."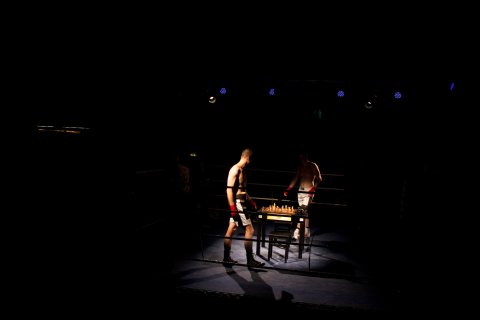 Does Sex Count?
George Costanza: And then, as I watched him struggling, I realized something was obstructing its breathing. From where I was standing, I could see directly into the eye of the great fish—
Jerry Seinfeld: Mammal.
Costanza: Whatever.
You may recall the classic scene from Seinfeld in which Costanza relates how he removed the golf ball Kramer had hit into the surf that was obstructing the blowhole of a whale. The scene relates to sports on a surface level—no pun intended—but also on a more philosophical plane.
Consider the whale. It lives in the ocean. It swims. It has fins. Whales are aquatic creatures, and yet most of us, marine biologists or not, know whales are mammals. Whales are classified as mammals because in the 18th century, Swedish botanist Carl Linnaeus, the "father of modern taxonomy," created an objective system for classifying plant and animal life based on a hierarchy of traits. Whales are mammals because they are warm-blooded, have glands to produce milk for their young and possess a four-chambered heart, all of which Linnaeus observed were more fundamental shared traits than, say, being an attraction at SeaWorld (an aside: The documentary Blackfish is a huge misnomer).
Moby-Dick and the shark in Jaws may have been great and white and the object of someone's obsession, but taxonomically, Captain Ahab's whale had more in common with King Kong. And no one disputes that because Linnaeus's system of classification is universally accepted in the scientific community. In the sports community, on the other hand, denizens cannot even come to a consensus on what is a strike, or traveling, or even if O.J. did it (he totally did it; c'mon!). The National Football League is nearing its centennial—2020—and still haggling over what constitutes a catch.
Last summer, I was in a bar in Chatham, Massachusetts, in which two men far burlier than me were arguing over whether golf is a sport. When they learned that I write about sports for a living, the more menacing of the two said, "Great, you can tell him that golf is a sport."
Summoning all of my temerity, fully aware that I might be seconds away from being the loser in my first ultimate fighting match, I said, "But golf isn't a sport."
We will get to why I said that—and how many stitches I needed—later. First, let's accept that very few people are able to provide a succinct definition of sport, while matter is defined as "anything that has mass and volume." There it is, the entire universe in six words—but defining sport is impossible?
Second, let's acknowledge that almost everyone is able to declaratively opine, and with great conviction, on the validity of a sport. Competitive eating? "Absolutely not," says Boone.
"No!" agrees Van Pelt. "There's nothing more American than sanctioned gluttony, it's the most American thing there is. But it's not a sport."