For the past 35 years, Svetlana Alexievich has traversed the former Soviet Union, Dictaphone in hand, recording thousands of interviews with ordinary people—from construction workers in Siberia to helicopter pilots in Ukraine. Alexievich's methods have earned her comparisons to American historians Studs Terkel and Howard Zinn, but her accomplishments are in a category of their own: In 2015, the 68-year-old journalist became the first primarily nonfiction writer to win the Nobel Prize in literature since Winston Churchill did it in 1953.
So far, her output consists of five books she calls The History of the Red Man. The latest installment, Secondhand Time: The Last of the Soviets, covers the breakup of the USSR and the chaotic transition that ensued. It took Alexievich, who was born in Ukraine but lived most of her life in Belarus, 10 years to finish. The book, which was originally published in Russian in 2013, has been translated into English and was released in the U.S. and the U.K. in May. It's being hailed as Alexievich's masterpiece—not only for what it says about the fall of the Soviet Union but for what it suggests about the future of Russia and its former satellites.
One of the book's most revelatory moments comes during an interview with a Kremlin official who preferred to remain anonymous, for obvious reasons. Russia, he notes, has "a tsarist mentality.… Whether it's a general secretary or a president, either way it has to be a tsar." It is a point of view Alexievich regretfully admits she shares, and the reason, she says, that Russia has failed to embrace democracy. Yet she doesn't demonize Russian President Vladimir Putin; for her, the country's problem is a collective one. "Putin symbolizes the feelings and sentiments of pretty much the majority of Russian citizens," Alexievich tells Newsweek. "It looks like people in Putin's immediate circle who are oriented toward an anti-Western, Slavophile rhetoric…and who used to be on the margins of political thought…are moving closer to the president."
Some, such as the right-wing Russian political scientist Aleksandr Dugin, advocate a return to totalitarian values, and as Secondhand Time unfolds, the specter of Josef Stalin wafts in and out of the book like Banquo's ghost. Many members of Russia's older generation whom Alexievich interviewed yearn for the days when the dictator ruled the Soviet Union with absolute power. One extraordinary conversation with an 87-year-old veteran of World War II leaves Alexievich bewildered (she occasionally inserts her feelings between brackets). Though the man's wife died in one of Stalin's gulags, he tells Alexievich that his joy was unabated when the Communist Party readmitted him after a long period of "rehabilitation."
"You have to understand!" the veteran exclaims. "You can only judge us according to the laws of religion. Faith! Our faith will make you jealous!"
Alexievich's faith in Russia's future dissolved during the 1990s. "The question was posed: What kind of country should we have—a strong country or a worthy one where people can live decently?" she said in her speech after receiving the Nobel Prize. "We chose the former—a strong country. Once again, we are living in an era of power. Russians are fighting Ukrainians—their brothers. My father is Belarusian, my mother is Ukrainian. That's the way it is for many people."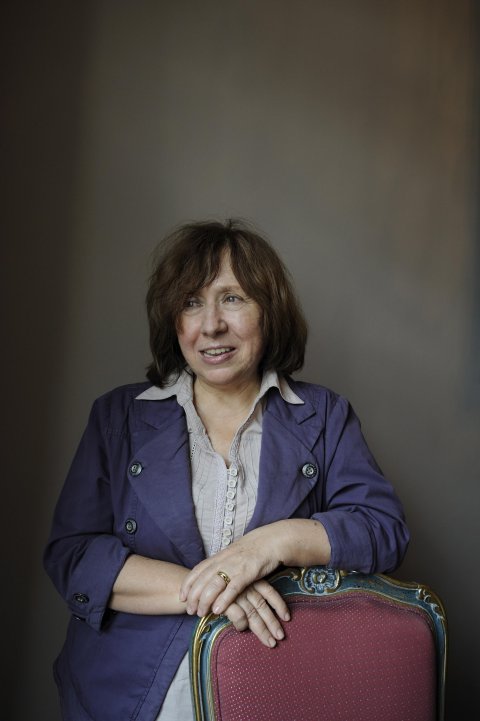 Secondhand Time is full of horrifying examples of the interethnic violence that erupted throughout the former USSR after its breakup. Once-friendly neighbors in places like Tajikistan, Abkhazia and Baku turned on each other, committing rape and murder with impunity. "It shows that our politicians cannot respond to the challenges of the times," says Alexievich. "They do not know how to react to events and political transformations. The only thing they could offer is violence and killing people."
Alexievich has experience discrimination of her own in Belarus, where she says her books are not allowed to be published. She also says that Belarus's president, Alexander Lukashenko, originally congratulated her on her Nobel Prize but renounced that two days later. "He started talking about me as a slanderer of Russia and [saying] that books like mine don't inspire people," she says.
Yet Alexievich was excited to receive a letter of congratulations from Mikhail Gorbachev, the former Soviet premier and architect of the Soviet political reform movement perestroika. Alexievich credits his program for creating a climate of openness that allowed for the publication of her first book, War's Unwomanly Face, which tells the story of female soldiers who fought for the Red Army between 1941 and 1945. The book, published in 1983, was held up by the censors for two years with an admonishment: "Your war is terrifying. Why don't you have any heroes?" (Random House is planning to release the book in a new English-language translation next year.)
In her return letter to Gorbachev, Alexievich says she thanked him for his reforms. "I think that Gorbachev is one of the greatest politicians and people of the 20th century," she says. In Secondhand Time, a rather different picture emerges of the former general secretary of the Communist Party. He is a generally unpopular figure, though one who above all remains misunderstood. "Gorbachev is no pygmy; he's no toy in the hands of circumstance, and he's not a CIA agent…but who is he?" wonders that anonymous Kremlin official.
Looking back on that era, Alexievich says she does not think Gorbachev wanted to destroy socialism but rather to improve it, and that this desire was shared by most of the people in the former Soviet Union. "I traveled a lot around the country, and I talked to thousands of people," she says, "and the feeling I got from them was that nobody had wanted the country to become capitalist."
Stylistically, Secondhand Time, like her other books, produces a mosaic of overlapping voices, both complementary and dissenting. In his introductory Nobel speech, Sara Danius, permanent secretary of the Swedish Academy, noted that Alexievich "removes everything superfluous to the core. She adds nothing: She subtracts. We are told people's names, their ages and what they do, little apart from that."
Alexievich says she never prepares questions for her interviews and is quite happy to let her subjects ramble on. "Of course, there is a lot that needs to be discarded or cleaned up afterward," she says. Many of her subjects have become her friends, and the interviews—or "conversations," as she prefers to call them—often continue over several years. "I understood early on that every man and woman I talk to is more than just the subject of my research, be it World War II, the war in Afghanistan or Chernobyl."
While Alexievich's books contain accounts of tragedy, they are also leavened by a typically Russian gallows humor. "Democracy! That's a funny word in Russia," says one Russian. "'Putin the democrat' is our shortest joke."
The books are also deepened by extraordinary stories of love and perseverance. Among them: Maria Voiteshonok, a 57-year-old writer whose parents had died when she was young, explains how her illiterate aunt spent six months asking strangers to write to orphanages in Siberia before finally managing to locate and rescue her.
Equally moving stories unfold not only in Secondhand Time but in her other works. "What I try to deal with is…the kind of history that is normally omitted by historians who look into major events," she says. "For me, what is important and interesting is the way history has been reflected in people's everyday lives."