In a small, bottle-lined room tucked above the Portobello Star, a 19th-century pub in London's Notting Hill, I take my first sip of the gin I have just concocted out of 11 carefully chosen flavors. It lingers on the palate, the dominant juniper notes offset by the dryness of licorice root, the savory taste of celery seed, the citrus tang of orange and pink grapefruit, and a hint of warmth from black and pink peppers.
Yet, even as I savor the drink, it is clear that it needs something to counterbalance these powerful flavors. If my gin is an orchestra, all the instruments are being played as loud as they can be played, and all at the same time. Derek Jones, my instructor at the Ginstitute—a bar-cum-museum that opened in late 2011 and offers a three-hour experience that includes designing and bottling your own creation—knows exactly what to do: "a touch of lemongrass." I follow his recommendation, and he adds a few drops of alcoholic distilled-lemongrass essence. It works, the undertone of sweetness balancing the spirit's astringency.
'Mother's Ruin'
The Ginstitute is one of a growing number of London bars specializing in gin. The quintessentially English spirit, long associated with older, suburban crowds, is in the throes of a renaissance—a "Ginaissance"—propelled by new brands and marketing. In the U.K., younger people are now more likely than older consumers to drink gin: 42 percent of Britons aged between 18 and 34 have drunk gin in the past year, compared with 27 percent of over-45s. Sales are also soaring across Europe, North America and Asia.
"Craft distillers have really captured the public's imagination, and the boom shows no sign of stopping," says Olivia Williams, author of Gin Glorious Gin, a social history of the drink. Each sip of a classic gin and tonic is a taste of a rich social history—one that the Ginstitute explores in its micro-museum. Trainee blenders sit surrounded by rows of dusty bottles, many from brands long since vanished. Copernicus II, the smallest copper pot gin still that is working in London, stands in a room next door.
"The history of London and gin are so entwined, you cannot tell the story of one without the other," says Jake Burger, the Ginstitute's lead instructor. That may be so, but gin was first created in the Netherlands. Typically brewed from wheat, barley or other neutral grains and flavored with juniper berries, it was initially sold as a medicine to treat everything from stomach complaints to bubonic plague. Gin became popular in England in the 17th century after British troops fighting alongside Dutch soldiers in the Thirty Years' War were given the spirit before going into battle—hence the term "Dutch courage."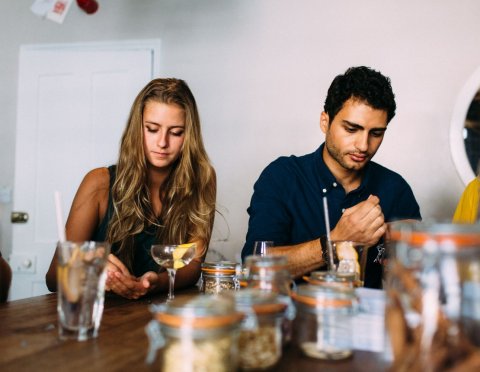 When Holland's William of Orange was crowned king of England in 1689, one of his first acts was to liberalize distilling. The result was a gin craze: By 1730, more than 7,000 shops selling only spirits had sprung up around London. Some 10 million gallons of gin were distilled each year in the city. The floral, spicy drink was sometimes distributed to workers as part of their wages, which made alcohol abuse a major problem among the poor. A night out would involve two or three people sharing a quart of neat gin, which was usually between 50 and 55 percent proof. The drink would likely be adulterated, sometimes with small amounts of sulfuric acid, to ensure a warming after-burn.
Blamed for riots and mayhem across the capital, gin soon earned the name "Mother's ruin." The well-known 1751 print Gin Lane, by artist and engraver William Hogarth, depicts some of the horrors that resulted from drinking too much of the spirit. The centerpiece is a prostitute, her legs covered in syphilitic sores, oblivious to her baby tumbling from her lap.
In the early to mid-18th century, Parliament passed a series of Gin Acts to regulate the trade and reduce public drunkenness. As consumption dropped, more respectable businesses took up distillation, and the drink became favored by the wealthier classes. By the 1830s, high-quality gin, with complex flavorings, had become a gentleman's drink, enjoyed by well-to-do Victorians in luxuriously furnished bars known as gin palaces. Overseas, British colonialists in India drank gin and quinine-flavored tonic to protect themselves from malaria (it was the quinine rather than the gin that warded off the mosquitoes). Winston Churchill once said the gin and tonic "saved more Englishmen's lives, and minds, than all the doctors in the empire."
The gin-based martini became one of the most popular cocktails in both the U.S. and U.K. during the first half of the 20th century, but it fell out of fashion in the postwar years. James Bond, novelist Ian Fleming's fictional spy, gave it a shove. By the later books, Bond was regularly ordering vodka martinis, and when Hollywood began releasing Bond movies in the early 1960s, vodka became the new favorite, while gin became the kind of drink your grandfather knocked back at the golf clubhouse.
Gin re-entered the mainstream with the launch of Bombay Sapphire in 1987, whose distinctive blue bottle and lighter taste appealed to a young demographic. It was followed in 1999 by Hendrick's, which is infused with cucumber and rose. Many more brands have followed.
Adaptable spirit
An unusually adaptable spirit, gin can be flavored with anything botanical. Portobello Road's gin (Portobello Road No. 171) uses nine botanicals, including angelica root and nutmeg. Students at the Ginstitute have around 35 flavors to choose from, including asparagus and Lapsang souchong and Yorkshire teas.
Research by Mintel, a market intelligence agency, shows that U.K. gin sales were expected to hit £1 billion ($1.6 billion) for the first time in 2015, a 25 percent increase since 2012. Last year, 49 new gin distilleries opened in Britain, according to HM Revenue and Customs, which issues licenses to all distillers. That brings the U.K. total to 233 licensed producers—more than double the number in 2010. Many more distilleries have opened in such cities as New York, Paris and Madrid.
Not everyone is convinced of the culinary merits of artisan gin. Choosing a craft distiller is a lifestyle declaration, says British restaurant critic Jay Rayner, author of the forthcoming The Ten (Food) Commandments. "It is a kind of self-definition through consuming a product, in this case booze. You want to show that you are not the kind of person to get the house pour."
In any case, the big brands still dominate the market: Gordon's sold 3.6 million cases globally in 2014, and that was just a fraction compared with the 19 million cases of Philippines-based Ginebra San Miguel. In the U.S., Seagram's remains the leading gin brand, with 1.94 million cases sold in 2014.
In 2014, the U.K. became the world's leading exporter of gin, largely because most of its exports are high-end, premium brands—the fastest-growing area of the industry. Many in the U.S. are hoping for similar success. From 2011 to 2014, the number of craft distilleries tripled from 200 to 600, and sales are nearing $450 million a year.
Based in New York's Brooklyn, Greenhook Ginsmiths launched its highly acclaimed American Dry Gin in 2012. American gin is less dry and less astringent than its British counterparts. The DeAngelo brothers add nine botanicals to a base spirit distilled from organic wheat grown in New York state, including elderflower and elderberry for sweetness. (According to Steve DeAngelo, who founded Greenhook with his brother Philip, Europeans have a more bitter palate, whereas Americans like things a bit sweeter.) Three-quarters of the Michelin-starred restaurants in New York City now stock Greenhook's American Dry. "The major brands, such as Beefeater and Tanqueray, have similar flavor profiles, defined by juniper and coriander. We are aiming for a more contemporary taste," says DeAngelo.
And taste is key, says Williams. "The only thing you can get excited about with vodka is how pure it is through distillation. Gin cocktails show all the wonderful possibilities the spirit has to offer."