Summer's coming, and that means it's skin cancer season. More than 75,000 new cases of melanoma will be diagnosed this year in the U.S., predicts the American Cancer Society, and many of those incidents are directly due to the high summer sun. The risk isn't just in the hunt for the perfect golden tan—it's also in the ultraviolet radiation we are exposed to throughout the summer months even when we're not at the beach. UV light is incredibly deceptive; even a cloudy day can deliver potentially cancerous rays.
A new wearable device, though, accurately tracks your daily UV exposure, protecting you from the sun without messing up your beach day outfit or forcing you to carry around something else to plug in. The My UV Patch sticks to your skin like a temporary tattoo, stays on after a swim or shower and is so thin—just 150 microns thick, thinner than a human hair—that it wrinkles like your own skin, making it less obtrusive than any other UV-reading wristband or patch on the market, according to manufacturer L'Oréal.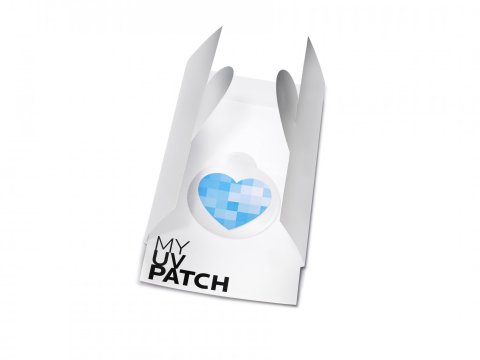 The tech behind the wearable is remarkably simple: It has photosensitive blue squares that change hue when exposed to sunlight. You snap a photo with your phone, and an app reads the changes in the image, telling you if you overdid it at the beach that day. You put the patch anywhere you worry about getting too much sun (and don't mind a small heart-shaped tan line—so far, the only design available) like the back of the neck or hand, and it'll last for days.
L'Oréal debuted the wearable at this year's Consumer Electronics Show in Las Vegas, and it was released to the public in June. CES may seem like a strange place for a makeup company, but L'Oréal has had an incubator for some time now, and in 2011 the company hired biophysicist Guive Balooch to run it, with the mandate to create new products at the speed of a tech startup. Since then, L'Oréal has also debuted an app that lets consumers virtually "try on" makeup with their phone's camera in augmented reality and a product that uses software to match and blend makeup for particular skin tones.
Balooch thinks wearables are the future: They will become less intrusive and soon provide us with a surfeit of data to improve our lives without us even noticing. UV, he says, is an obvious first step, and makes sense for L'Oréal. "Our focus is on educating consumers on sun care," Balooch says. To that end, the company is giving away the patches and the app to use them for free. Of course, the company has more than just public service in mind. If you're looking to protect yourself after being shocked by the amount of UV you get on a casual stroll to the store, it doesn't hurt that L'Oréal sells products for that too.