Like a Michelin-starred chef or a composer of classical music, the spy novelist Alan Furst is an expert at developing variations on a theme. In his case, the theme is a morally weighted question: What would you do? Mathieu, the protagonist of Furst's new novel, A Hero in France, fights against the German invaders in 1940 and then decides to join the Resistance rather than live passively under Nazi tyranny, as some French chose to do.
"The book is about these upper-middle-class people who decided to fight back against the Germans," says Furst, speaking from his home in Sag Harbor on the east end of New York's Long Island. "They could ignore it, but they don't. There is moral compulsion—you watch something wrong going on, and one day you feel you have to do something about it. Or you don't."
A Hero in France is Furst's 14th novel about spies and wartime Europe. Some share a cast of minor characters. All of the books return to Furst's core interest. "They are anti-fascist books," he says. "They are about people who don't like authoritarian rule. They don't like living in tyranny, and they try to strike back against it."
Furst was born in 1941—too young to remember World War II. But he grew up on Manhattan's Upper West Side, an area with a large Jewish population that was shaped in part by the fresh, collective memory of a titanic, life-or-death struggle between good and evil—a struggle that continually demanded the sort of choices that captivate Furst. Resist or collaborate? Take a stand and risk everything or submit?
Furst's books, which have been translated into 18 languages, are set in Europe on the verge of World War II or during the early years of the conflict. For all the tragedy and agonizing moral decisions the war forced on the people of Europe, it also offers a storyteller an almost unparalleled opportunity for finding and telling gripping stories. "People marched, the newspapers were wildly political," says Furst.
"Europe was on fire then, in all kinds of ways. It had a romantic intensity, and a political intensity, which is good for my books, and plenty of plot. I don't write as well as history does. History is the best fiction writer there is."
Furst's protagonists are invariably everymen—rather than professional spies or soldiers—struggling through that history. They are reliably smart, brave and capable, like Mathieu in A Hero in France. (They are also all men; women in Furst's novels tend to play a supporting role.) Furst's accidental heroes have a steep learning curve in spycraft, which helps the reader who does not happen to work in intelligence for a living identify more easily with them than if his protagonists were experienced agents and spy-runners.
Furst, who worked as an advertising copywriter before becoming a novelist, first discovered the world he would later fill with these amateur heroes in 1984, when reporting a travel story for Esquire magazine. He traveled to Eastern Europe, taking a passenger boat from Crimea, then part of the Soviet Union, across the Black Sea to the Danube's delta in Romania. Furst then traveled upriver through the Balkans and central Europe.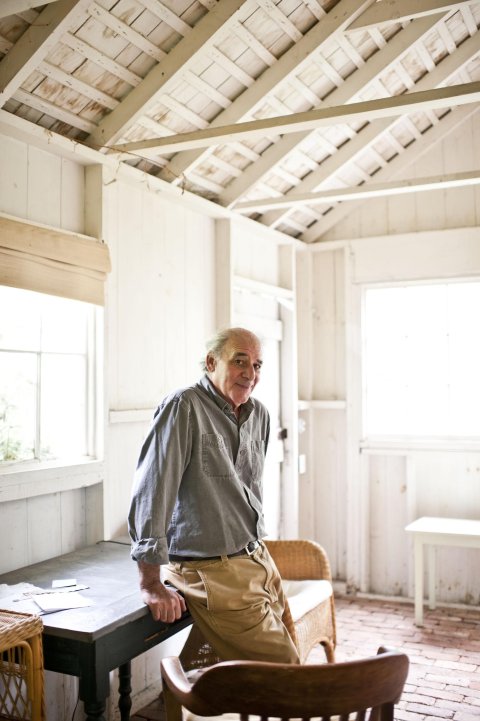 That journey gave him the idea and setting for his novel, Night Soldiers. Published in 1988, the book begins: "In Bulgaria, in 1934, on a muddy street in the river town of Vidin, Khristo Stoianev saw his brother kicked to death by fascist militia." In one sentence, we are transported through time, to a specific place, and are immediately rooting for the protagonist. We want revenge for him even before we've made it to the second sentence, even before he's had a chance to express the desire himself.
As that opening sentence suggests, Furst's novels frequently depict the violence of the times and the anger that comes in its wake. But Furst's regular readers have come to know that his novels are also reliably compelling. "I am an entertainment novelist," he says. "My job is to take the reader for a ride, to somewhere he or she has never been and let them walk around in there."
Some of Furst's focus on entertaining the reader came from studying the great spy novelists, including Eric Ambler, whom many regard as the father of the modern espionage novel. Like Furst's heroes, Ambler's protagonists are often everyman figures, drawn into a world of danger and intrigue as Europe slides toward war.
Furst wrote the first paragraph of Night Soldiers by hand on the inside cover of an edition of The Mask of Dimitrios, Ambler's classic 1939 novel, while traveling on an airplane. "Ambler is like a god to me," says Furst. "He got the political reality of the time right there, and he was writing it then. Reading him, I get interested, excited and involved. I am really right there with the characters."
For all his success in building a fan base, Furst does have his detractors. Some less enthusiastic readers on Goodreads.com and Amazon.com complain that his books are reworkings of the same story and theme: A tough but sensitive 40-something intellectual man, attractive to women, slowly turns into a man of action. Furst readily agrees: "Yes, they are similar, a certain kind of person in every case. I like the age of 40, because you are sophisticated then, but you can still run."
Furst, who is 75, is unlikely to suddenly deviate from the era and part of the world that has served him so well. He keeps his distance from the modern world of perpetual connectivity and 24-hour news cycles. He lives in a wooden house and writes on an electric typewriter in a small converted garage. "I am an old-fashioned writer," he says. "I write narrative prose of the 1940s in order to write a book about the 1940s."
Although Furst's novels are mostly set in Europe, he doesn't stray too far from his garage when he's researching a novel. Instead, he uses several books as a basis for his research, including a 1952 edition of the Encyclopaedia Britannica. "It's close to the 1940s and reflects the sensibilities of the people who wrote it," he says.
Furst avoids using a tool that some writers who do not travel to the places they're writing about have come to rely on—Google Earth. The streets and buildings he'd be looking at through his computer screen would bear little resemblance to the places he writes about. "Madrid, Barcelona, Paris—they are all very different now," he says. "I am more interested in the Paris of the 1930s than the present day. Part of one of my novels takes place in Istanbul, but I have never been there."
That book is Blood of Victory, published in 2003. "My imagination does the work for me," says Furst. "It's a good imagination, and what happens is that if I am reading about Istanbul in 1936, I know all kinds of stories about it. When I am doing this kind of thing I am not myself anymore. I am like a time traveler. I can teleport back to a certain time." Each trip lasts a couple of hours, perhaps two and a half. "Then I cannot do it anymore. I look up and I am like, 'Who am I, where am I?'" When Furst's writing is at his best, that's exactly how his readers feel.
A Hero in France is published by Weidenfeld and Nicolson in the U.K. and by Random House in the U.S. The Washington Stratagem, Adam LeBor's latest thriller, is published by Head of Zeus and HarperCollins US.