Updated | Sevgi Akarçeşme made sure she arrived at work early on the day her Istanbul office was swarmed by riot police. "[President Recep Tayyip] Erdogan had made it clear he was going after us," says the former editor of Today's Zaman, an English-language newspaper that had been highly critical of Turkey's president and his ruling Justice and Development Party (AKP). On March 3, someone who goes by the name "Fuat Avni," an increasingly unreliable whistleblower active on social media, had declared that a raid was imminent on the Zaman newspaper, owned by Feza Publications, which also owns Today's Zaman and the Cihan News Agency. This time, Avni was right.
"That night, I couldn't sleep. I knew it was a matter of hours," recalls Akarçeşme. "So I went to the office before dawn—my colleagues were already there. We had breakfast together and started waiting. The official court decision [to seize the media group] arrived at 3 p.m. We realized we had to push for an early print that day, no matter how incomplete, so we went to print with only eight pages."
The front page of the last non-censored Today's Zaman was black, with the headline in huge white letters: "Shameful Day for Free Press in Turkey." As the news broke, readers of Today's Zaman and its sister paper Zaman—at the time the most widely read paper in Turkey—gathered in the hundreds outside the group's offices to protest.
"Around 10 p.m., we heard a brawl outside the building," says Akarçeşme. "Police had cut the steel chains on the doors, which some staff had put up in protest."
Some Zaman staff began live-tweeting the raid as police forced them from their offices and fired rubber bullets at protesters. Akarçeşme tried to film what was happening on Periscope, the live video-streaming app, but a police officer grabbed her phone.
Akarçeşme knew right away that her job was in jeopardy under the trustees appointed by the government to oversee the seized media group, which was charged with unspecified "terrorist activities" by Judge Fevzi Keleş. "I figured that it was a matter of time before [ Zaman editors] were banned from leaving the country or arrested on terrorist charges," she says.
Forty-eight hours after the police raid, she was on a plane to Brussels, where she is now applying for residency. "I'm unemployed. I don't feel safe," she says. "I don't know when or if I'm going back to Turkey."
In the latest World Press Freedom Index, Turkey ranked 151 out of 180 countries, and a recent article in Index on Censorship warned that the country faces the imminent "extinction" of its free press under Erdogan, who has been in power since 2002, serving three terms as prime minister before winning 52 percent of the vote to become president in 2014. Turkey is now the country with the fifth most reporters in jail.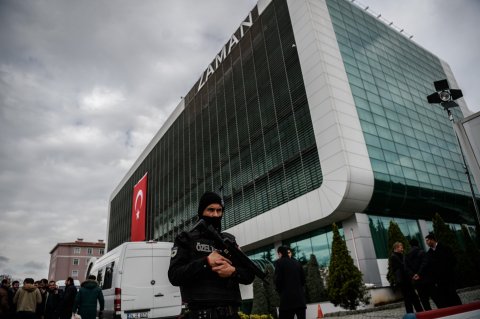 The expanding crackdown on the media, a spate of deadly bomb attacks—most recently at Istanbul's Atatürk airport—that have led to the biggest drop in hotel occupancy in Istanbul in a decade and Erdogan's increasingly autocratic rhetoric and actions have worried Western observers and raised questions about whether NATO member Turkey will ever be fit to join the European Union. (After the June 28 attack on the airport that killed at least 44 people, Turkish authorities imposed a ban on publishing images of the bombing scene, and social media users complained of little or no access to Twitter and Facebook, a common situation after suicide attacks in Turkey.)
Last November, the AKP won 49.5 percent of the vote in general elections, though an observation mission organized by the Council of Europe described the process as "unfair" and characterized by "violence and fear." In late May, Prime Minister Ahmet Davutoğlu was replaced without any official explanation by former Minister for Transport Binali Yildirim, a wholehearted backer of Erdogan's plans for a new constitution that critics fear would greatly expand his powers.
Since Erdogan's presidency began, state prosecutors have launched 1,845 lawsuits against Turkish citizens, many of them journalists, for insulting the president of Turkey, which is prohibited by Article 299 of the Turkish penal code. One of the most notorious cases was against doctor Rifat Çetin, who in 2014 shared a photo meme on Facebook comparing Erdoğan to Gollum from the Lord of the Rings films. In June, Çetin was handed a one-year suspended prison sentence for insulting the president and deprived of his parental custodial rights.
Arrests and prosecutions of journalists are rising: the Index on Censorship's recent Mapping Media Freedom project said 33 journalists were prevented from reporting on events in Turkey in the first quarter of 2016. According to a press freedom report prepared by Turkey's Journalists Association, 994 journalists lost their jobs in this period. Erol Önderoglu, the Turkey representative for p ress freedom watchdog Reporters Without Borders, was detained for 10 days in June on charges of spreading terrorist propaganda.
Celil Sagir, the ex-managing editor of Today's Zaman, says he was summoned by the government-appointed trustees soon after the raid and told to avoid all mention of controversial issues, ranging from the Kurds (who have been fighting a separatist insurgency against Turkey for decades) to anything related to gay rights. "They took out a news item about Elton John from that day's issue because he's gay," Sagir says. Three weeks later, he was fired for "acting immorally" as editor.
One of the few Today's Zaman employees to keep his job after the raid spoke to Newsweek on condition of anonymity, saying the police occupied the entire media building, including the bathrooms, and searched employees to check for personal laptops when they entered. "We cannot print anything negative about Turkey," he said before being fired in May. "The paper has been reduced to only eight pages. It is a joke."
Sinister Shadow State
While Zaman journalists draw sympathy from the West, many Turks opposed to the government struggle to conceal their schadenfreude at the paper's misfortunes. Confused? That's because Turkey's media scene is murky.
Consider the case of Can Dündar, the editor of the popular leftist newspaper Cumhuriyet. On May 6, he narrowly survived an assassination attempt outside the courthouse where he was due to be sentenced to five years in jail for espionage. Dündar's crime was to have published alleged footage of the Turkish government transporting arms to Islamist rebels in Syria. Last November, Dündar was jailed for three months, pending trial, in the political wing of the notorious, high-security "F-style" prison in Silivri. His request to be released was denied by Keleş, the same judge who ordered the Feza Publications takeover, which suggests to many observers that there was a political agenda in both cases.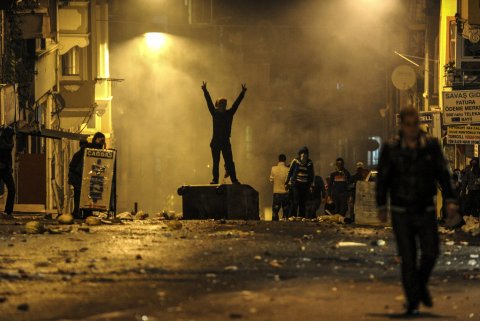 But Dündar and the Feza media group represent very different sides of Turkey's media. Dündar feels little solidarity with the Zaman journalists. "They are not so innocent—they did terrible things," he says, speaking in an Istanbul office between court appearances. "It is difficult to forgive them."
At the root of this schism is Fethullah Gülen, a mysterious Islamic cleric with an expansive network of business and media enterprises in Turkey, including the Feza media group. Gülen lives in the United States and is wanted in Turkey for leading an "armed terrorist group," even though he enjoyed a close friendship with then–Prime Minister Erdogan in the early years of AKP rule. At that time, the editorial line of Zaman and its sister outlets was overwhelmingly positive toward Erdogan.
Although the relationship between Erdogan and Gülen was never entirely clear to the public, rumors of its souring began to emerge around three years ago. In December 2013, secretly recorded phone conversations allegedly involving Erdogan and several of his high-ranking ministers discussing bribes were dramatically revealed to the public in what appeared to be an orchestrated campaign. The anonymous social media accounts responsible were presumed to be those of Gülen followers in the intelligence services, foremost among them the mysterious Fuat Avni, who correctly predicted the Zaman raid.
While the state's decision to raid Zaman was not fully explained at the time, a government official tells Newsweek the move was "part of an investigation into the company's ties to Fethullah Gülen's shadow state."
Erdogan has accused Gülen of operating a "parallel state," controlling lawyers, politicians and sections of the police, and has said the wiretaps were illegally conducted at Gülen's behest as part of a campaign against him.
"During Gülen's legal crusade against his rivals, Zaman newspaper served as the organization's mouthpiece to disgrace defendants in the public eye," the government official says.
The 2013 corruption scandal could have been the death of a less robust government, but the AKP responded with swift and furious force, temporarily shutting down YouTube and Twitter to limit circulation of the tapes, purging and arresting thousands of suspected Gülen sympathizers from the police and judiciary, and blocking all investigations into the alleged corruption. One of the judges who blocked an investigation was Keleş, who ordered the Zaman takeover and refused Dündar's bail.
Dündar is acutely conscious of the irony of Zaman's fate. As a former victim of its reporting—the paper had accused him of being part of a political conspiracy, before rallying to his defense last year—he says he enjoyed discovering members of the Gülen movement in his prison corridor. "I have no sympathy with them—but of course now they approach us because they are also victims," he says. "We were in the same prison in Silivri. The prosecutor who ordered my cellphone to be tapped, Judge Süleyman Karaçöl, was in the same corridor as me. He was in the first cell, I was in the fifth—I saw his eyes through the grill."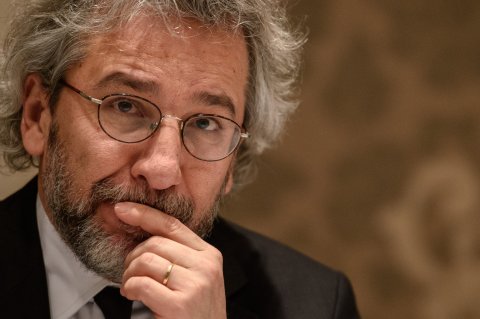 Another cell neighbor was a former Zaman journalist who had written an article lambasting Dündar for criticizing Erdogan. "He had said to me [then], 'You are a traitor, you must be careful what you write about Erdogan.' It was a very harsh article. And he was imprisoned with us too. My prison corridor was a summary of what we had been through."
Don't Joke About Supreme Leader
Andrew Finkel, an American writer based in Istanbul for the past 20 years, was fired from Today's Zaman in 2011 after submitting a column that criticized his editors for failing to speak out about the prosecution of journalists. In response, he founded P24, a platform for independent journalism.
Speaking from New York, Finkel describes Turkey's "pool" media, so-called because a group of AKP associates pooled their money to buy Turkuvaz Media Group, which owns several major outlets, such as the popular pro-government dailies Sabah and Takvim, "sheer instruments of propaganda. They give very little value to their own integrity, to accuracy," Finkel says of such outlets.
Berat Albayrak, Erdogan's son-in-law and the minister for energy, was the CEO of Çalik Holding, when it acquired the Turkuvaz Media Group. Its papers regularly print stories asserting the role of "shadowy foreign powers" in Turkey's domestic troubles and employ what Finkel calls "Photoshop reality," in which photographs are manipulated to fit an official narrative of news events.
Newspapers that are not under the control of the government or its allies face a variety of intimidation tactics. While Gülen-affiliated news organizations such as the Zaman newspapers have been muzzled, a more common means of exerting pressure on critical Turkish media comes in the form of financial starvation: Critical newspapers will find advertising dropping as companies disassociate themselves from controversy. Editors then change their line accordingly, or risk going bust. In March, for example, the liberal news site Radikal shut down, two years after its paper edition folded due to lack of advertising revenue.
Emre Deliveli is a Harvard-educated economist who has been fired from two columns in the space of four months. The first was his weekly column for the Hürriyet Daily News , an English version of the popular Hürriyet paper owned by Dogan Holding. In 2009, this family-owned conglomerate was fined nearly $2.5 billion, officially for tax irregularities, although many think it was punished for critical coverage of the government.
Deliveli was fired from the Hürriyet Daily News last November, after submitting a column that questioned whether the national election a week earlier was rigged. Deliveli is convinced the Hürriyet editorial board decided to tone down critical content in the face of another four years of AKP power. "I am 100 percent sure—although I can never prove this—that if the AKP had got 40 percent in the election, as polls were predicting, rather than 49.5 percent, I would still have my job."
Deliveli outlines, with an economist's precision, the self-censorship that increased steadily during his seven years at the Hürriyet Daily News. "I started writing for the paper in November 2008. For the first couple of years, I got censored once, maybe twice. After the 2011 general election, I got censored twice a year or so. In 2014, after the municipal March elections [largely a victory for the AKP] and Erdogan's election as president in August, I started getting censored about every three months." He says it was clear where the orders to change his column's content were coming from.
"My editors told me that the [presidential] palace would call up and tell them they were unhappy with what I was writing. For a while, they let me have some humor in the columns—I would say 'Supreme Leader,' for example, to refer to Erdogan. But [after August 2014], they started telling me, 'Please, don't say Supreme Leader.' Any humor to do with the president became a no-no."
Asked to comment on Deliveli's assertions, a government official says "editors publish what they consider fit to print" and denies that the president's office exerted undue pressure. "The relationship between the government and media [in Turkey] isn't any different from how the White House communications operates. You make your case as strongly as you can, keep the dialogue going and pray for the best."
Either way, Hürriyet's criticism of the AKP has become noticeably milder since November, and it has signed on prominent columnists who used to work for notably partisan pro-government papers.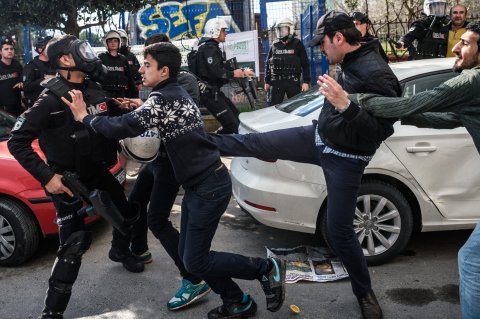 Dündar commiserates with papers like Hürriyet but says Cumhuriyet has not bowed to government pressure because it is owned by the independent Cumhuriyet Foundation. This does not solve its financial problems, however. "Unfortunately, we do not get advertising revenue, but we are trying to stay afloat with the support of our readers," he says. "This paper is older than the republic, so we are strong. It's not easy to close down Cumhuriyet."
Cumhuriyet receives so many threats from the public that security guards are permanently stationed outside its Istanbul headquarters. The threats peaked in January 2015 when the paper reprinted a special edition of Charlie Hebdo, "in solidarity" after the satirical Parisian weekly was attacked by Islamist militants earlier that month. The offices of Cumhuriyet were raided by Turkish police, and distribution of the Charlie Hebdo issues was halted until police determined that the papers had not included cartoons of the Prophet Muhammad.
Turkey's intimidation of the media can be very personal. Arzu Yildiz, who was convicted along with Dündar, has been deprived of parental rights over her two children after the court invoked a rarely used article in the Turkish penal code. Celil Sagir was deprived of his right to claim unemployment benefits and national health services when he was sacked by the trustees at Today's Zaman.
There is also violence. In October last year, Ahmet Hakan, a journalist for Hürriyet and CNN Türk, was followed to his home, beaten by four men and hospitalized with broken bones, just three weeks after the Hürriyet offices were attacked by armed men. The sole suspect taken into custody was released in April.
Smear campaigns often target female journalists for foreign outlets, such as The Economist, The New York Times and the BBC. Amberin Zaman, a Turkish-Bangladeshi, New York-born journalist who worked for The Economist for more than 15 years, experienced what she called a "public lynching" on social media after reporting on the 2015 Charlie Hebdo attacks. In 2014, then–Prime Minister Erdogan called her a "shameless woman" who should "know her place."
In 2014, Ceylan Yeğinsu, a British-Turkish reporter for The New York Times, was forced to temporarily leave Turkey following a series of death threats, after she reported on recruitment in Turkish suburbs by the Islamic State militant group (ISIS). Selin Girit, a Turkish reporter for the BBC, is often referred to as a British spy by pro-government journalists and by Ankara's AKP mayor, Melih Gökçek, who in June 2013 attempted to start a trending hashtag on Twitter that translated to "Don't spy for Britain, Selin Girit."
English-language websites have popped up to challenge or "correct" articles critical of Turkey in the Western media, most notably Fact-Checking Turkey, which also has an Arabic account, and the semi-satirical The Kebab and Camel, which regularly accuses critical Western journalists of bias. More bizarre are the claims of A9, a TV channel owned by Islamic cult leader Adnan Oktar, which recently produced a short video shaming American journalist David Lepeska, who was barred from entering Turkey in April after he wrote an article for The Guardian on government plans to gentrify Sur, a Kurdish district in the city of Diyarbakir. A9's video, illustrated by photos of Lepeska in fancy dress taken from his Facebook page, accused him of promoting Darwinism and regarding "man-to-man sexual activity as normal," along with "prejudiced writings about Turkey."
Erdogan has even tried to extend his muzzle to journalists abroad. In April, the German Chancellor Angela Merkel agreed to a request from Turkey to prosecute comedian Jan Böhmermann after he read an offensive poem about Erdogan on German state TV. Merkel's decision prompted accusations that she was bowing to political blackmail related to the controversial immigration deal struck in March between Turkey and the European Union.
Under that deal, in return for stepping up border patrols and receiving deported refugees from Europe, Turkey has been promised 6 billion euros (via nongovernmental organizations) to aid with hosting nearly 3 million refugees, renewed EU membership negotiations and the right to visa-free travel in the so-called Schengen zone within the EU—though that clause looks increasingly imperiled, as Turkey is failing to fulfill the 72 criteria needed before this is granted. Press freedom is one of the areas the EU is concerned about.
For many citizens and observers of Turkey, the country's future seems bleak. A few, however, have hope. Asked if Turkey can save itself, Dündar says, "Sure, of course. We are getting close to the end, I hope. The world has seen it's not possible to work with Erdogan anymore.
"Erdogan has become much more alone in his government. Really, he was poisoned by his power. He's driving his car through a wall. But unfortunately, we are in the same car, which is scary."
Update: This article has been updated to reflect that Berat Albayrak is no longer CEO of Calik Holding.