Updated | On July 4, 11 days after the U.K. voted to leave the European Union, New York–based ratings agency Standard & Poor's issued a warning. Because of Brexit, it said, "the U.K. will barely escape a full-fledged recession," and the decision to leave will drag down the U.K.'s predicted growth in 2017 by 1.2 percent of gross domestic product (GDP). The situation would get worse, it added, should the Bank of England not succeed "in keeping turmoil in financial markets in check."
Which is ratings-agency-speak for: "Mark Carney, for the love of God, save us all!"
A day later, Carney, the governor of the Bank of England, Britain's central bank, held a press conference. Flanked by three of his employees, the Canadian financier did his best to prevent the decision made by 51.9 percent of the British electorate from doing further economic damage. "We have a clear plan, we're rapidly putting its main elements in place, and it's working," he said, speaking to the deeply worried nation and financial world in the manner of an American president.
Carney's impersonation of a financial superhero impressed David Blanchflower, an economics professor at Dartmouth College, who previously worked for the Bank of England. He tweeted: "Most impressed by Mark Carney's performance post Brexit vote. [He's] been on top of things, an adult in [the] room while politicians play children's games."
Blanchflower's faith in Carney as the only truth-speaking, responsible public official left in Britain is shared by many economists. The U.K.'s ruling Conservative Party is in the midst of changing its leaders. Home Secretary Theresa May has replaced David Cameron who resigned over Brexit. The main opposition party, Labour, is facing a challenge to its leader, Jeremy Corbyn. The leader of the United Kingdom Independence Party, Nigel Farage, who was a staunch campaigner for Brexit, has also resigned. Carney, analysts say, seems to be the only person with real power in Britain focusing on preventing economic implosion rather than bickering over career opportunities.
It is a role Carney never wanted. He did pretty much all he could, without becoming overtly political, to prevent Brexit. On May 12, more than a month before the U.K.'s EU referendum, Carney warned that a Brexit "could possibly include a technical recession." (A technical recession is defined as two consecutive quarters of negative growth.) And for that—a simple statement of fact and a duty-bound warning—Carney made himself some powerful enemies.
Politicians who backed the Leave campaign accused him of buying into what they called "Project Fear," their term for the Remain campaign's warnings of the effect a Brexit could have. Andrea Leadsom, who until recently was one of two candidates running for leader of the Conservative Party—and thus the office of prime minister—said of Carney's comment, "He has encouraged financial instability, and I think that absolutely damages the reputation of the bank." Another Conservative lawmaker, Jacob Rees-Mogg, called on Carney to resign.
Other Leave campaigners accused Carney of overstepping his role by commenting on a political matter; the Bank of England's governor is supposed to remain politically neutral at all times, even though he or she is appointed by the government. Carney responded that he wasn't telling people how to vote but alerting them to the potential dangers of leaving, which is within the Bank of England's remit. The bank's role, Carney said, was to "identify risks, not to cross your fingers and hope risks would go away."
The British voters weren't persuaded by Carney's warning. And since the vote on June 23, some Leave campaigners have said his warning is responsible for the pound's decline in value—a charge analysts refute. "I think it's an outrage that people are saying that Carney has talked down the economy," says Blanchflower. "I think a recession is extremely likely."
It will be months before we know whether Blanchflower is right—but the early indications suggest trouble is coming.
The day after the U.K. voted to leave the EU, the pound fell to lows against the dollar not seen for 31 years. As a result, the country dropped from being the world's fifth largest economy by GDP to its sixth. Meanwhile, Standard & Poor's downgraded the outlook for seven U.K. banks to "negative," meaning that there is a one in three chance of it downgrading their ratings in the next six months to two years.
Spooked by Brexit, investors in many companies—notably property ones—began requesting to withdraw their money. As a result, by July 6 seven property funds, companies that invest in real estate, had temporarily suspended trading in their shares. On July 1, the U.K.'s finance minister at the time of writing, George Osborne, announced that he was abandoning his 2015 policy of restoring government finances to surplus by 2020.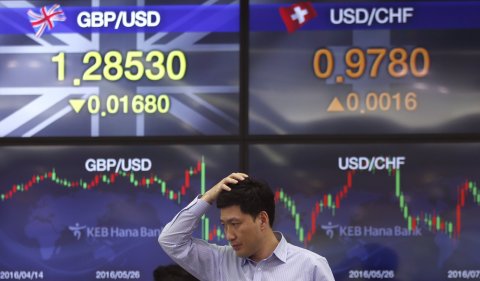 That kind of news would make most voters, whether they voted for Remain or Leave, as well as anyone else who stands to be affected by economic turmoil in Britain (that's virtually everyone on the planet), yearn for a savior.
Carney is not an economic superman with unlimited powers—but he has some real clout. As governor of the Bank of England, his two main responsibilities are ensuring monetary and financial stability in Britain. To help achieve the first, he is in charge of monetary policy, controlling the supply of money through the adjustment of interest rates or use of quantitative easing. Until 1997, the government controlled interest rates. The U.K.'s finance minister would meet with the governor monthly, and together they would set the rates. That highly politicized way of conducting monetary policy led to rates that were often adjusted to suit the government's goals. On May 6, 1997, then–Finance Minister Gordon Brown made the decision to hand over monetary policy to the bank, saying that he wanted "to break from the boom-bust economics of previous years."
The governor's second duty—ensuring financial stability—is new. In 2012, Osborne announced a Financial Services Act that put the bank in charge of regulating the U.K.'s financial sector and its individual banks. Prior to this, the bank had shared that responsibility with the government, leading to a regulatory framework that Osborne called "incoherent."
On April 1, 2013, three months before Carney's first day at work, the bank took over sole responsibility for regulating Britain's commercial banks. That put Carney in charge of reducing financial risks generated by banks. He was also now a lender of last resort at times of financial stress.
Right now, Britain's banks seem to be behaving themselves, but it's the country's voters and politicians who have made his role suddenly challenging. Waltraud Schelkle, an associate professor of political economy at the London School of Economics and Political Science, says Carney has two primary ways to reassure the markets and consumers. The first is to cut interest rates in the hope that cheaper borrowing would encourage people to spend money, giving the economy a boost; the second is to increase liquidity—the ease with which assets can be bought or sold without affecting their price.
Carney used both these tools when he helped steer Canada through the global financial crisis of 2007 to 2008, cutting interest rates to nearly zero percent and carrying out term purchase and resale agreements—when the central bank buys treasury securities from a bank and sells them back to the bank the following day to boost liquidity.
Soon after Brexit, Carney announced a measure that would quickly increase liquidity in the U.K. economy. During his July 5 press conference, he said the bank had decided that banks could temporarily abandon an assets-based buffer they previously had to hold in reserve in case of changes in the financial environment.
The move freed up $195 billion for banks to lend to businesses and households, but it didn't stop the pound from sliding to a historic low of $1.28 the next day.
Carney, Blanchflower says, cannot be expected to save the economy alone. The government, which sets fiscal policy, levying taxes and spending public monies, needs to help him. "We need fiscal and monetary policy working together," he says. "That's what got us out of the hole in 2009 [during the financial crisis]."
But with the ruling Conservative Party preoccupied with a change in leader from David Cameron to Theresa May, which was announced on July 11—it has had little time to focus on changing fiscal policy.
Throughout the leadership race Osborne was something of a lame duck as finance minister. He may have felt that his role was to run the economy as usual and not make major changes to government policy. (After the referendum, it took Osborne three days to make a public appearance. Twitter users circulated the hashtag #WheresGeorge.) Although Osborne assured the markets and British people on June 27 that he had "robust contingency plans" for handling the economic aftermath of Brexit, he didn't elaborate fully on them.
His slow response may explain why, on June 30, Carney told reporters, "Part of [the bank's] plan is ruthless truth telling. And one uncomfortable truth is that there are limits to what the Bank of England can do."
Despite those limits, Carney and the bank continue to reassure financiers and the public that they are well-equipped to deal with Brexit. On July 5, Carney said that the bank has been implementing contingency measures over the past few months to try to prevent financial instability. As a result, major British banks now hold about four times as many high-quality liquid assets as they did before the 2007-8 financial crisis.
Carney is doing, Blanchflower says, exactly what a governor is supposed to do to reassure the markets. "You have to talk calmly and say, 'The Bank of England is on top of this, and we have a plan,'" he says.
But reassuring words can only go so far, and there is plenty that Carney cannot do. He is unable to participate in negotiations with the EU about whether the U.K. will retain access to the European single market. He is also unable to influence fiscal policy. So Britain's designated economic adult will have to do what everyone else in his adopted country is doing right now—hope that Britain's political leaders figure out what exactly their plan is for getting the U.K. out of the EU.
This story has been updated based on the changing political situation in the U.K., particularly Theresa May's replacement of David Cameron as Conservative Party leader.