Updated | I hate that I've changed my outfit three times to go to a cat convention. My first choice felt too desperate: floral leggings and a pale pink shirt with a tabby kitten pin fastened at the collar, topped off with a sweater that said, "Ask me about my cat." I'm already going to CatConLA, the "convention with cattitude," so I decided that my outfit doesn't need to scream "crazy cat lady!" The combination was also far too heavy for a hot Los Angeles weekend near the end of June. I took off the sweater and looked frumpy. I changed into jeans and looked square. I traded the pink button-up for a neutral blouse and decided I look normal. Then I added the cat pin because this might be the only time I can wear it without ridicule.
The convention doors are guarded by 10-foot posters of a fluffy gray Siberian cat in the clouds, staring off into the distance like a stoic dictator. Once inside, it's obvious that CatConLA has all the makings of a Los Angeles fave: four-legged friends, revelers in costumes, more people than fire codes allow and lots of food trucks. The convention was created in 2015 by Susan Michals, the same cat lady responsible for the kitschy success of Cat Art Show Los Angeles in its second year; this past March, it featured work from prominent artists like Mark Ryden and Marion Peck. CatConLA expands on that success and desire to change the perception about cats and cat people.
"Everyone thinks we're a bunch of Grey Gardens, spinster, hoarder, cat-piss-smelling women," she says. "It goes back to the relationship of the black cat and the crotchety-old-witch persona from the 15th and 16th century."
Standing in line to get my press pass, I spot a middle-aged man in a purple T-shirt with a tower of cat faces on the front. It is tucked loosely into his dad jeans, with a black fanny pack snapped in the belt loops. A piece of tissue still clings to his chin after he cut himself shaving. He is by himself. I stare, dumbstruck, as he makes his way through the crowd. It takes a special kind of person to go to a cat convention alone. I recall that Michals says she hopes to help debunk the cat-crazy stigma by "showcasing groundbreaking products for cats and their people."
"The assumption," she says, "is that just because you're a cat person, you don't have taste or style. You can be chic and have a cat. They aren't mutually exclusive."
Looking around the Reef's 60,000-square-foot showroom, I am immediately overwhelmed. The second floor houses the latest in cat toys, furniture, food and water receptacles, as well as a robotic litter box that looks like a European washer-dryer. The stigma-smashing products Michals mentions are from such innovative vendors as Vesper, which creates cat trees with mid-century modern design aesthetics (I buy one), and Curio, which produces handmade litter boxes from premium wood that can be placed in a home without embarrassment. But most of the booths on both floors are dedicated to cat enthusiasts who perhaps don't even own a cat but enjoy the kitsch: cat-shaped accessories, cat-print clothing, cat-themed artwork, celebrity cat merchandise and a massive booth dedicated to Pusheen, the relatable web comic cat most famous for loving pizza and naps.
Nearly 15,000 people have come from all over the world for cat-related panels, games and shopping. You can talk about your cat here, and no one will tell you to shut up. Before the end of the first day, the fire marshal will have to close the doors to slow the line of people pushing their way inside.
In this vast sea of people taking selfies, chatting with vendors, waiting in lines for swag and meet-and-greets with celebrity cats, like Lil Bub, and staring agog at the elaborate eccentricity of it all, there was something noticeably absent: cats. Attendees were asked to leave their pets at home, though members of the SPCA are educating people on adoption at a large set-up on the second floor, where 100 kittens and cats wait in partial-view, windowed rooms to be cuddled and taken home—99 will be adopted over the weekend. Plenty of people are roaming in aggressively cat-themed couture, either preparing for the cat fashion show on Sunday or just dressed up for the hell of it. One woman has come as a "cat mom" in a baggy nightgown and shower cap, with fake kittens dangling from her torso as if suckling her heavy bosom.
I spot what I guess is a kindred spirit amidst the chaos: a middle-aged man sitting alone on a couch near a selfie booth. People pose with giant photo frames while he reads The Life and Times of Samuel Bowles. But there are also hipsters, glamour girls, celebrities and even men with beards, tattoos and Peaky Blinders haircuts. Rumer Willis and Jessica Lowndes are among the human celebrities roaming the crowd, a testament to the cultural shift for cat nuts from closeted to cool. Celebrities loving cats is nothing new; Katy Perry and Norman Reedus, from The Walking Dead, openly show their kitty love on Instagram. Ian Somerhalder posed for his 2013 "Sexiest Man Alive" feature in People magazine with his cat. And of course, there's Taylor Swift. "Taylor Swift is the poster child for the nouveau cat lady," says Michals. "She spends a lot of time on photos and videos of her cats, Olivia Benson and Meredith Grey. She is chic, independent, stylish, smart, creative, and embraces her feline fanaticism like no other. I love the fact that people like her and Katy Perry, Ian Somerhalder and Ricky Gervais have used their celebrity to change the perception and created awareness."
Cats are big right now thanks in large part to social media. I heard about CatConLA from Facebook; three "friends" in one day posted it sarcastically to my page with a line of tears of joy emojis. Kady Lone, Cats of Instagram designer-editor and momager of celebrity cat Pudge, calls the internet the "dog park for cat owners." Over 600,000 people follow her pics of Pudge, an overweight exotic shorthair with a smooshed face and thick white mustache. "Before the internet, you couldn't share your cat with the world the way dog owners can. The internet gives you a community," she says during a panel discussion titled, "What Separates Cute From Internet Sensation."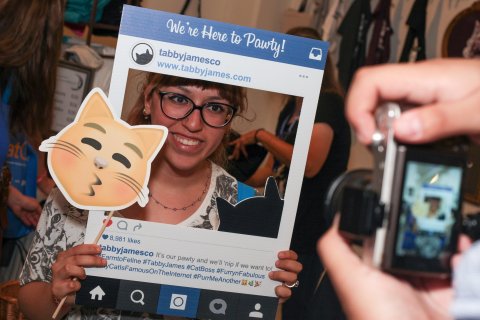 Many attendees are looking for tips on how to make their cat famous. Lone says a well-developed backstory, well-lit photography and good captions can take a cat from obscurity to a Selena Gomez–level of Instagram celebrity. For the lucky few who have "made it," it's possible to make a career out of taking video and pictures of their cat. It's not rap mogul scratch, but a cat with the "it" factor can lead to book deals, travel, sponsorships and appearance fees.
A few times, I am randomly approached by cat-eared women pushing business cards of their celeb-aspiring pets into my hand. One, Maia Krause, hands me a bright pink card featuring her blue point Himalayan, Lady Dolores Kittytoo (her friends call her Lola). "I'm Lola's personal assistant," she says. "She tells me where to go and what to do, and I represent her."
It takes me a few blinks to realize that, while Maia isn't joking about being her cat's personal assistant, it is one of the many personae she and many other internet cat owners have developed: the personal assistant, the "meowma" (cat mama), the slave to a fickle and uncaring being of higher intelligence. These people create a persona, tell their story in a semi-ironic 140 characters and send it out into the world with a picture and a hashtag, and, if they're lucky, millions of people look at it, like it, share it, and say, "That cat is so me on a Monday."
Sitting in on a panel for the book Letters to My Cat , I tear up during the intro video of celebrities reading their sentimental entries to their purring pets. The woman sitting next to me is audibly weeping.
That night, the Cat Video Fest, produced by Will Braden, the man behind the popular "Henri, le Chat Noir" web series, is playing at the historic Ace Hotel's theater downtown after the conclusion of the first day of CatCon. It should have be an hour or so of viral videos featuring cats falling, running into doors, harassing other pets and fitting themselves into tight spaces. Typical just-before-bed Facebook browsing. In the theater, I see my weepy compatriot from an earlier sitting in a row toward the front, so I take a seat in the back of the house.
The show begins with a video featuring Scarlette, a towheaded toddler who loses her arm to cancer. Her young parents tearfully talk about her journey in and out of hospitals, and their decision to adopt a kitten to be their daughter's friend. The kitten they choose is Doc, a stray who lost her leg in a car accident. I am blindsided: It is so moving, with such great storytelling, and so darn cute. The auditorium is a cacophony of sobs and nose-blowing. I bawl.
At home that night, I put together my Vesper cat condo. Within minutes, my kitties, Mr. Darcy and Elizabeth Bennett, cuddle inside and then sprawl on top of it. I upload a pic to Facebook, happy to have purchased something all three of us appreciate. I instantly receive a comment: "It's very West Elm, but also sad. It's borderline cat lady."
Yes, how sad. Some people never know what's cool.
Correction: An earlier version of this story mistakenly said the selfie booth was officially sponsored by Instagram. It was not.