Updated | Donald Trump was thundering about a minority group, linking its members to murderers and what he predicted would be an epic crime wave in America. His opponents raged in response—some slamming him as a racist—but Trump dismissed them as blind, ignorant of the real world.
No, this is not a scene from a recent rally in which the Republican nominee for president stoked fears of violence from immigrants or Muslims. The year was 1993, and his target was Native Americans, particularly those running casinos who, Trump was telling a congressional hearing, were sucking up to criminals.
Trump, who at the time was a major casino operator, appeared before a panel on Indian gaming with a prepared statement that was level-headed and raised regulatory concerns in a mature way. But, in his opening words, Trump announced that his written speech was boring, so he went off-script, even questioning the heritage of some Native American casino operators, saying they "don't look like Indians" and launching into a tirade about "rampant" criminal activities on reservations.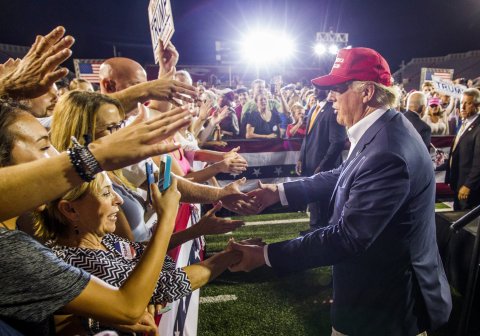 "If [Indian gaming] continues as a threat, it is my opinion that it will blow. It will blow sky high. It will be the biggest scandal ever or one of the biggest scandals since Al Capone," Trump said. "That an Indian chief is going to tell [mobster] Joey Killer to please get off his reservation is almost unbelievable to me."
His words were, as is so often the case, incendiary. Lawmakers, latching onto his claim to know more than law enforcement about ongoing criminal activity at Indian casinos, challenged Trump to bring his information to the FBI. One attacked Trump's argument as the most "irresponsible testimony" he had ever heard. Connecticut Governor Lowell Weicker Jr., whom Trump had praised in his testimony, responded by calling him a "dirtbag" and a bigot; Trump immediately changed his mind about the governor, proclaiming Weicker to be a "fat slob who couldn't get elected dog catcher in Connecticut."
For opponents of Trump's presidential run, this contretemps about American Indians might seem like a distant but familiar echo of the racism charges that have dogged his campaign, including his repeated taunting of Senator Elizabeth Warren as "Pocahontas" because she claims native ancestry. But, in this case, there was more to it than that: Trump, through his offensive tantrum, was throwing away financial opportunities, yet another reminder that, for all his boasting of his acumen and flaunting of his wealth, the self-proclaimed billionaire has often been a lousy businessman.
As Trump was denigrating Native Americans before Congress, other casino magnates were striking management agreements with them. Trump knew the business was there even when he was testifying; despite denying under oath that he had ever tried to arrange deals with Indian casinos, he had done just that a few months earlier, according to an affidavit from Richard Milanovich, the official from the Agua Caliente Band of Cahuilla Indians who met with Trump, letters from the Trump Organization and phone records. The deal for the Agua Caliente casino instead went to Caesars World. (In 2000, Trump won a contract to manage the casino for the Twenty-Nine Palms Band of Mission Indians, but after Trump Hotels and Casino Resorts declared bankruptcy in 2004, the tribe paid Trump $6 million to go away.) And in his purposeless, false and inflammatory statements before Congress, Trump alienated politicians from around the country, including some who had the power to influence construction contracts—problems that could have been avoided if he had simply read his prepared speech rather than ad-libbing.
Lost contracts, bankruptcies, defaults, deceptions and indifference to investors—Trump's business career is a long, long list of such troubles, according to regulatory, corporate and court records, as well as sworn testimony and government investigative reports. Call it the art of the bad deal, one created by the arrogance and recklessness of a businessman whose main talent is self-promotion.
He is also pretty good at self-deception, and plain old deception. Trump is willing to claim success even when it is not there, according to his own statements. "I'm just telling you, you wouldn't say that you're failing," he said in a 2007 deposition when asked to explain why he would give an upbeat assessment of his business even if it was in trouble. "If somebody said, 'How you doing?' you're going to say you're doing good." Perhaps such dissembling is fine in polite cocktail party conversation, but in the business world it's called lying.
And while Trump is quick to boast that his purported billions prove his business acumen, his net worth is almost unknowable given the loose standards and numerous outright misrepresentations he has made over the years. In that 2007 deposition, Trump said he based estimates of his net worth at times on "psychology" and "my own feelings." But those feelings are often wrong—in 2004, he presented unaudited financials to Deutsche Bank while seeking a loan, claiming he was worth $3.5 billion. The bank concluded Trump was, to say the least, puffing; it put his net worth at $788 million, records show. (Trump personally guaranteed $40 million of the loan to his company, so Deutsche coughed up the money. He later defaulted on that commitment.)
Trump's many misrepresentations of his successes and his failures matter—a lot. As a man who has never held so much as a city council seat, there is little voters can examine to determine if he is competent to hold office. He has no voting record and presents few details about specific policies. Instead, he sells himself as qualified to run the country because he is a businessman who knows how to get things done, and his financial dealings are the only part of his background available to assess his competence to lead the country. And while Trump has had a few successes in business, most of his ventures have been disasters.
Dependent on Daddy
When he was ready for college, Trump wanted to be a movie producer, perhaps the first sign that he was far more interested in the glitz of business than the nuts and bolts. He applied to the University of Southern California to pursue a film career, but when that didn't work out, he attended Fordham University; two years later, he transferred to the Wharton School of Business at the University of Pennsylvania and got a degree in economics.
Trump boasted when he announced his candidacy last year that he had made his money "the old-fashioned way," but he is no Bill Gates or Michael Bloomberg, self-made billionaires who were mavericks, innovators in their fields. Instead, the Republican nominee's wealth is Daddy-made. Almost all of his best-known successes are attributable to family ties or money given to him by his father.
The son of wealthy developer Fred Trump, he went to work for his father's real estate business immediately after graduating from Wharton and found some success by taking advantage of his father's riches and close ties to the power brokers in the New York Democratic Party, particularly his decades-long friend Abe Beame, the former mayor of the city.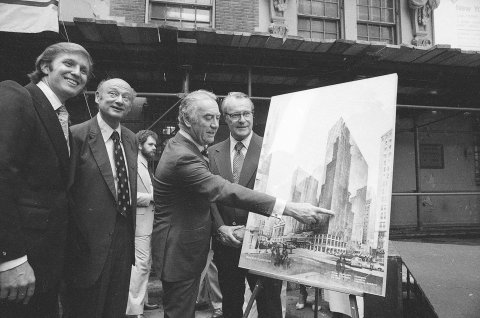 Even with those advantages, a few of Trump's initial deals for his father were busts, based on the profits. His first project was revitalizing the Swifton Village apartment complex in Cincinnati, which his father had purchased for $5.7 million in 1962. After Trump finished his work, they sold the complex for $6.75 million, which, while appearing to be a small return, was a loss; in constant dollars, the apartment buildings would have had to sell for $7.9 million to have earned an actual profit. Still, Trump happily boasted about his supposed success with Swifton Village and about his surging personal wealth.
He already ached to be part of the Manhattan elite rather than just be known as the son of a Brooklyn developer. So, in 1970, he took another shot at joining the entertainment business by investing $70,000, to snag a co-producer's credit for a Broadway comedy called Paris Is Out! Once again, Trump failed; the play bombed, closing after just 96 performances.
The next year, he moved to Manhattan from the outer boroughs, still largely dependent on Daddy. In 1972, Trump's father brought him into a limited partnership that developed and owned a senior citizen apartment complex in East Orange, New Jersey. Fred Trump owned 75 percent, but two years later shrunk his ownership to 27 percent by turning over the rest of his stake to two entities controlled by his son. Another two years passed, and then Fred Trump named him the beneficiary of a $1 million trust that provided him with $1.3 million in income (2015 dollars) over the next five years. In 1978, he boosted his son's fortunes again, hiring him as a consultant to help sell his ownership interest in a real estate partnership to the Grandcor Company and Port Electric Supply Corp. The deal was enormously lucrative for Donald Trump, particularly since it just fell into his lap thanks to his family. Under the deal, Grandcor agreed to pay him an additional $190,000, while Port Electric kicked in $228,500. (The payments were made over several years, but the value in present-day dollars on the final sum he received is $10.4 million.)
Despite having no real success of his own, by the late 1970s, Trump was swaggering through Manhattan, gaining a reputation as a crass self-promoter. He hung out in the fancy nightspot Le Club, where he was chums with prominent New Yorkers like Roy Cohn, the one-time aide to Senator Joe McCarthy who was one of the city's most feared and politically connected attorneys. Cohn became one of the developer's lifelong mentors, encouraging the pugilistic personality that showed itself all the way back in second grade, when Trump punched his music teacher.
Soon Trump gained the public recognition he craved. Through a wholly owned corporation called Wembly Realty, Trump struck a partnership with a subsidiary of Hyatt Hotels. That partnership, Regency Lexington, purchased the struggling Commodore Hotel for redevelopment into the Grand Hyatt New York, a deal Trump crowed about when he announced he was running for president.
He failed to mention that this deal was once again largely attributable to Daddy, who co-guaranteed with Hyatt a construction loan for $70 million and arranged a credit line for his boy with Chase Manhattan Bank. The credit line was a favor to the Trump family, which had brought huge profits to the bank; according to regulatory records, the revolving loan was set up without even requiring a written agreement. Topping off the freebies and special deals that flowed Trump's way, the city tossed in a 40-year tax abatement. Trump's "success" with the Hyatt was simply the result of money from his dad, his dad's bank, Hyatt and the taxpayers of New York City.
Despite the outward signs of success, Trump's personal finances were a disaster. In 1978, the year his father set up that sweet credit line at Chase, Donald's tax returns showed personal losses of $406,386—$1.5 million in present-day dollars. Things grew worse in 1979, when he reported an income of negative $3.4 million, $11.2 million in constant dollars. All of this traced back to big losses in three real estate partnerships and interest he owed Chase. With Trump sucking wind and rapidly drawing down his line of credit, he turned again to Daddy, who in 1980 agreed to lend him $7.5 million.
All of these names and numbers can grow confusing for voters with little exposure to the business world. So to sum it all up, Trump is rich because he was born rich—and without his father repeatedly bailing him out, he would have likely filed for personal bankruptcy before he was 35.
Rolling Snake Eyes
As his personal finances were falling apart, Trump got a big idea for how to make money: casinos.
In early 1980, he received a phone call from Alan Lapidus, an architect who was a friend of Fred Trump. Lapidus gave Donald Trump a hot tip—there was a parcel of land available in Atlantic City that was zoned for use by a casino hotel. Gaming had been legalized in New Jersey in 1978, and casinos in Atlantic City were already reporting big business. At the time, Trump was deep into plans to turn Bonwit Teller's flagship department store into Trump Tower—a transformation achieved with the help of Roy Cohn, who fought in the courts to win Trump a huge tax abatement. Still, Trump jumped on the casino idea and had a lawyer reach out to the owners to negotiate a lease deal.
In August 1980, the Trump Plaza Corporation was incorporated in New Jersey, and nine months later it applied for a casino license. Trump wanted to build a 39-story, 612-room hotel and casino, but the banks refused to finance his adventure. So, instead, he struck a partnership with Harrah's Entertainment in which the global gaming company and subsidiary of Holiday Inn Inc. put up all the money in exchange for Trump developing the property. In 1984, Harrah's at Trump Plaza opened, and Trump seethed. He had wanted his name to be the marquee brand, even though Harrah's had an international reputation in casinos and he had none. He even delayed building a garage because his name was not being used prominently enough in the marketing.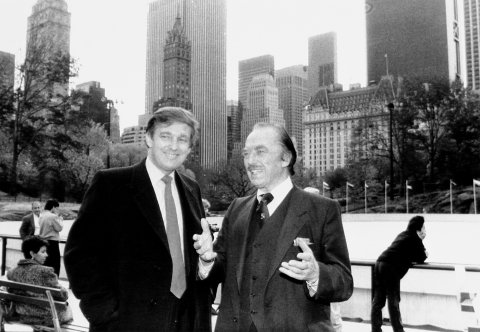 According to court papers, Harrah's spent $9.3 million promoting the Trump name, giving the New York developer a reputation in the casino business he'd never had before. And Harrah's quickly learned the price—now, with Trump able to argue he knew casinos, financing opportunities that did not exist before opened up, and he was able to use Harrah's promotion of him as a lever against the entertainment company. Soon after that first casino opened, Trump took advantage of his new credibility with financial backers interested in the gaming business to purchase the nearly completed Hilton Atlantic City Hotel for just $320 million; he renamed it Trump Castle. The business plan was ludicrous: Trump had not only doubled down his bet on Atlantic City casinos but was now operating two businesses in direct competition with each other. When Trump Castle opened in 1985, Harrah's decided to ditch Trump and sold its interest in their joint venture to him for $220 million.
Still, he wanted more in Atlantic City—specifically, the Taj Mahal, the largest casino complex ever, which Resorts International was building. This made the Casino Control Commission nervous because it could have meant that the financial security of Atlantic City would be riding on the back of one man. But Trump brushed those concerns aside at a February 1988 licensing hearing—after all, his argument went, he was Donald Trump. He would contain costs, he said, because banks would be practically throwing money at him, and at prime rates. He would be on a solid financial foundation because the banks loved him so much, unlike lots of other companies and casinos that used below-investment-grade, high-interest junk bonds for their financing. "I'm talking about banking institutions, not these junk bonds, which are ridiculous," he testified.