On July 11, 25 days before the opening ceremonies of the 2016 Olympics, the International Olympic Committee issued a statement announcing in all caps that "RIO 2016 IS READY TO WELCOME THE WORLD." Several paragraphs below, it addressed the many rumors—or are they?—that Guanabara Bay and Lagoa, the water-sport venues where Olympic sailors, rowers and canoers will be competing (and inevitably ingesting water), are teeming with human excrement. "Organizers restated their confidence that both areas of water would provide top-level conditions for the athletes," the IOC wrote.
The same day, Reuters reported that scientists had found drug-resistant "super-bacteria" in Lagoa, as well as off Copacabana beach, where Olympic marathon and triathlon swimmers will compete. The super-bacteria could cause "urinary, gastrointestinal, pulmonary and bloodstream infections, along with meningitis," Reuters wrote, and the U.S. Centers for Disease Control and Prevention says it contributes to death for up to half of all patients infected.
More than half of everything flushed by Rio's 6.3 million inhabitants flows directly into its waterways. This isn't a problem unique to Brazil; stemming the flow of raw sewage is a challenge to almost every coastal city around the world, and 90 percent of all wastewater in the developing world flows, untreated, directly into rivers, lakes and the sea. Even in New York City, sewage bypasses the overwhelmed treatment plants and flows directly out of overflow pipes along the city's waterfront when it rains more than just .05 of an inch.
Roughly the same is true of another 771 cities in the United States, but in Brazil the situation is notoriously grim. Around 169 million gallons of human waste flow into Guanabara Bay every day. And that's just a fragment of the problem plaguing all of Brazil, where, as The New York Times points out, about two-thirds of hospitalizations are blamed on waterborne disease, and where diarrhea diseases are the second-leading cause of death among Brazilian children younger than 5.
This was supposed to change before the Olympics. In its bid to host the games, Rio included a plan to cut sewage flow into the water by 80 percent. But by last year, it had dropped that claim. "Removing 80 percent of the pollutants? It's not going to happen," André Corrêa, Rio's state environment secretary, told reporters . Officials now say that job will take 20 years. This failure has sparked an investigation into corruption and misuse of federal funds.
So why is the IOC so confident that Rio's water is safe? It could be because—aside from the ill-timed discovery of that super-bacteria—bacterial tests were coming back within the acceptable range. "Independent testing in the competition area of the Guanabara Bay venue has consistently proven the water quality to meet relevant international standards," the organization told The New Yorker. Yet those tests looked only at bacterial levels because that's all experts at international organizations said was necessary; the World Health Organization does not recommend viral testing, and the IOC has no plans to do it.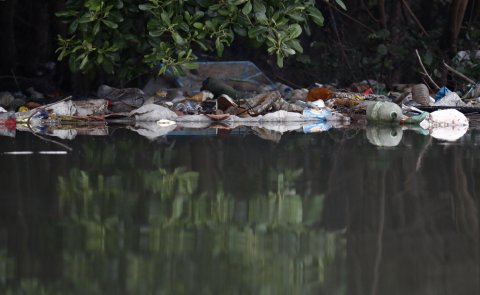 But when the Associated Press took samples of the water last year, levels of viruses from human waste in the Olympic waters were "roughly equivalent to that seen in raw sewage."
"Not one water venue" was safe for swimming or boating, the AP wrote. The water was rife with adenoviruses, which multiply inside the gut and cause "respiratory and digestive illnesses, including explosive diarrhea and vomiting, but can also lead to more serious heart, brain and other diseases." Virus levels were at 1.7 million times what would be considered unsafe at California beaches. Consuming just three teaspoons of the water carries a 99 percent risk of viral infection, Kristina Mena, an expert in waterborne viruses and an associate professor of public health at Houston's University of Texas Health Science Center, told the news organization.
Whether Olympic athletes fall ill or not will depend on a variety of individual factors, like how robust the person's immune system is. Australia's Olympic sailors have been taking vitamins since at least a 2015 test event in Rio, just in case. "We are taking appropriate supplements, etc., to keep immune systems up, and I am sure most of the others are doing the same," Peter Conde, the Australian team's high performance director, told Reuters .
A high viral count in the water might explain why 13 U.S. rowers and four team staff members, including coach Susan Francia, fell ill with gastrointestinal problems at a test event for the Olympics in Rio last August, or why British sailor Alain Sign became ill after his boat capsized there when he was training for the 2014 Brazil Sailing Cup. It's impossible to know if individual illnesses are due to waterborne viruses or something else—like food poisoning—but Bob Bowman, coach of Olympic superstar Michael Phelps, says he knows the risk firsthand.
"I happened to coach a young lady at the 2007 Pan Am Games there, and she came back and has been sick the rest of her life with a life-altering illness," he told the Agence France-Presse, referring to swimmer Kalyn Keller, who finished fourth in the women's Pan Am 10-kilometer open-water race that year and was diagnosed with Crohn's disease, an inflammatory bowel disease, shortly afterward. The illness led to her early retirement in 2008.
Despite all this ugly news, World Sailing, the global governing body for the sport, is remarkably chipper. Alastair Fox, World Sailing's technical delegate to the 2016 Olympics, has been to Rio several times. At a test event for the Olympics in 2014, Rio's Marina da Glória, which flows into the nearby Guanabara, was a disaster. "The boats were launching into a marina where there was still sewage entering. It didn't smell or look good. We've had large bits of timber, a lot of plastic bags," he says. "I think once we saw a sofa."
But since then, he says, he's seen conditions steadily improve. "This May, I was actually really impressed by the quality of water inside the marina," Fox says. "There was no smell, the water was clear. It looked like a completely new body of water." The organization looked at the bacterial tests from Brazilian authorities and the IOC and was reassured. (World Sailing does not conduct its own testing and therefore does not consider viral content either.) Fox chalks up the transformation to a new belt of sewage pipes recently installed by Brazilian authorities to divert the raw sewage farther from the event area.
The possibility that a plastic bag could wrap around a rudder or a floating sofa could immobilize a boat mid-race is still a concern, however. "We are still receiving some reports from athletes that they are seeing rubbish in the water," Fox says. So the organization will be deploying a helicopter to fly over the racecourse at 6 a.m. each morning of the Olympics to look for errant objects that can be gathered by Brazil's "eco-boats."
"We're confident now, but we're also not going to relax," Fox says.
Meanwhile, it's the stuff that can't be seen by the human eye, let alone a helicopter flyby, that could cripple athletes during these Olympic Games.