The night before the men's 100-meter final at the 2012 London Olympics, 22-year-old Yohan Blake could not sleep. The following day's race would be the most important of his life: The young Jamaican was about to compete in his first Olympic final. Billions of people would be watching him try to beat his rivals in a burst of speed and power that would last less than 10 seconds. Blake kept getting up from his single bed and going to the bathroom, thinking over and over again, "Jesus, big race tomorrow."
By the time the sun rose on August 5, he was bleary-eyed and still had a whole day to get through until the race that evening. He watched a cricket match on TV, sitting alone amid the clothes and food cartons strewn across his room in the athletes' village.
A shuttle bus came later that evening and took him to the main stadium, which was packed with tens of thousands of spectators. Blake had run here before, for the heats, but now, as the finalists stepped onto the track, the noise was deafening.
With the start of the race moments away, Blake and seven of the fastest men on the planet began stripping off their tracksuits. Blake, the youngest of the pack, looked tired, and the stadium's floodlights illuminated the dark circles under his eyes.
The announcer began calling out the names of the sprinters as the TV cameras zoomed in on each of them. "Richard Thompson, Asafa Powell, Tyson Gay… " Blake was bending over, adjusting his torn shorts; he had cut them with scissors, so they looked as if he had slashed them with his long fingernails—all part of an image intended to match his nickname, the Beast. As his name echoed around the stadium, he straightened up with a shoulder ripple he had cribbed from Michael Jackson's "Thriller" music video, then clawed at the camera, mouthing a roar. He glanced to his right and looked at his fellow Jamaican, Usain Bolt—the king of crowd-pleasers. This was the man everyone had come to see, not some nervous, young hopeful.
But Blake had reason to believe that, within the next few minutes, he could be the Olympic men's 100-meter champion, snatching the title from Bolt. Less than two months earlier, he had beaten him in the Jamaican team trials in both the 100-meter and 200-meter sprints. Bolt, who had won gold at both distances at the Beijing Games in 2008, held the world 100-meter and 200-meter records. But in 2012, Blake had run faster than anyone in the world.
The eight men stood behind their blocks. Blake stared down the track, swinging his arms to loosen up. The hushed crowd waited for the announcer to speak. "On your marks." The men crouched down, placing their feet on the blocks. "Set." They lifted up their backs. The starting gun fired.
For the best sprinters, the time between the crack of the gun and their spikes exploding off the block is 0.1 seconds; the ear hears, the brain sends a signal, and the body reacts. Blake sprang from his blocks, head down, body tilted forward at such an acute angle he looked like he might fall. His feet hammered into the ground, pushing each knee in turn up to his chest. His arms pumped as he began to raise himself into an upright position.
The U.S. sprinter Justin Gatlin was leading the pack, but Blake was gaining on him, pounding down the track, with Bolt close behind him.
At the 60-meter mark, Blake was at maximum velocity, his body upright, his strides lengthening. His breaths burned in his chest, the veins in his neck bulged, and the corners of his mouth stretched back, so it looked like he was grimacing in pain.
That's when he saw Bolt, two lanes over, draw level and then pull ahead. Blake urged his body to go faster, make longer strides, but he was running out of time. His body tightened under the strain as he attempted a final burst of speed, but he could not do it. Bolt widened the gap between them, powering over the line a full stride ahead of Blake, who came in second.
Four days later, Blake was again beaten by Bolt, this time in the Olympic 200-meter final. That race had been his last hope for an individual gold medal. He now had four years to wait for another shot at Olympic glory.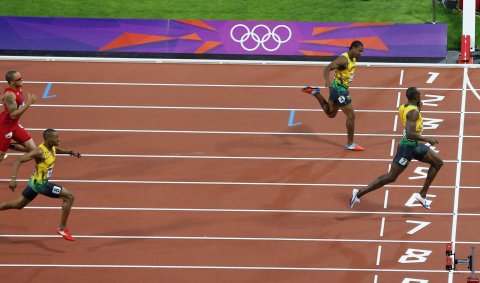 Fast and Fastest
Blake, who shares the title of the world's second-fastest man with the American sprinter Tyson Gay, has had to spend much of his career watching the world's fastest man, often in the next lane. He watches Bolt as they train together; he watches Bolt as crowds mob him at every opportunity; he watches as Bolt regularly lopes past him toward the finish line.
He watches Bolt because, like most of us, he finds it hard to look away. Bolt is a born entertainer, a giant of a man, who is confident, charming and preternaturally fast. Somehow, Bolt—who calls himself lazy, even if that's something of a ploy to make his remarkable athletic achievements seem even more amazing—makes running at superhuman speeds seem easy, something that he fits in around his playboy lifestyle. (After his 100-meter victory in London, he tweeted a photo of himself with three members of the Swedish women's handball team. In his bedroom. At 3 a.m.)
Blake offers no such illusions. Sprinting was his way out of poverty, and he does not pretend to take it lightly. He trains relentlessly, convinced that time away from the gym or the track is time wasted. "I believe if I'm sleeping, there is this next guy working harder than me," he says, when we meet in May at Adidas headquarters in Herzogenaurach, Germany. "I can't have him doing that. I always want to be the best. I have to work for that. Nothing in life come easy."
Blake and Bolt are friendly, and they support each other—but when they're on the track, all that vanishes. Three years older than Blake, Bolt is the cool older brother; Blake, shorter and stockier, is his awkward kid brother, forever trying to catch up.
But the older brother is nearly 30 now. Bolt has already said the games in Rio de Janeiro will be his last Olympics, so in 2020 Blake will no longer have to compete against the man who has dominated sprinting for the past eight years.
Blake isn't prepared to wait for Bolt to step aside. He has trained tirelessly since those two losses in the London finals. On August 14, if all goes as expected, Blake will face off against Bolt once again in the men's 100-meter final. It'll be his last chance to best the world's greatest sprinter on the Olympic stage.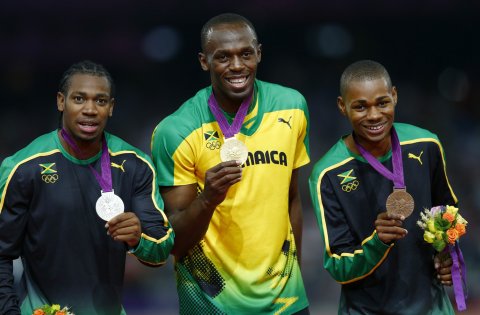 The Beast Is Born
Blake was born on December 26, 1989, the sixth of Shirley and Veda Blake's seven children, in the city of Montego Bay on the northwest coast of the island. Blake's early years were spent crammed into a two-bedroom house, sharing an outside bathroom with neighbors. The family's electricity came from an illegal connection Blake describes as "hustled."
"It was rough because there were only two beds in the house and, you know, windows were smashed, the floor was [rotten]," says Blake, who made up to $150,000 per race the year after the 2012 Olympics. "All of us bundled up in one bed, rain is falling [through the roof]. It was crazy."
Blake's father worked as a bartender and a tailor, but money was still tight, so Blake often skipped school to try to bring in a few dollars to help his parents pay for food. Sometimes, he would collect discarded bottles and redeem them at a local shop; sometimes, he did yard work for his neighbors; sometimes, he had to ask his church for money.
In elementary school, he was bullied because he was so poor. Blake remembers his mother would send him to school wearing a cheap pair of red shoes with a heel, which was all she could afford. " I used to take off my shoes, because they were so ugly," he says. "I couldn't let my friends see me in that. I was so ashamed."
His classmates laughed at him, but Blake had something none of them had—an almost freakish ability to run fast.
When Blake was in middle school, his principal, O'Neil Ankle, stepped outside one day to watch some of the boys at the school play cricket. Blake was bowling. In cricket, a bowler often takes a long run-up before releasing the ball toward the batsman. In that brief moment as Blake ran up, Ankle realized that the 13-year-old was wasted on the game. He had talent that could be transcendent in sprinting—that pure discipline of running as fast as humanly possible. He told Blake to enroll at St. Jago's, a high school with an excellent athletic program, 99 miles away on the other side of the island.
Blake left home and went to live with Danny Hawthorne, a coach at the school, and quickly showed he was exceptional. In 2007, aged 17, he posted the fastest 100-meter time for a Jamaican junior sprinter, 10.11 seconds. (The world record at the time, set the year before by Blake's fellow Jamaican Asafa Powell, was 9.762 seconds.)
The next year—his final one at high school—Blake competed at the Inter-Secondary Schools Boys and Girls Championships, the country's biggest athletics tournament. Champs, as it is known, might sound like countless other events around the world for high school athletes, but in Jamaica it is treated with almost the same reverence as the Olympics. It makes the front pages of the country's newspapers, and during the competition the 35,000-seat National Stadium is regularly filled to capacity.
The crowds are mostly there to watch the sprinters. It is a sport at which Jamaica, despite having a population of less than 3 million, excels. At the 2008 and 2012 Olympics, Jamaican athletes took gold in all the 100-meter and 200-meter races—with the exception of the women's 200 meters in 2012.
On March 14, 2008, Blake won the 16s-to-19s 100-meter race at Champs. In the crowd that day was Usain Bolt, a former winner at the tournament who had become the country's most famous athlete and was then the world's second-fastest man. After Blake's race, Bolt offered him some advice. "'Yohan, do not burn out yourself,'" Blake says Bolt told him. "'Leave it, because you still have the big career to come.'"
Blake could not believe Bolt knew who he was. "I was just so appreciative [of his advice]," he says. "You know, that's just the kind of guy that he is."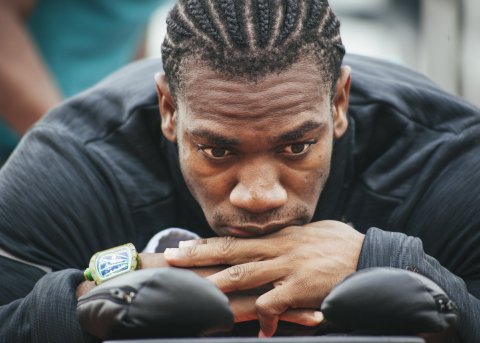 Not long after Champs, Bolt's coach, Glen Mills, offered Blake the chance to train alongside Bolt and many of Jamaica's other top sprinters. Five months later, he started working with some of the fastest men in the world.
But he was still a shy, insecure teenager and was intimidated by Bolt, his new training partner. Blake remembers watching him and thinking, Damn, he's fast. He began to wonder if he could ever beat a sprinter who was so much taller than he was, and who had such long strides.
Blake's first year on the international circuit in 2008 was a disaster. At races in Los Angeles and New York, he was too nervous to run well. "I froze in the blocks. I couldn't move," he says. "When the starter say go, I was still on my set." Bolt tried to help him with his start. "No, man, wake up. Get out of it," Bolt would urge him—encouraging him, as he still does. The advice didn't help much. Blake kept losing.
The following year, Mills tried a new approach. He entered Blake in several B-races, hoping he would regain his confidence running against weaker competitors. It worked. On July 10, 2009, Blake ran 9.96 seconds in Rome, becoming at the time the youngest person to run the 100 meters in under 10 seconds. A week later, at a meet in Paris, he shaved his time down to 9.93 seconds. All of a sudden, Blake belonged to the sprinting elite.
That gave him confidence, as well as a fresh image, inspired by Bolt, who had once mentioned Blake during an interview on Jamaican television by saying: "Watch out for Yohan Blake. He works like a beast. He's there with me step-for-step in training." For the 19-year-old, that line from the world-famous sprinter was a gift, offering the naturally shy youth a tough mask to hide behind. He took to calling himself the Beast, and at big international races he unleashed a now-familiar silent roar. "I loved it," he says. "It brings so much flair. It makes you stand out."
Crowds began to recognize the stocky Jamaican who sometimes lined up against his long-legged countryman, Bolt—and they started to root for him. Blake fully embraced his new persona, growing his hair and nails long, and bulking up until he had stretch marks on the skin around his rounded shoulders. At one race in Switzerland in 2014, he took to the track with black stripes painted on his face and false fangs in his mouth.
His manager, Cubie Seegobin, says he kept asking Blake to cut his nails and told him he looked ridiculous, but Blake refused to abandon his new persona. For the first time in his career, people were no longer dismissing him as Bolt's understudy. As the Beast, he believed he was invincible.
Hamstrung
On a gray Monday in May, Blake and his physiotherapist and friend Shaun Kettle are in a minivan on the German autobahn being driven toward Munich. Rain is pounding on the windshield. The two men and I are halfway through a six-day trip in Germany; two days earlier, Blake ran a 100-meter race in the town of Herzogenaurach.
Blake is in a good mood. Though that race was small and his competitors weak, he ran well, given the cold temperature, coming in at 10.03 seconds. As Kettle tries to study a book on the body's muscles, Blake keeps up a stream of teasing questions. "What kind of muscle is in the penis?" he asks, collapsing into laughter as Kettle rolls his eyes.
Resigned to not getting any work done, Kettle begins teaching Blake about the quadriceps femoris , the four thick muscles that cover the front and sides the thigh bone. Elite sprinters like Blake have very powerful quads. They're the most important muscles in the drive phase—the first part of a sprint that looks like an airplane takeoff as a runner springs out of the starting blocks. Those muscles help throw the leg forward and absorb the shock as the foot slams into the ground. They also put considerable strain on the hamstrings, the muscles that run down the back of the thigh, abruptly contracting them as the quadriceps bend the leg. "There are two main injuries [for sprinters]," Kettle says. "Hamstring and back." For the first time since leaving Herzogenaurach, Blake is quiet; he seems to be thinking about his past hamstring tears.
The first came during a race in Jamaica in 2013. The hamstring in Blake's right leg tore, forcing him onto crutches and out of training for several weeks. Not training was anathema to Blake, so he continued to work out, against his doctor's orders. Even if one leg was injured, he thought, he could still strengthen the other one.
His team now says the extra strengthening of that one leg might have put too much strain on it. On July 11, 2014—having missed much of the 2013 season because of his muscle tear—Blake ran in the Glasgow Grand Prix, a relatively minor tournament in Scotland. He was slow off the blocks and quickly fell behind. At 60 meters, he began to lean back, his legs still pumping furiously as he fought to slow his body's propulsion. His right leg kicked out and planted itself, and his body pitched over it, his arms flailing as he landed facedown in his lane. "I felt the muscle coming off the bone, and I had to drop myself because I was going so fast," Blake says softly. "I had to use this foot," he says, pointing to his right leg, "and drop myself and try and roll over. But that pain was devastating. It pained me so much, man. Couldn't even imagine."
Blake had suffered an injury known as a proximal tendon avulsion. An MRI scan revealed that his hamstring had ripped off his sitz bone (at the base of the pelvis). He would need surgery to reattach it.
A few days later, in Luxembourg, doctors performed an operation on Blake's leg. They warned him his rehabilitation would take months. A Grade 3 hamstring tear, like the one Blake had, is the most serious sort of hamstring injury. Blake's team worried that his career might be over, though they did not tell him that. "We would do anything to make him happy," says Garth Garvey, a childhood friend and assistant who lives with Blake. "We kept telling him the best was yet to come."
Most of the time Blake has the exuberance of a young child, cracking jokes and breaking into song. But when he recalls the support of his team during this difficult period, he starts to cry, suddenly self-conscious and hiding his face behind his hands. "[I knew] that I wasn't forsaken," he says. "The team I have around me, they would call, they would check up on me."
Despite their attempts to reassure him, Blake wasn't sure he'd ever return. Months after the injury, he still felt its effects. "The guy I was running with in training was tearing me apart," he says. "Some days I would feel good, but some days I would run and feel myself hopping. I wasn't strong enough."
Blake is not just talking about his leg. "When your mind is shattered by what has happened to you, it leaves this dent that [you] just have to try and straighten," he says. When he tried to run, he held back—terrified that his hamstring might snap again.
While Blake battled to regain faith in his body, Bolt was adding to his collection of gold medals. In August 2014, Bolt, along with the rest of the Jamaican men's 100-meter relay team—which, with Blake running the third leg, had won gold at the London Olympics—set a tournament record at the Commonwealth Games with a time of 37.58 seconds. In Poland later that month, Bolt set an unofficial world record for the indoor 100-meter sprint: 9.98 seconds. A year later, he took gold in both the 100-meter and 200-meter races at the world championships in Beijing.
Blake didn't even make the Jamaican team that traveled to China.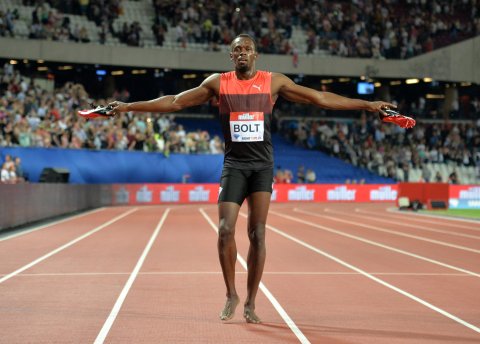 The Beast Must Die
Blake believed then, and believes now, that a body as strong his simply doesn't break down on its own. "My hamstring was fit and strong; I'd done so much work on it," he says, talking about his injury in 2014. As he sought an explanation for why it happened; the answer came in what he considers a divine revelation. "[God's] voice, it's like when he speaks to you, you sit and you reflect, and things come to your mind," says Blake, who was brought up Christian. He says God told him that he was being punished because he had stopped praising God. Preoccupied with his career, Blake had stopped going to church and let his devotion slip. Both hamstring injuries were a rebuke from the Almighty, Blake concluded. "God say: 'Yohan, I can make you, and I can break you,' and that's what happened."
Though Blake concedes he might have laid the groundwork for the hamstring tear—" I was compensating on one leg more than the other"—as far as he's concerned, it was all part of God's plan, but it wasn't until he met Jamaican preacher Andrew Scott in April of this year that the plan finally became clear.
Like Blake, Scott is based in the Jamaican capital of Kingston, where he uses the auditorium of a primary school as a church. Scott claims he can predict the future, heal the sick and deliver people from evil spirits. Since meeting him, Blake has become a devoted follower.
Scott encouraged Blake to read the Bible, attend church regularly and praise God. If he did all that, Blake thought, then victory at Rio would surely be his.
The pastor had one final commandment for him: Blake had to kill the Beast. Scott was worried, Blake says, because the apocalyptic Book of Revelation in the New Testament tells of two beasts that come to ruin humankind. The first beast blasphemes against God and wages war against his people. The second, according to the Bible, forces people to carry a mark on their right hand or their forehead: "The name of the beast or the number of its name." Blake, the pastor said, had willingly taken the name of the beast and in doing so had called evil onto himself.
All that terrified Blake. He began to believe that calling himself the Beast had slowed him down, cost him gold in London and estranged him from God. He dropped the nickname, cut his nails and stopped showboating. He knows that many of his fans in Rio will not have heard of this conversion and will be surprised when he doesn't snarl and claw at the cameras; he knows many will be disappointed that the theatrics are gone. But he is adamant that it was the right thing to do. "[Pastor Scott] break the spell off," he says. "If you don't believe, it don't make sense. But when he break the spell, I could feel a burden lifting off of me. I feel light."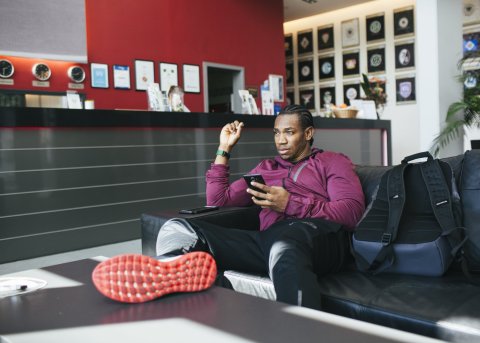 Healing Hans
It's 12 weeks until the start of the Olympics, and Blake, Kettle and I have been in Munich for a day. Blake may have got right with his God, but his body still needs work and his team isn't going to rely on faith alone to protect it. So we drive to the office of one of the sporting world's most popular doctors, Hans-Wilhelm Müller-Wohlfahrt. "Healing Hans," as he's sometimes known, has treated some of the world's greatest athletes and celebrities, including boxer Wladimir Klitschko, U2's Bono and Usain Bolt. Müller-Wohlfahrt treats many of his patients, Blake included, with what he calls "infiltrations"—injections of substances into the injured body part. The shots tend to include biological or homeopathic liquids. Blake, a regular visitor to Müller-Wohlfahrt's clinic, never knows exactly what is in them.
In his office, Healing Hans clasps Blake's hand with one hand and warmly slaps him on the forearm with the other. He asks the sprinter to strip to his running shorts, and once Blake is undressed Müller-Wohlfahrt sits behind him in a swivel chair. Resting on some medical books in the doctor's office is an autographed pair of Bolt's spikes. Müller-Wohlfahrt hasn't put anything of Blake's on display.
The doctor closes his eyes and begins to feel across Blake's shoulder blades and down his back. "Wow! You're in good shape," he says. But he could be in better shape, apparently. After examining him on the bed, Müller-Wohlfahrt says Blake's left knee is too stiff; he is unable to rotate it properly. Blake also complains of soreness in his back. Soon after, I am asked to step out of the room. Müller-Wohlfahrt doesn't want someone outside of Blake's team watching him administer the "infiltrations."
Blake tells me later that the doctor gave him seven injections, six in his back and one in his knee. He didn't ask what was in them. " He knows what the treatment is. He doesn't have to explain," Blake says. "I don't know the name [of what he injects]."
It is likely that at least one of the shots would have included Actovegin, an extract taken from calf blood, which Müller-Wohlfahrt says nearly all of his infiltrations contain. The substance is not approved for use in either the U.S. or Canada, and the International Olympic Committee briefly banned it in 2000, believing that cyclists were using it to enhance their performance.
The IOC now permits the use of Actovegin, mainly because there is not enough evidence to prove it enhances athletic performance. But many anti-doping bodies remain suspicious of it. Some medical professionals worry that diseases could be transmitted in the blood extract. Others say it's little more than a placebo. Blake tells me he's never heard of Actovegin.
In 2009, Blake's trusting approach to his medical care led to a three-month suspension from competitive sprinting , after he t ested positive for the stimulant 4-Methyl-2-hexanamine. It wasn't a banned substance, but the Jamaican Anti-Doping Commission ruled that it was too similar to tuaminoheptane, which is banned. Blake had ingested it, he says, as part of a supplement someone in his team gave to him.
Blake's willing blindness to what goes into his body doesn't surprise Michele Verroken, the founding director of the sports business consultancy Sporting Integrity and the former director of ethics and anti-doping at U.K. Sport, an agency that invests in Olympic and Paralympic sport. "Athletes are extremely vulnerable to the suggestion that something is a miracle cure, particularly when they're struggling with injury," Verroken says. "There is a whole sort of pseudo-science that exists around elite performance. It's become part of the culture of optimizing performance."
But if Blake is placing a remarkable amount of faith in the people who administer his medications, so too is his greatest rival. As we leave the doctor's office, with Blake screwing up his face in pain, we hear laughter and a deep, familiar voice coming from the reception area. Blake had told me earlier that Bolt might show up at the clinic, and sitting there on a window ledge cut into one of the walls of the bright, white reception area is the only man in history to have run faster than Blake.
Blake walks over to Bolt and embraces him. Throughout their conversation, the two men laugh and crack jokes; they talk about jet lag and their training regimens. For all the time and energy each man spends trying to dash the hopes of the other, they seem genuinely close.
When you see the two sprinters together, one difference between them is obvious: Bolt towers a full 7 inches above Blake. And that could prove to be the difference between gold and silver in Rio.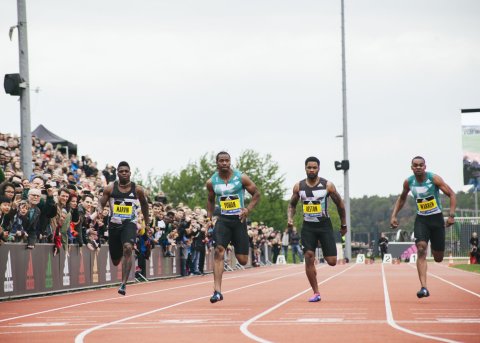 Tall Order
It's hard to imagine what more Blake could do to make himself faster. For the three days we are in Munich, Blake's regime is unremitting. On the second day, he takes a car out to the Olympic stadium—the city hosted the games in 1972—and commandeers a section of the indoor track. Via WhatsApp, his coach tells him to run 18 60-meter sprints with short rest breaks in between. With Kettle timing him, Blake runs sprint after sprint. When he finishes after about an hour, parts of the track are soaked with his sweat and water he has spat out.
Later, Blake picks up a 9-pound rubber ball. He holds it in front of him, at hip height, and lobs it back over his head, building power in his upper body with each repetition. Next, Blake places a gymnastics mat in front of a starting block. Clutching the ball, he pushes himself off the blocks, throwing it ahead of him as he thuds onto the mat. Then Kettle, using both hands, pushes a massive tractor tire at him. Blake pushes it back with one hand, over and over. At the end of all this, he goes to the gym for an hour of resistance-based exercises.
But he can pray and train and visit famous doctors all he wants; he's still not going to get any taller. Bolt is 6 feet 5 inches tall, unusually tall for a sprinter. His long legs should prevent him from being able to accelerate quickly, but somehow they do not. Bolt's stride frequency remains as quick as his shorter-legged competitors, while his strides are much longer than theirs. Typically, he runs the 100 meter in 41 steps, three or four fewer than other elite sprinters. For Blake to beat Bolt in Rio, he will have to be so fast off the blocks, in the first half of the race, that his long-legged training partner can't catch up, can't run him down.
Blake vows that on August 14, he will do just that, that he'll finally be fast enough. "I've waited four years for this," he says. "I've waited all my life for this. This is my time."