For the past 20 years, whenever Benny and Betty Esposito got dressed up for a weekend wedding, they would drive down Woodhaven Boulevard to their bank, walk into the vault with a bank employee to unlock their safety deposit box, and take out the jewelry they wanted to wear to the ceremony and reception. On Monday, when the bank reopened, the landscaper and teacher's aide would drive back to the bank in a bucolic Queens, New York, neighborhood and return their jewelry to their safety deposit box, where it sat alongside their bonds and deeds.
In late May, the Espositos learned their safety deposit box at Maspeth Federal Savings bank wasn't safe. A crew of thieves had cut a hole through the roof of the Queens bank, cut surveillance video and dropped into the vault. The thieves left a black ladder leaning against the bank and dozens of emptied boxes scattered on the roof. The New York Police's chief of detectives told reporters after the Maspeth burglary that the thieves were "pros" and said the job was part of a "10-case pattern."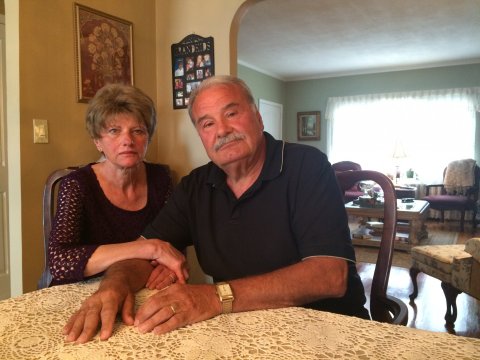 On Tuesday, authorities announced the arrest of three men for using a blowtorch to cut through the roofs of two banks—Maspeth Federal in May and an HSBC branch in Brooklyn in April—so they could steal $5 million in cash, jewelry and diamonds.
"Over the past several years, the FBI and NYPD have been investigating a pattern of bank burglaries and attempted bank burglaries in and around NYC," court papers filed by prosecutors in Manhattan federal court say. "These burglaries and attempted burglaries involve a crew of individuals who break or attempt to break into secured bank vaults and safety deposit boxes, generally by cutting through a roof or a wall from a space adjoining the bank."
That crew included Michael Mazzara, Charles Kerrigan and Anthony Mascuzzio, a FBI agent wrote in court papers unsealed Tuesday morning. The three men have been arrested and are expected to be arraigned on Tuesday afternoon. Mascuzzio, 36, is the son of Anthony Mascuzzio, who was reportedly an associate of John Gotti and the Gambino crime family until he was shot and killed in 1988 during a fight over money in the basement of a Manhattan dance club.
"These heists reminded me of one of my favorite movies, Heat," NYPD Commissioner Bill Bratton said at a press conference Tuesday afternoon, comparing Mazzara to the professional thief played in the movie by Robert De Niro. "This crew was nearly perfect, but they left behind small pieces of evidence: plywood purchased at a nearby Home Depot and torches from a Brooklyn welder used to muscle into the vault."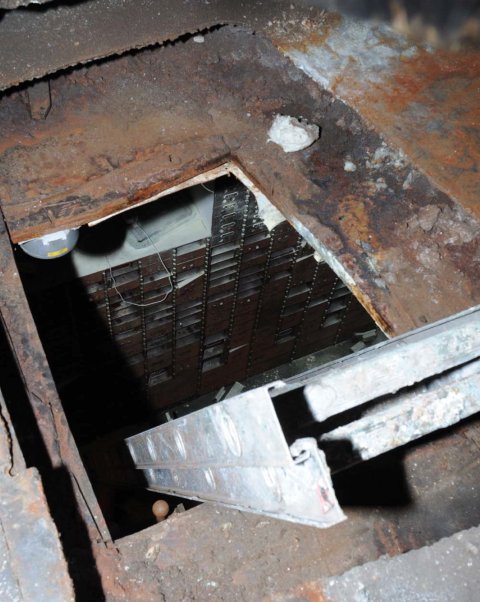 Authorities have been tracking the men since at least November 2014, when the FBI installed a camera outside the Brooklyn home of Mazzara and Kerrigan. And court papers unsealed Tuesday point toward the possibility of an inside job or inside access in the HSBC burglary. "The alarm wires coming from the HSBC branch's vault had been cut from inside the bank building sometime before the bank closed on April 8, 2016," the complaint states.
"I'm just a landscaper, but there should have been a little bit better security if they knew these banks were getting broken into," says Benny Esposito, 70, whose safety deposit box was emptied in the burglary. "We want to know if the president of the bank had a safe deposit box in there." Betty Esposito adds that the thieves seemed to have an easy time getting into the vault. "I have more security in my school," she says.
The crime that robbed Betty Esposito of the engagement ring her husband gave her 46 years ago bears striking similarities to other recent burglaries in New York City. A Newsweek review of eight burglaries that targeted safety deposit boxes reveals that criminals used one of two methods: either going through the bank's roof or breaking into an adjacent business and tunneling through the wall into the bank.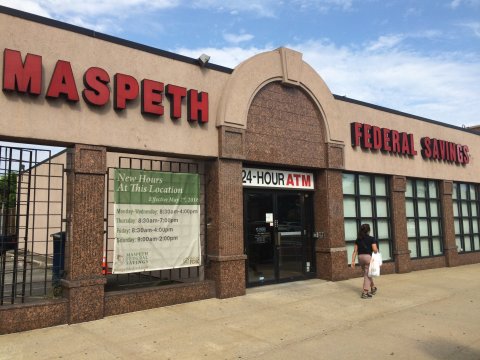 Criminals broke into a Howard Beach, Queens, education center in 2008, then smashed through the wall into the adjoining Sovereign Bank, where they reportedly looted hundreds of safety deposit boxes and made off with $400,000 in cash and gems. The next year, thieves used blowtorches to cut through the roof of a Brooklyn bank, hiding their work behind a fake chimney and emptying about 60 safety deposit boxes. Criminals used similar methods in the following years, breaking through bank walls from adjacent buildings in Brooklyn in 2012 and Queens in 2013. Burglars even sawed a hole in the roof of a bank on Manhattan's Lower East Side on July 4, 2014—with the noise of their work reportedly disguised by a fireworks show.
The New York Post reported in late 2014 that a crew of sophisticated robbers had used power tools to break through bank walls and roofs at least six times since 2012, citing law-enforcement sources and dubbing the crew "a new Hole in the Wall Gang."
The pace of bank break-ins picked up last year. Burglars broke into a vacant Brooklyn storefront in March 2015 and used power tools to tunnel into the adjoining bank and raid the safety deposit boxes there—including one that reportedly held sports memorabilia, including a Derek Jeter rookie card, according to the New York Daily News. And the HSBC in Borough Park, Brooklyn, was burglarized over an April weekend this year, with the three men arrested Tuesday allegedly stealing $330,000 in cash from the bank's vault as well as the contents of multiple safety deposit boxes, court papers state.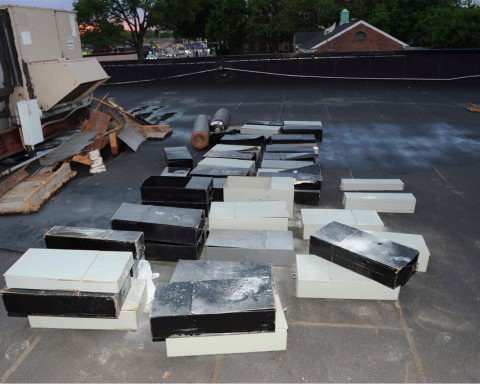 It's unclear whether Mazzara, Kerrigan and Mascuzzio, the burglars who allegedly raided Maspeth Federal and the HSBC, are responsible for other bank burglaries or whether they have any connection to the Post's "Hole in the Wall Gang." But one link between the eight burglaries that stretch back to 2008 is the lawyers who represented the victims in their settlement claims against the banks.
"We've had crisis counselors in our office," says attorney Vincent Ancona, describing how victims feel after their safety deposit boxes are burgled. "They don't want to be compensated. They want the item." When Ancona and his partner, Dustin Levine, are hired by a bank burglary victim, they work to create a list of stolen objects, with the victim gathering appraisals and even photos of the stolen jewelry. The lawyers then negotiate with the bank to reach a settlement.
The lawyers say they've represented a wide range of devastated victims, from an Orthodox Jewish man who lost an antique Torah to an Indian family whose box was looted of gold from the wife's dowry. They've even represented a woman whose son worked at the World Trade Center and was killed in the September 11 attacks. She kept her cash and jewelry at home, but she kept drawings her son made when he was a child in her safety deposit box.
"When a lot of these thieves rob, they take the items in the box that are valuable and throw them in a bag or satchel or whatever they're using, and then the rest of the items they just dump on the floor," Ancona says. "When they're done with their robbery, the MO of the last 10 years has been they take a fire extinguisher and they spray the room to get rid of all the biological evidence. So most likely those pictures were on the floor, but they got destroyed." (Court papers unsealed Tuesday confirm that two fire extinguishers were left behind in the Maspeth job.)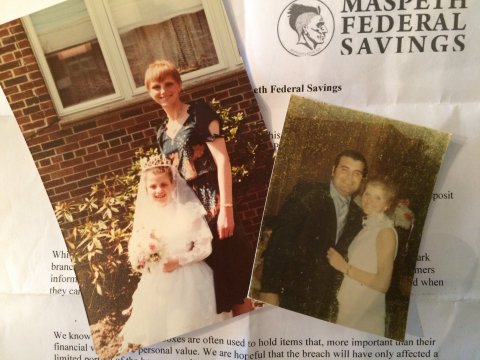 The lawyers have gleaned other insights about the burglars from their talks with federal and local investigators. Sometimes the criminals remain in the bank for so long they eat in there, leaving behind pizza boxes and McDonald's wrappers. And a theory authorities pursued at one time was that the burglars were members of an Eastern European gang who fly into New York, break into and loot a bank vault, and then immediately fly back home, Levine says investigators told him.
"Most individuals in this line of work already have a network for getting rid of what they've stolen," says security consultant Jan Fedarcyk, who was head of the FBI's New York office from 2010 to 2012. Fedarcyk also tells Newsweek that with the dark web and Silk Road-type websites, sometimes thieves don't even have to meet the people buying their goods.
"These guys then used the money and valuables to finance their lavish lifestyles. They bought new cars and motorcycles, Jet Skis and boats," FBI Assistant Director in Charge Diego Rodriguez said at the press conference in downtown Manhattan. "They partied in Las Vegas and took trips to Miami while the residents of Brooklyn and Rego Park got taken to the cleaners."