{"id":"22074","type":"widget","widget":"video","ratio":"16by9","autostart":"1"}
Esther Kine's nightmares don't require much imagination. What she sees when she closes her eyes is what she used to see when they were open: twisted bodies, screaming families, a thousand gaping graves all waiting to be filled—by her.
From June 2014 until last November, she rose each morning to do what was perhaps the most thankless job of the Ebola outbreak in Africa: collecting and burying the bodies of its victims. And when she went home, their faces followed her. At night, she lay awake thinking of the dead mothers she found still clutching their babies, and of the children the same age as her own. In one house on the outskirts of Freetown, Sierra Leone's capital, she opened the door to find 18 bodies—a family so completely obliterated that no one around could think of whom to call as the next of kin. "All of them stayed with me," she says.
The worst Ebola epidemic in history began in Guinea in December 2013 before spreading to Liberia and Sierra Leone. As governments and the World Health Organization struggled to respond, the virus struck down doctors and nurses in high numbers. Few understood the disease—which causes fever, aches, vomiting and diarrhea—and it brought immense social stigma to victims and caregivers alike. Shame and denial allowed the disease to simmer unnoticed and spread quickly. The outbreak claimed the lives of more than 11,000 people.
The nurses, doctors, ambulance drivers and burial crews who tried to manage the outbreak hurled themselves into the path of this fearsome virus when nearly everyone else was running away. But they were rewarded with suspicion and fear from their families, friends and wider communities, and they often suffered long-lasting trauma from witnessing the horrors of the disease.
Burial workers earned a particularly cruel stigma. "They say we were playing with death," says Janet Lahai, a former burial worker in the town of Kailahun, the rural eastern district bordering Guinea that was one of Sierra Leone's first Ebola hot spots in 2013. Many burial workers, who worked in close-knit teams of about 10 people, now suffer common aftershocks—post-traumatic stress disorder, anxiety, depression—and self-medicate with alcohol or hard drugs. Beyond the understanding of other burial workers, they find few formal support systems.
Like many who worked on the front lines of the crisis, Kine has stuttered back into normal life largely unprepared and unassisted. Before the Ebola outbreak, she worked hawking small goods—mostly used clothes and shoes imported from the West—in Freetown's markets. With little in the way of either money or motivation, she has struggled to rebuild her business.
And for more than seven months after burying her last body, the nightmares didn't stop. And the days are hardly easier. Like many women who worked on burial teams, Kine took the job to give the women who died of Ebola a more dignified death. Her family reacted harshly—but their response was typical of the kind that many Ebola health workers faced at the time. Kine's husband kicked her out of their house, forcing her to rent a cramped room on the edge of Freetown, where she still lives. Today, her marriage is broken, and her three children live with their father and visit only occasionally.
"We can talk about infected communities, but there are also the affected communities," says Tina Davies, formerly the coordinator for Ebola survivors at Sierra Leone's Ministry of Social Welfare, Gender and Children's Affairs. Far beyond the ranks of the sick, she notes, Ebola touched the lives of tens of thousands of Sierra Leoneans, and few as significantly as burial workers.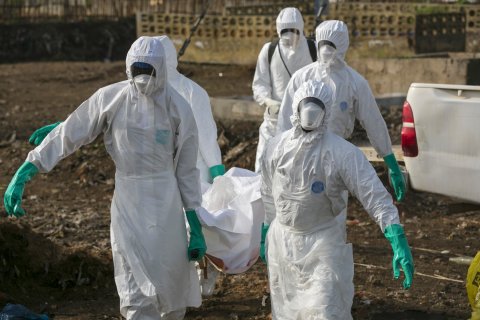 Added to that, Kine and Lahai carry the burden of their gender. Between 7 and 8 percent of the couple of thousand workers in Sierra Leone's Ebola burial teams were women, according to the Red Cross and Concern Worldwide, two of the major nongovernmental organizations (NGOs) that employed them. (The Sierra Leonean government didn't keep any official statistics on this, but so invisible was their presence that many people here still refer to burial crews—those anonymous figures in puffy white protective gear who became the outbreak's macabre mascots—as the "burial boys.")
"Taking that job went against tradition," says Fatmata Jalloh, a woman in her 40s who helped bury the dead in Kailahun. Carrying bodies, hauling them into graves—"people told me this wasn't a job that a woman should do."
Many women, however, joined Ebola burial teams not to subvert gender roles but to maintain the traditions for their communities. They wanted to restore a tiny semblance of normalcy to a mourning process that seemed to have been warped beyond recognition by medical protocols—ones that prevented locals from performing traditional burial ceremonies for the dead. (At one point, unsafe contact with dead bodies was responsible for as many as 80 percent of new infections, according to Concern Worldwide.) Women who died of Ebola, they reasoned, shouldn't then have to face the humiliating indignity of having their bodies handled by strange men.
"I felt called to do this job," says Betty Sombi, who decided to join a burial team after hearing the shrieks of her neighbors one day in June 2014. Halfway down the hill outside her home, which tumbles steeply toward Freetown's harbor, a body bag was being hauled from a house by an all-male burial team, as anguished family members pelted them with stones. Sombi later learned that they had forced their way inside the house, where the woman who had died was naked on the floor.
"Imagine," she says, her eyes cold.
But when she first visited the Red Cross to enlist that month, the supervisor turned her away. "This isn't a nice job for a lady," she remembers him telling her. But she came back, again and again, until on her sixth visit he finally relented.
For the next year and a half, that burst of stubbornness often haunted her. At the height of the crisis, she was helping to bury as many as 30 people a day—half of whom were so small that she could cradle their tiny body bags in her arms. (In Sierra Leone alone, some 2,000 reported Ebola cases were among children under the age of 14.)
"If there was a woman in the house, I went in first and cleaned her face and dressed her," she says. "You imagined all the time, What if this was your mother? Your sister? How would you want her treated?"
And while burial workers were paid well by national standards, the money brought its own problems. Burial workers received a princely sum of at least 2 million leones (about $330) every month, four times the country's minimum wage. But as soon as the cash arrived, so did the requests for help—a sister's school fees here, a father's medical expenses there. Many burial workers who spoke to Newsweek say that although their families were afraid to see them while the disease was raging, they weren't afraid to call on them for financial assistance.
And so before they knew it, the money was gone. And then, very quickly, so was the job itself. At the end of 2015, with the country's cases of Ebola dwindling to single digits, Sierra Leone decommissioned nearly all of its burial teams. Kine, Jalloh, Sombi, Lahai and the others returned home.
Normal life was slow to return for them. "We just sit and think a lot," says Lahai. They think of the dead, of the family members they can no longer help, of their futures.
Sierra Leone has just two working psychiatrists and one antiquated mental hospital, where most patients are still kept in chains and treatment consists largely of a dwindling stash of expired antipsychotics. For most front-line health care workers suffering the aftershocks of Ebola, that system is neither accessible nor desirable.
They have few options. There is little support, they say, from the government or the NGOs that once employed them. For instance, the U.N. Development Program, along with the International Federation of the Red Cross, promised assistance to help ease the transition for front-line Ebola workers back into everyday life. The Red Cross tells Newsweek that it has provided this reintegration help to nearly all of its burial teams, while Kine and Sombi say they and the other burial workers they know have yet to receive any.
For Sierra Leoneans, however, radical self-sufficiency is nothing new. Still reeling from the aftermath of the decade-long civil war that ended in 2002, Sierra Leone has few functioning institutions and infrastructure. Most people learned long ago that in the aftermath of tragedy, life goes on, however it can.
On a recent morning, Kine and I are sitting outside her bright green house when she sees a friend from her old burial team strolling toward her. His eyes are glossy and bloodshot, but his smile is warm. His speech slow, he tells her he has just come from a nearby bar, where he spends most days.
His nightmares are so bad, he says, that "unless I drink or take marijuana, I won't sleep." He wants to be a mechanic, but without the money for training, this is how he gets by. When he is gone, Kine sighs.
"We did this job to help our country," she says. "And in return we get this."
Ryan Lenora Brown was a fellow of the International Reporting Project in Sierra Leone. Silas Gbandia contributed reporting.