The men Donald Trump has been warning us about are sitting in a classroom in Baltimore. "When you look at that migration, you see so many young, strong men," the Republican presidential nominee said a campaign rally in April, lamenting the waves of refugees pouring into Europe. "You don't see that many women and children."
There are 16 men here, almost all of them recently arrived from Syria. They're sitting at rows of Formica tables in a windowless office in Highlandtown, a gentrifying corner of the city. These men do not look like the desperate people washing up on the shores of Greece and Italy—they're dressed mostly in jeans and crisp, collared shirts and watch attentively as a young woman with a blond pixie haircut writes slowly on a whiteboard.
"There are two different kinds of bank accounts," explains Danielle Corcoran, an instructor with the nonprofit group International Rescue Committee (IRC). She pauses as an interpreter translates her words into Arabic. "One kind is a savings account, and one kind is a checking account. Does anyone know the difference?" Several of the men volunteer answers.
This is "Welcome to America 101." It's a one-week, 30-hour crash course for newly arrived refugees, teaching them the basics of living in the United States. Aside from personal finance, the lessons tackle public transportation, grocery shopping, paying rent and going to the doctor. This week's class is all men because their wives went through this same orientation program the week before. "We find the women respond better if they don't have their husbands around," explains Kevin Meadowcroft, senior program manager.
Under the aegis of the State Department, contractors like the IRC run refugees through a gantlet of programs for eight months. By the time they've been in America for a year, they are expected to speak basic English, hold down a job and cover virtually all their expenses. It's a ridiculously compressed timetable, with limited resources behind it. Yet with the help of nonprofit groups, community leaders and religious organizations, IRC has eased the transition for more than 3 million refugees who've entered the U.S. since 1980, when Congress authorized the program. Meadowcroft says roughly 95 percent of the refugees in Baltimore are self-sufficient by the time their services end. Other programs across the country report similar success.
While Muslims are a relatively new class of U.S. immigrants, a 2007 Pew Research Center survey found they are "decidedly American in their outlook, values and attitudes." Yet Trump and other critics claim integration won't work with this latest crop of Syrians, 8,000 of whom have entered the country in the past few months. Refugee status, Trump warns, is a potential "Trojan horse" for jihadis. And even if they're not terrorist infiltrators, he claims Muslim migrants do not assimilate in the United States. Implicitly, Trump is suggesting that a system that has folded many waves of migrants from different backgrounds and religions into American life over the centuries has reached its limit.
But has it? The test will come in places like Baltimore, where hundreds of Syrians have arrived this summer to start their new lives—and prove Trump wrong.
10,000 Syrians
"Right now, it's bad stuff back there," Khaldoun Alhalabi tells me through an interpreter. Alhalabi is a balding, heavyset 36-year-old man from Homs, Syria, but he has the bright, animated eyes of someone still young. As he's describing the atmosphere in his hometown, which was decimated in a government siege, he makes the whistling sounds of artillery fire and gestures with his hands to mimic the explosions of shells. Alhalabi and his family of six eventually fled to neighboring Jordan. "There," he says, "we were humans without identity."
Since the Syrian civil war erupted in 2011, Jordan has taken in 650,000 Syrian refugees, while Turkey and Lebanon have been even more deluged. In 2014, the crisis began spreading to Europe, with more than a million migrants and refugees landing there in 2015. But the grinding war isn't the only conflict that has led to a seismic shift of human populations. Violence and chaos in Iraq, Yemen, Afghanistan and Libya, combined with long-running conflicts elsewhere, are fueling the largest mass migration of people since World War II.
The United States has avoided the worst of the fallout, largely due to geography, but President Barack Obama called on the United States "to step up" last year. He raised the government's caps on refugees and set a goal of resettling 10,000 from Syria, up from fewer than 2,000 last year. The U.S. is poised to meet that target before September 30, and contrary to what Trump has said, some 65 percent of those Syrians are children.
The White House's rationale is twofold. Adding millions of displaced people to countries already struggling to provide for their own is creating not just a humanitarian crisis but also more conflict and extremism, says Avril Haines, President Obama's deputy national security adviser. The symbolism is also important. The U.S. is resettling 85,000 refugees this year, a fraction of the more than 65 million people the United Nations estimates are displaced, but it sends a message that the United States is willing to share the burden. Accepting more Muslim Syrian refugees, in particular, directly "contradicts the message that's being put out there by Al-Qaeda and ISIL" that America is at war with Islam, says Haines, using an alternate acronym for the Islamic State group (ISIS).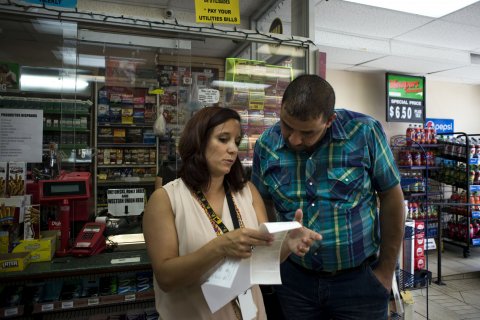 The problem with the administration's argument is that it's largely abstract, whereas Trump's is visceral. Take his remarks in a speech mid-August: "The common thread linking the major Islamic terrorist attacks that have recently occurred on our soil is that they have involved immigrants or the children of immigrants." It's true that ISIS has tried to recruit Somali-Americans in Minnesota, many of whom arrived here as refugees. (Three were found guilty in June of plotting to join the militant group in Syria, and a handful of others are thought to have made the trip.) In January, two Palestinian-Iraqi refugees were arrested for lying to immigration officials about ties to militant groups. And back in 2009, two Iraqi refugees were arrested in Bowling Green, Kentucky, after the FBI learned they'd fought as anti-American insurgents before being resettled.
In testimony to the Senate last October, FBI Director James Comey acknowledged some failures in the vetting Iraqi refugees. "So we had to go back and redo it," he said. "We've learned a lot from that." Defenders of the program add that Trump's examples amount to a tiny sliver of the more than 3 million refugees who've come to the country since 1980.
All it takes, however, is one bad guy to sneak through the system to create havoc. And intelligence officials have raised concerns about gaps in the information available on Syrian refugees. In Trump's mind, those question marks have morphed into an ominous message: "We don't know who they are."
Leon Rodriguez, director of U.S. Citizenship and Immigration Services at the Department of Homeland Security, defends the vetting process, calling suggestions the U.S. doesn't have adequate intelligence on Syrians "nonsense." Rodriguez's office oversees a multilayered system that involves screenings by the United Nations and U.S. State Department, law enforcement and intelligence databases, as well as on-the-ground research, in-person interviews and biometric scans. Some in Baltimore got through screening in a little over half a year. For Alhalabi and his family, the process took 18 months.
Many Americans remain skeptical. Poll after poll shows a majority oppose accepting Syrian refugees. One survey by Chicago Council on Global Affairs in June found just 36 percent of Americans favored Obama's policy. Yet as Americans are faced with actual Syrian refugees instead of caricatures, the reaction seems to be different — at least in Baltimore.
'A Flood of Sympathy'
Yara Cheikh has been getting a lot of emails this summer about Syrian refugees. The other day, Cheikh got a note from a local professor about a new family recently settled in Baltimore County, asking if she could help collect funds to buy some Arabic-to-English children's books for their kids. An elementary school teacher in Owings Mills asked her for ideas on how to help his new Syrian pupils acclimate to class.
The fast-talking mother of four works serves as the president of the American Arab Club of Baltimore. Her father is from Syria and her mother is Irish-Catholic, and Cheikh attends St. Ignatius, a Jesuit parish in downtown Baltimore. Over the summer, the church organized a panel discussion on the Syrian crisis, and parishioners brought backpacks and school supplies to donate to refugee children. "How the media speaks about the refugees and how the average person feels about the refugees are two very different things," she insists.
Muslim leaders in Maryland are working to create a formal charity to coordinate donations from locals. "There was a flood of sympathy," Dr. Yassine Daoud, a professor of ophthalmology at Johns Hopkins University, observed at a recent planning session. "The problem is one family gets their need fulfilled 10 times and the other family doesn't get anything."
Money is tight. Across departments, the federal government budgeted more than $1 billion for services for new refugees this year, only a small portion of what the people need as they rebuild their lives, so the U.S. relies on private groups and donors to help fill the gaps. IRC, for example, finds apartments for new refugees but solicits donations for furniture and housewares. Grants from the Department of Health and Human Services partially fund a job training program, with local groups raising additional money to help train and link refugees with jobs, mostly low-wage ones at hotels, food services and warehouses. Under Armour, the Baltimore-based sports apparel brand, is one place that regularly hires refugees from IRC. But even once they're employed, many struggle to get by.
That is why it is crucial to find communities that welcome the refugees. Ideally, refugees are sent to places where they have family or friends. Barring that, groups like IRC look for immigrant communities from the same country or region. They know more established immigrants can help new arrivals.
In Baltimore, for example, there aren't many Syrian-Americans, but the IRC has helped resettle close to 700 Iraqis in recent years, according to Meadowcroft, and there's a fairly affluent Arab-American community in the area. Khalid Balajem, one of the coordinators of a Muslim charity group known as BRIDGE America, started helping Syrian refugees by volunteering to accompany them on their first grocery trip. "It's actually because of my experience when I came to the U.S.," the Yemeni immigrant recounted at the group's planning session. "I was eating tuna fish, not knowing it was pet food."
Despite the campaign trail broadsides against them, none of the Syrians resettled by the IRC in Maryland have faced any real harassment, says Ruben Chandrasekar, executive director of the group's Baltimore and Silver Spring branches. Yet this first wave of Syrian refugees knows it is controversial. Alhalabi, the father of four from Homs, chuckles when asked if he's heard about the anti-refugee rhetoric from Trump and other politicians. He is aware of it, he says, but it's not a major concern. He has far bigger challenges, like learning English and helping his children recover from the trauma of war. "I came here for my kids to get an education," he says. "I don't want them to see what I saw…in Syria."