We erect monuments to tell stories about who we are, about our history and our heroes. As the American clergyman Henry van Dyke wrote in 1905, "For every noble man…lives in the bronze and marble that we raise,/Immortalized by art's immortal praise."
Art's immortal criticism might be a better description of what Mexican artist Gustavo Aceves hopes to achieve with "Lapidarium," a monumental sculptural exhibition that addresses Europe's refugee crisis and will be installed in sites across Rome starting September 15. The exhibition—at least 40 huge, fragmented equine sculptures made from materials including bronze, marble, iron, resin, wood, and granite—is influenced by icons from classical antiquity and Renaissance draftsmanship. "All art has its roots in the past," says Francesco Buranelli, curator of the exhibition and former general director of the Vatican museums. Aceves declares his own roots particularly clearly, says Buranelli. He connects "the countries that formed him with the subject of this time"—the worst refugee crisis since the end of World War II.
Artists of all kinds have tried to respond to the crisis: from Sri Lankan refugee MIA's music video Borders, to British graffiti artist Banksy's mural in Calais, France, of Steve Jobs (the son of a Syrian immigrant), to Chinese artist Ai Weiwei's posing as drowned Syrian toddler Alan Kurdi on the Greek island of Lesbos. Aceves uses his own experiences—he comes from a country very familiar with the sorrows of emigration—as a point of departure for "Lapidarium." But he is wary of appropriating the voices of refugees, deciding against installing his horses on the Italian island of Lampedusa, a major transit point for North African migrants. "I did not want to use the island to promote my own work," he says.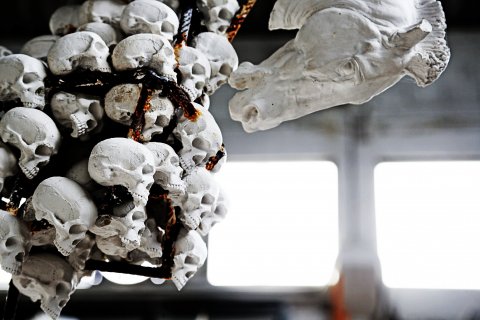 Instead, Aceves took inspiration from another artwork that crisscrossed the continent—the Quadriga of Saint Mark's, a set of four ancient Roman bronze horses moved to the façade of St. Mark's Basilica in Venice after the sacking of Constantinople in 1204. They remained there until 1797, when Napoleon appropriated them for his Arc de Triomphe in Paris. After Napoleon was defeated at the Battle of Waterloo in 1815, the horses returned to St. Mark's.
Through trade or looting, colonization or conquest, art migrates. So will Aceves's exhibition. First exhibited in the Tuscan town of Pietrasanta in 2014, "Lapidarium" grows as it travels, tracing the path of the Quadriga before ending in Aceves's birthplace, Mexico City. The show premiered in May 2015 with 21 statues in front of Berlin's Brandenburg Gate, but by the time it reaches the Mexican capital in 2018 it will comprise no less than 100.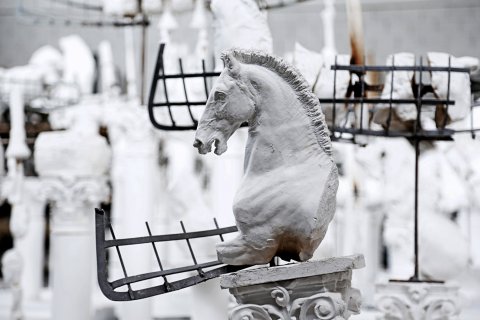 For Aceves, the horse is a symbol of eternal migration: The earliest ones evolved 55 million years ago on North American plains before moving across the Bering Strait into Asia and then Europe. But his monumental horses are not mere symbols of freedom or strength; they are cracked or broken, a gesture toward the struggle that usually accompanies any uprooting. Others contain human skulls, a reference to the many migrants who die while fleeing their homelands. Still others are placed in boats, a perpetual symbol of escape and discovery. The constant evolution and growth of "Lapidarium" as it travels is a reminder that there is no single story of migration, that when people leave behind their old worlds, they can remake, reassemble and refashion themselves. Again and again.
"Lapidarium": Colosseum, Trajan's Market, the Imperial Fora and the Arch of Constantine, Rome, September 15 to January 8; then Corinth, Paris, Istanbul, Venice, and Mexico City. www.lapidarium.online