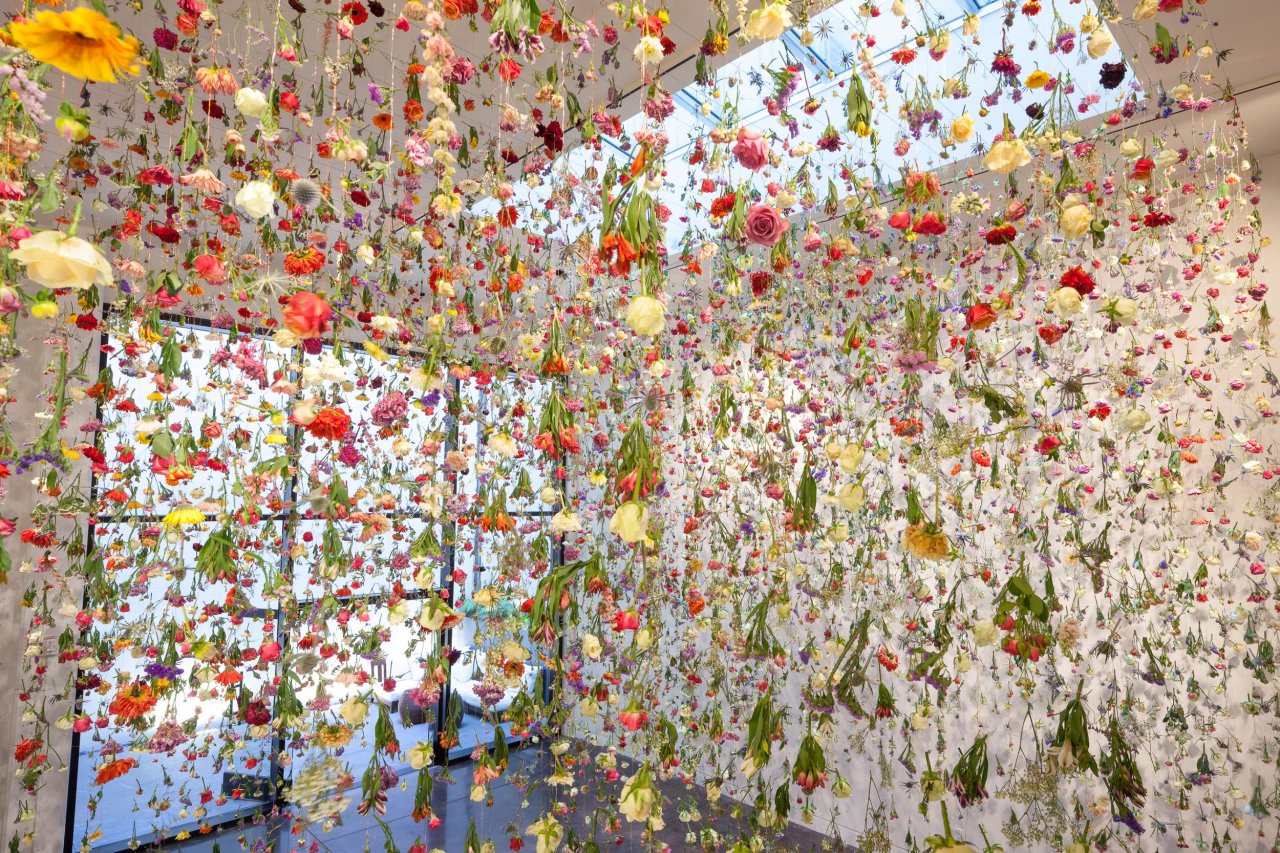 Updated | One summer, when the British installation artist Rebecca Louise Law was not quite a teenager, her father—then an assistant head gardener at a stately home in Cambridgeshire, England, and a man who understood the business of growing flowers en masse—insisted that his whole family bus out to one of the flat, Fenland fields near the village where they lived. It must have been late June, early July at most, because the field was brimful with the bright, airy faces of ox-eye daisies.
"I didn't care," says Law, a serene, fair-complexioned 35-year-old with artfully slipshod hair, as she sits in the back room of her tiny gallery in east London. "I was at the age where you're seeing boys, and I didn't care at all about gardening, or flowers." While her father and younger sister were taking photos of the long-legged daisies, and her mother was drawing the daisies (it was an artistic family), Law thunked down in the middle of the field in a full-on adolescent sulk.
And then something happened. "I was just sitting there, with all these flowers at head height around me, and I couldn't see my family. And I thought, Oh my goodness, this is amazing. I knew from my father that the field would only be like this for one or two days; it was only now that it was that strong, and I thought, How can I re-create this? How do I share it?"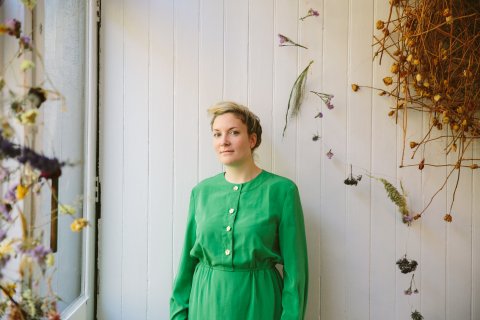 Law has been sharing some of the long-brewed results of that moment at her most recent exhibit, "The Beauty of Decay" at the Chandran Gallery in San Francisco, where visitors weaved between a rain of gleaming copper wires that ran from floor to ceiling, the wires strung with the heads of 8,000 fresh gerberas, roses and statice. She has been making three-dimensional works from flowers since 2003, buying them fresh in bulk and then paying assistants to thread the individual flower heads onto wire. Often, as at the San Francisco show, she suspends the flower-filled wires from the ceiling, creating an effect that can be either tender and ethereal or, if the wires are packed closer together, disconcertingly dense, as if the world has flipped and you're walking beneath an inverted meadow. The flowers then slowly dry and die, fading from what she calls their "poppy" reds, oranges and yellows into shades of cream, tan and pale rose, the emphasis of the piece moving gently from color to form, from vivid, superficial life to the more solid structure below: the skull beneath the skin.
Once the installation is over, the flowers are taken off their wires and stored in acid-free tissue, ready to be used again. "Absolutely nothing is wasted," Law says. "It all goes into my archive."
Works from this archive will make up her next show, a comprehensive, six-week presentation of existing pieces—along with a new installation made of "all the flowers I've ever collected"—starting August 25 at the Broadway gallery in Letchworth Garden City in southeast England. In December, an installation she made for Art Basel will move to Art Basel Miami, and early in 2017 she will be one of seven international artists exhibiting across Denmark as part of the city of Aarhus's program as the EU's European Capital of Culture for 2017. Law's flowers have bloomed in shows at the Victoria and Albert Museum in London, Times Square in New York, and—her biggest venture yet—in a semipermanent installation of 100,000 flowers in the roof of a shopping mall in Melbourne, Australia. "It's intended to last for 10 years," she says. "Though if some massive spider takes up residence in it—well, we'll have to see."
Law's studio is also her home: two floors above a storefront in a row of early-Victorian conversions made up equally of galleries, tony vintage-clothing stores and 24-hour mini-marts. (And guess what? It's on the same road as London's most famous weekly flower market; her husband buys her a bunch every Sunday—"But the deal is, he has to arrange them.") The façade is brick, painted black to better show off the colors in the window, which in early August was filled with the fat cerulean heads of inverted hydrangeas.
Inside, the gallery walls display editions from a series Law worked on with the photographer Tom Hartford, re-creations of Dutch Golden Age still lifes by Jan Davidsz. de Heem, Ambrosius Bosschaert and Balthasar van der Ast, but with subtle subversions, such as a modern-dressed figurine peering up into the flowers. At the rear of the studio, a 3-foot plaster statuette of Christ suffering the little children is draped with garlands of minute, pinkish-white gypsophila interspersed with the iridescent green bodies of beetles. The dead insects are a typical Law move, a dainty, sly reminder that when it comes to the works of man, mortality always gets the upper hand. Still, the works of man—or rather, women—are much in evidence: At the table that almost fills the center of the room, four women, one wearing a floor-length caftan with a brightly embroidered hem, are stringing frilly orange helichrysum and laying each wire into long cardboard boxes marked "Nike"—part of a commission for the sportswear brand.
Nike is a little late to the party. The earliest adopters of Law's work were high-end fashion houses—fashion loves flowers, nature's own luxury brand—and a breakthrough moment came in 2011 when Hermès commissioned Law to fill the glass roof of the Floral Hall at London's Royal Opera House. (If you have any illusions about how big brands sniff out new talent, abandon them now: They searched for "art with flowers" online.) This was eight years after Law had used flowers for the first time, in a "hideous" piece she made at the end of her third year studying fine art at Newcastle University. "I was trying to paint in 3-D. I had used food, sweets, wool, and some flowers in amongst it all," she says. "And I actually didn't even think of them as flowers. I was just trying to find any kind of materials I could use as my palette."
Frustrated, she went home for the summer, where her dad's nursery beds were full of "huge, stunning, colorful dahlias. I asked, 'What do you think about these drying? Do you think they'll dry well?' And he said, 'Yes! Of course they will, and they'll be brilliant!' So I took a whole carload back to university that September."
Once there, she spent a week hanging the dahlia heads on fishing line, in "an exact square, very precise," from the ceiling of the university's installation space. "It felt like I was creating [a] painting in the air. Then when I saw the interaction between the viewer and the work, I realized this was beyond color. My obsession with color suddenly became not the most important thing. Instead, it was about the interaction between human beings and nature, and, too, the transformation of the flowers, which dried into a whole other material." It might have taken a while, but that field in the Fens had worked its way out.
Law's father was not just responsible for giving her early inspiration and materials; he also introduced her to an art collection that continues to inspire her: the Golden Age still lifes at Cambridge's Anglesey Abbey, the former priory where he worked. From the beginning, Law was fascinated by how these paintings "capture time"—by which she seems to mean arrest it as well as portray it. They are highly artificial constructs, almost the diametric opposite of the Van Gogh way of stuffing flowers in a vase and then painting them, fast and bright, there and then. The combination of flowers and fruit they show was aseasonal, outside time, and Law knows from trying to reconstruct it that "the balance is impossible—the flowers defy gravity."
Those 17th-century paintings also had a job to do: advertising new varieties of flowers from Dutch growers. Today, Law buys much of her raw materials from the Dutch, often homing in on whichever variety might have been over-grown that year in order to reduce her environmental footprint: The Dutch glasshouses grow at such scale that, even when she was installing in Melbourne, there was a moment when she thought it might be greener to get her materials from Amsterdam. In the end, though, local growers won the day, and all 150,000 flower heads were antipodean.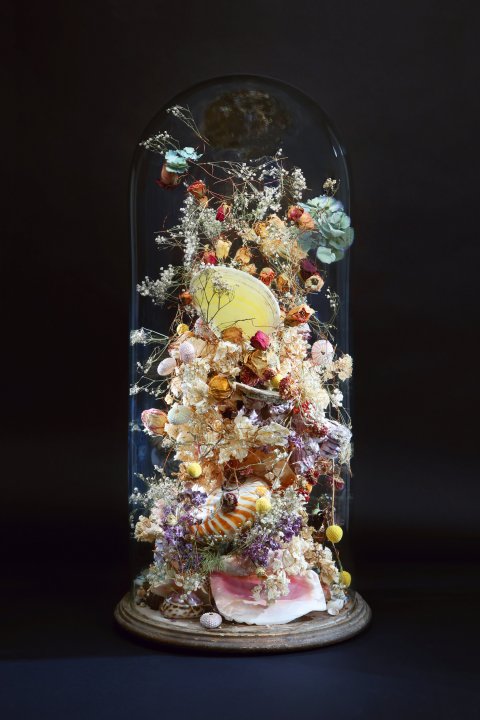 About 90 percent of Law's work is large-scale work for public consumption, but her gallery sells limited, color-photograph editions at about £1,500 ($1,950) for a print. She also accepts private commissions, installing pieces in people's homes for between £3,000 ($3,900) and £8,000 ($10,400). No one has yet complained when the flower sculpture that cost thousands begins to die, seeming to accept Law's contention that the fading is a way of showing flowers not as "purely ephemeral objects but as a beautiful sculptural material for you to enjoy for a lifetime." According to Law, visitors to the Chandran have certainly enjoyed it: "People were walking through and getting tangled up in the flowers, and going, 'Aaahh!'"
She dreams of spreading the joy even further, filling the Turbine Hall at London's Tate Modern with an upside-down meadow made of flowers donated by the public from people's gardens. You imagine that vast space filled with people, sighing with pleasure, modern Marvells ensnared by flowers. Wouldn't that teenager, sitting awestruck in a field, be delighted?
'"Still Life: Sculpture and Prints by Rebecca Louise Law" is at Broadway Studio & Gallery (www.broadway-letchworth.com), Letchworth Garden City, England, from August 25 to October 9. For commissions, contact Law's studio at 100 Columbia Road, London E2 (www.rebeccalouiselaw.com).
This article was updated to correct the address of Law's studio.