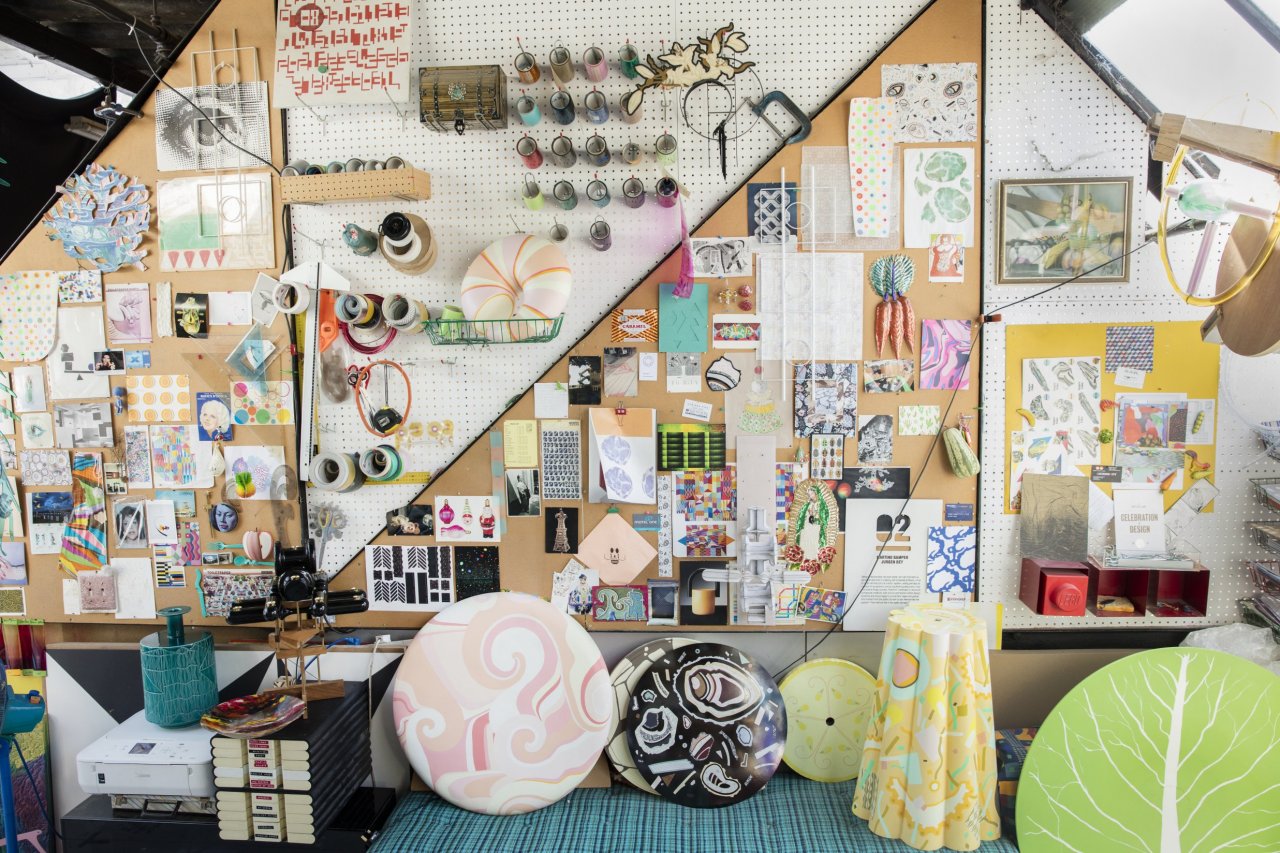 The first thing I ask the designer Bethan Laura Wood is if she can describe London, the city where she now lives and works, in three colors. Why? Because the 33-year-old has created furniture, jewelry, ceramics and lighting for clients across Europe, and it is color that draws people to that portfolio.
Wood first made her name in Italy—a nation that embraces flamboyant design—when she exhibited at the influential and always bold Nilufar Gallery in Milan. This was in 2011, just two years after she graduated from the Royal College of Art. Today, she teaches at L'Ecole Cantonale d'Art de Lausanne (ECAL) in Switzerland, and has worked for French house Hermès and Italian brand Bitossi Ceramiche. But this month will be something of a homecoming for Wood. During the annual London Design Festival, her pottery collection for Bitossi will take over the windows at the Design Museum's store at its new site in Kensington before going on sale on its website. She will also have pieces at the "Electro Craft" lighting exhibition in Shoreditch and will be taking part in "Dyslexic Design"—a show dedicated to the many designers who, like Wood, grew up with dyslexia. Finally, on September 20, Wood will receive the Swarovski Emerging Talent medal, with her pieces on display at the British Land Celebration of Design awards exhibition in Broadgate.
It's about time. "It's great to be recognized in the U.K., which is my homeland," she says. "I've had a successful time since graduating, and I work a lot in Europe. But it's great to win something that's connected with London, seeing as it's a big inspiration for a large proportion of my work."
So what colors does the city come in? "Hmm. Green, because we've got so many areas of natural habitat. I don't want to say black because, you know, it's black. But there is a lot of black. And red maybe, because of the red buses and telephone boxes?" She laughs and gives up. "It's tough. You'll have a funny answer from me because I see everything in color."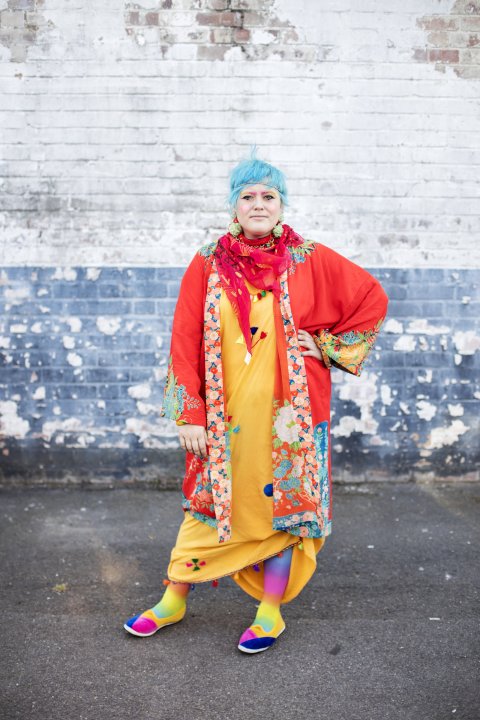 On one of the last days of August, her Hackney studio feels like it could be anywhere except London. Three fans roar as they try to cope with the heat; three foot-long slices of fake fruit perch on top of shelves, and trails of purple and turquoise plastic seaweed hang from the eaves. Multicolored postcards featuring works by the 1980s design collective Memphis Group and the artists Henri Matisse and Yayoi Kusama are pinned to the wall, alongside Playmobil figurines and chocolate-bar wrappers. Everything is colorful, even the fans. It's like being in the tropics, at Carnival or, if it were little less sweltering, underwater.
This cornucopia is something Wood always surrounds herself with, in her studio, in her dress and in her work. "We've got three main senses: taste, hearing and our eyes," she says. "Some people are specialists in smell and can name each note in a perfume. It's the same with sound for some musicians. Color is the sense I understand everything through. And it's my tool too. It's not in every bit of work I do, but my default setting is more colorful than most."
If color is her tool, then humor is her theme. Two summers ago, she was commissioned to decorate the windows of the Hermès flagship store in London with the oversized fruits and vegetables that fill her studio today, and when we meet she has just returned from Switzerland, where she has transformed the brand's store windows in Geneva and Zurich into coral reefs decorated with more of that PVC seaweed. "I like to embrace the joy that can be in things," she says.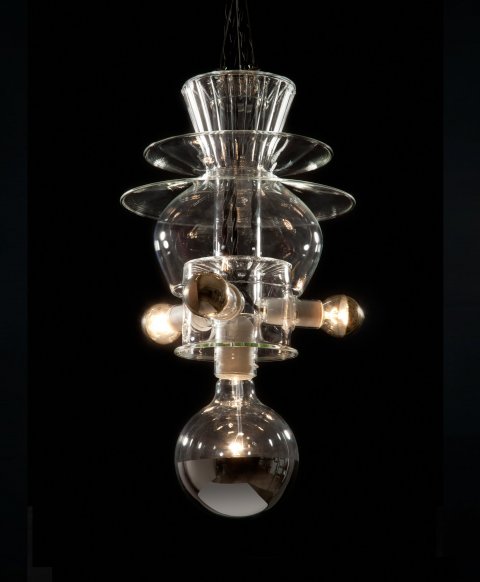 This gig with Hermès is an important one for Wood. At ECAL, she lectures on luxury and believes it is something that designers should be savvy about. "We're a big world, and we're only getting bigger. Our communications and everything are expanding, so I don't see why creative industries like design shouldn't expand too, and have elements that suit all these different ways of living and creating." The ECAL course is the only one of its kind in the world. "If there's going to be a luxury course anywhere, it makes sense that it's in Switzerland," she says.
Wood grew up in Shropshire, on England's border with Wales, in the 1980s. (She vividly remembers the kitchen in her parents' house and its white wallpaper decorated with primary-colored triangles. "Sadly, it's not like that anymore," she says.) She attended university in Brighton, in the south of England, before studying for the prestigious product design master's at the Royal College of Art in London, under the tuition of the renowned designers Martino Gamper and Jurgen Bey. She cites the course as hugely important for her confidence. "My time at the RCA allowed me to be less tentative and learn that I can put color on stuff and it can add value," she says. "Or I can not put color on stuff. It taught me to understand the difference."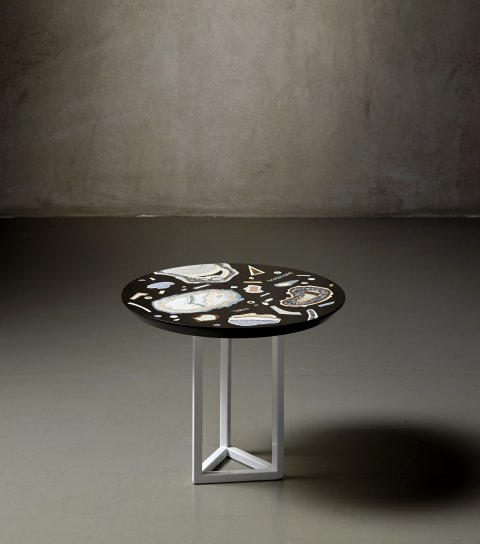 Soon after graduating, she came to prominence with her Super Fake and Moon Rock collections of made-to-order furniture constructed out of laminate, and patterned with what appeared to be cross-sections of semiprecious stones and crystalline forms. She has described laminate—sheets of wood topped with plastic—as the "chameleon of the surface world"; creating luxury pieces out of such an inexpensive material is a wry gesture typical of her. Then came the Particle series for Nilufar Gallery, a furniture system inspired by crates, particleboard and packaging materials—slightly fancier versions of the makeshift furniture you might expect students to own. And that was sort of the point.
Wood's working practice is to start with an interest, rather than with a specific product in mind. She fleshes that out with research, and the idea will eventually take shape as a table, a shelving system or whatever. "I don't start out thinking, 'I want to make a teacup.' It comes about in a meandering way, and that's why I end up doing such mixed types of media," she says.
Wood is eloquent but not pretentious. She'll be chatting about her club-kid days in the 2000s one minute and the artist Josef Albers the next. It is easy to be fooled by the decorative nature of her work or, inevitably, her image. To what extent does she see herself—today, she's painted pink circles on her cheeks and daubed her eyebrows with yellow makeup—as a piece of design? "I enjoy dressing up and building shapes with color on myself, and the identity that that gives me. There is a fluidity between the things I'm wearing and my work." She is essentially her own mood board.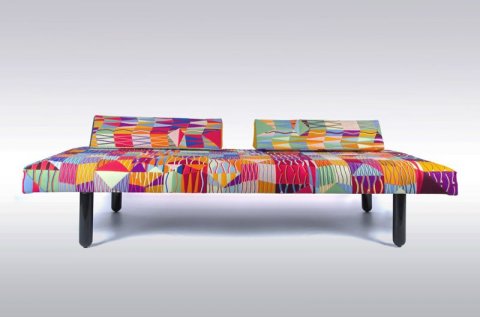 Does she have "periods" in the spirit of Picasso? Yes, but she prefers to call them "windows of time." "I remember when I was transitioning from my default palette being pastels, which you see in my Moon Rock series, to a much warmer, hotter palette, which came through after I was designer-in-residence at the W Hotel in Mexico City [in 2013]. When I made that transition, I used my dressing up to play around with color. It was a way of digesting it."
Next up, she is producing a series of glasses for her ex-tutor and close friend Gamper and planning a residency at a department store in Amsterdam, sponsored by the Rijksmuseum. Both, no doubt, will be in Technicolor. After years of austerity and a certain Scandinavian dourness to design, maximalism is seeing something of a revival in the design world; Wood is well placed to lead the charge. "Like in fashion, we go through peaks and troughs in both directions," she says. "There are only so many years where you can make things in beige before you remember all the other colors."
BethanLauraWood.com