Last year, Altamonte Springs, Florida, a suburb of Orlando, learned that it could not use the $1.5 million it had designated for FlexBus, a bus service whose fleet would be dispatched according to user demand indicated via streetside kiosks. The city had a SunRail commuter train station, but for residents who didn't live next to the station, getting there was a commute in itself. And if you're already driving a decent distance to light rail in Altamonte Springs, you might as well keep going and drive yourself to Orlando.
FlexBus would have traded fixed routes for "smart" buses that more or less went where riders wanted them to, eliminating the prospect of a protracted steam bath at a bus shelter in the Florida humidity (an early plan promised no wait longer than 12 minutes). Although the idea fell victim to politics, the money had already been set aside, so officials decided that instead of expanding public transit, they would use the funds to subsidize of public transit's main competitors: Uber.
Last spring, Altamonte Springs became the first municipality in the United States to make the ride-hailing company a part of its mass transit infrastructure. It has done so by subsiding 25 percent of all Uber rides to and from the SunRail station and 20 percent of any trip fully within city limits. "Our residents [and] our business owners like the fact that Uber puts transit options in their hands," City Manager Frank Martz told NPR. "They don't have to rely on public transit. They don't have to rely on the fixed schedules. They don't have to change their lives to fit the transit model."
The integration of ride-hail companies like Uber and its main rival, Lyft, into the nation's public transit infrastructure is a sign of maturity for Silicon Valley darlings looking to both grow and grow up. Initially, these companies appealed to tech-savvy coastals, who didn't want to drive, or take a bus, or fumble with dollar bills in the back of an ordinary taxi cab. That made Uber extremely useful but not exactly necessary. Its pitch to urban planners indicates that the company wants to expand well beyond its base in cities like New York, San Francisco and Los Angeles—in other words, that Uber wants to be an essential service, not a luxury good.
"Welcome to Uberville," announced a headline on The Verge, in a detailed look at the Altamonte Springs experiment. The article's author, Spencer Woodman, wrote that Altamonte Springs is a sort of test case, and that "it's possible to imagine ride-hail companies taking on the role of all-encompassing, smartphone-driven public transit providers, one town at a time."
But Altamonte Springs is a town of about 44,000 residents: more a quiz than a test. Uber and Lyft need to prove themselves in a big American city. And they're about to be handed that very opportunity, in the biggest city of all.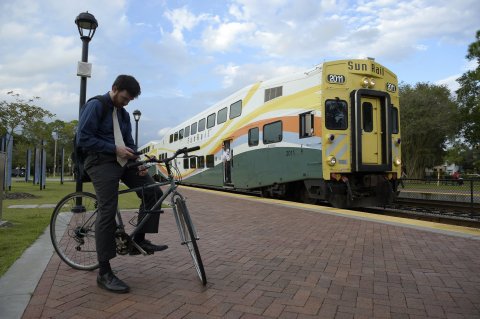 Hipsters in Aerial Gondolas
Before the L train was terrible, it was horrible. By the time I arrived in the Williamsburg section of Brooklyn in the very early 2000s, the L was running well beyond its original capacity, stuffed during rush hour like the Manhattan trains you'd moved to Brooklyn to avoid. Despondent hipsters stood on the platform at Bedford Avenue, waiting for a train into which they could squeeze their skinny, tattooed bodies. People said the train was good for people-watching, but the only sight you were likely to glimpse was the sweaty, pimpled necks of your fellow commuters.
But even inadequate L service is better than no L service. Soon the L train will be shut down to repair the tunnel beneath the East River it traverses. Announced this summer by the Metropolitan Transportation Authority, the plan calls for the suspension of L train service between Brooklyn and Manhattan, thus severing a crucial means of interborough commute (the L will continue to run through less-trafficked parts of Brooklyn). The shutdown, which will begin in early 2019 and last for 18 months, has already been given an ominous name: L-pocalypse.
The closure is still nearly three years away, but just about everyone involved with mass transportation in the New York area is already desperately trying to come up with a solution. Some of the early proposals are fanciful. The construction firm AECOM, which is affiliated with early work on the Hyperloop transportation system envisioned by Tesla impresario Elon Musk, proposed a tunnel that would float on the East River, a sort of giant, translucent snake stretching between Brooklyn and Manhattan. It's a cool idea. Chance it comes to pass: zero. "Aerial gondolas" have also been suggested. That's also as likely as a Knicks championship. Sensible calls have come from Transportation Alternatives to make 14th Street more accessible to cyclists and pedestrians. No, that's not sexy or revolutionary, but this is New York City, where installing a curbside bike rack might take a decade and involve a dozen lawsuits.
No one, though, has been planning for the L shutdown more aggressively than Uber. The company has apparently embraced the famous admonition of former White House Chief of Staff and current Chicago Mayor Rahm Emanuel to "never let a serious crisis go to waste." At the very least, it has been much more bullish than Lyft, which tells me that it has "no concrete plans to share yet."
Uber definitely has a plan. The question is, Will New Yorkers embrace it?
The Magic Bus-Train
"Imagine if a driver commuting into Manhattan could open up the Uber app," wrote Uber New York General Manager Josh Mohrer in a Newsweek op-ed published earlier this month, "enter where they are going, and then be shown nearby riders who are going in the same direction—and get paid for bringing them along." Mohrer calls this plan Commute Together, a carpooling service that would quickly deputize New Yorkers who weren't previously licensed to operate a commercial vehicle as Uber drivers.
Mohrer's plan calls for Bus Rapid Transit (BRT) across the Williamsburg Bridge, which spans the East River from the Lower East Side to Williamsburg, somewhat approximating the route of the L. The BRT would have its own lane and pre-board ticketing, making it a kind of train with four wheels.
Uber argues, however, that given the congestion on the Williamsburg Bridge, clearing a full lane of traffic would be tantamount to serving a formal dinner for 24 on the rush-hour 5 train. Mohrer says Uber could clear the way for BRT on the Williamsburg Bridge through Commute Together: "With enough participation, we could significantly reduce the 11,000 cars traveling over Williamsburg Bridge and carve out space for BRT."
The plan has received the support of urbanists like Sarah Kaufman, a transit scholar at New York University who recently co-authored a report on the looming shutdown of the L . The report calls for expanded partnership between the city and ride-sharing companies (it also floats the aerial gondola idea, though that isn't the report's centerpiece). "Anything that expands transportation options for the public is beneficial," she tells me. "Our subways are crowded, and we need some relief from that."
Carpool Kabuki
Uber's biggest nemesis is not Lyft, or the subway system, or a bike-share kiosk on every corner. Rather, its staunchest enemy resides in a 200-year-old Federal-style building at the foot of the Brooklyn Bridge, in lower Manhattan: City Hall. In 2015, the city's mayor, the alleged progressive Bill de Blasio, tried to set a limit on the number of vehicles Uber could operate in an attempt to stunt its growth. Uber fought back with a public relations effort led in part by Obama '08 veteran David Plouffe, arguing that its drivers are often hard-working immigrants and people of color, and that they pick up riders in low-income and outer-borough neighborhoods that the Yellow Cab industry (a major donor to de Blasio's mayoral campaign) shuns.
Uber won the battle, embarrassing de Blasio in the process. Since his 2015 defeat, de Blasio has grudgingly conceded that Uber and Lyft will remain part of the city's infrastructure, yet he is unlikely to make further concessions. To the contrary, he could use the L shutdown to exact revenge on Uber. Given the mayor's well-known vindictiveness and pettiness, that would surprise almost no one.
Nor would it be difficult. Any driver picking up passengers for a fee would have to be licensed by the Taxi & Limousine Commission, a process that could take months. Mohrer's op-ed calls for a "flexible" licensing approach from the TLC, but the agency cannot compromise on basic safety standards. Through a spokesman, the TLC tells me it wants to collaborate "with all of our licensed industries" but won't provide details.
The taxi industry hopes that no such collaboration comes to be. Bhairavi Desai, who directs the New York Taxi Workers Alliance, sent me an email with 11 reasons why the Uber plan was wrong for New York. She argues that Commute Together "would create more congestion" and that "there are more than enough professional drivers to meet the increased demand." She notes that Uber vehicles are not wheelchair accessible and that use of the service requires a smartphone, which many people still do not have.
"Carpooling already exists without Uber," she concludes. "If neighbors want to give each other rides, they don't need to give Uber money to do so, and no special license is necessary."
Uber's Over-Under
"Is Uber destined to be just another app in a sea of sharing-economy choices used by a fraction of the population?" wondered David Spiegel of CNBC this summer. "Or will it instead retain its competitive edge and become the next company like Amazon or Xerox or GE—a company that starts with a core business model and through innovation, clever resource consolidation and smart execution becomes something much bigger and more important?"
Uber's finances are impressive—but also deceptive. It is worth more than $60 billion, yet it lost $1.2 billion in the first half of 2016, which points to a troubling gap between perception and performance. Venture capital from Sand Hill Road can't grow a company on its own; neither can the boundless confidence of Wall Street investors. You need the little guy, the ordinary American, to fall in love.
Uber is clearly aiming for Amazon-level relevance, which is why it is so eager to insinuate itself into the public sphere. Once there, it will be impossible to dislodge, as both supporters and detractors well know. Its current push extends beyond the experiment in Altamonte Springs or the Williamsburg Bridge proposal. Matt Wing, an Uber spokesman, points to UberPool, a ride-sharing service that has worked to close mass transit gaps in Boston, Washington, D.C., and Seattle (whose version was called UberHop). Commute Together looks as if it will be a close sibling of UberPool, if not an identical twin.
Despite these gestures of apparent altruism, Uber continues to struggle with perceptions that it is just another heartless corporation, one that exploits drivers by treating them as contractors and exploits riders through "surge pricing." Though much smaller, Lyft arguably enjoys a better public reputation. That might not matter to hedge funders, but it could make a crucial difference to municipal officials evaluating bids for service.
I asked Mohrer how he would ensure that drivers picking up riders through Commute Together were properly vetted. After all, Uber drivers have been caught (granted: very infrequently) driving drunk or sexually assaulting passengers—and those are the ones who've presumably gone through the company's background checks, not the kind of expedited licensing he calls for in his Newsweek op-ed.
"We have a long time to figure this out," he says. That's both true and not. Things move very slowly in New York and then very quickly. Soon enough, the whoosh of the L train will no longer blow stale air through the Bedford Avenue station. Thousands each day will want some way to cross the East River. Maybe they will do so via aerial gondolas or floating tunnels.
Or maybe commerce between Brooklyn and Manhattan will radically decrease as a result of the shutdown, the two boroughs reverting with astonishing speed to the separate cities they were before 1898, as if they'd simply been waiting for an excuse to divorce. This simply because city planners didn't have the vision to prepare for the L-pocalypse, so that in future years, historians will cite 2019 as the moment in which New York's dysfunction reached a new crescendo, when the yuppified masses fled for the suburbs, as they had in the 1970s, and Greenwich Village became affordable again, though not quite for the right reasons, and other subway lines also faltered and died, buses stopped running in Queens because of a labor dispute, and the cost of the Staten Island Ferry rose from nothing to $75 each way.
Uber is hoping it won't come to that.