Updated | As hundreds of shoppers and tourists stroll through an outdoor mall south of Miami Beach's Lincoln Road, a white, unmarked van with tinted windows creeps through a nearby neighborhood. Then a second van appears, and a third and fourth. One eases to the curb and stops under the palms on a block of mostly two-story apartment buildings. As the other three vans silently roll on, three people step out, walk up the stairs into an apartment complex and knock on the first door they come to. One of them holds a clipboard and another an ice cooler—the clipboard for questionnaires; the cooler for samples.
It's close to 90 degrees outside and nearly 7 p.m., so the folks who just got out of that white van hope the people who live here will be home, preparing dinner. They also hope they might be willing to provide a quick urine sample, because this neighborhood is one of the first spots in the continental United States where active transmission of the Zika virus has been confirmed. Between the end of July and late September, state health officials in Florida have confirmed at least 120 cases of locally transmitted Zika, and new cases are reported nearly every day. Authorities have also trapped mosquitoes in Miami-Dade County that test positive for the virus. The unmarked vans and their teams are part of an emergency public health campaign to track the virus, learn how it spreads and do whatever they can to stamp it out.
For more than a year, Americans have watched from a not-very-safe distance as the Aedes aegypti mosquito—Zika's principal vector—took bites out of more than 50 countries and territories in Central and South America, as well as the Pacific and Caribbean islands and, most recently, parts of Asia. For months, U.S. federal health officials have warned lawmakers and the public that local transmission of Zika is unavoidable and that the U.S. must do everything possible to ensure that a small outbreak won't spread. But they were hamstrung by a lack of funds, and control efforts in the U.S. were too slow, too meager. Transmission of the virus was first reported in the U.S. on July 29, in Miami's Wynwood neighborhood. In addition to more than 100 locally acquired cases, Florida's health department was reporting at least 700 travel-related cases. Nationally, the federal Centers for Disease Control and Prevention (CDC) has identified 3,565 cases of travel-associated cases in the continental U.S. since the end of September.
Florida is a terrible place for this outbreak to appear. A fifth of the state's population lives below the federal poverty line. Florida's and Miami-Dade County's uninsured rates are among the highest in the country, and Governor Rick Scott has refused to expand Medicaid, even in light of the Zika emergency. The number of unplanned pregnancies in the state is nearly 15 percentage points higher than the national average—59 percent versus 45 percent, according to the Guttmacher Institute, a sexual and reproductive health policy organization in New York City.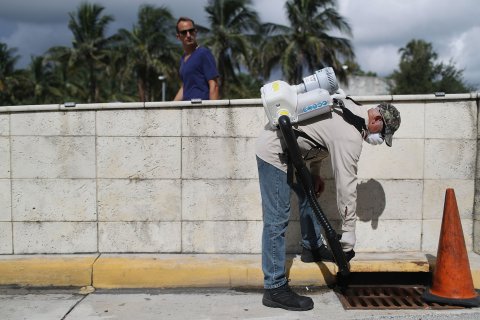 Should the virus become more widespread in the U.S., it could easily outrun the efforts to control and understand it. Investigating over 100 cases of a virus that remains asymptomatic in four out of five people is challenging enough. But, in future mosquito seasons, that number could rise. That would require an even larger infrastructure for surveillance, and more money for a program that is already seriously underfunded.
"We might like to think that we're no longer vulnerable to mosquitoes and other infectious disease-carrying vectors, but we are. We need to keep our guard up, and for that we need funding," says CDC Director Thomas Frieden. "The decisions and actions we take now are going to have implications decades to come for the children who are born affected by Zika."
Throwing Pennies at a Hurricane
Zika is a virus of several firsts. It's the first infectious disease to prompt the CDC to issue a travel advisory to pregnant women (i.e., don't visit) within U.S. continental borders. It's the only known flavivirus (in the same family as West Nile, dengue and yellow fever) capable of sexual transmission. It's the first mosquito-borne infection with a propensity to cause devastating harm to developing fetuses and severe birth defects, a fact that wasn't confirmed by the CDC until last April.
Zika is spread mostly by A. aegypti , according to the CDC, but it can also be spread through sex, possibly blood transfusions and from a pregnant woman to her fetus. That's notable because it's where Zika has done most of its damage. But while news accounts have dwelled on Zika's ability to cause the severe brain defect known as microcephaly in a developing fetus, it can cause other serious brain abnormalities and defects of the eye, hearing and development in exposed fetuses.
In the U.S., Zika is a medical mystery, and a political mess. On September 28, after months of infighting and pressure from Frieden and the CDC, Congress approved a $1.1 billion funding package to fight the virus. Congress had blocked a Zika funding bill three times in two months, because Republican legislators attached a rider to the bill that w ould have prevented money from going to Planned Parenthood clinics in Puerto Rico. (At least 20,000 Puerto Ricans have been infected with the Zika virus, including nearly 2,000 pregnant women.)
At the end of August, Frieden said his agency would be out of money within a month—he reported that the CDC had only $28 million remaining of the $222 million set aside for its Zika response. Some of the money, he said, was reallocated from the agency's budgets for HIV prevention and for a comprehensive immunization program aimed at Ebola and other infectious diseases. Officials at the National Institutes of Health said stalling on funding would mean research on potential vaccines would come to a halt.
This alarms Frieden, who has said repeatedly that short-term solutions aren't enough. He would like to create an emergency rapid-response fund for infectious diseases. "It has been described as the public health equivalent of FEMA, and, in fact, the case [for funding] is even stronger," he says. "Unlike an earthquake or hurricane, we can actually stop an outbreak, and if we get there sooner, we can nip it in the bud and dramatically reduce the human and economic costs."
In mid-October, the CDC said it will funnel $25 million of the recently-approved funds to states and cities that are most vulnerable to transmission of the virus. At least another $70 million will be used to provide support to state health departments. The agency has also set aside $10 million for local health agencies to track the number of Zika-affected births. However, Caitlyn Miller, director of discretionary programs for the U.S.Department of Health and Human Services, says these funds most likely won't make it to local officials until the new year, due to sluggish federal government bureaucracy. That means Florida and other states will be left short on funds throughout the remainder of peak mosquito season.
"Get there sooner" is why Florida is the crucial site for the testing of reporting and surveillance protocols. More than 8,000 people in Florida have been tested for the virus, and the health department continues to seek more volunteers. Zika's arrival has brought with it the kind of intrusive public health interventions that incite anger and panic: Obstetricians urge pregnant women to use condoms; vector-control officials show up to inspect residential backyards for evidence of standing water; state health care workers encourage people who report flu-like symptoms to be tested for the virus immediately in an effort to follow the chain of transmission and prevent more cases.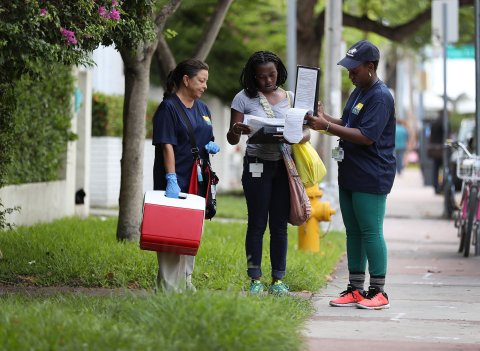 One of the few bits of good news in all this is that specimen collection is far easier for Zika than for other infectious diseases, even with people who are asymptomatic or likely to be Zika-negative. Cases are tested with urine samples, and then blood is drawn to confirm an infection. "People are much more willing to part with urine than with blood," says Frieden. And health care workers need all the specimens they can get; mosquito season isn't over in South Florida until November.
Kill the Little Ninjas
The Zika outbreak in Florida is an example of what many experts call the urbanization of viruses—it's a vector-borne tropical disease that isn't supposed to come into contact with large populations of people. (It was discovered in Uganda's Zika Forest in a caged rhesus monkey nearly 70 years ago.) But the growing number of cities in the developing world, deforestation and the presence of enormous landfills have created a hospitable environment for Zika to thrive in.
So does the weather. Heavy storms in late August and early September brought flooding in Louisiana and Florida, which left standing water that makes mosquito control a nearly impossible goal. Public health departments in many major U.S. cities have opted to use pesticides. As of mid-September, for example, New York City's health department conducted 11 rounds of pesticide spraying as well as seven rounds of aerial spraying to kill mosquito larvae.
But some experts say the shower of chemicals—specifically naled, an organophosphate insecticide that acts as a neurotoxin to target adult mosquitoes— is ineffective. In mid-September, Dr. Michael Callahan, a researcher and clinician at Harvard Medical School and CEO and co-founder of the Zika Foundation—an organization developing low-cost and sustainable solutions to fight the virus—said that aerial spraying won't eliminate the threat in Miami Beach and that the mosquito control plan officials have implemented there is more appropriate for West Nile disease. He says the only way to effectively rid an area of A. aegypti is to conduct ground spraying in houses and yards and eliminate areas of standing water.
Health officials also know they are trying to kill an extraordinarily resilient beast. Dubbed by Frieden the "cockroach of mosquitoes," the A. aegypti variety is picky as well as tough. These "little ninjas," as some vector specialists call them, prefer human blood over that of other animals. They like to breed in fresh water—in particular, open containers such as flowerpots. But they're also highly capable of reproducing in a bottle cap. They're attracted to light but don't like direct sun. They search for food in the daytime and thrive indoors.
They're also insanely adaptable. A. aegypti originated in Africa, but it has evolved to function nimbly in the urban environment. One researcher in Trinidad was able to show that A. aegypti mosquitoes change their habits in an environment with street lights. If there's artificial outdoor light, the mosquitos will bite. In urban areas studded with signage and street lamps, that means they bite all the time.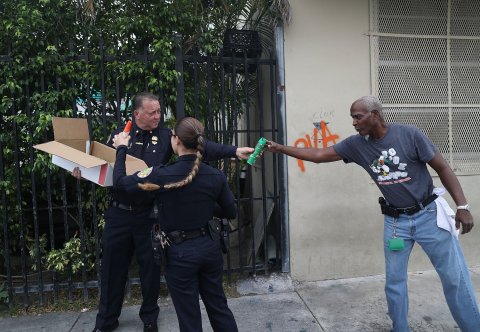 The AC Shield
John Beier, a professor, mosquito expert and director of the Division of Environment and Public Health at the University of Miami Health System, says Zika is outsmarting the experts. He had predicted the first cases of local transmission in Florida might crop up in Coconut Grove, with its big houses and lush grounds. Instead, the mosquitoes were drawn to places where lights never go off and to areas frequented by tourists, some of whom come from countries where the Zika virus is rampant. " Look at the people on the beach and in Wynwood. Here are ready blood meals, warm bodies walking down the streets spending a lot of time outside, even early evening," says Beier. "The mosquitoes are loving it."
Michael Osterholm, regents professor at the University of Minnesota and director of its Center for Infectious Disease Research and Policy, argues that public health agencies need to think long term because it's impossible to compensate quickly for decades of minimal mosquito control. " By the time we realize the hurricane is here, we're already in the eye of it," he says.
Osterholm is concerned about the limited support and preparation for effective vector control, but he says the continental U.S. won't likely see the large number of cases that have hit Puerto Rico and Brazil. The reason: Unlike in many countries in the developing world, residences in the U.S. typically have air conditioning and window screens. (That means fewer mosquitoes indoors.) Osterholm also predicts that in the next three to five years, there's likely to be a global die-down of Zika cases as more people become infected and develop immunity.
But other experts, such as Lawrence Gostin, professor of global health law at Georgetown University and director of World Health Organization Collaborating Center on Public Health Law and Human Rights, says Zika is here to stay. Although future outbreaks would likely occur only in the Gulf Coast states, they might range as far north as New York City.
There's still so much that experts and physicians are racing to find out. Since the beginning of 2015, more than 1,000 articles and studies on Zika have been published in major academic and medical journals, according to the medical database PubMed. Every week, new details and alarming findings emerge. Since the outbreak, we've learned that sexual transmission is much more common than previously believed; that the virus can remain present in semen for up to six months after an acute infection and has been detected in both tears and saliva; and also, quite possibly, that Zika can have long-term effects on brain function in adults. (The Zika virus is already linked to Guillain-Barré syndrome, a rare and temporary condition in which the immune system attacks nerves and causes weakness in the lower extremities and even paralysis.)
But there are also many confounding questions. In July, Utah dealt with a suspicious case of a man who came into contact with his elderly father, who had visited a country with an outbreak and contracted the virus. Lab tests of the deceased father showed he had an especially high Zika viral load in his blood—over 100,000 times more than in typical samples of infected people.
Health officials are also grappling with the fact that the Zika tests aren't completely accurate. The polymerase chain reaction, or PCR, that detects the presence of the virus's genetic material can produce false negatives in the first and last few days of an infection. It takes about a week to get results, but more often people wait weeks. Another test detects Zika antibodies, but it can produce false positives because it will pick up antibodies from other similar viruses, such as dengue.
Dr. Gaurav Saigal, chief of pediatric radiology and a clinician at the University of Miami Health System who is working with the hospital's Zika Response Team, interprets brain scans of the newborns who test positive for the Zika virus. He calls the effects of Zika "much more severe than other infections." He works alongside Dr. Christine Curry, an obstetrician at the hospital and co-director of the team.
Through brain scans on fetuses in utero, Curry may already know ahead of the delivery date that an infant will have complex health problems. When the child is born, physicians take samples of blood, urine, placenta and sometimes cerebrospinal fluid. The samples are tested at the hospital and sent to the CDC. But sometimes Curry isn't aware of abnormalities until after the birth because prenatal medical imaging doesn't detect everything.
The medical community and public health officials now classify the spectrum of abnormalities that can occur in fetuses as Zika congenital syndrome. The degree of these birth defects appears to depend upon which trimester a mother becomes infected; the problems tend to be most pronounced when infections occur at the very beginning of a pregnancy. But even that is still unclear. "Pregnancy is filled with uncertainty," says Curry. "This is just another thing we put on the list."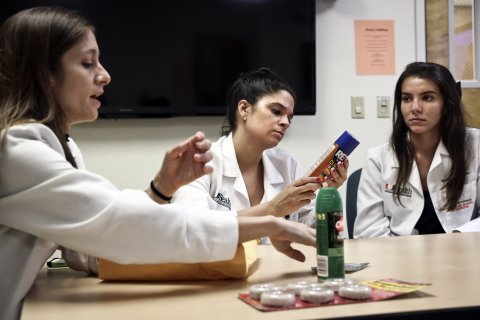 Condom Nation
Much of the burden of tracking the spread of Zika in the U.S. falls on the states, which do not always heed CDC guidelines. Dr. Christopher Braden, deputy director of the CDC's National Center for Emerging and Zoonotic Infectious Diseases, notes there isn't even a federal mandate to compel state and local health officials to report cases of the virus. He believes states are doing a good job on that front but relying on each state to develop its own strategy to fight Zika can mean that politics sometimes trumps safety.
A week after Wynwood's initial cases were reported, the AIDS Healthcare Foundation purchased billboard space on Route I-95 in Florida's Broward County—close to Wynwood—where there were reports of one locally acquired case. It featured two giant condoms with a mosquito perched atop them and said "Why worry?" and "Prevents Zika transmission." The sign was removed 10 days later.
Condoms are a contentious issue in Florida because of the state's highly restrictive pregnancy termination laws. A bortion is illegal after 24 weeks unless it's done to save the mother's life. Asked whether his stance on abortion had changed in light of the potential impact of Zika, the governor says he was working with state health officials to push public health campaigns on eliminating standing water, applying bug repellent and keeping residents informed of the ongoing Zika case count and efforts to control its vector—the A. aegypti mosquito on which it hitches a ride. "I've got daughters of childbearing age," Scott tells Newsweek. But he confused the message by adding, "I'm a pro-life individual."
A spokesperson for Planned Parenthood in Florida says that the organization had hoped to work alongside Florida's health department to provide Zika education and safety kits for pregnant women but that state officials were unresponsive. Instead, Planned Parenthood in Miami-Dade County launched its own six-week community canvassing campaign in mid-August, going door to door and providing education materials, including Zika prevention kits containing insect spray and condoms. It also targeted neighborhoods that government health care workers weren't visiting.
These local efforts in Florida are well-intentioned, but they'll never change the fact that the government is chronically unprepared for exotic viruses that suddenly show up on U.S. mainland and that viruses have no interest in political agendas. That means Zika surveillance will be mandatory in Miami until state and federal officials can get a better handle on what Beier calls "this vicious killing machine."
Correction: An earlier version of this story misstated that the Zika virus is asymptomatic in one out of five people. The virus is actually asymptomatic in four out of five people.
Updated: This story has been updated to reflect new information on funding released by the CDC on Oct. 18.