Updated | As Donald Trump barnstormed across the nation this summer, moving to within a few percentage points of residency in the White House, one man watched in amazement from an office high in downtown New York City. This mild-mannered fellow's desk and file cabinets are packed with documents Trump would rather Americans not read. New York State Attorney General Eric Schneiderman is the only law enforcement official in the country to investigate and sue Trump for fraud. And on Monday he announced that he has ordered the Trump Foundation to stop raising funds, saying Trump never registered his charity in the state of New York, as is required by law.
Both men are based in Gotham, where Schneiderman has been playing Batman to Trump's Joker. Schneiderman has one very potent superpower: the subpoena. They have been battling in conference rooms and courtrooms and on the web for several years now.
In an interview with Newsweek at his Manhattan office, a block from the New York Stock Exchange, shortly before he ordered the Foundation to cease and desist, Schneiderman discussed Trump's decades of shady business practices and the challenge he has posed to the legal and regulatory systems. "You can't stop tricky people from committing fraud," he says. "Bernie Madoff committed massive fraud for a long time and got away with it. But [Trump] has now called a lot of attention to himself, which I think, at the end of the day, he may regret. Being under the spotlights that are on when running for president is very much different than being a businessman who generally has a bad reputation around town, which he does."
Crumbling Foundation
In June of this year, after reading press accounts that Trump gave Florida Attorney General Pam Bondi a $25,000 campaign donation out of his Trump Foundation—a payment the IRS ruled improper—Schneiderman quietly opened an investigation into the foundation.
Bondi had been asked to investigate Trump University, but she declined around the time Trump gave her that check. It wasn't the first time Trump had used his foundation for political purposes. In 2014, he donated $100,000—the largest gift it gave that year—to a conservative group, Citizens United, as it was filing a federal lawsuit against Schneiderman. Citizens United objected to Schneiderman's requirement that charities disclose the identity of their donors to the New York State Charities Bureau. A federal judge threw out that case.
Revelations about the Trump Foundation, which has been heavily investigated by The Washington Post, include its use as a piggy bank to pay off debts owed by Trump—"not lawful," according to Schneiderman—and asking that money owed to Trump be put into the foundation, which constitutes a tax dodge.
Trump also never registered his foundation with New York state. Under state law, if Trump solicited more than $25,000 for it, the foundation was required to register. By not doing do, the foundation has avoided outside audits required under the law. Schneiderman's office sent a cease and desist letter to the Trump Foundation on Friday, ordering it to stop fundraising, to file the required paperwork within 15 days, and to submit audits for the years it's been operating. Failing to comply, the letter stated, would be considered "a continuing fraud on the people of the state of New York."
A Trump campaign spokesman told Newsweek in an email, "While we remain very concerned about the political motives behind [Attorney General] Schneiderman's investigation, the Trump Foundation nevertheless intends to cooperate fully with the investigation. Because this is an ongoing legal matter, the Trump Foundation will not comment further at this time."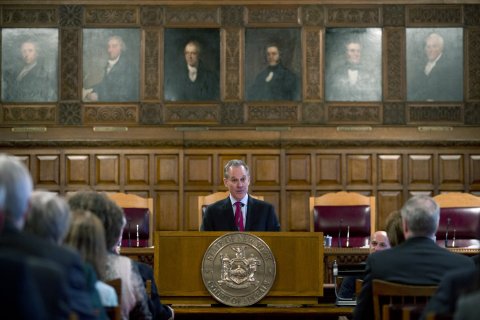 Schneiderman told Newsweek his office is "still in relatively early stages" of its investigation of the Trump Foundation. "There are a lot of allegations that make it appear that there was some improper conduct there," he says. "I'm not gonna prejudge until we get all the evidence, but it's certainly clear that you can't give campaign contributions. They already admitted that was wrongfully done and paid a fine for it."
He's also looking into how money got into the foundation. "It's called the Trump Family Foundation, but he apparently hasn't put his own money in for a while, so we are asking questions about why these other people gave money [to it]."
"Are you the next Donald Trump? Come prove it to me!"
In 2011, a year after Schneiderman got elected attorney general, the New York state Department of Education contacted him to complain that Trump had put his name on an entity called Trump University. The department has stringent rules for the use of that word—university—and Trump's operation didn't rise to the standards of the other institutions in New York—Cornell and Columbia, for example—licensed to call themselves universities.
For five years, the DOE told Trump to drop "university" from the name or to stop holding seminars in New York state. Trump ignored them, so Schneiderman stepped in.
The attorney general's office had already received a few consumer complaints from people who felt they'd been fleeced by this "university." So, for the next two years, Schneiderman's office conducted a thorough investigation. It requested and reviewed reams of Trump University materials, and it interviewed former students, collecting dozens of affidavits from people who detailed how they'd been baited into parting with up to $35,000 for advice from Trump's "handpicked" experts—experts who melted away once contracts were signed. The attorney general concluded that Trump University was not a university, and "every piece of it was a fraud."
In the course of his investigation, Schneiderman and his team of lawyers found that students were treated as "buyers" by a cadre of grifters who followed a Trump University "Sales Playbook" that devoted pages to "The Art of the Set." The set was a blueprint for cajoling eager, naïve marks into sharing their credit information and then going into debt to pay for courses offering limited and basic information taught by instructors who had little or no real estate experience and which buyers thought would lead to riches in real estate.
Trump never personally participated in this alleged scam, but he was key to the con, Schneiderman says: "Trump's primary role was to lure them in." He appeared on video ads, promising to help make Trump University students as rich as he was. His name was bold and big in print ads, taunting readers with "Are you the next Donald Trump? Come prove it to me!" According to depositions, he personally approved all the ads.
Desperate, recession-era Americans were seduced by the promise of learning the real estate magnate's "secrets"—but were in fact persuaded to part with their money for nothing, the attorney general's case alleges, usually after their "mentors" had determined how much available credit they had. Trump eventually conceded he had never even met his "handpicked experts," most of whom had no real estate experience and were paid on a commission basis, dependent on whether they sold "students" another, more expensive seminar.
Starting in 2012, Trump's lawyers and the attorney general's office discussed settling the case, but those talks fell apart, and in August 2013 Schneiderman sued Trump University and Trump, alleging fraud and demanding financial penalties against him and damages for former students.
Trump fired off a tweet a few days later, portraying himself as a victim: "Lightweight NYS Attorney General Eric Schneiderman is trying to extort me with a civil lawsuit." (That tweet is a relic of a much different era in Trump's life: It garnered only 90 retweets and 40 likes.) In subsequent tweets, he called Schneiderman a "hack" and made fun of his face.
For two years, Trump's lawyers filed motions to dismiss and delay the case. But earlier this year, an appellate judge ruled that the case could go forward. Trump appealed to the state's highest court, which is expected to rule by the end of the year. Schneiderman believes the case will either go to trial or Trump will settle. "He preyed on people who were in hard economic times, desperate to find ways to make ends meet. The playbook contains his instructions to target people who were desperate. Those are always the prize victims of all fraudsters."
Welcome to Scorched Earth
Schneiderman first met Trump in 2010, when he was running for attorney general. A Democrat who'd served in the State Assembly, Schneiderman got his start in politics as an activist driving women to abortion clinics. He didn't have much in common with the by-now conservative magnate, but Trump agreed to see him in his office on Fifth Avenue, where Trump wrote him a campaign donation check for $12,500. "He said, 'I like you. We're going to be best friends,'" Schneiderman recalls.
But as negotiations for a settlement in the Trump University investigation fell apart, it became clear that they were never going to be "best friends." As Schneiderman's office moved to sue Trump for fraud, the businessman went on the attack. In addition to his snippy tweets, Trump filed a state ethics complaint accusing Schneiderman of soliciting donations from his family and employees. The ethics complaint was dismissed (Schneiderman admits he returned $500 to Ivanka Trump and $1,000 to one of Trump's lawyers).
Trump also filed a $100 million malicious prosecution case, which was dismissed. The New York Observer, a weekly newspaper owned by Trump's son-in-law, Jared Kushner, tried to hire an ice cream vendor to pen an "investigative" story about Schneiderman and eventually published a long hit piece on the attorney general, accusing him of being politically motivated in his pursuit of Trump.
"When I sued him, no one thought he was running for president," Schneiderman says. "In retrospect, I got a preview of what the world has seen now of the tactics he uses to fight back against his opponents."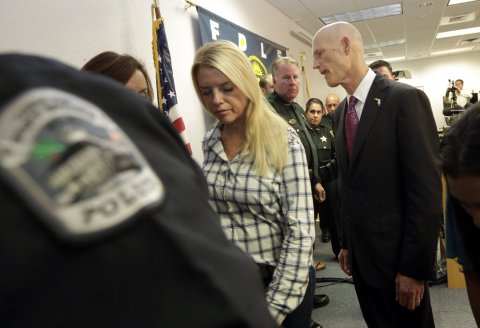 Schneiderman says he was surprised by the vitriol and the tactics. "We have never seen this from any other defendant, this combination of scorched-earth tactics and this attitude that there is no such thing as bad publicity. Being exposed as a fraudster doesn't seem to bother him. I don't think he looks good for what he did with Trump University, but he doesn't seem to really care."
Schneiderman believes Trump went after him personally because the lawsuit threatened his brand. "It's obviously very important to him that the world believes he's a successful businessman. That's how he lured people onto Trump U., by saying, 'I'm a brilliant business, and I will teach you my secrets.' Once he's exposed, once he loses the brand as a successful businessman, he's exposed as a failure as a businessman and that he's got it by cutting corners and breaking rules. That's all he's got left."
Trump has maintained publicly that he did not make money from Trump University and that his involvement was purely altruistic. But in a class-action suit brought by former students in California, a Trump comptroller conceded that Trump personally pocketed $5 million from the $40 million that Trump University raked in.
Schneiderman says Trump "needed" the money then and that he lies about his wealth. "Our case makes it clear this a fellow who is comfortable saying things that are clearly not true."
Given the many allegations about Trump's business practices, documented in books and articles over the years, and now hourly filling the pages of newspapers and magazines, including Newsweek, it raises an intriguing question: Why is Schneiderman the only law enforcement official known to be looking into him?
"I can't really answer for why other prosecutors choose not to investigate," he says. "But Trump has openly admitted he gives donations to people to get them to do what he wants, and that approach may well work with some people." He adds that the personal attacks Trump unleashed on him might make other law enforcement officials timid. "The prospect of taking action against someone who is really going to go after you viciously and dishonestly, as he went after me, could be a factor that might intimidate some people."
Legal scholars have said the Trump University fraud case could be grounds for impeachment, should Trump be elected. "The evidence indicates that Trump University used a systemic pattern of fraudulent representations to trick thousands of families into investing in a program that can be argued was a sham," University of Utah law professor Christopher Peterson wrote recently. "Fraud and racketeering are serious crimes that legally rise to the level of impeachable acts."
Schneiderman declined to discuss that possibility. "I haven't been able to wrap my head around a Trump presidency," he says. "I've been wrong about a lot this year, but at the end of the day I couldn't do what I do if I didn't believe in the ultimate wisdom of the American people. And I do think they will choose the candidate who does not have a lifelong habit of fraud and abuse and misrepresentation."
Update: This article has been updated to include the Trump campaign's spokesman's comment.