At the end of each month, Rorisang Kamoli divides up her paycheck, the roughly $100 she earns from inspecting blue jeans in a factory in Maseru, the capital of Lesotho. Part of it goes to her husband and infant son; another part pays for her brothers to go to school; the rest buys food for her father and grandparents. Kamoli, 27, is the only one of them with a job, and she owes her position to an unexpected source: an American trade deal.
Sixteen years ago, President Bill Clinton signed the African Growth and Opportunity Act (AGOA), a deal that allowed about three dozen African countries to sell a variety of goods—from clothing to cars—duty-free to the United States. In Lesotho, a small, mountainous nation encircled by South Africa, the result was a sudden boom in textile production. The industry quickly became the largest in the country's private sector, producing garments worth $300 million or more every year for American brands like Old Navy and Wal-Mart. That, for the Clinton administration, was mission accomplished.
The trade deal also sparked a second, unintended shift: It helped women. According to the Lesotho Textile Exporters Association, a national trade group, about five people depend on each individual worker's salary—and about 86 percent of the textile workers in the country are female. "Women are the ones responsible for their families now," Kamoli says. For the first time in this traditionally male-dominated society, women started controlling family budgets.
But these gains might be short-lived. Because of an attempted coup in 2014—and the messy political aftermath—Lesotho could soon be shut out of the American trade deal as early as next year. The agreement "was meant to be...a way to get more reciprocal trade going between the U.S. and these African countries," says Cyril Prinsloo, a researcher in the economic diplomacy program at the South African Institute of International Affairs, a Johannesburg-based think tank. But there were conditions: Countries had to maintain "continual progress" toward good governance and human rights standards or risk being cut from the program.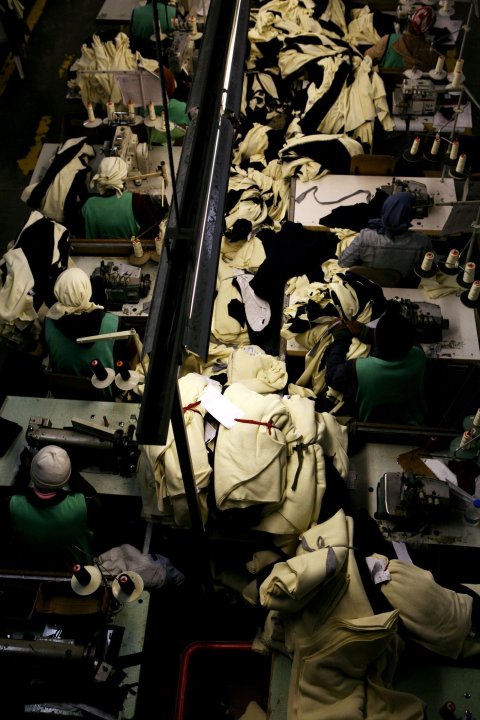 Joshua Setipa, Lesotho's minister of trade and industry, estimates that if the country's textile industry disappears, 300,000 people in a population of 2 million will lose much of their income. That number includes 40,000 garment workers and people who provide services such as food and transportation to the factory employees. A recent drought has made another 680,000 people dependent on food aid, so an implosion of the garment industry could lead to a catastrophe.
"A million people hungry looking for a job is a recipe for disaster," Setipa says. "No country can survive that. You put that many people on the street, you're going to have a social revolution. You're going to have a political revolution."
Lesotho's political crisis began in June 2014, when then–Prime Minister Tom Thabane suspended the country's parliament to avoid a no-confidence vote. Two months later, a section of the army stormed police stations in Maseru and surrounded a central government building, killing one police officer. Thabane fled to South Africa. Since then, rounds of mediation and a snap election in February 2015 have eased the crisis. But the U.S. government agency that oversees the AGOA said in a 2016 report that it was concerned no one had been held accountable for the August 2014 clashes. The U.S. agency argues that violent power struggles within the army could be "destabilizing" to the country at large.
Last year, the U.S. Congress voted to renew the trade deal until 2025, but most experts say this is likely to be the agreement's final decade. Michael Froman, the current U.S. trade representative, has repeatedly said that African countries should begin thinking about how to conduct trade in other ways.
Aside from the general economic destruction, many in Lesotho worry the deal's end will also cause women to lose the professional and social gains they have enjoyed in recent years. "I feel powerful because I am the one who makes the money," says Palesa Lefoka, 23. "I feel that my husband respects me more because of that."
Garment workers were the first in the country to fight for—and win—paid maternity leave, says trade unionist Solong Senohe, a policy that later spread to other industries. Women in garment factories have also had an easier time fighting sexual harassment and other workplace disputes because of international auditors and the comparatively high standards demanded by Western brands, says Mamohale Matsoso, Lesotho's labor commissioner, whose office is responsible for overseeing labor laws and standards.
Kamoli, the blue jeans inspector, says there have been many difficult moments in the factory. The days are long, the supervisors are gruff, and every month her paycheck seems to disappear before she can buy everything she needs. "It's bad sometimes," she says. "But the most important thing is that we don't lose...these jobs."
­ Ryan Lenora Brown was a fellow with the Wits China-Africa Project in Lesotho.