Roosh V used to go out most nights looking to seduce a woman, but today he has a much easier task: He's just looking to piss one off.
It's opening day of the Republican National Convention (RNC) in Cleveland in July, and the most hated "pickup artist" in the world has infiltrated a group of protesters outside the arena. He's wearing a Hillary Clinton hat (he supports Donald Trump), and in a video of the incident he streamed on Periscope, he and the demonstrators clash. "This girl just came up to me and tried to touch me without my consent," he says into his smartphone camera, feigning the politically correct outrage he mocks. "She said, 'Go back to the Middle East.' She is Islamophobic!"
Roosh, whose father is from Iran, then turns his camera to the woman, who responds, "You're a piece of shit. I didn't touch you!" Then she calls him a rapist. A crowd forms. Another woman edges close, holding a microphone, and says she's with the Canadian Broadcasting Corp. "Who are you?" she asks Roosh. Before he can answer, the crowd starts chanting, "Rapist! Rapist!" and the first woman says, "You should kill yourself."
Roosh is pleased. He not only got to spar with some of the "social justice warriors" he despises but also got material to share with his many followers. And don't forget all the free publicity, which he needs as he attempts to make his transition from pickup artist (someone who relentlessly practices the "art" of seduction) to a hero of the "alternative right" movement.
Raw Meet
Like the bombastic presidential candidate inside the convention hall that day, Roosh thinks America is too PC. That's largely the subject of his new book, Free Speech Isn't Free, and since embarking on a lecture tour in summer 2015 ("The State of Man"), he has evolved from "game" guru to conservative provocateur, joining figures such as Milo Yiannopoulos, the flamboyant Breitbart editor whom Twitter recently banned for inciting harassment. Yiannopoulos is a leader of the alt-right—a meme-obsessed nationalist subculture that grew out of online forums, gained a following among Trump supporters and mirrors the right-wing movements spreading overseas. Its members include white supremacists, anti-Semites and internet trolls.
Though Roosh says he is not part of the movement—they just have common enemies—his alliance with its leaders was evident at the RNC, where he went to a party Yiannopoulos threw. Also there: Geert Wilders, the controversial Dutch politician on trial for anti-immigrant hate speech. A journalist who attended described the event as a "hell full of manic trolls and smug neo-fascists from every slimy corner of the internet."
Followers of Roosh, whose real name is Daryush Valizadeh, know him as a blogger who has been running websites devoted to "game"—the tricks and techniques to use to seduce women—since around 2001. His website Return of Kings "aims to usher the return of the masculine man in a world where masculinity is being increasingly punished and shamed." There are more than a million posts on his forum, and he has self-published 18 books.
He's perhaps best known—and most hated—for his proposed International Tribal Meetup Day in February. Attendees (no women or gay men allowed) were to congregate at set locations, identify one another through a code phrase and then go to bars or cafés. The 165 gatherings in 43 countries would offer "the opportunity to meet other like-minded men," he wrote.
Citing articles about rape that Roosh had written, activists and news outlets (including New York magazine, the Daily Mail, the Toronto Sun, Cosmopolitan and Mashable) claimed the events had a more nefarious purpose. A typical headline, from local news website DNAinfo: "Pro-Rape 'Men's Rights' Group Plans Saturday Rally in Chicago." Police reportedly warned women to avoid the areas near the meetups.
Global outrage followed. Politicians in the United States, the United Kingdom, Canada and Australia spoke out against Roosh, activists scrambled to sign petitions against him, and a British lawmaker called him "an embarrassment to all men."
Those labeling Roosh a "rape advocate" pointed to his 2015 blog post "How to Stop Rape." The solution, he wrote, was to legalize it on private property so that women would do more to protect themselves. He later called the piece "a satirical thought experiment," but in a separate article he wrote, "'No' when you try to take off her panties means...'Don't give up now!'" In another he complained that society unfairly gives women all the power to determine if sex is consensual.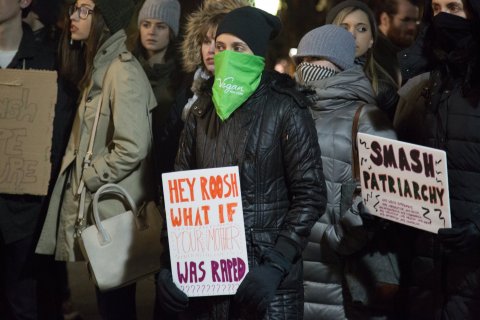 The Anti-Defamation League has accused him of anti-Semitism, and the feminist group Femínistafélag Iceland has called one of his books a "rape guide." The Southern Poverty Law Center, which monitors hate groups and extremists, included his writing in a report on websites that are "thick with misogynistic attacks."
"He is an important part of a world which is incredibly misogynistic, which is all about the hatred of women," says Mark Potok, senior fellow at the Southern Poverty Law Center. "If he were just some sort of jerk who was into seducing women with various lies, that would be of no interest to us."
Roosh insists his meetups were not going to be pro-rape rallies. "It was just for men to meet up, as in a regular happy hour," he tells Newsweek in his first interview since the controversy. At first, he laughed off the "pro-rape" accusations, but when the cyberhacking collective Anonymous published his and his family's personal information online, he became worried for the safety of his meetup attendees and decided to cancel the events. "It's all a great misunderstanding," he says.
As for that "How to Stop Rape" so-called thought experiment? "Maybe I crossed a line. I dunno."
'The Global Conspiracy'
When I meet Roosh at a Starbucks in Washington, D.C., he's early. That's surprising, since he tells his readers to show up five to 10 minutes late to dates. ("She'll have anxious feelings focusing on your arrival instead of the doubts she had about coming to see you.") Less surprising is that he records the interview. "Your editor, is he part of the global conspiracy?" Roosh asks. [Editor's note: Yes.] "No? But let me ask you this: Who hired him? [And] who hired him?" Roosh is tall and has a thick, bushy beard with gray patches. He's wearing a red "Make America great again" hat and a T-shirt, jeans and black sneakers. He grew up around Washington and says he is back visiting his parents; he's been bouncing between countries for the past decade and lately sticks to Russia, Poland and Ukraine.
Roosh's focus has changed, and Free Speech Isn't Free shows it. His previous books explained how to "bang" women, but his newest one turns to a topic likely familiar to Trump's followers: how people from minority groups can say whatever they want while straight men cannot. "There are active attempts to silence men, to marginalize them, and at the same time to elevate all these far-left agendas and viewpoints," he tells me.
That shift in thinking is occurring across the "manosphere," the informal network of websites, blogs and online forums that deal with masculinity, dating and men's rights. "Once you learn how to do well with women, then you start understanding the deeper political and philosophical issues," Mike Cernovich, another unofficial leader in the movement and a friend of Roosh's, says in an email. "Why are gender relationships so toxic, you start to ask, and from there you are down an entirely new rabbit hole." Few are exploring those ideas as well as Roosh is, Cernovich adds. "Roosh is a welcome relief from the banality of pseudo-intellectualism that passes for 'free thought' these days."
With the election of America's first female president an approaching possibility, it makes sense that Roosh and his followers are becoming more political. "Misogyny and the world of the manosphere have become very much a part of what we're now calling the alternative right," Potok says. "Over the 15 years or so I've been doing this work, a real misogyny and hatred of women and even advocacy of rape and the beating of women have become more and more a part of the radical right in the United States."
Roosh insists he's not a men's rights activist, nor is he anti-women. He just believes in "traditional" gender roles: "I think I'm pro-woman in the fact that I want them to live a life that is according to their biological genetics." Men should live life according to traditional roles too, he says. "[He] should be leading a household. I think a woman should be submissive to her husband—I get attacked because I say that."
One of those critics is Sara Singh Parker-Toulson, a Canadian activist who started a petition against Roosh in summer 2015 that garnered nearly 50,000 names. She says there is a real danger to the ideas Roosh spreads. "There are many vulnerable young men on the internet looking for an explanation about why the world is what it is," she says, "and he gives that to them." She mentions Elliot Rodger, the 22-year-old who killed six people in Isla Vista, California, in 2014. He had said that he wanted to punish women for rejecting him, and investigators said he had frequented a manosphere website. In 1989, a 25-year-old Canadian killed 14 women after announcing he was "fighting feminism." In 2011, a Massachusetts man lit himself on fire outside a courthouse after losing a child custody case. "The federal government declared war on men," he wrote before the incident. "It is time, boys, to give them a taste of war."
Roosh is suing one of his critics—an anonymous woman who claims he raped her. S. Jane Gari, an author, published a blog post with the woman's accusation in February. The woman alleged that he followed her home from a nightclub in Iceland and asked if he could use her bathroom (a "game" gambit he's written about). The woman said when she let him inside, he "overpowered her" and raped her. The woman never made a formal accusation, according to Gari.
"That is the biggest pile of horseshit that I ever read. That did not happen," Roosh says. Gari declined to comment "due to the potential legal situation."
Roosh has hired bodyguards and sometimes worn disguises in public. "The only thing I fear in life is a mob," he says. "It just takes one crazy person in that mob who wants to be a hero...to get a knife and stab you." Threats are easy to send, thanks to the internet, and he's received plenty. "I hate to say it," he says with a smirk, "but the real way to stop me is to kill me."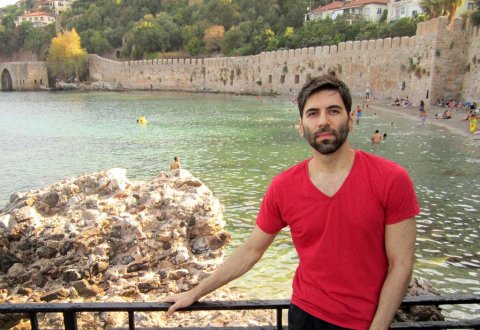 'Hater Pay'
After stopping in a Russian restaurant near the Starbucks ("cute, small, thin," he says about our waitress), Roosh leads the way to an area with bars that he knows from his early days of trying to meet women. He also wants to show off his Trump hat in a city where just 6 percent of voters are Republican. The first bar, a dive, doesn't have enough people who might pay attention to him, so he decides to move on. At the next bar, a friend joins him. The friend is also wearing a "Make America great again" hat.
After a few beers, we take the friend's Toyota, emblazoned with Trump bumper stickers, to northwest Washington, to yet another bar. A second friend from the "blog scene" joins us. After ordering a gin and tonic, Roosh removes a wad of cash from his pocket. There's a $100 bill wrapped in fives and ones. "Hater pay," he jokes, saying all the outrage has boosted the sales of his books. His Twitter following spiked during February's meetups controversy and continues to climb, growing by thousands since the spring, according to the analytics tracker Twitter Counter. He says his latest book sold more copies in its first week than any of his previous books did.
"I'm going to be known, because of [the media], as a pro-rape advocate for the rest of my life, until I die," he said during the fracas in February. "But at the same time," he continued, "they're going to know me."
But that's not why he's making this push into politics, Roosh insists. He says he wants to move to a small village abroad and open a business, something offline, though he won't say much more. After more than a decade of making a career out of sleeping with as many women as possible, he's settled down with a companion (he won't say "girlfriend") and vows he is no longer in the game. "I'm 37 now," he says. "How much sex do you need?"