As Latasha Dyer and her two daughters pulled up to their cramped trailer, she spotted her son, Dallas, on the park lot. He knew it was against the rules to play outside when no one was home, and since he was her oldest child, Dyer expected the 14-year-old to set a good example for his sisters, so she sent him to his room.
It was early evening, October 3, 2015, and the weather was starting to cool. Dyer, 30 and fair-skinned, with three stars tattooed on her right foot, followed Dallas inside. The young girls hung back on the lot, a small, grassy expanse in a rural east Tennessee town called White Pine. She went through her clothes and then put on a long-sleeved shirt that said "Property of Jesus."
Around dinnertime, the mother heard a blast, and then her 11-year-old, Katie, came barreling through the trailer. "The boy shot MaKayla!" she screamed. "The boy shot MaKayla!"
Dyer ran toward the door, passing a wall decorated by her three children, who had dipped their hands in paint and pressed them there. The smallest prints belonged to MaKayla, Dyer's mischievous 8-year-old daughter. She loved to wear plastic tiaras and play in the dirt, hated shoes and was not much fonder of school.
When Dyer stepped outside, the lot was still damp from rain. She found MaKayla lying in the mud, dying. She dropped to the ground and hugged the child to her chest.
Later, she learned what happened. An 11-year-old neighbor, Benjamin Tiller, had asked to see the child's new puppies, Buddy and Spaz. When she said no, he went and grabbed a 12-gauge shotgun, aimed it out the window and pulled the trigger. He shot MaKayla in the chest, just above her heart.
It had not been hard for Tiller to get the gun. The weapon belonged to his father, and the boy had found it right where he thought he would, stored in an unlocked closet, loaded.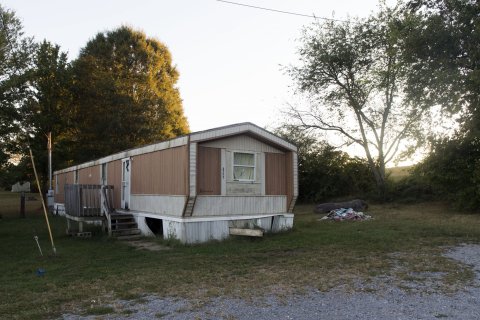 102 Deaths in Two Years
Young children shoot themselves, other kids and adults with stunning frequency in America. From September 1, 2014, to September 1, 2016, a child younger than 13 was the perpetrator in at least 300 acts of gun violence, resulting in 102 deaths and 198 injuries, according to data provided by the Gun Violence Archive, a nonprofit.
The vast majority of those shootings were unintentional, the result of a child playing with an unsecured firearm found in a drawer, a purse or the backseat of a car. Just more than half of them were self-inflicted, while slightly more than a quarter involved one child shooting another. The rest of the victims were adults. In all but a few instances, the shooter was a boy, and the gun usually belonged to a parent who had not properly locked it away.
Shootings by young children pose a unique challenge for law enforcement officials: Who is responsible when a kid using an unsecured firearm kills or injures another person?
Some prosecutors have sought to hold gun-owning parents accountable. In Pennsylvania, a 26-year-old father was charged in September with endangering the welfare of a child after his 2-year-old son shot and killed himself. In New Jersey, a 22-year-old mother is awaiting trial after one of her young sons killed his brother. But usually nothing happens. "Prosecutors are hesitant to bring charges against grieving parents," says Daniel Webster, a gun violence researcher at Johns Hopkins University.
There are other reasons district attorneys don't prosecute shootings by children: They don't like to try cases they believe they will lose, and there is no federal law requiring gun owners to store their weapons safely. Twenty-seven states have a statute that seeks to hold adults accountable when children get their hands on a gun. But many of these statutes don't apply to storage and set an absurdly high bar for what can be successfully prosecuted. Tennessee, for example, prohibits adults from providing a handgun to a minor or allowing a kid to possess one—but only if the adult thinks there's a significant risk the child will use the weapon to commit a felony.
Just 14 states have negligent firearm storage laws, or statutes that mandate adults take precautions to secure their guns in such a way that children cannot access them. But of those, only four states (Florida, California, Massachusetts and Connecticut), along with the District of Columbia, allow for felony charges.
There is evidence that tough safe storage mandates lead to fewer child shootings. A 1997 study in the JAMA found that states with a felony punishment saw a 41 percent reduction in fatalities after the law was adopted.
Tennessee doesn't have a negligent storage statute.
After MaKayla died, prosecutors charged the 11-year-old boy who pulled the trigger with first-degree murder. Tiller was found guilty in February and placed into the custody of the Department of Children's Services, where he will remain until he is 19. Jimmy Dunn, the local district attorney, declined to respond to repeated requests for comment.
MaKayla's murder drew widespread media attention, and activists and sympathetic lawmakers in Tennessee saw an opening to push for a law penalizing negligent storage. They had other powerful examples to draw on. In 2015, in Coffee County, a 3-year-old boy shot his 18-month-old brother in the head. A few months later, in Memphis, a 4-year-old shot and killed himself while his father was doing yard work.
Laws that tighten gun restrictions have little hope of making it through the Tennessee Legislature, but the bill dubbed "MaKayla's Law" seemed poised to be an exception. After all, the National Rifle Association touts responsible gun ownership as a core principle. On its website, the NRA states, "In a home where guns are kept, the degree of safety a child has rests squarely on the parents and gun owner."
'I'd Never Even Heard of the NRA'
MaKayla was killed three weeks after her eighth birthday. She was given enough toys that day to fill a large bag. Dyer couldn't bring herself to part with the gifts, which all had to do with MaKayla's favorite movie, Frozen. MaKayla had planned to dress up as one of the main characters, Queen Elsa, for Halloween. Instead, she was buried in that costume—a pretty blue gown and a sequined tiara.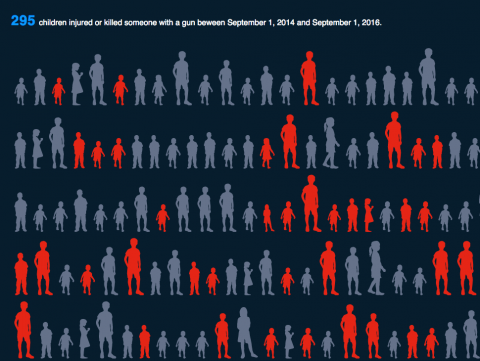 By early winter, Dyer had moved from the trailer park, resettling with her children in a home in the Knoxville area. Sometimes, Dyer would forget MaKayla was dead and call her in for dinner. Other days, she couldn't think of anything else. Dyer took to sleeping with MaKayla's duck-shaped pillow ("Ducky Momo," MaKayla called it), which still smelled faintly of her daughter, but gave away the child's puppies.
In January, Dyer received an email from Beth Joslin Roth, the policy director of the Safe Tennessee Project, a new gun violence prevention group. Roth, a mother of two, had been consumed by MaKayla's murder. She'd recently been in contact with legislators in Nashville looking to sponsor a bill that would put the onus on adults to safely store their weapons when kids were around. It was Roth's idea to call the legislation MaKayla's Law, and she asked Dyer for her blessing. She also wanted Dyer to appear at a committee hearing in Nashville to talk about her daughter's death.
Dyer had never been interested in politics and had little idea of how the process worked. She thought over the requests and ultimately agreed to both. "I was feeling real hopeful," she says now. "I never thought there were people out there who would fight the bill. I'd never even heard of the NRA."
But as the showdown over MaKayla's Law demonstrates, the group's stated gun safety priorities now take a backseat to its political agenda. Over the last two decades, the NRA has evolved into a lobbying force that relentlessly promotes firearms as a key to personal liberty and self-defense. It fights every possible restriction on either, no matter how slight. (The NRA declined to comment for this story.)
At the state level, the group has successfully pushed for legislation that allows firearms in bars in Georgia, churches in Mississippi and college classrooms in Texas. Since March, three states—Idaho, West Virginia and Missouri—have adopted laws that waive training requirements and allow people to carry concealed handguns in public without a permit or certified training.
With MaKayla's story still on Tennesseans' minds, the NRA flew in a lobbyist from its Virginia headquarters to squash the legislation. The terrifying home invasion scenarios that the group conjures to rally zealous members may not directly discourage cautious gun storage habits—but they don't leave much room to imagine unlocking the gun safe when the burglar creeps through the front door.
The lobbyist also had another mission: to convince lawmakers to vote for a bill that would give some Tennessee residents another place to legally take their guns: the campuses of state colleges and universities.
'Run Away! Tell a Grown-Up'
Not so long ago, the NRA might have supported the passage of MaKayla's Law or even helped draft the bill. In 1989, there was a rash of accidental shootings by children in Florida. The incidents were covered in major media outlets, including The New York Times, The Oprah Winfrey Show and People magazine. The widespread attention prompted lawmakers to act.
The NRA's Florida lobbyist, Marion Hammer—the same woman who, in later decades, would be responsible for the "Stand Your Ground" laws that offer legal protections to shooters claiming self-defense—worked with elected officials to produce the first storage statute in the country. It includes a felony penalty for violators who leave "a loaded firearm within the reach or easy access" of someone 16 or younger, who then takes the weapon and "inflicts injury or death" upon himself or another human being.