Dust swirled and jackhammers pounded outside the Bonwit Teller building in Manhattan as undocumented immigrants tore apart the façade. It was June 5, 1980, and a sense of bitterness hung over the work site that afternoon; paychecks were often weeks late, but since the Poles didn't have legal status in the United States, there was little they could do about it.
The exterior they were destroying was an architectural masterpiece—bronze, platinum, hammered aluminum, glazed ceramic and tinted glass that shimmered like jewelry. Many New Yorkers had hoped the grandest portion would survive; curators from the Metropolitan Museum of Art had asked the developer to carefully remove the two bas-relief sculpture panels so they could be restored and put on public display. But that afternoon, the laborers, acting on orders from the developer, smashed the 50-year-old art deco panels into a rubble of stone, pebble and dirt.
The desecration horrified Manhattan's art community, but the developer, a brash 34-year-old named Donald Trump, dismissed the criticism—pretending to be his own spokesman, "John Barron," as he talked to reporters by phone. Saving the panels would have cost him $32,000 each, he said, and delayed work for a few days on his $100 million project, Trump Tower. Besides, he declared, he knew more than the curators—the panels had no artistic merit and little financial value.
This incident from long before Trump became a household name is an ideal exemplar for his business career, in which he has repeatedly left bitterness and ruin in his wake. His destructive behavior—spurred by recklessness, arrogance and an unslakable thirst for vengeance—has victimized cities, businesses, investors, partners, even members of his family.
Trump is now completing his biggest and most astonishing demolition: tearing down the Republican Party. Since the disclosure of a recording earlier this month in which Trump demeans women and boasts of sexually assaulting them, the GOP presidential nominee has vowed to make his campaign a scorched-earth mission. He now speaks of vast conspiracies against him involving bankers, the media and politicians, while raging against Republicans who have pulled away from his toxic campaign, ripping open chasms between his zealous supporters and the GOP. Win or lose on November 8, Trump, whose campaign did not respond to Newsweek requests for comment about this article, will leave the Republican Party as damaged as those art deco panels were 36 years ago.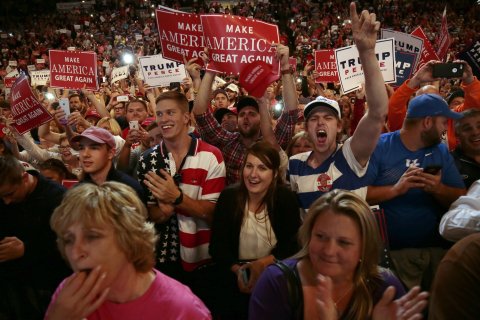 To anyone who has watched Trump over the past four decades, none of this is a surprise. His presidential campaign is built on the claim that he's a brilliant businessman worth $10 billion who turns every challenge into success, but Trump is none of those things. Instead, he was born into an exceedingly wealthy family and tried to build upon his father's success with ever-riskier ventures, and by any rational measure, he failed again and again.
He'd have done better if he'd never gone into business. In 1982, Trump reported to New Jersey regulators a personal net worth of $321 million, built largely on his father's connections, as well as loans and guarantees for bank credit. Two years later, a Trump lieutenant testified that his worth had not changed much. In 2004, in reviewing his application for a loan, Deutsche Bank concluded he was worth $788 million. Trump now makes the highly dubious claim that he is worth $10 billion; Forbes estimates that the real number is $3.7 billion. That's a lot of money, to be sure, but suppose Trump had never done any deals and instead sold all of his assets back in 1982 and invested them in a fund based on the Standard & Poor's 500 index. With dividends reinvested, he would have increased his wealth to $535 million by 1985. By 2004, his personal wealth would have increased to $5.9 billion. And three years ago, he would have exceeded what he claims to be worth now by more than $1 billion; today, he would be worth more than $13 billion, just under three times the Forbes estimate.
In other words, if the Republican nominee had done nothing but mow his lawn for the past 35 years, he would be a dramatically wealthier man than he is today. The huge bonus in that scenario: Thousands of people would not have been ridiculed, ripped off or otherwise have suffered from encounters with Donald J. Trump.
Demolition Man
Donald Trump loves to put his name on buildings, but there are no hospital wings named for him. No museums have a piece of artwork with a plaque reading "A Gift of Donald J. Trump." No buildings at the University of Pennsylvania bear his name, even though he constantly cites his graduation from its Wharton School as a sign of his intelligence. (Contrary to Trump's suggestion, he attended the school for only two years as an undergraduate and did not obtain a degree from Wharton's far more prestigious graduate business program.)
Trump bears little resemblance to prominent billionaires such as Warren Buffett, Bill Gates, Mark Zuckerberg, Michael Bloomberg or Charles Francis Feeney, who have dedicated huge sums of their wealth to aiding the less fortunate. There is no evidence that Trump has done much of anything to make the world a better place; what he has left behind is some buildings, along with a lot of wreckage and rancor.
Trump regularly cheats at golf, even revising his scorecard after a match to transform defeat into victory, according to two people who have played with him. He persuaded an elderly couple who ran a Florida antique store to let him "try out" two valuable pieces, then refused to return or pay for them, according to someone close to the Trump family. He bought expensive jewelry at Bulgari on Manhattan's Fifth Avenue, then colluded with the store to have empty boxes supposedly containing his purchase shipped out of state so he could dodge New York sales tax, court records show. After dragging a buddy through years of litigation, Trump told the man he had filed the suit only because he was angry the friend had not given him enough public credit for his success, according to a person who witnessed the conversation.
When business executives came to his office, Trump bragged about his current wife, Melania, and showed them nude photographs from her modeling days, two bankers say. Trump encourages staff at the Trump Organization to tell him the faults of co-workers who are standing there, creating a vicious corporate environment, a former executive says. His niece and nephew sued him, alleging Trump used his influence over his then-demented father to rewrite his will and cut out his brother's side of the family. Enraged by the suit, Trump reneged on a family commitment to pay the medical bills for his nephew's sick baby. (They settled under confidential terms.)
There are no names attached to those stories because the sources all know the Republican nominee strikes out viciously over any perceived criticism. They all asked to remain anonymous for fear that Trump would drag them to court or try to damage their careers. They know that is one of Trump's greatest skills : bullying, threatening and suing anyone who criticizes him and cowing most of them into silence.
He showed his willingness to harm others for his personal benefit early in his career. Using those undocumented Polish workers in 1980 for the razing of the Bonwit Teller building, for example, was deemed part of a civil conspiracy to defraud a union pension fund, a federal judge in New York later ruled.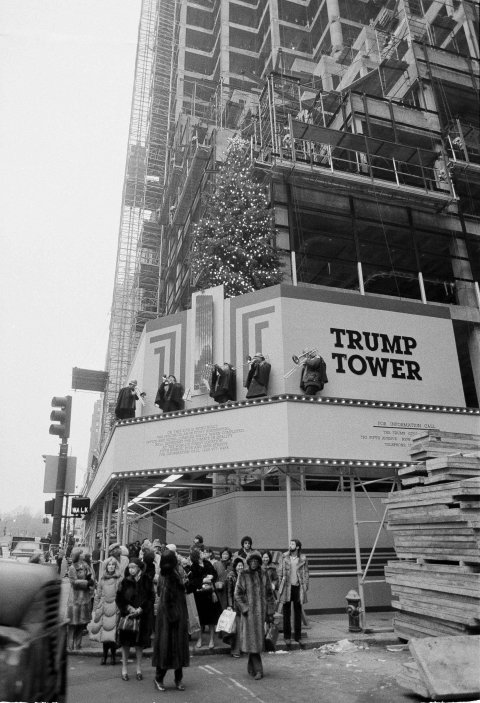 Another example emerged the following year. Trump purchased an old hotel and adjacent apartment building for redevelopment on Central Park South, one of the toniest streets in Manhattan. A little more than 100 tenants occupied the rent-controlled apartments, but Trump launched a campaign to drive them out, according to court documents filed by city and state officials. He filed a barrage of what the city called "nuisance suits" against the residents. He cut off their heat and hot water. He tried to move homeless people into empty apartments to annoy or even frighten the residents. He decreased security for the building, and over those 18 months, the number of burglaries in the building skyrocketed.
Trump scoffed at complaints from residents and the government, publicly disparaging occupants of the apartments as pampered millionaires—a claim he made with no information to back it up. Instead, the court proceedings showed that many of the residents were elderly or middle class. In 1986, with the legal proceedings dragging on, Trump finally abandoned his plans to tear down the apartment building, and the residents were allowed to remain.
During that five-year battle, Trump also destroyed a football league. He had been unable to purchase an NFL team—it's unclear exactly why—so he bought one in the fledgling United States Football League. The idea for the USFL was simple: America had a passion for football and the NFL didn't play in the spring, so that's when the USFL would stage its games.
The USFL got off the ground in 1983. The timing could hardly have been better. The NFL was still recovering from a players' strike in the fall of 1982 , and ESPN, a cable sports network, had recently launched, creating a demand for more programming, one that industry analysts expected would grow dramatically. There were 12 teams in the upstart USFL. ABC Sports and the USFL agreed to a two-year broadcast contract worth about $20 million; that was followed by a contract with ESPN. John Bassett, an owner of the Tampa Bay Bandits who gained a reputation as the USFL's visionary, said he planned to have the league grow slowly. The owners would take losses for a while—as they would from investing in any promising startup—but in seven or eight years, Bassett said, the USFL would be on par with the NFL and have the money to compete for the best players.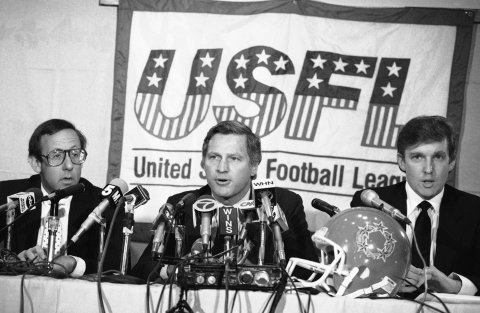 After the first USFL season, Trump purchased the New Jersey Generals from an Oklahoma oilman. And with that, Bassett's plan unraveled. Trump proclaimed that spring football was stupid. Bassett cautioned that competing against the NFL in the same season would kill the fledgling league, but Trump dismissed Bassett's warning. "If God wanted football in the spring," he said, "he wouldn't have created baseball."
Rather than holding down costs, Trump began spending wildly for star players, offering so much money that he set off a salary spiral in the NFL and the USFL, one that eventually drove up the price of tickets to cover the massive expense. Trump also decided to add cheerleaders, holding tryouts in the basement of Trump Tower and selecting a number of underage girls for the job.
In 1986, Bassett was dying of brain cancer and struggled to control the brash new owner. Through browbeating, cajoling and intimidation, Trump persuaded the other teams to abandon the spring league concept and play in the fall. He and his supporters sent lawyers into court, arguing that the NFL operated an illegal monopoly. A jury eventually agreed but awarded the USFL just $1 in damages—an amount that, under antitrust rules, had to be trebled to $3.
The USFL appealed and, as part of its legal strategy, did not start playing again that spring. When the Supreme Court let the judgment stand, the USFL collapsed. Hundreds of people—players, announcers, executives, cheerleaders and others—lost their jobs.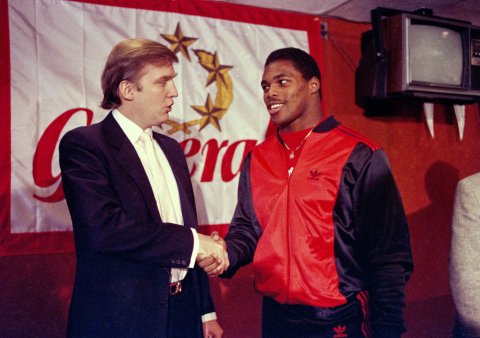 Ugly, Incomprehensible Fights
"I love to have enemies," Trump once said. "I fight my enemies. I like beating my enemies to the ground."
He uttered these words in 1989, about the same time he was in a series of pointless battles: with other billionaires, with midlevel executives, with nobodies whose lives he destroyed just because he could.
The ugliest—and most incomprehensible—fight involved a New York billionaire named Leonard Stern, who had turned a pet supply company into a real estate and media empire. The two men had been friendly enough until the spring of 1988, when one of Stern's magazines, 7 Days, published a fairly innocuous article about Trump Tower, which contained a comment that resale prices on apartments were not as strong as their marketing suggested. This was hardly a surprise, as former Trump Tower residents had already publicly stated they had lost money on their resales.
Although the comment was true, it infuriated Trump, who wrote to Stern, saying, "I just read a highly inaccurate and biased story in 7 Days by an obvious Trump hater—it is a disgrace." Trump soon followed up with a note to David Schneiderman, president of Stern Publishing, which owned 7 Days, announcing a mass-plaintiff lawsuit brought by virtually everyone living in every Trump property, all of whom (he claimed) were outraged by the little-noticed comment in a little-read publication. While he was not keen on bringing litigation, Trump wrote, he could not hold back the hordes of apartment owners eager to sue and so decided to join them.
Trump dropped the threat when he read a subsequent 7 Days article that included a compliment for his then-wife, Ivana, and the role she had played in redecorating his Plaza Hotel. He never explained why the infuriated (and unnamed) Trump apartment owners no longer cared about the damage supposedly done by the first piece.
But he remained paranoid about a documentary on Trump financed by Stern and suddenly dragged his fellow billionaire's wife into the crossfire. Someone planted gossip in the New York Daily News that Allison Stern was incessantly calling Trump's office, pleading for a date. Trump then confirmed the article, saying, "We spoke. I wasn't interested." The Sterns considered suing but decided it wasn't worth the effort. Allison Stern publicly dismissed Trump's story as "absurd" and "the product of a juvenile mind."
Stern was not the last billionaire Trump tried to hurt. After Trump opened casinos in Atlantic City, he developed an intense hatred of Steve Wynn, a far more successful gambling industry executive. Trump decided to persuade Dennis Gomes, the president of Wynn's Golden Nugget hotel and casino in Las Vegas, to break his contract and come work for the Trump Taj Mahal. Wynn sued Trump in a Nevada state court, which found that the current GOP nominee had been driven to poach Gomes out of "personal animosity" for Wynn.
The super-wealthy, like Stern and Wynn, often walked away from Trump's rages relatively unharmed. But those of lesser means were sometimes crushed for simply doing their jobs.
In 1990, Marvin Roffman was a little-known analyst working at second-tier investment company called Janney Montgomery Scott. He specialized in appraising the financial prospects of the Atlantic City gaming industry. That spring, Trump's biggest and by far most expensive casino, the Trump Taj Mahal, was set to open, and The Wall Street Journal examined its prospects. It called Roffman, who said the Taj would benefit from the publicity surrounding its opening but predicted it would struggle afterward. "Once the cold winds blow from October to February, it won't make it," Roffman told the paper. "The market just isn't there."
Enraged, Trump faxed a letter to Janney Montgomery Scott, blasting Roffman's statement as an "outrage." He demanded a public retraction or that the firm fire Roffman, whom he called "an unguided missile." Unless it did as he demanded, Trump wrote, he would launch a "major lawsuit."
Pressured by his company, Roffman faxed Trump a letter of apology the next day, saying the Journal had taken his words out of context. But after thinking about it overnight, he sent another letter retracting his apology. One day later, the investment company fired Roffman.
Not satisfied, Trump continued to publicly berate Roffman. He told the New York Post, The Philadelphia Inquirer, Barron's, Fortune and others that Roffman was untalented. He also told the Inquirer that he had saved Roffman's job six months earlier. Trump delivered the worst—and a false—accusation to Vanity Fair, accusing Roffman of blackmail and fraud, claiming the analyst used to beg him to purchase securities through him, "with the implication that if I'd buy stock he'd give me positive comments."
In the end, however, it was Trump who looked like the fool. Before launching the Taj, he should have consulted Roffman, who later confidentially settled his lawsuit against Trump and won a $750,000 judgment against Janney Montgomery Scott. And Roffman was right about the Taj: In November 1990—one month after Roffman had predicted Trump's casino would start to struggle—the Taj filed for bankruptcy. And with that collapse, brought about by Trump's hubris and incompetence, he destroyed the jobs of far more people than just one smart industry analyst.
Big, Bad Bets and Debts
In November 1988, Trump gave the public a chance to let him wipe out their savings when he offered $675 million in junk bonds sold through Merrill Lynch. He raised the money to buy the Taj from Resorts International and rebuild it; despite his promise to use only bank borrowings, the lenders would not hand over enough cash. Investors wouldn't either, unless Trump paid a lot of interest. So to sell his bonds, Trump agreed to a rate of 14 percent, far higher than the 9 percent yield at the time on investment-grade corporate bonds.
Even that was not enough to pay for the crazy casino of Trump's dreams. The bond prospectus estimated the cost of building and operating the Taj over the next 15 months was $805 million, covered with a $75 million cash contribution from Trump; the rest of the money would come from a Trump credit line and other loans. Trump did not disclose in the filing that he was also guaranteeing hundreds of millions of dollars of loans on real estate properties, which might undermine his ability to tap into his credit. And he spent money on a fight with homeowners whose land he wanted so he could build a larger parking lot for the casino.
Trump knew the success of the Taj and the gambling houses he had previously built—the Trump Castle and the Trump Plaza—could mean the difference between Atlantic City's rebirth or destruction. He also knew that lots of people would suffer along the way. "People will spend a tremendous amount of money in casinos, money that they would normally spend on buying a refrigerator or a new car," Trump said. "Local businesses will suffer because they'll lose dollars to the casino." He was right. As he built his casinos, Atlantic City was ripped apart. Unemployment soared, hundreds of restaurants went out of business, and dry cleaners and specialty shops disappeared.
With the future of the city, its residents and investors at stake—and with Trump's finances spread perilously thin—the market reasonably believed that he, like any smart businessman, would focus on stabilizing his gaming empire. Instead, Trump dashed headlong into other businesses he knew nothing about, borrowing another $380 million to buy the Eastern Shuttle (renamed the Trump Shuttle), taking a run at purchasing a department store chain and even announcing a $7.5 billion takeover bid for American Airlines.
When his three top casino executives died in a freak helicopter crash in late 1989, Trump took over direct management of that business. A short time later, the value of his junk bonds tanked, and Wall Street firms such as Salomon Brothers put "sell" recommendations on them. The many people who had purchased Trump's bonds on his breezy assurances were losing fortunes.
With the financial condition of his casinos getting steadily worse, Trump launched a purge of executives, replacing some of them with people who were clearly unqualified for their new jobs. Trump then publicly ripped the top officers he'd axed and refused to honor some of their severance agreements. Other executives decided to quit; they were no longer willing to tolerate Trump's erratic leadership. The chief financial officer of the Taj, Donald Wood, was taken from the building in a stretcher after suffering from exhaustion and dehydration in April 1990; Trump fired him two days later.
In June 1990, the firings continued. Trump turned over the assets of the airline to his banks, putting more than 500 people out of work, according to court records. The banks also forced Trump to sell his yacht and put him on a budget. The Queens-born mogul stiffed contractors for the Taj whom he owed $35 million but insisted the disaster would only make the public love his brand more. "I think it has greatly enhanced it," he said.
In November 1990, the Taj went bankrupt. The bondholders who had been promised high interest were forced to swap a large portion of their investment for half of the equity in the casino—a far riskier holding. Trump, however, walked away relatively unscathed. Banks let him borrow another $65 million and forgave his personal guarantees on loans, all to avoid a complete implosion of the Trump empire, one that would have taken many of his lenders down with him.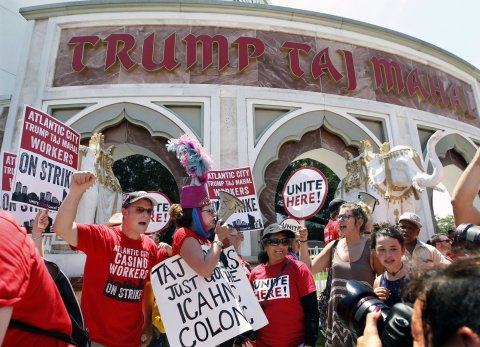 The entire Trump casino empire then tumbled into bankruptcy court. Trump slashed more jobs, investors lost more money, and the economy in Atlantic City worsened as unemployment surged.
By 1992, enough of the wreckage had been cleared away that some of the outstanding bonds began to recover, climbing to about 70 percent of their original value. Delighted, Trump telephoned financial reporters to brag that his investors' losses weren't as terrible as they had seemed. "These prices just prove people love me," he told The New York Times . "People love Donald Trump."
Three years later, Trump sold stock in his newly formed Trump Hotel and Casino Resorts, which owned all three of his Atlantic City casinos and another casino he had started in Indiana. He insisted the stock trade under the ticker DJT—his initials. As chairman of the company, Trump maintained a 41 percent stake, which was worth about $400 million when the stock hit its all-time high of $29.25 a share—less than a year after going public.
Under Trump's leadership, however, the company was unprofitable every year, and by the end of his time as chairman, it had lost more than $1 billion. By 2004, the stock was selling for 65 cents a share, and the company fell into bankruptcy; people who had put their faith in the Trump name lost more than 90 percent of their investment. During the same time, those who owned funds based on the Standard & Poor's 500 index more than doubled their money. Even in the greatest stock market ever, and in a business regularly described as a license to print money, Trump left only wreckage in his wake. And investors in Trump hotels saw nothing but losses.
On the other hand, Trump did just fine for himself. Even as his company's stock price was collapsing and annual losses were piling up, filings with the Securities and Exchange Commission show that during his years as chairman, more than $60 million poured from the public company into Trump's pockets.
This is the dirty secret behind Trump's allegedly miraculous financial recovery. What he told the public was a fable: that he had fought his way back with perseverance and skill. In truth, he did it by snatching huge fistfuls of cash from a company that was wiping out the savings of millions of people.
The Great-American Scheme
The typical business contract lists names and job titles, or perhaps just identifies the companies involved. These documents rarely contain boasts, but that is what is on the first page of a 2004 confidential contract drawn up by Trump, a copy obtained by Newsweek shows. The other party to the deal was listed as SimDag-RoBEL LLC, a Florida limited liability corporation. Trump identified himself as the "worldwide renowned builder and developer of real estate who enjoys the highest reputation in these fields among others."
Those words might have stroked Trump's ego, but no one else was ever supposed to see them. As a term of the contract, both sides were forbidden from ever revealing its existence. And for good reason—Trump was trying to keep up a façade of success.
By then, most of the smart money had given up on Trump. To get a new personal credit line, he could no longer rely on handshake deals or personal guarantees with Chase Manhattan, as he once had. Instead, financial records obtained by Newsweek show, in 2003 he turned to the Cayman Islands' branch of UBS, the Swiss bank. For that loan, however, he had to put up a large number of assets as security, including a portion of his interest in Trump World Tower, all of his investments in a Paine Webber brokerage account, mortgage notes and numerous other securities and property. Soon almost all financial institutions were passing on his deals, other than Deutsche Bank—and in a few years, he would default on a $640 million construction loan from it. The stock and bond markets, where every investor who had ever placed faith in Trump lost money, were closed to him. A fund financed by the billionaire George Soros agreed to invest in a Trump development once — but only once. A private equity firm, Colony Capital, backed out of a Trump project, forcing the Trump Organization to self-finance. Wall Street and financial institutions worldwide all knew that, as a businessman, Trump was a disaster.
So Trump went in another direction , rebuilding his reputation on television. Beginning in 2004, around when his public company fell into bankruptcy, Trump began playing the role of a successful businessman on the NBC reality show The Apprentice. Unless it read the financial news religiously, the public could not know that this portrayal of Trump was a farce.
The success of The Apprentice gave new credibility to Trump, which appealed to people looking to buy apartments and even products. That's why Trump got into the business of selling his brand, letting other companies and developers use his name on their products for a substantial fee. The Trump steaks, the Trump water, the vodka, the chocolates, the mortgage company—all were attempts by Trump to make money off his name because he had few other financial options. In 2004, he also decided to launch Trump University, a for-profit education company that collapsed amid allegations it had defrauded thousands of people. Two class actions by former Trump University students are proceeding in California; a third case has been brought in New York by the state's attorney general, Eric Schneiderman.
The 2004 contract with SimDag-RoBEL was for another deal placing Trump's name on someone else's product—this time on what was promised to be a Florida condominium apartment building. SimDag-RoBEL was developing the project and paid for the right to call it Trump Tower Tampa. The contract required SimDag-RoBEL to comply with "Trump Standards," which the document described as "the level of quality and luxury" associated with premier buildings like Trump Tower in New York City. However, the contract said, SimDag-RoBEL, using its "commercially reasonable judgment and discretion," would be the sole arbiter of whether the building met those standards. Trump would not need to obtain financing, or handle or inspect any of the development work. Instead, he just needed to pose for pictures and cash the checks—$2 million for the initial license fee, plus an additional share of up to 25 percent of all sales.
Executives made every effort in the marketing materials to make potential buyers believe Trump was developing the Tampa building. The first sentence of a press release, dated January 10, 2005, read, "Donald J. Trump announced today plans for a 52-story, ultra-luxury condominium in downtown Tampa, Florida to be called Trump Tower Tampa." The release said the building "will be Mr. Trump's first project" on the Gulf of Mexico. It also quoted Mayor Pam Iorio saying, "I appreciate Mr. Trump's investment in Tampa."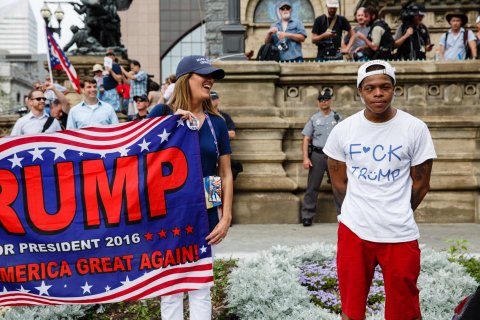 Trump was not putting any money into Tampa; he was just taking cash out of it. But apartment buyers started putting down large deposits for their condominiums that same year. It was not until May 2007, when Trump sued SimDag-RoBEL for failing to pay him all of his licensing fees, that the apartment buyers discovered they had been deceived. SimDag-RoBEL failed to complete the building, and the people who put down the deposits sued everyone involved, including Trump.
That suit exposed the beauty of Trump's scam: He had slapped the Ferrari name on a Chevy. Unless the apartment buyers spent hours at the closing reading the lengthy apartment purchase agreement or hired a lawyer to review it, there was no way to know they were the victims of a bait-and-switch. In response to the suit, Trump pleaded innocence—it wasn't his building, after all.
The scam worked, again and again. Trump Hollywood failed, and the real estate mogul blamed Jorge Pérez, the developer who had paid to use his name. Trump International Hotel and Tower Fort Lauderdale fell into foreclosure, and 30 buyers lost $100,000 each. But this was not his fault, Trump said. The same thing happened with the Trump Ocean Resort Baja Mexico, which—though it attracted dozens of buyers who posted $32 million in deposits—never amounted to more than a hole in the ground. Again, Trump denied responsibility. Building after building, failure after failure, hundreds of millions of dollars lost. Each time, the buyers sued, saying they had been tricked into believing that Trump was the developer. And each time, Trump pointed to the fine print of the contracts, told the courts the buyers should have read them more carefully, and walked away. Potentially hundreds of people lost tens of millions of dollars while Trump pocketed huge sums through his licensing fees.
Trump's career has been much of the same kind of scam. He demands applause and annihilates those who refuse to give it. He preens about successes he obtained only by destroying the wealth, careers and reputations of other people. He takes credit for the victories of others and denies any blame for his many failures. In his impulsive pursuit of self-aggrandizement, his victims are legion.
And now he vows to do to America what he did to them.