As a child, I spent countless hours studying Budweiser beer cans. Their officious labels with the filigreed script filled me with the same wonder as the webbed mysticism of a dollar bill. Budweiser was my father's beer of choice, and, like most children, I assiduously studied everything my father held sacred. I knew nothing about alcohol, but I knew every word on the Budweiser can. I longed to visit St. Louis, where Budweiser is brewed. I dreamed of having my own blinkered Clydesdale horses, which still tour cities throughout the United States as "ambassadors" of the brand. But mainly, I pondered how one became the "King of Beers."
Apparently, you become king just by having your founder say it's so. German-born Adolphus Busch began manufacturing the Bohemian-style lager in Missouri with his father-in-law, Eberhard Anheuser, in 1876, over a decade after the Civil War. He gave Budweiser its name and royal title, which mimicked a Czech beer that was founded in 1245 by King Ottokar II of Bohemia—and called itself "Beer of Kings." As the legend goes, Ottokar became heir to the Bohemian throne when his beloved older brother died in 1247. Ottokar was so distressed he avoided politics and focused on other things, mainly hunting and drinking. Hence, the birth of the pale lager that became the progenitor of Budweiser.
Fast-forward several centuries or so, and the King of Beers is now truly worthy of the title. But world domination is never simple. In November, the company will finalize a $100 billion–plus merger with its nearest competitor, SABMiller, to become the world's top brewer in one of the biggest deals in corporate history—and the largest ever in the long history of beer. With this deal, the mega-brewer, now a Belgian company run by a Brazilian CEO and called Anheuser-Busch InBev (AB InBev), will be anointed the world's No. 1 brewer for the second time in a decade.
The merger creates a company so sprawling that one U.S. trade publication dubbed it "Beer Voltron." A map of the new entity illustrating its global scale looks like a game of Risk where there's only one player. In its deal presentation, AB InBev proclaims itself the "first truly global beer company." Yet where the King of Beers stands to make the most—the U.S.—its crown is slipping.
"It's a quagmire that exists for them," says Brian Sudano, managing partner at New York–based Beverage Marketing Corp., a research consultancy tracking beverage companies. "Bud Light and Budweiser represent around half the company's business, but they've been losing around 1.5 percent to 2 percent a year [in beer volumes] for the last eight years. That's pretty hard to make up elsewhere." While those beers do sell globally, the loss Sudano describes is in the U.S., the company's highest-earning market.
While Bud Light remains the top-selling beer in the U.S., with more than $110 billion in sales a year, the burgeoning craft beer industry and a climbing demand for imports are eroding the brand's hegemony. "The problem is, as it loses its footing, it's losing its influence," Sudano says. "There are ripple effects. You're no longer the beer people have to have at their party."
The numbers, according to Eric Shepard at Beer Marketer's Insights, a company that monitors the beer industry, are undeniable. "Americans' alcohol consumption per capita hasn't changed much since the end of the Prohibition," he tells Newsweek . "But beer drinkers are trading up to more expensive premium beers." Annual beer volumes in the U.S. hovered at just above 205 million barrels over the past decade. Of that total, crafts and imports attracted the greatest growth, he says, with craft beers soaring from 6.9 million barrels in 2005 to 21.9 million barrels in 2015. Imports rose from 26.5 million to 31.3 million barrels during that period, led by Mexico, following U.S. demographic shifts.
What have mainstream beers done over the same time frame? "They've dropped from 172.8 million barrels in 2005 to 153.5 million barrels in 2015," Shephard says. Could Americans suddenly reverse course and demand more mainstream beer? " I would be surprised," he says. "You've seen this trading up in recent years across the consumer goods sector. You've seen it in coffee, in bread, in candy, in spirits and wine, and in beer. My question is, Do you go back to white bread? I don't think so."
The trend is expected to continue, says Bart Watson, chief economist for the Brewers Association, a craft beer trade association based in Boulder, Colorado, representing more than 3,400 small and independent U.S. brewers. "Small brewers have been growing in market share since the late '70s and early '80s, but for a long time they were too tiny to pose any threat to the bigger brands," he says. "Only in the past 10 years have they really made themselves known, with more than 20 percent of the market in dollar sales." By volume, their share also is going up, with craft beers representing 12.2 percent of the U.S. market in 2015, he says, and they will likely hit a peak this year.
Craft concoctions can do many things the big beers can't, like offer greater variety, fuller flavor and snappier names (Pepperation H, Apocalypse Cow and Citra Ass Down) or humorous mottos appealing to locals and tourists, like Utah's Polygamy Pale Ale ("Try one and you'll want another, and another, and another..."). Watson says craft brewers also tend to be deeply involved with their communities and are highly philanthropic, bolstering brand loyalty in a way the monster beer makers cannot.
The craft craze has been gaining momentum since 2007, says Tom Hogue, congressional liaison for the U.S. Alcohol and Tobacco Tax and Trade Bureau. He says growth has accelerated rapidly from 2011 on, and his staff can hardly keep up with the backlog of applications from new brewers around the country. "We've never seen growth like this before," he tells Newsweek. "It's entirely unprecedented, and there's no sign of a slowdown."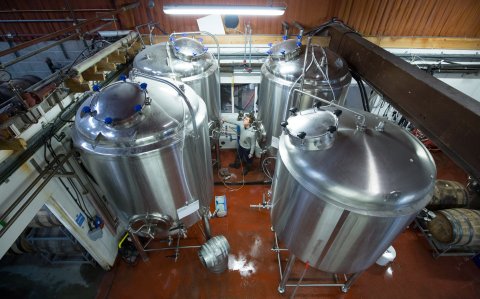 More than 98 percent of all brewers are small businesses, each producing fewer than 2 million barrels annually. Data collected by the U.S. Census Bureau show the number of U.S. breweries more than doubled from 2007 to 2012, from 398 to 869. That number reached 5,766 by the end of 2015. "You are probably seeing it in your neighborhood with the increased numbers of brewers and distillers," Hogue notes. According to the Brewers Association, most Americans live within 10 miles of a craft brewer.
Yet heavy is the head that bears the foam—and in the world of beers, that's profit. The upsurge of small brewers has yet to topple the mainstream brands, but it's put them on the defensive. In the U.S., the most popular beers are Bud Light in the No. 1 spot, followed by Coors Light, Miller Lite and Budweiser—all multinationals fighting to stay relevant as drinkers increasingly favor high-end beers and millennials flock to non-beer potables such as wine, mixed drinks and champagne. "We're talking about a loss of about 23 million barrels for the biggest brands since 2008, and they're on track to lose more this year too," Watson says. "It's not about growth anymore for many of these brands. It's about defending what they have."
This year, some of the behemoths began to look a little anxious, with Budweiser and Bud Light making, well, sophomoric stabs at tapping into the hysterical political climate ahead of the U.S. presidential election. Budweiser weathered a flurry of criticism for erasing its name from beer cans and renaming itself "America" until November's vote. And Bud Light held a concert series of "Bud Light Party Conventions" (featuring "super delegates" Flo Rida, Ludacris and others) alongside the presidential candidates' real conventions over the summer . In addition, it rolled out an ad campaign trumpeting socially conscious messages that will stretch into early November. For instance, the brand aired its first transgender ad, with actor Seth Rogen posing as a faux politician behind a podium proclaiming, "The Bud Light Party is going to address the issues that matter…. Beers should have labels, not people!"
In another, comedian Amy Schumer, dressed like a senator in navy blue and pearls, decries the lack of equal pay for women. "Bud Light proudly supports equal pay. That's why Bud Light costs the same, no matter if you're a dude or a lady!" (Never mind that the so-called "Bud Light Party Platform" has been more than a little schizo, pushing mostly liberal causes yet insisting it embraces Republicans and Democrats alike.)
Explaining the company's rationale for this exuberant flag-waving, Alex Lambrecht, marketing director for Bud Light, speaking in a thick Belgian accent, tells Newsweek, "We have become America's most popular beer by being part of America's popular culture. We're always looking for what is going to be the next big, relevant thing." Says Beverage Marketing Corp.'s Sudano, "They're desperately trying to stabilize their volume losses in the U.S. and turn it around. That's why you see them pushing the envelope."
Things Go Better With Suds
There's a lot of beer money to be had for those who get it right. The U.S. market is expected to reap $113 billion in sales in 2016, accounting for 1.5 percent of U.S. gross domestic product, according to the Beer Institute, a Washington, D.C., trade group representing both large and small brewers, as well as importers and industry suppliers. The institute says the beer industry supports 1.75 million jobs (that includes the entire supply chain, down to the bartenders) and contributes roughly $252.6 billion to the nation's economy. Globally, the beer market is on course to generate an estimated $688.4 billion in sales by 2020, according to Allied Market Research, a consultancy in Portland, Oregon, with the bulk of the growth overseas. Chinese beers Snow and Tsingtao have already edged out Bud Light as the world's top beers by total volume (Bud Light is No. 3).
With the U.S. beer market effectively tapped out—even demand for craft beers seems to be plateauing, notes Beer Marketer's Insights Shepard—AB InBev's mega-merger will be focused not on the U.S. but on high-growth emerging markets like Africa, where SABMiller has extensive operations. "This merger really fills out the company's global footprint," says Watson. "The company has struggled in the developed world for years, so developing a presence in emerging markets where it can capture growth is a smart strategy."
In the company's deal presentation, it predicted 16 percent global volume growth in the beer market between now and 2025, with African growth nearly triple that rate at 44 percent. The merger will also build on the company's presence in Latin America, Southeast Asia and Australia. "The strategy is to be the No. 1 or No. 2 market leader basically everywhere," Watson says.
Does that mean it's game over for the King of Beers in the U.S.? "Game over may be a little much," says Shepard. "The U.S. is the largest profit pool in the entire world for beer. If this newly formed company is able to maintain 43 percent of the U.S. beer market, which is where we had it at in 2015, I think they'll say, 'Thank you very much. We'll bank it.'"
The merged company is now so mammoth that international regulators, antitrust laws and the laws of physics likely will prevent it from much further expansion into beer, he says. But that won't stop it from making a play for a different kind of beverage giant. "This is not the last deal they're going to do—they're supreme deal-makers," Shephard says. "And post-merger, they will have the size to make a run for a company like Coca-Cola.