Hofmannstrasse 69, in the German city of Munich, looks like most other office complexes. Once the headquarters of the German engineering giant Siemens, the rectangular, white building is now home to 680 migrants waiting for the German government to decide their future.
Among them is 30-year-old Abdullah (not his real name), his two brothers, his wife and their three children. The family—who asked to remain anonymous because their asylum application is ongoing—arrived in Germany in September last year, after fleeing the Afghan capital of Kabul.
The Taliban, Abdullah says, had begun sending him death threats because of his work as a journalist. (Abdullah, who asked to keep his newspaper's name anonymous, wrote many articles critical of the group.) Eventually, in the summer of 2015, the Taliban tried to kill him, he says. "I was in the car with my father and my brother on the way to work," he recalls. "A bomb went off in front of our car, by a mosque." The three men survived, but Abdullah was shaken. He decided he couldn't stay in Afghanistan any longer.
Abdullah and his family have managed to put 3,700 miles between them and the militants. A new EU agreement, however, gives Germany the power to undo all that. On October 2, after months of negotiations, the EU and Afghanistan signed a migration deal, known as the Joint Way Forward, which allows member states to deport an unlimited number of Afghan migrants back to their home country, unless they have permission to remain in Europe. (Although the Taliban and the Islamic State militant group, also known as ISIS, are fighting for control of different parts of Afghanistan, EU member states classify many Afghans as economic migrants, meaning they don't have the right to asylum.)
EU countries were already able to deport Afghan asylum seekers before they signed the agreement, but they required the cooperation of the Afghan government to do so. That often delayed the process and effectively limited the number of Afghans the EU countries could send back home. Under the terms of the deal, member states will be able to deport migrants faster and in larger numbers. The agreement even says that the EU and Afghanistan will together "explore the possibility to build a dedicated terminal for return in Kabul airport." (The EU will also develop and fund reintegration programs for the deported Afghans.)
Days after Afghanistan and the EU signed the deal, they co-hosted an international conference in Brussels with the goal of raising funds for Afghanistan. During the summit, the EU and its member states pledged to give $5.6 billion in aid to the country over the next four years, prompting Amnesty International to criticize the bloc for apparently paying off Kabul to take back its migrants. "Trading Afghan government acceptance of returned Afghan nationals for humanitarian and development aid is an absolute disgrace," the human rights organization said in a statement. "This represents another dark moment in EU foreign relations."
The EU's high representative for foreign affairs and security policy, Federica Mogherini, denied the accusation. "There is never, never a conditionality link between our development aid and whatever we do on migration," she said at a press conference.
Back in March, however, it looked as if the EU was planning on linking these two issues. On March 3, Statewatch—a nonprofit that monitors civil liberties in Europe—obtained an EU memo discussing Afghan migrants. The document, which makes several references to the Joint Way Forward, notes: "The State Building Contract for EUR 200 million in preparation [which was agreed to at the Brussels conference] is intended to be made migration sensitive, probably through one indicator linking it to the Government's policy on migration and return and possibly to the implementation of the 'Joint Way Forward.'"
Speaking to Newsweek , a spokeswoman says the memo was intended as a brainstorming document rather than a policy paper.
Although the EU has distanced itself from the memo, German Foreign Minister Frank-Walter Steinmeier seemed to reference its stance during the Brussels conference. Germany's financial contribution, the minister said, was conditional on Afghanistan's "cooperation in the area of refugees and migration."
His words highlight a shift in Germany's migration policy. Once one of Europe's most generous nations—taking in more than a million refugees in 2015—the country is no longer so welcoming. Germany was one of the main countries pushing for the agreement, partly because it is struggling to house and process the influx of refugees it has received over the past few years. In 2015, 1.1 million asylum seekers entered Germany, of which some 154,000 came from Afghanistan.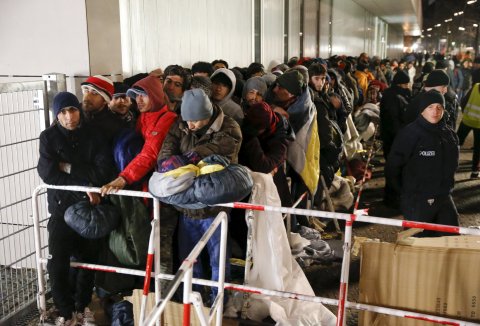 These new arrivals threatened to overwhelm the country, and across Germany, public support for welcoming asylum seekers dropped. In October 2015, British polling company YouGov conducted a survey that found a majority of Germans (55 percent) believed the number of migrants in the country was too high. By January 2016, this figure had climbed to 62 percent. (As of October, 58 percent of people polled by YouGov thought there were too many migrants.)
A key reason for this rise, according to YouGov : a series of sex attacks in the German city of Cologne on New Year's Eve. Around 650 women have since reported that men, described as being predominantly of North African and Arab heritage, sexually assaulted and robbed them. In an interview with German newspaper Bild , the country's justice minister, Heiko Maas, said he believed the attacks were coordinated. " If such a horde gathers in order to commit crimes, that appears in some form to be planned," he said.
Violence is another factor. In July, hostility toward asylum seekers worsened after migrants carried out two separate attacks in the German towns of Ansbach and Würzburg. (An Afghan migrant was responsible for the assault in Würzburg; ISIS claimed responsibility for both incidents.) In total, the assailants wounded 20 people.
Some Germans have blamed Chancellor Angela Merkel for the attacks. On September 4, her party, the Christian Democratic Union, came in third in her own constituency in regional elections. In second place was the right-wing Alternative für Deutschland, a former fringe party that has won significant public support—in Merkel's district it took nearly 21 percent of the vote—for its anti-immigration stance.
Two weeks later, in Berlin's regional elections, Merkel's party suffered another defeat. The Christian Democrats won just 17.6 percent of the vote, its worst result since the end of World War II. Speaking after the loss, Merkel acknowledged voters' anger over her migration policies. "If I could, I would turn back time by many, many years to better prepare myself and the whole German government for the situation that reached us unprepared in late summer 2015," she said.
The chancellor has now abandoned her rallying cry of " Wir schaffen das " ("We can do this"). On October 9, she embarked on a three-day trip to Africa and warned would-be migrants against coming to Germany. " It is often young people in particular who embark on the journey to Europe with totally false perception," she said in the Ethiopian capital, Addis Ababa. "They are prepared to put their lives at risk without knowing what awaits them or whether they will even be allowed to stay."
Those words could also apply to Afghans seeking asylum in Germany. As many face the prospect of deportation, aid organizations have warned that Afghanistan cannot take in more returnees. Already, fighting has uprooted about 1 million people from their homes, with thousands living in makeshift camps around Afghanistan. Many of these people lack running water, electricity and access to health care. In September, the U.N. made an urgent appeal for $152 million to help care for the country's displaced people. (At the time of this writing, the U.N. had not secured these funds.)
The number of displaced people in Afghanistan is likely to grow. In June, Pakistan's federal minister for states and frontier regions, Abdul Qadir Baloch, told the news site Irin, which reports on humanitarian crises, that Islamabad wanted the country's Afghan migrants (who number 3 million) to leave by the end of the year. Baloch called on the Afghan government and the international community to assist in repatriating these people.
So far, 370,000 Afghans have returned from Pakistan this year, some to areas under Taliban control. U.N. agencies have said they expect 600,000 Afghans to return from Pakistan by the end of the year.
Joining them in Afghanistan will be the rejected asylum seekers from Europe. EU member states will fly many of the migrants into Kabul's airport and leave them to make their way home or remain in the crowded capital. Though the city is safer than many other parts of Afghanistan, it is hardly risk-free; on October 11, unidentified attackers killed 14 Shiite Muslims at a shrine in the western part of the city.
Abdullah is afraid that if German officials don't believe his story, he will soon find himself on one of those flights. If he and his family are sent back, he says, the Taliban might learn of his return and threaten him again—or worse. Abdullah thought that Germany would offer him safety. Now he fears it will betray him.