With the clock running out on Donald Trump's campaign and a catastrophic loss looking more likely, politicos are snickering that the careers of his advisers and strategists will be sacrificed in the process. But at least one of them, legendary Republican dirty trickster Roger Stone, has plans for life after Trump, including writing a book about the Donald.
Stone belongs to a breed of cat always found in and around both political parties. Some are well-known public figures who clean up their language for TV; others steer clear of the limelight. Off-camera, their favorite word is ratfuck, and their default emotional status veers between satisfaction at revenge served cold and the delicious anticipation of plotting it.
Stone has honed his black-arts legend for 40 years. A notorious dandy in bespoke suits and two-tone suede spectator shoes, the 64-year-old is as proud of his hair plugs and body-builder physique as he is of his vast, expensive tie collection. He also boasts something else that, I must admit, gave me a moderately unprofessional and ridiculously juvenile reason for wanting to meet the man behind the legend. I badly wanted to get him to remove his shirt so I could photograph the tattoo of Richard Nixon on his back.
I had met Stone twice since the Trump campaign started—once at his favorite Manhattan watering hole, 21 Club, where he was nattily attired in double-breasted chalk stripe, and once at a bar in Cleveland, where he sported a seersucker suit entirely appropriate for leading his threatened Republican National Convention riot in a Midwestern summer steam bath. Neither venue had seemed to offer the proper lighting or, really, mood in which to ask a man plotting open class warfare on behalf of Trump to remove his shirt.
I caught up with Stone again last week at a posh Upper East Side club that, for the sake of the club's reputation as dignified and nonpartisan, must not be named. He was there to verbally thrash Hillary Clinton for half an hour before signing copies of his book The Clintons' War on Women, which presents Bill as a rapist and Hillary as a murderer. The standing-room-only gathering of well-heeled Gotham conservatives lapped up the conspiracy theories as eagerly as a stadium full of Orange County rabble.
As he was being mobbed by his fans, I managed to sidle over and ask him whether we could meet again. He agreed to lunch the next day and later texted me to ask me to meet him at his apartment. Score! I had already posted to Instagram his head in front of the posh club's archaic floral wallpaper, and it wasn't going to be long now before I could share the other, more fascinating part of Stone with my followers.
The half-Hungarian, half-Italian Stone is a Catholic well-driller's son who grew up on the wrong side of the tracks near blue-blooded New Canaan, Connecticut. At age 12, someone gave him a book by Barry Goldwater, and he was working for Richard Nixon before he was old enough to legally drink the martinis he prefers.
Among his greatest hits: Stone takes credit for bringing down Client 9—otherwise known as former New York Governor Eliot Spitzer—by parlaying intel he got from an off-duty prostitute he met in a sex club into an FBI tip about a Democrat who hired hookers and never removed his socks. Before that, he organized the so-called Brooks Brothers riot in the Miami-Dade County clerk's office that stopped the 2000 election recount and arguably gave America the presidency of George W. Bush.
Stone and Trump have had a long and fractious relationship. They first met in 1979, when Stone came to New York from D.C. to set up a campaign office for Ronald Reagan in what was then country club Republican territory. Trump found him some cheap office space. Stone later worked for Trump's casinos as a lobbyist in New Jersey. They had a serious falling out after Stone threatened Spitzer's father in phone messages and then took credit for bringing down the governor. After Trump called him "a Stone cold liar," the two men didn't speak for two years.
They patched things up, and Stone was on the Trump train as it left the station last year, but he officially worked for the campaign for only three months. He disputes the circumstances of his departure: "When I resigned, he [Trump] went out and said he was firing me. As with women, nobody leaves Donald; he leaves you." Stone says he quit when Trump insisted he agree not to speak to reporters for a year, a demand Stone likens to "asking me to agree to not eat for a year."
He didn't fade away but stayed in the game, threatening to release the hotel room numbers of anti-Trump delegates at the Republican National Convention and firing off long memos to the Donald once or twice a week. Trump often ignores his advice, leading Stone to label him with a disparaging adjective he asks to keep off the record. "I would like him to win. I've given 400 speeches on his behalf. I've defended him in every forum possible, even when he's sometimes difficult," he says.
Stone maintains homes in Florida and Manhattan, and I met him at his apartment, a modest fourth-floor walkup on the Upper East Side. The living room walls are covered with framed, vintage posters of Goldwater, Nixon and Reagan, and copies of his Clinton book lay on every available piece of furniture, open to the signing page. While I waited, he went around the room signing them. When he made a move to change into lunch clothes (he was wearing shorts), I asked for the money shot. He immediately obliged and even suggested a spot with better background and lighting.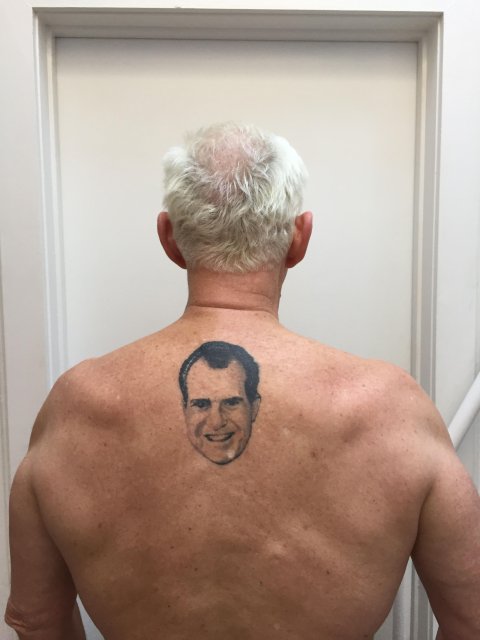 Before we left, he also ushered me into his bedroom to show off his massive collection of ties, hanging from a rail that traversed one wall above the unmade bed. His white-and-brown suede shoes—"spectator shoes," he corrected me—lined another wall. It was disconcerting to be standing in the evil genius's bedroom, especially given the revelations about his candidate's charming ways with women. But Stone was a perfect gentleman. He is currently married to his second wife, who was down in Florida, and he claims to be too old now for action in the sex clubs he frequented back in the day. He has boasted that the tattoo is a hit with the ladies. "You'll never meet another man with a dick in the front and a dick in the back," he offered, as we descended the stairs and rounded the corner to a local diner.
Over a double lunch of bacon-tomato grilled cheese and cold poached salmon, Stone talked about the future of Trump. This seasoned veteran has no intention of pulling a Karl Rove—pretending on television on election night that the Republicans won—if, as expected, the landslide is historic in Clinton's favor. But Stone is looking ahead.
He thinks Trump Media, a project Trump's son-in-law Jared Kushner reportedly broached with investors earlier this month, wouldn't be a bad idea. He's just not sure Trump will follow through with it. There's certainly an opening for a shiny new right-wing propaganda factory, what with a Roger Ailes–free Fox "turning into CNN," as he puts it, but Stone believes Trump is probably "too cheap" to finance such a venture himself. And the Donald might not have enough staff left to build it. "Everybody involved may have had their fill of Trump's unmanageability," Stone says.
He won't predict what Trump will do post-election, but he does believe this won't be the last of the Donald in American politics or media. "The campaign is spending a fortune on targeted analytics that that don't have the money to utilize, so those lists are being built for some future purpose," he says, referring to Trump pouring $11 million into Giles-Parscale, a Texas-based political data analytics firm run by the candidate's digital director, Brad Parscale.
"The campaign is very aggressively fundraising at the low-dollar level," Stone says. "But where is the television? Where's this money going? I don't see any visible campaign for them. Donald is nothing if not cheap, and given his experience in the primaries, winning handily without running ads, his attitude is, 'Why do I need to run ads?'"
Stone intends to write a Trump book, which is why he let it be known—by tweet, of course, a few weeks ago—that he is not bound by the nondisclosure agreement he signed with Trump during the three months he was on the campaign payroll. Stone says he needed to get that info out there to sell the book idea. If the candidate took it as a warning, well, that was an accident.
Stone has published four books, including Jeb! The Bush Crime Family, and he could certainly bring appropriate content to Trump Media, if the men are still on speaking terms. He has a weekly radio show called The Stone Cold Truth and a blog of the same name. Stone remains a pundit in good standing at BBC, which will have him around on election night, but he lost his regular appearances as a Trump surrogate on the main American cable talk shows when MSNBC and CNN banished him earlier this year for his history of racially offensive tweets, such as, "This nigga got Nixon tatted on him," and, "Would @BenCarson2016 HQ be called Uncle Tom's cabin?"
Stone now says he probably hit "send" on those tweets "after one too many martinis." He insists he's not a racist and claims he told Trump his yearslong Barack Obama "birther" gambit was a bad idea. He thinks Trump missed a golden chance to win the black vote away from the Democratic Party, which he says has done nothing for inner cities for decades.
He's also regular on Infowars, run by Alex Jones, who has never met a conspiracy theory he didn't broadcast. Stone frequently hashes out those theories with Jones. He knows how to plot a conspiracy himself and has a lot of enemies ("Roger was always a little rat," his former Reagan administration colleague Ed Rolllins has said), so he has no problem believing conspiracies are more common than the cowed mainstream media will admit.
"I'm not a conspiracy theorist. I'm a conspiracy-ologist," he says. He thinks people who find it implausible that Ted Cruz's dad, Rafael, was involved in John F. Kennedy's assassination, or that Hillary Clinton had Vince Foster killed, are naïve at best.
Naturally, he's on board with Trump's prediction of a rigged election. "Voter fraud?" he says. "Child's play!"
As we lunched, Stone was on high alert for a possible call from the feds. New York Representative Jerry Nadler and other Democratic congressmen have called on the FBI to investigate some of Trump's advisers for ties to Russia. "Troubling new evidence appears to show that the Trump campaign not only was aware of cyberattacks against Secretary Clinton's campaign chairman, but was openly bragging about it as far back as August," wrote the congressmen.
The brag refers to Stone. Several weeks before "the Podesta emails" came pouring out of WikilLeaks, Stone seemed to have predicted the email dump when he tweeted that the Clinton campaign chairman's "time in the barrel" was coming.
Stone insists that was merely a savvy political prognostication. "Nadler calls on the FBI director in a public hearing to investigate me because of my completely nonexistent ties to Russia," he says. "I'm not working for a Russian company! I've never had a Russian client, and I've never even talked to anyone on the phone in Russia."
But in the 1980s and early '90s he was a partner at Stone, Manafort, Black and Atwater, a D.C. consulting firm that has some of the world's most notorious dictators and shady characters on its client list. Unlike his former partner Paul Manafort, whose business connections to various Russians forced him out of the Trump campaign in August, Stone says he put in only one stint over there, running a parliamentary candidate in Ukraine. "I figured it was time to leave when the campaign director opened his door and got shot in the face," he says.
He does have a "backchannel" contact who keeps him abreast of the doings at WikiLeaks, but he insists the source is neither Russian nor Republican. "Julian Assange is not a Republican! And he's not working for the Russians," Stone says. "But I do think the Russians have an interest in exposing things, because we are hurtling towards war. This is the new McCarthyism. In the '50s, if you were against war with the Russians, you were a traitor."
At the moment, Stone considers it possible that he himself is the victim of a conspiracy. Besides the charges of treason, someone might be poisoning his dogs. Halfway through lunch, his phone rang. He stepped outside to take it in the din of the endless construction on the Second Avenue subway project and then returned to report that another of his five Yorkshire terriers had died after a sudden illness. "I'm down to one," he says. "This dog, like the previous one, has been poisoned." (He says a medical examiner found antifreeze in its system.) "Did they get into something? Yes, they could have, but they've been in the same place for years and never did. I am definitely being watched. I'm not paranoid. I understand how the world works. I recognize the Alice in Wonderland quality of the last few days."
Postscript: I was about to post my prize catch to Instagram right after I took it, while Stone changed into something more comfortable in the next room before we went to lunch. But as I closely examined the picture of mole-covered flesh and ripped back muscles—apparently, he's a gym rat—it occurred to me that posting such an intimate image of a renowned evil genius in the middle of the day would require more explanation than I had time for that afternoon. Now that I've clarified the circumstances, I will be hitting "send" shortly.