After Rebecca Hall finished shooting the final scene of Christine, her new film about the American newsreader Christine Chubbuck, who, in 1974, blew her brains out on live television, she got in the car that had come to take her off the set. The movie, a small, independent production financed with money Hall helped raise, couldn't afford trailers, and she was still caked in fake blood; she couldn't shower until she got back home. "I just remember really shaking for a long time, as I washed the blood off myself," she says. "Being rigged to a machine that pumps blood, and holding a gun and putting it to your head—it's like your body doesn't actually know it's fake. Because, if I'm doing my job correctly, I've convinced my brain that it's real. The adrenaline response is sort of nuts. You sit under the shower for a bit going, 'What the hell is going on?'"
She laughs as we sit eating salad in a cafe in Brooklyn Heights in New York City, not far from where she lives. Perhaps Hall doesn't want to seem melodramatic, but there's no doubting her commitment to Chubbuck's story. "I want to champion this film more than I've ever wanted to champion anything," she says.
Tall, beautiful, with sad eyes and a Modigliani face, Hall has a manner that combines boldness with introspection—a mixture key to all her performances, particularly the rawness and fragility she displays in Christine. Chubbuck's death has become a gruesome internet meme—the holy grail of online snuff ghouls. But contrary to rumor, there are no extant videos of her broadcast on July 15, 1974, when, a few weeks before her 30th birthday, Chubbuck read from a prepared statement. "In keeping with Channel 40's policy of bringing you the latest in blood and guts, and in living color," she said, "you are going to see another first: attempted suicide." Then she pulled a revolver from below the desk, placed it behind her right ear and pulled the trigger.
"Why did she describe it as an 'attempted suicide,' I wonder?" I ask. "Do you think it was a sign she didn't want to succeed?"
"I don't know. I was curious about that too," Hall says. "I will never know. No one will. But my hunch is that she was just being a good journalist—because she might not have been successful."
The film, which could have been either depressing or lurid, is in fact neither. Instead, it's a tender, broken-hearted character study of an intelligent misfit struggling to keep it together. All of Chubbuck's woundedness and panic are visible on Hall's face, frequently within the same scene, sometimes within the same frame—if only her co-workers could see it. She's drowning in plain sight.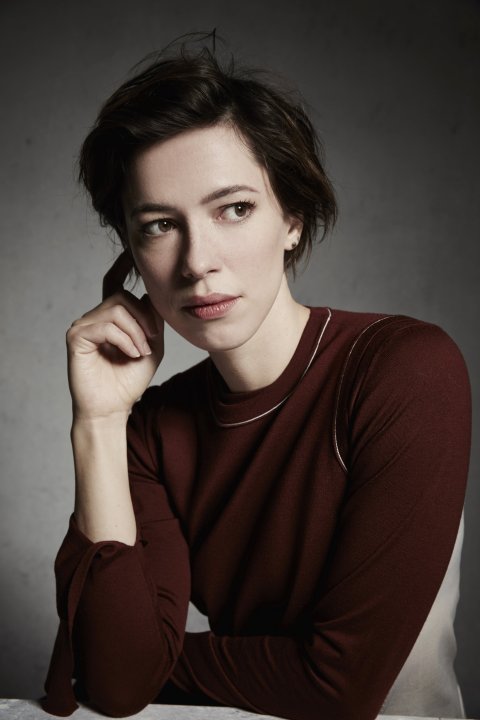 Chubbuck's mental health problems went undiagnosed. Hall read up on depression and borderline personality disorder in preparation for the role, but her portrayal resists easy categorization. "I feel very proud to be in a film that has a woman at its center who is a misfit, but who is not made to look cool, or weird or edgy," Hall says. "There is a deep, deep discomfort with women who are unlikable on screen. We're still in a state where we box it up: 'She's wild, she's crazy, she's drunk, she's this, she's that.… ' Robert De Niro has made a career out of playing these characters, and we love them—big, big characters that do terrible things. But when it's a woman, it's like, 'She's making me feel uncomfortable. Where is she in the man's game?' The whole film just felt driven, not by the way Christine died, but by an overwhelming compassion for her will to live."
The parallels with Hall are obvious. Hollywood hasn't known quite what to do with her, foxed perhaps by her brains or her impeccable British theatrical pedigree—although she says it is a relief most Americans don't know that her father, Sir Peter Hall, founded the Royal Shakespeare Company. She took the sulky-cool girlfriend role in Ron Howard's Frost/Nixon, and she moved on to mostly on the cutting-room floor of Iron Man 3 , instead finding her place in small independent dramas such as Woody Allen's Vicky Cristina Barcelona and Nicole Holofcener's Please Give, in both of which she played wallflowers in bloom against fierce competition—Scarlett Johansson in the Allen, Amanda Peet in the Holofcener. Both roles played to her intelligence, diffidence and love of nuance; they were watercolor portraits. Until Christine, to see what Hall was really capable of you had to be in a theater. There was real eruption, real abandon .
"She's a risky performer," says Antonio Campos, the director of Christine . Campos approached Hall after seeing her make her Broadway debut two years ago in Machinal, Sophie Treadwell's play about a woman who has murdered her husband and is on death row. "Her film work hasn't given her the space to do what she can as an actress. [ Machinal ] was one of those all-consuming performances where you feel like the actor has given every bit of their body and mind over to this thing, to the point where it becomes more like a possession than a performance. She's willing to go to the extreme."
She has just finished work on Oren Moverman's The Dinner, playing the younger, trophy wife of Richard Gere's politician. The plot centers on a dinner Gere's character shares with his brother and sister-in-law (Steve Coogan and Laura Linney), during which dark secrets and family crimes are spilled. It sounds like one of those long, dark journeys into a single night beloved of playwrights—hence the shoot, which was crammed into three weeks in Yonkers, working through the night. "I have quite a weird memory of this one," Hall says. "As in, no memory. I was sleepwalking. I have no idea what the quality of this film is, what the tone is, what the acting is like, because we were all delirious."
For now, though, she's happy championing Christine—and Chubbuck. "She's a harbinger for lots of things that it feels very uncomfortable to talk about—suicide, mental health, women in the workplace, all of that. The notion that 'if it bleeds, it leads' feeds straight into the clickbait mentality. Also this idea that fear is a way to manipulate and control people: It is something, right now, we're not entirely unfamiliar with. She feels very relevant."
Christine shows at the London Film Festival on October 6, and goes into general release in the U.S. on October 14.