On a windy October evening in Rio de Janeiro, newly elected city council member Marielle Franco stood in the middle of a packed rally with tears running down her face. As the election results came in, dozens of supporters danced around her, many of them wearing campaign stickers featuring a silhouette of Franco's Afro. With her victory, the 37-year-old single mother had become one of the few black women in Rio's history to hold a city council seat.
Franco and the 31 other black women who won city council seats in other Brazilian state capitals in October are part of a generation of young black Brazilians who have become increasingly vocal inside and outside statehouses. But these gains are now under threat, as a new government seems poised to undermine the social policies that have elevated so many black Brazilians, creating a new sense of urgency for the country's black activists. "If we don't stand together and mobilize now," says Franco, "we will never be in the position to make decisions or create change."
In August, thanks to growing frustration over Brazil's deep recession, the nation's Senate impeached center-left President Dilma Rousseff on charges of government mismanagement. Rousseff's critics claimed she had illegally manipulated Brazil's budget to hide a rising deficit. The Congress replaced her with Michel Temer, a center-right politician who has promised to slash spending on health care and education and cap minimum wage increases. That has provoked protests across the country.
The outrage has come as a surprise to many light-skinned Brazilians, who are often unaware of what Brazilian anthropologist Julio Tavares calls institutional racism—the lack of representation of blacks in government and media, and the lack of economic opportunity for black Brazilians, whose average income is less than two-thirds that of their white counterparts.
For 13 years, under the Workers' Party left-of-center governments led by Luiz Inácio "Lula" da Silva and Rousseff, black Brazilians found themselves with powerful political allies. The government helped thousands of black citizens go to college through affirmative action policies and lifted millions out of poverty—many of them black. Now black Brazilians fear Temer's austerity measures will set back that progress. Temer has said spending cuts are essential to save Brazil from economic ruin. (A government spokesperson did not respond to Newsweek 's request for comment.)
There is also the problem of optics: The left has criticized Temer for installing an all-white, all-male Cabinet and downsizing Brazil's ministry of racial equality, responsible for overseeing affirmative action, black history education programs and anti-racism education initiatives for the general public. Temer has responded by naming a woman as attorney general and another as the head of the government's development bank.
Brazil's black activists say Temer's center-right policies will make it harder for them to call attention to racial inequality. "It's time Brazil wakes up to its blackness," says Flávia Oliveira, one of the country's only black columnists at a major newspaper, O Globo . "The current climate will only make things harder."
Racism in Brazil has a long legacy, despite the popular image of the country as racially harmonious. Nearly 5 million slaves from Africa were taken to Brazil—more than 10 times the number who disembarked in what is now the United States; and in 1888, Brazil became the last country in the Western Hemisphere to abolish slavery. But once slavery was banned, Brazil's laws were less overtly racist than those in the U.S; the country never legislated segregation. Instead, there were widespread and legal interracial marriages, something scholars hoped would create a society where everyone happily co-exists. As a result, the country never had a civil rights movement on the scale of the U.S.
Yet there was still racial tension in Brazil, which is why the military dictatorship that ruled from 1964 to 1985 muzzled black activism by surveilling and arresting leaders including Antonio do Espírito Santo and Asfilófio de Oliveira Filho .
After the dictatorship ended, the black rights movement in Brazil gained momentum. Activists helped establish the Workers' Party, which expanded anti-discrimination programs when it came to power in 2002. From 2000 to 2010, more than 3 million Brazilians switched their identification on the census to a darker category of mixed-race or black. Critics argued that people were trying to unfairly claim benefits from new affirmative action policies, but many simply identified with being black.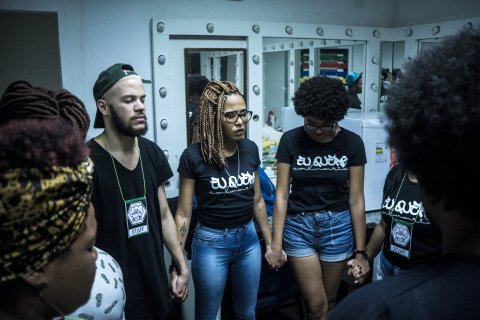 Today's activism draws inspiration from Brazilian black history—the early trailblazers included carnival musicians who celebrated Afro-Brazilian dance and drumming—and black movements from other countries such as the U.S. On social media, black Brazilian activists reference Nigerian musician Fela Kuti and American radical academic Angela Davis along with news from the northern Brazilian campaign against police violence called "React or Be Killed." A group of young black women in Rio give anti-racism workshops in public schools under the name Black Power Girls, wearing Afros and braids and resisting what they call societal pressure to "whiten" themselves by straightening their hair with chemicals. Information spreads through a network of black students at universities and community news sites in low-income neighborhoods. "We're trying to pack years of civil rights into a short span. It's all squished together," says Mayara Donaria, a 20-year-old activist and documentary artist from the favela of Maré in Rio.
Franco, the recently elected councilwoman, wants today's activism to help bring more black Brazilians into positions of power. "In order to become a mass movement, black people need to realize that we have the right to exist in TV shows, in politics, on school boards," she says. "We're not there yet."
They've been getting some inspiration from overseas. In July, a delegation from America's Black Lives Matter movement visited black Brazilian activists in Rio to strategize. Bishop John Selders, a Black Lives Matter activist who was part of the delegation, says one of the biggest challenges for both countries is countering prevailing views that deny racial discrimination remains widespread. "We have mounted a resistance movement to a national myth," says Selders. "In America, that myth is meritocracy—that if you work hard you can be anyone you want to be."
Like Black Lives Matter, a group of Rio and São Paulo–based activist collectives plans to release a list of policy demands in coming weeks. So far, the activists have increasingly focused on police homicides of black youth. The authorities were responsible for 16 percent of the killings in Rio over the last five years, and from 2010 to 2013, 79 percent of those victims were black, according to Amnesty International. Though many of these killings happened while the Worker's Party was in office, the Rousseff administration had proposed to decrease homicides through targeted police retraining and monitoring, plans that Temer's government has now discarded.
Most of those deaths were in the city's favelas, which have been heavily militarized in an attempt to take back entire neighborhoods from powerful drug traffickers. Critics say this approach does not address the poverty at the root of drug-related crime. Nor does it prevent innocent people from being caught in the crossfire.
In May 2014, Ana Paula Oliveira's 19-year-son, Johnatha, was shot in the back by a police officer who fired to disperse a crowd of teenagers after tense exchanges between the authorities and locals; Johnatha was on his way back from delivering cake to his grandmother. Brazil's Public Prosecution Service opened investigations into the officer involved in the shooting in August 2014, according to an Amnesty International report; a judge's verdict is now due. "Johnatha was so full of life. He had so much promise," says Oliveira, who has joined a group of mothers turned activists who advocate for police reforms. "But when you're black in Brazil, you're seen as nothing but a criminal."
Yet many young black Brazilians remain hopeful about the momentum they are building. And they're inspired by leaders such as Franco. Eighteen-year-old activist Sabrina Martina works with a group of local journalists and artists in Rio's Alemão favelas, making music and producing documentaries to battle the stereotype that their neighborhoods are home only to dangerous criminals. She thinks Brazil's black rights movement can stay strong even with a government less sympathetic to their cause. "We battled to get everything we've achieved until now," she says. "This [political and economic] crisis will shake some people, but it isn't going to stop us. Giving up is not an option."
Reporting for this story was supported by the GroundTruth Project, a nonprofit media organization dedicated to social justice reporting.
Correction: The print version of this piece incorrectly listed the names of those imprisoned for black activism during Brazil's dictatorship and the range of dates during which 79 percent of victims of Rio police killings were black.