Updated | As an intelligence officer in Russia's Federal Security Service, Jan Neumann knew the weight of a loaded Makarov 9 mm. When he later worked for a Moscow bank that laundered money for the mob, he also knew the weight of $1 million packed into bricks. But on a spring night in 2008, as he headed home to his wife, he could scarcely comprehend the weight of his impending troubles.
Jan had just walked out of a meeting with a shady bank partner, who explained that the mob and its government associates were after him; he had learned too much about their double-dealing and greed. The partner offered a few ways out. Option one called for Jan to "be an officer," Russian slang for putting a bullet in his own skull. Option two: He could wait for someone to do it for him. Option three: He could run like hell.
When Jan reached his top-floor apartment in a swanky section of downtown Moscow, he delivered the news to his wife, Victorya. She was a problem solver who spoke five languages and had gone through the same training academy as her husband in the government's security service, better known as the FSB. She quickly worked out the details of their escape.
The couple hurriedly packed clothes, jewelry, cellphones, laptops and about $15,000 in cash. Jan then called two friends, both high-ranking FSB officers, and told them of his plans to flee. One would later hand him a dossier on corrupt officials at Lubyanka Square, the FSB's headquarters. Jan also downloaded an electronic file on several government-affiliated banks, a rare glimpse inside the criminal Cerberus of financial big shots, mobsters and FSB officers.
The Neumanns drove half the night to see a friend, then switched cars and headed back to Moscow. Victorya booked three flights set to depart from airports around the city—decoys to confuse pursuers. In the final hours before their departure, Victorya purchased tickets for the flight they intended to board, bound for Frankfurt, with a connecting flight to the Dominican Republic, a Caribbean nation that requires no visas.
Jan and Victorya landed at Puerta Plata Airport and took a car to the north-shore town of Cabarete, where they paid cash for a beachfront rental. Using aliases, they deposited their money in a local bank, stashed their Russian passports and marriage certificate in a safe deposit box and bought new cellphones. For a few weeks, they kitesurfed with European expats, worked on their tans and feasted on pescado frito and rum cocktails, blending into the tropical scenery like the island's ubiquitous color-changing lizards.
At night, they devised a plan to start fresh in a new country. Their first step: to expose deep and dangerous secrets about the one they had left behind.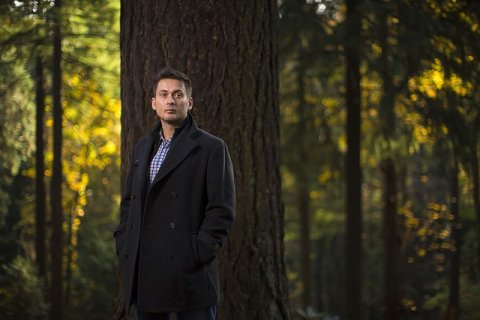 The Walk-In Spies
Just before lunchtime on May 29, 2008, the couple strolled into the palm-flecked U.S. Embassy compound in Santo Domingo and asked to speak to the chief of security. About 10 minutes later, a CIA officer, posing as a diplomat, stepped out to greet them. Jan flashed his FSB credentials and handed the officer a typewritten letter explaining how to contact them for a private chat. A few hours later, they defected into the welcoming arms of the CIA.
The couple presented a windfall for the CIA. They were voluntary turncoats, known in spy parlance as "walk-ins," pledging to share state secrets in exchange for work papers, new identities and a place to live. The agency had a way to help them—PL-110, which serves as a witness protection program for spies, offering asylum, pay, housing and security for up to 100 such defectors and their family members a year. But for reasons that remain unclear, the CIA never brought the Neumanns into PL-110. (The agency declined Newsweek's request for comment.)
The Neumanns instead went to work for the FBI. Their five years with the bureau were a discordant marriage, one that offers rare insights into the ongoing spy wars between Moscow and Washington, as well as the toxic turf battles between the FBI and CIA. The Soviet-born couple became the first defecting Russian spies to publicly complain that U.S. intelligence agencies stranded them in America, then failed to help as they faced deportation to Russia, where prison cells surely awaited them. The stakes of that crisis multiplied this year, after Victorya gave birth to the couple's first child, an American citizen born under an assumed name.
The couple's primary lawyer, Judy Snyder, says the U.S. should have hailed her clients as heroes. "It is inconceivable," she says, "that the U.S. government would bring people into the United States, do so with the expectation that they would be putting foreign nationals at extreme risk and then not follow through and offer them every protection that the government can provide."
Former CIA counterintelligence manager Paul Redmond, who handled defectors during his 30-year career in the agency, was surprised to learn that the CIA has not taken responsibility for the Neumanns. But that reluctance, he says, might be because the bureau took over as their handler. "This sounds like a perfectly ghastly case," he says. "I'm sure the bureau has their side of it too."
Through a spokesman, the FBI declined to comment on the Neumanns' allegations, explaining that the bureau has a longstanding policy of not avowing the identities of informants.
Today, as they remain in national limbo, the Neumanns—a legal surname they took in the U.S.—feel betrayed. "We risked our lives for them," says Jan, who joined his wife and Snyder for eight months of exclusive interviews with Newsweek, including previously undisclosed details of their story. "We accomplished a lot. We made this country safer. All the promises have been broken. This is huge damage to the reputation of the United States."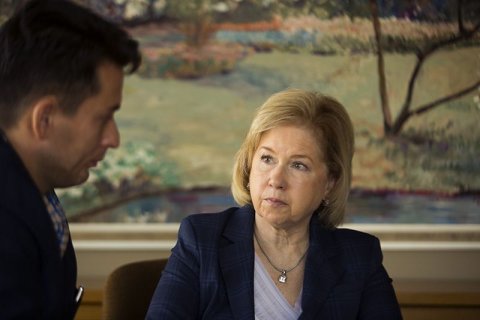 'No Going Back'
The early weeks of the couple's defection played out like scenes from a James Bond movie. On June 9, 2008, the Neumanns met the CIA's station chief and two subordinates in a bookstore in Santiago, where one of the officers, working in light disguise, kept adjusting her wig and glasses. The Americans, clearly excited to be doing actual spy work in such a backwater, copied the couple's documents—including passports and driver's licenses—and read them questions off typed lists. Among them: Why had the Neumanns fled Russia?
Jan admitted his last assignment in the FSB had been to investigate money laundering and other corruption in Moscow's financial institutions; the job paid good government wages, along with kickbacks he pocketed from corrupt bankers and their mob associates, all approved by his supervisors. Later, he took reserve status with the FSB and became the deputy chief of security at Kreditimpeks, a Moscow bank that functioned, in part, as a money laundering operation for the same cast of criminals. From 2005 to 2008, Jan learned how to pack $1 million into a sack, one brick of Benjamins at a time. He had willingly joined the corrupt brotherhood, but his inquisitive nature—he pried into the side-dealing of a bank partner—forced him out. ( Through a spokesperson, the FSB tells Newsweek Jan is a traitor and suspected thief, who was summoned for questioning about 1.5 million euros missing from Kreditimpeks but did not appear. Jan denies the allegations, saying they were intended to discredit him.)
As the bookshop conversation came to a close, a CIA officer handed the Neumanns $2,500 in cash and set up a tentative meeting roughly a week later. The couple, nervous but businesslike in their foray into espionage, had officially crossed over. As Jan puts it: "There was no going back."
The following day, the Neumanns called a contact in Moscow and learned that the FSB and its mobster cohorts were hunting for them. (Jan says the CIA later confirmed they were being pursued.) The agency made tentative plans to fly the Neumanns to Puerto Rico. And the Americans encouraged the couple to leave multiple trails for anyone following them.
During a three-week tear, they covered more than 700 miles in a Toyota Highlander, paying for hotel rooms they never used and logging on to internet cafés. Along the way, they employed the surveillance detection skills they had learned in the FSB, including sudden U-turns, to spot anyone following them. They also retrieved their Russian passports and other ID to prepare for their flight to San Juan.
As they hopscotched across Hispaniola, a counterintelligence officer from CIA headquarters met them to ask if they knew of American moles inside Langley or other intelligence agencies. By now, they had provided the CIA with a trove of secrets, including the identities of corrupt, high-ranking FSB officers, notably three generals and a slew of colonels. That information alone was probably enough to buy their way into the PL-110 program. But had they also produced a solid tip about a mole, they would have been a lock for CIA support, says Redmond. The Neumanns, however, knew of no such traitor.
The headquarters man asked the couple to consider moving back to Russia and secretly serving the U.S. from there, an arrangement sometimes called defectors in place. But the Neumanns turned him down.
To the FSB, Jan says, "I'm already dead."
Crooked Bankers and Subway Sandwiches
Early on the morning of July 16, the Neumanns learned they were traveling to Puerto Rico by boat, not plane. As they stood on the dock of a private marina in La Romana, the CIA station chief presented them with Dominican Republic ID cards with their new aliases: Andrey Pavel Bogdan and Maria Bogdan, born in Belgrade, Serbia. Jan had shaved his beard and hair for the photo; Victorya had dyed her dark blond hair much lighter.
The couple boarded a catamaran accompanied by CIA escorts and sailed into international waters, where a Zodiac speedboat met them and carried them to a U.S. Coast Guard ship. There they met FBI and Drug Enforcement Administration agents, who joined them on a stomach-purging voyage through a tropical storm. When they reached San Juan, agents handed the Neumanns raid jackets and matching hats with DEA and FBI insignia and shuttled them to the airport, where they boarded an FBI business jet. Once in the air, agents gave Jan and Victorya their first American meal, Subway sandwiches, but they were still too seasick to eat.
The jet touched down in Richmond, Virginia, on July 17. The Neumanns sensed confusion among FBI agents, two of whom called headquarters for guidance on which of the couple's passports to present at customs. The agents had the Neumanns' authentic Russian passports and a pair of Dominican passports, obtained by the CIA, in their Bogdan aliases. For reasons that remain unclear, the FBI handed over their Russian passports, in their real names. (Jan was born Alexey Yurievich Artamonov; Victorya has declined to give Newsweek her birth name.) Customs officials permitted the couple to enter the states under humanitarian parole, a special entry for foreigners who provide significant benefits to the U.S.
The following morning, FBI agents took the Neumanns to a safe house in a Richmond apartment complex, where intelligence officers asked about their backgrounds. They learned, for instance, that they met in 2004, when Victorya was a cadet in the FSB Academy—often called KGB high school—and Jan was in his third year of active duty. For the next few months, under tight security, CIA officers and FBI agents questioned the couple about counterintelligence, money laundering and organized crime.
Jan recalls telling the CIA he would expose corrupt FSB officers and those in Russia's Foreign Intelligence Service, the SVR, and their network of crooked bankers and mob associates in and out of Russia. But he refused, he says, to betray his friends in the security service. Many of them hated government corruption and the way it escalated under Russian President Vladimir Putin. Jan believes his unwillingness to expose those patriotic Russian intelligence officers hurt his chances of getting in the PL-110 program. His primary hope, he says, was to expose the graft crippling his homeland and protect the world from the kind of man he had once been. "I never said I was a good guy," he says. "But I defected from the system, not my country."
The Neumanns liked the bright men and women of the CIA and FBI, but they could see the two agencies were working against each other. Some of the FBI agents crossing the Potomac from D.C. were clearly trying to move them out of the CIA's backyard, and a few of the folks from Langley seemed to resent it. "You could see the tensions," Jan says.
He recalls an FBI agent slapping a photo of Russian mob kingpin Vyacheslav "Little Japanese" Ivankov in front of him. Jan told the bureau he had once provided security for a meeting between Ivankov and Kreditimpeks associates at Thai Elephant, the downtown Moscow restaurant where Ivankov was later murdered. Jan also told agents how bank representatives in Russia cleaned kickbacks from mob figures and paid off FSB officers for letting them know when they had become targets of government investigators.
The Neumanns also explained how SVR spies infiltrate American businesses. Jan says he doesn't know whether their assistance helped the FBI, but Evgeny Buryakov, who was assigned to the SVR's economic intelligence-gathering wing, pleaded guilty last March to illegally serving as an agent of Russia from his office in New York. The Justice Department says Buryakov secretly conspired with two other SVR officers—Russia's attaché to the United Nations and its New York trade representative—to collect business intelligence and pass it on to Moscow.
Jan and Victorya were willing to continue helping the U.S. and hoped the CIA might station them in Europe. The FBI, however, quietly shaped a very different plan.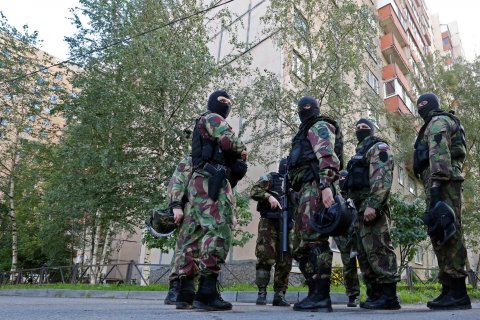 'It Was Like a Cage'
In late 2008, Jan says, FBI officials persuaded a wealthy friend in Philadelphia to sponsor him and his wife at the elite Union League so they could live in the private club's elegant—and exceptionally secure—hotel. But the Neumanns felt foolish the first time they walked into the lobby, wearing jeans and shorts, a violation of its strict dress code. "It was too fancy for us," Victorya recalls. "We felt like white crows."
The couple insisted the FBI put them up somewhere else, and agents moved them to a nearby Hilton, where they met for weeks with teams of federal employees from the Treasury Department, FBI, CIA and Justice Department. It was about that time, they say, that a CIA officer arranged a private meeting at the McCormick & Schmick's restaurant on South Broad Street. The agency woman wore a hat and a pink coat and chatted with the Neumanns over white wine and oysters on the half-shell. She pitched the couple on working in Asia or Latin America.
When the Neumanns shared the CIA's offer with the bureau, their FBI handlers told them to reject it, they say, and started attending all their meetings with the agency. Their handlers also pledged to help them obtain a wide array of documents, including green cards.
The Neumanns felt the FBI pressuring them to stay and work for the bureau. Eventually, they gave in. Jan recalls an FBI agent later telling him that a high-ranking CIA official had requested a meeting with them, but someone in the bureau had declined it on their behalf, saying the couple wasn't interested—an astounding fabrication. "It was like a cage," Victorya recalls, "and they had the keys."
Their primary FBI handler was an agent named Karen, who specialized in Eurasian and Balkan criminal organizations. The Neumanns first met Karen during their debriefings in Virginia. She now drove to Philly about once a week, sometimes staying for days to make sure the Neumanns were helpful to the FBI. The bureau paid them out of a fund for informants; the CIA contributed a smaller share for their upkeep. ( Newsweek is using only first names to identify Karen and other FBI agents who handled the Neumanns, as they might be targeted by Russian intelligence agencies.)
The FBI put the couple through rounds of polygraphs to make sure they were still telling the truth. Victorya, who fled her homeland to be with the man she loved, passed easily. The agents asked Jan tougher questions, including whether he had ever killed anyone. He told them no. Jan recalls being told that he passed the test and from then on had full immunity from past crimes.
The FBI agents provided Victorya with a laptop and internet access, an arrangement that energized her. As an FSB cadet, she had analyzed the agency's digital surveillance of the U.S. Embassy in Moscow, and she had a knack for identifying people who didn't leave much of a trail. She helped the FBI track down several people connected to Kreditimpeks, all of whom were living in Pennsylvania and nearby states. Jan helped the bureau decipher the coded language of mobsters they had wiretapped. The couple later learned their work had helped the FBI take down a major international smuggling ring. The Neumanns declined to elaborate, saying their contracts forbade them from disclosing details of their work.
Months after leaving Virginia, the couple was helping the FBI track down art thieves, diamond smugglers and European mobsters. But they were still living in hotel rooms with temporary aliases. They came to like the agents in Philadelphia, who seemed frustrated with the lethargy at FBI headquarters to provide them proper ID and a place to live. And they could scarcely complain about the pay, which was excellent.
Several times, they met with the FBI's legendary art-theft investigator, Robert Wittman, who had helped recover more than $200 million of stolen antiquities—including Rembrandt paintings and an original copy of the Bill of Rights. They recall that Wittman, who was preparing to retire, posed a question no other FBI agent had thought to ask: "How can I help you?"
They were confused about why the bureau hadn't made good on its repeated promises to provide them with proper documentation, which would help them get established in the U.S. and solidify their FBI "legends." So they responded the only way they could: "We don't know."
Neumann: A New Man
On November 26, 2008, Karen guided the Neumanns into a county courthouse in Salt Lake City. At 5:30 a.m., hours before the building formally opened, the couple appeared in a closed-door hearing before Judge W. Brent West to legally change their names. They were represented by a lawyer they had never met, signed documents they had never seen before and walked away with new legal names: Janosh Jovan Neumann and Victorya Avital Neumann. The surname, not by accident, was phonetically similar to "New Man."
With their official FBI "legends" established, the couple climbed into an SUV with Karen and two other agents and headed toward Portland, Oregon, where Kurt, a specialist in financial crimes and counterintelligence, would serve as their new handler.
The couple knew nothing about Portland and weren't eager to move there. But they recall agents assuring them they wouldn't stay for more than a year. The FBI booked them a room in the Marriott hotel, next to a white high-rise that housed the bureau's field office and overlooked a murky crook of the Willamette River.
The next day, the couple had breakfast with Kurt and another agent, who explained they wanted to place the Neumanns on a long-term undercover assignment. The FBI had prepared their contracts, which would pay them $7,000 a month, with $1,000 in expenses, plus bonuses.
The Neumanns appreciated the pay, but living in hotel rooms wasn't easy. After growing so frustrated that the FBI hadn't found them an apartment, they went looking for one on their own. They settled on a place in the Wyatt, an elegant brick building in the city's Pearl District, and when the leasing manager asked for identification, they lied, saying their paperwork and green cards were held up in U.S. immigration court. The Neumanns moved in a few days later, but only after FBI agents popped by, flashed their credentials and paid cash for the deposit.
The couple had no furniture or dishes, and their only phones were burners, but a little discomfort didn't bother them. The Neumanns bought an air mattress and slept on the floor. When an FBI agent stopped by in early 2009, she was shocked. She complained to a superior, who sent over petty cash to buy the couple some West Elm furniture and various necessities.
Like most FBI informants, the Neumanns developed a close enough bond with their handlers to be candid. One day, a Portland agent pulled Jan aside and told him he had insulted some of the bureau employees back in Virginia. The agent, trying to be tactful, said his gruffness—really his arrogance—had hurt their feelings. Jan recalled that some of the analysts had been brilliant, asking good questions, but others knew almost nothing about the FSB and held extremely outdated views of Russia. Some were saying Jan was "uncooperative," and that could hurt his chances to keep working for the bureau.
A Very Bad Interview
The Neumanns, accustomed to the way FSB officers routinely broke rules to help their assets, felt that their FBI agents weren't resourceful. But the couple was impressed when a pair of Portland agents, with no permission from headquarters, covertly reached out to contacts in the Department of Homeland Security and obtained work authorization cards in their names.
The couple used those IDs—and another fib about immigration paperwork delays—to obtain Oregon driver's licenses, buy a used Audi and take out three insurance policies. They opened two checking accounts with secured credit cards at Bank of America, finalizing the deal the Russian way—slipping their banker two bottles of 17-year-old scotch. The couple also obtained a marriage license and took wedding vows on June 9, 2009, in part to solidify their cover identities. FBI agents set up the ceremony in Portland's Chinese Garden and introduced them to their minister. Two of the agents, using undercover aliases, served as witnesses, and a surveillance team shot wedding photos. "It was the best-organized wedding ever," says Jan. "The safest one too."
The FBI launched the Neumanns on their undercover assignment in early 2010: Their targets were criminals, many of them Russian, using offshore banks and the U.S. real estate market to launder money. The couple posed as Russian consultants, upgrading their wardrobes with shopping trips to Nordstrom, Brooks Brothers and True Religion. Agents put them in an 11th-floor office in the city's World Trade Center complex, with arresting views of the Willamette River and glacier-capped Mount Hood. The Neumanns set up a tastefully furnished office, with a bar full of top-shelf booze, then launched a viral marketing campaign to snare the bad guys.
They shot email blasts to legal firms in Russia and much of Europe, pitching their services as go-betweens for clients needing to clean their cash in offshore accounts and establish companies in the U.S. Kurt got them to solidify their covers by opening four shell companies in their names. He also reactivated an FBI front, Stafford Consulting LLC, listing Jan as its registered agent.
Victorya later went to work studying offshore bank accounts for the bureau, producing a wall-size chart of 4,000 companies doing business in Panama, Singapore, Malta, Cyprus, the Bahamas, the British Virgin Islands and much of Western Europe. The FBI found the work valuable, the Neumanns say, and agents hauled the massive document off to headquarters.
In 2011, the CIA renewed its pitch to get the couple to switch teams, sending a pair of officers to meet them at a riverfront hotel. Jan and Victorya say the agency promised them green cards, health care and U.S. diplomas equivalent to their master's-level degrees in Russia. Again, they say, their FBI handlers were not pleased to hear about their contact with the agency.
The Neumanns had not yet been granted asylum, the first step in making sure they could call America their home. They say the FBI filled out their paperwork and scheduled meetings with immigration officials in San Francisco. In March 2012, an agent flew down to accompany them on the day of their interviews. But alone in the room with the immigration man, Jan made an unfortunate mistake. While he's fluent in English, his strong Russian accent and fast delivery—especially when riled—sometimes make him difficult to understand. When explaining his duties in the FSB, he says he misused the plural pronoun we while describing the agency's brutality, and the immigration officer erroneously concluded he had tortured people for Moscow—grounds for denying him asylum.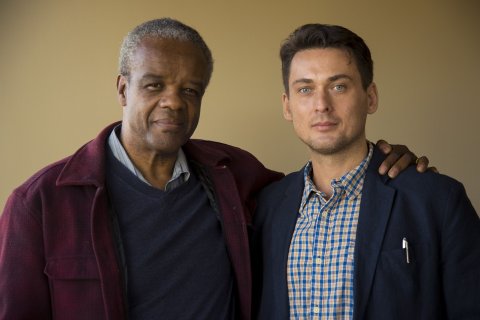 'It Was Like We Were From Mars'
Jan was flummoxed. In the FSB, an officer had the power to protect a source by almost any means. He wondered why the FBI couldn't do the same. To clarify some of Jan's answers, FBI agents arranged to have the immigration officer fly up to Portland. But that was all his handlers could do. The bureau has no power to obtain asylum for anyone—even a former Russian spy who had helped the U.S.
The couple's problems soon got much worse. Later that year, the Neumanns' FBI service contracts expired, and the bureau chose not to renew them. Jan and Victorya say their handlers pledged to help them get the papers they needed to stay in the U.S. But the help didn't come. "It was like we were from Mars," Jan says.
The FBI formally broke off its contractual relationship with the Neumanns in June 2013. "You were put through test after test, always successfully," their former FBI handler Kurt wrote. "It's discouraging you both have given 5+ years of your lives…. I don't know how it will all get addressed, but I believe it will. You've proven yourselves; it's time for us to do the same."
A few days later, on June 11, 2013, the U.S. government terminated the Neumanns' temporary right to remain in the U.S. for humanitarian reasons.
Retired FBI supervisory agent David Major, who served under Ronald Reagan on the National Security Council staff, directing the counterintelligence and security programs, says he wasn't surprised to hear the Neumanns had complained about their treatment by the FBI and CIA; a few defectors have complained of being cut from the payroll. What surprised Major is that the government took the extraordinary step of initiating deportation proceedings. "They've stepped up," he says, "and they're trying to help. All the sudden, it's 'Now what am I supposed to do?' They really are persons without a country."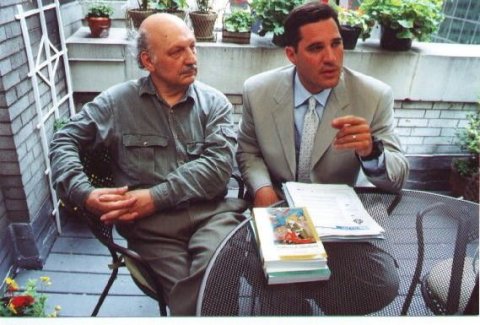 Michael Wildes, a New York immigration lawyer whose clients have included more than 20 defectors, including the Neumanns, says he was disappointed to learn the FBI failed to get the Neumanns an S visa—often called a snitch visa—to attest to the couple's cooperation in the prosecution of organized crime, which would have allowed them to remain in the U.S. The greater harm, he says, is that the CIA inexplicably failed to bring them into the country under the PL-110 program and played them for the nation's benefit. "I think it's a territorial issue," he says. "When the FBI started working with these individuals, they became less of an interest to the CIA."
Either way, the Neumanns fretted over their fate. Years earlier, a former FSB officer named Alexander Litvinenko had defected to Britain and railed against the Kremlin. In 2006, he died under mysterious circumstances. Litvinenko apparently drank tea laced with radioactive polonium-210, the first-known poisoning of its kind. As he lay dying, Litvinenko blamed the FSB. A British judge later concluded he was probably right.
'We Had to Go Public'
Throughout the summer of 2013, Victorya and Karen communicated by text and email, as the FBI—aware the Neumanns might sue—worked to send them some money. By the time the couple was cut off, they had been paid $1 million for five years of work, most of it by the FBI. But the couple claims they were owed considerably more. Jan and Victorya had burned through their earnings, partly because their undercover jobs had forced them to spend money on expensive cars, clothes and other accoutrements of success. "It was part of our cover story," Jan says. But the bulk of their money went toward medical bills, mostly because Victorya, worn down by stress, was frequently hospitalized.
Facing eviction, the Neumanns sold their cars and took part-time jobs. Victorya worked as a researcher for Snyder's law practice. A Portland actor and acting coach named Kevin Jones prepared Jan to get a role in an episode of the Grimm TV show and parts in corporate training videos.
On May 14, 2014, Snyder and employment lawyer Quinn Kuranz submitted notice to the FBI, CIA and Homeland Security that Jan intended to sue them for fraud and false imprisonment because they failed to honor their promises and brought him into the U.S. without their consent.
"We were not planning to go public," Jan says. "We had to go public."
In mid-2015, The Guardian published a story on the couple, describing them as living the dead end of the American dream. The FBI responded by shutting down agents' communications with Jan, who vented about the bureau's unprofessionalism. Adding to the couple's angst, Victorya suffered a painful autoimmune condition. She had just undergone a third surgery to remedy her problems, and the couple hoped it might also help her conceive a child. But she remained unable.
Snyder spent much of the last few years reaching out to the FBI and CIA to prevent the Neumanns from being sent back to Russia. She was joined by Washington lawyer, Steven A. Cash, who handles national security matters at the Day Pitney law firm. Cash declined to provide Newsweek details of his work, except to confirm he represented the Neumanns. Meanwhile, the staff of U.S. Senator Ron Wyden, the Oregon Democrat who sits on the Senate Intelligence Committee, worked to help the Neumanns make their strongest case for asylum.
Then, in late 2015, as Victorya readied for a fourth surgery, the Neumanns were met with a miracle.
She was pregnant.
'Best of Luck to You Both'
On April 13, 2016, the Neumanns appeared before a U.S. immigration judge in Portland, where they witnessed a dark comedy: A government lawyer handed Snyder a new charge against the Neumanns, which threatened to detain and deport them for remaining in the U.S. after their humanitarian parole expired in June 2013. The couple had hoped the FBI would appear in court to explain the peculiar manner in which they ended up in the U.S.—using names the government didn't wish to expose. But no FBI employee appeared in court.
Wyden wrote to the bureau on June 3, urging the FBI to send a representative to the Neumanns' next immigration hearing or submit a paper that explained the documentation they had used to enter the U.S.
Later that month, Victorya gave birth to a baby boy, whom the couple brought along for a late-July hearing in immigration court. It remains unclear whether the FBI briefed the judge as Wyden hoped. But Snyder says she learned that the bureau had submitted a letter to a government lawyer acknowledging that the FBI had no reason to believe Jan persecuted anyone in Russia. At a tidy 10-minute hearing on September 19, the judge granted Victorya's asylum and cleared the way for the couple to remain in the U.S. "Best of luck to you both," she said with a smile. "It's never boring."
The couple's problems aren't over. It's likely to take a year for Victorya to get a green card, and longer for Jan. The Neumanns and Snyder say they have accumulated considerable debt, with late payments, and have no work history or employment documents to help them earn a living wage. Their bank cards did not allow them to take out loans big enough to obtain the kind of credit they would need to buy a house in which to raise their American son. "It is the responsibility of the United States government to figure this out," Snyder says. "The Neumanns are prepared to fight back and to make it known, make it public, that the United States government has not fulfilled its promises to them."
Senator Wyden, who is well aware of America's tradition of providing hospitality to foreign spies who defect to the U.S., sounded relieved in a recent interview, gratified the immigration case has reached a successful conclusion: "Given the recent revelations about Russian hacking, it's crucial to ensure defectors who can provide the U.S. government with valuable intelligence are treated fairly."
Wyden hopes America can recruit a few more.
With Owen Matthews in Moscow
This story has been updated to include mention of Steven A. Cash, a lawyer who handles national security matters at the Day Pitney law firm.​