The sickening realization came on suddenly, like a norovirus. All day long, Hillary Clinton's close friends and wider circle of supporters had been cautiously optimistic about her chances in the general election. Earlier in the day, a gaggle of friends from her high school in Park Ridge, Illinois, gathered for lunch in New York's Harlem, where a special three-course menu by chef Marcus Samuelsson was headlined "Hillary's Election Celebration." Everyone took home a tiny commemorative ceramic tray embossed with Clinton's favorite saying from Methodist theologian John Wesley, about doing all the good you can, as long as ever you can. On the bottom was the phrase "To Commemorate the Presidential Election 2016 Hillary Rodham Clinton." That nice little memento had a shelf life of maybe eight hours.
At about 9 p.m. Eastern time, those gathered to celebrate a Clinton victory—from the cavernous Javits Center in Manhattan to private parties across the nation—turned somber, then funereal. Worry turned to shock as newscasters stood before maps of a nation turning blood red, trimmed by thin bands of blue along the coasts. By midnight, Clinton supporters had moved past disbelief to horror and grief as they realized Donald Trump was going to be the next president of the United States. At one tony Manhattan party involving some of her biggest donors, the assembled wandered through art-filled rooms with eyes as haunted and hollow as those of characters in an Edgar Allan Poe short story. Said one major donor: "I feel like all my children are in intensive care right now." Added one longtime important supporter: "You know they're gonna put us all in jail now."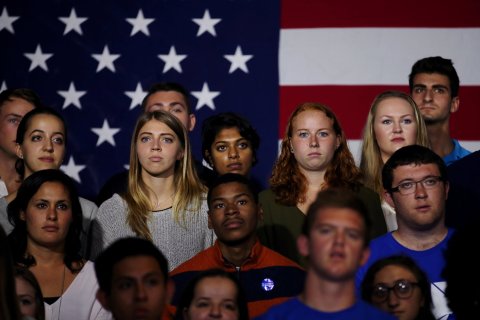 Punctuated by Penises
There have been some nasty presidential campaigns in the nearly 250 years of American politics. Supporters of Herbert Hoover claimed Catholic opponent Al Smith had commissioned a tunnel from New York to the Vatican; John Quincy Adams's backers tarred Andrew Jackson's wife as a bigamist; and Thomas Jefferson's opponent claimed he was dead. But there has never been a campaign that so clearly and (often viciously) split along gender lines. It will take the United States a long time to recover from the "Trump that bitch" T-shirts and others decorated with Clinton flying on a broomstick, which were for sale at the Republican National Convention; chants of "Lock her up" rocking stadiums from Orange County to Lubbock and Akron; Trump's "grab them by the pussy" taped comment, not to mention allegations by a dozen beauty queens, journalists, receptionists and random women that he kissed and groped them against their will. Amid Trump confirming the size of his manhood on national TV, the return of Bill Clinton's sexual-assault accusers and a nearly campaign-capsizing FBI announcement regarding Anthony Weiner's sexting, election 2016 was punctuated by penises—which is apt, since this often vitriolic campaign was a national referendum on women and power.
This was always going to be an election about gender. Clinton signaled that from the day she announced her candidacy in New York in May 2015, when she talked about her own mother, the shaming and blaming of women over abortion, and how fathers should be able to tell their daughters that they too can run for president. Trump ran against all of that, glorying in unapologetic, unreconstructed macho; blaming tough questions from journalists on menstruation; fat-shaming women who angered him; saying "there has to be some form of punishment" for women who seek abortions; and even suggesting that a working wife was a bad thing. On Election Day, women responded accordingly, as Clinton beat Trump among women 54 percent to 42 percent. They were voting not so much for her as against him and what he brought to the surface during his campaign: quotidian misogyny.
Men and women really did choose a presidential candidate this year based on their attitudes about what was acceptable behavior toward women. A 700-person survey conducted in June by researchers at the University of Michigan found that hostile attitudes toward women correlated with support for Trump. Clinton super PAC pollster Geoff Garin says the 2016 gender gap—24 points wide—was different from past years in cause as well as size. "Trump has, I think, for many women and for some men, but mainly for women, really called into question the role of women in our society and how they ought to be treated."
First Among Unequals
Women voted against Trump by one of the most significant gender gap margins in history, but their support for Clinton was tinged with ambivalence. In fact, Trump beat Clinton among white women 53 percent to 43 percent, with white women without college degrees going for him two to one. The hoped-for "first"—and the lead-up to it—never produced the jubilation that greeted the election of the first African-American president in 2008, even though women waited much longer for this moment. The first female president, after all, would have been in the White House on the 100th anniversary of women's suffrage.
With that "long time coming" in mind, one might have expected American women to link arms like their great-great-grandmothers, the suffragists, and march in the streets to celebrate Clinton's historic nomination. Instead, her support from women—while greater than Trump's—lacked fervor. In many voters, it was almost dutiful.
Clinton did have ardent and joyous supporters, often those in her age group, like retired lawyer Jennifer Kimball. The 66-year-old walked into the Arizona Democrats' headquarters in Phoenix one morning two weeks before the election and asked to be put to work. Like Clinton, Kimball had a career, working beside her husband as an entrepreneur and small-business owner. After their sons were in school, she went back to get a law degree. "I did that later in life, and people often asked me, Why go to law school now? One reason is that when you are a woman, you want to be taken seriously, and if you want that, you pursue a job situation that will make people take you seriously," she says. "And second, I was raising three feminist boys, and I wanted to be a good role model to my boys. It was very important to me that my kids grew up believing women can be and do anything."
Kimball and many other women in Clinton's core of support viewed this election as a referendum on what their generation has achieved: the social transformation that saw the percentage of women who worked outside the home double, from less than 30 percent in the 1950s to more than 60 percent today. "Hillary" says Kimball, "shares my history and my résumé. She's the total package."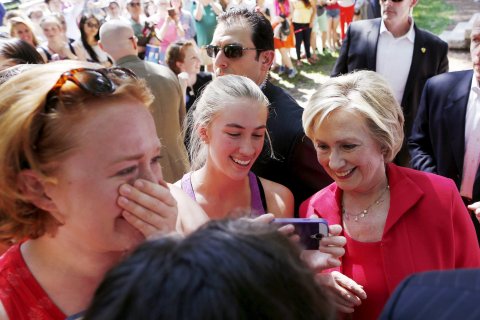 Are You Now or Have You Ever Been Abused?
For many women, the presidential campaign had an emotional dynamic that was more immediate and uglier. One in six American women has been sexually assaulted. One in four is a victim of domestic violence over a lifetime. One in three women has been sexually harassed at work, and 40 percent of women experience street harassment. (Based on personal experience, I would put the last number closer to 100, but I have always lived in cities.)
Outside the Scottsdale, Arizona, City Hall in late October, a retired teacher named Mary, 66, told Newsweek she had just voted for Clinton. (She asked that we not publish her last name so she could avoid family conflict.) "I didn't vote for her because she's a woman," she said. "I voted for her because, as a person who's been in a domestic violence situation, Donald Trump scares the livin' bejeebers out of me. He has this condescending attitude, like he's a male and he's always right, just like my ex-husband, who still has this attitude that he's done nothing wrong. I see that in Trump."
Many women I've spoken with said Trump's tone and misogynistic remarks in this campaign, and from before he was a candidate, brought up painful memories of the abusive men in their lives. Given American domestic violence and assault statistics, it's not surprising that so many women identified with the 12 women who accused Trump of sexually assaulting them during the campaign. On social media, they created a new coalition of the groped and sexually assaulted. The weekend after The Washington Post released a video of Trump's comments to TV shill Billy Bush about grabbing "pussy" and kissing women without their consent, calls to the telephone hotline of the Rape, Abuse and Incest National Network increased 35 percent.
Also that weekend, 8 million women responded to a tweet asking women to describe their first experience with sexual assault. Even public figures—from political pundit Ana Marie Cox to U.S. Representative Ann McLane Kuster of New Hampshire—told their stories of sexual assault on television and from the podium for the first time.
Many women saw themselves in Clinton too, as she faced down a swaggering man. Paired with Trump on a split screen during the first debate, she maintained her high-wattage smile and confidence. But when he loomed behind her in the town hall–style second debate, women intuited her unease, which many men didn't see. When Trump interrupted her repeatedly and muttered "Such a nasty woman" during the third debate, women across the country turned that insult into a Clinton campaign slogan. Almost every woman has been there: Navigating gracefully away from harassment and even menace is a basic female life skill.
The Fear Factor
Political scientist Susan Carroll, a senior scholar at Rutgers University's Center for American Women and Politics, says the "Trump factor" not only frightened women; it quieted them. "I think a lot of people don't want to talk about this election and get into a fight with somebody about it," she says. "It tends to be confrontational, and many women are not that confrontational, and reluctant to get involved. They like to keep things smooth and on an even keel. A lot of women will maybe feel more relief than jubilation—quite in contrast to 2008, when there was much more visible enthusiasm [for Obama]."
Facing the wall of what McGill University professor and author Gil Troy calls "Clintipathy"—an irrational hatred of Clinton fueled by years of pillorying in the far-right media—many women simply kept things "smooth" by not speaking up. Indiana cybersecurity executive Stacy Mill, 49, is a mother of two daughters and on her second husband, and she says both her men voted for Trump. After a few arguments with her husband, they simply stopped discussing politics. "In my house, it comes down to Benghazi and the emails," she says. "For me, Hillary has shown such growth, maturity and thoughtful leadership, and that has nothing to do with gender."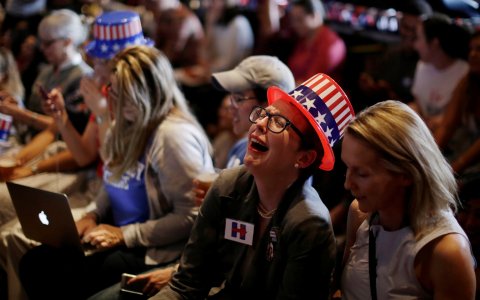 Another kind of fear haunted some of these women. Having seen their hopes dashed so often, they kept their expectations in check. "So many women have not gotten something they thought they should be getting—the job promotion, the salary increase—that until it really happens, folks are so nervous about letting themselves go," says Stephanie Schriock, president of the women's political training and fundraising organization Emily's List, who campaigned for Clinton across the country. Speaking a week before the election and predicting a Clinton victory, she said, "I think on Tuesday night you will have to drop Kleenex from the sky. The tears are going to come out."
Well, she got part of that right. There were tears.
'We've Lost the Women'
Trump's ugly campaign was only the latest episode in the long decline in relations between Republicans and women. The House Republican Conference is 91 percent male, while the percentage of women in the House Democratic Caucus grew from 21 percent in 2006 to 33 percent now.
The large number of Republican women fleeing Trump horrified party leaders. "Republicans will have to earn the right to be heard at all," conservative columnist S.E. Cupp wrote in The New York Times a week before the election. "That will require emptying the party of Mr. Trump's enablers. Who knows how long that will take, but in the meantime, women would frankly have to have been lobotomized to believe anything the Republican Party tells them."
One of the many paradoxes of this election is that while Trump may have energized Clinton's base with his gleeful lashing of her, his victory might deter other women—younger, less polarizing than Hillary Clinton—from getting into politics. The willingness of younger women to run for lower offices is key to getting anywhere near gender parity in Congress. Women are traditionally far less inclined than men to run for office. In addition to the fact that they are less likely to be encouraged to do so by their local party chiefs, the reasons they cite for not running are loss of privacy and the brutal campaigns. Says New York Democrat Judith Hope, one of Clinton's earliest political backers, "If I was a young woman thinking of running for office, I'd have to think twice" after this year. "Certainly, if you have a family, the price is too high."
In day-after interviews, women who voted for him said they didnt believe his accusers or weren't bothered enough by his sexist remarks to vote for Hillary. At Trump's victory party, Texan Kendra Reeves, 51, sat beneath the stage as Trump spoke at 3 a.m. She said she wasn't worried about her candidate's effect on women. "I feel that God has chosen Donald Trump for this time in history to bring change to our nation," she said. "Every woman I have met has said he's respectful and gracious. I don't know about his past, but everyone has a past. All that matters is if you learn from it."