It was months before Donald J. Trump made that now-legendary ride down the escalator of his beloved Trump Tower on Fifth Avenue in midtown Manhattan. Few outside his inner circle had any inkling the controversial New York real estate developer turned reality TV star was thinking seriously about running for the highest office in the land, let alone what kind of platform he would adopt.
They knew Trump had flirted with campaigning for the White House several times, going all the way back to 1988, when he told two reporters for Newsweek—just days before the filing deadline to run in the New Hampshire primary—"OK, I'll give you guys a scoop: I'm not going to run." Then he paused, leaned across his desk and with a smile said, "but if I did, I'd win."
Confidence, of course, has never been an issue for Trump. Overconfidence, yes—the notion that anything he touches ends up as a "huge win," never mind the many instances in which the opposite happened: his multiple bankruptcies, debt defaults and fraud allegations. And now, in the spring of 2015, he was talking to a few family members and confidantes about running for president. And he wanted to get in touch with a former Republican senator from Pennsylvania, Rick Santorum, who had served two terms before losing big in 2006. In 2012, he was the runner-up to Mitt Romney in the Republican presidential primaries. Ensconced since then in a Washington, D.C., law firm, Santorum had written a book that attracted little attention: Blue Collar Conservatives, Recommitting to an America That Works. But Trump had read the book, very carefully, in fact, and was intrigued. He called Santorum and asked if he would come to Trump Tower for a visit. Santorum was a bit surprised by the invitation but said yes.
Santorum didn't know what to expect. He had never met Trump and, like millions of Americans, knew of him only from his long-running NBC reality show, The Apprentice. Trump got right to the point. He had loved Santorum's book and believed it could unlock the White House for a GOP candidate who ran a campaign based on reaching the working-class voters throughout the industrial Midwest that, Trump said, Democrats take for granted.
Santorum agreed, of course—he was thinking of making another run at the White House, using that playbook. (He did, but got bum-rushed early in the primaries.) Trump then surprised Santorum even more by questioning him on details of his book and economic policy in general. What could be done with trade policy to help the working class? Was there any way to turn around the massive bilateral trade imbalance with Beijing? Could the White House be used as a bully pulpit to pressure American companies to stop sending manufacturing offshore? On and on they went, and Santorum left the meeting wondering what might happen if you mixed the power of celebrity with a blue-collar tent revival.
We now know the answer. Trump's improbable run to the presidency—which was nearly derailed on several occasions by his lack of discipline—was guided by a conviction that he could, as political consultant and longtime Trump adviser Roger Stone said last year, "rewrite the [electoral] map" by smashing the "great blue wall" of Midwestern Democratic states. And smash it he did.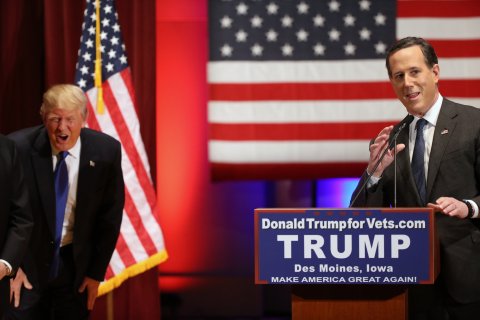 'The Damnedest Thing'
A crucial question the tumultuous Trump campaign wrestled with was: Could a 70-year-old political neophyte be disciplined enough to withstand the withering scrutiny—and inevitable criticism—that comes with being a presidential candidate? When he was emerging as a brash real estate developer in the 1980s, Trump seemed to believe the adage that all publicity is good publicity. Over the years, though, he became increasingly prickly and felt compelled to hit back at critics, no matter their station in life, no matter how small their perceived slight. But "punching down"—at Gold Star parents, a disabled journalist, a former beauty pageant winner—is not a good look for a celebrity, let alone one running for president.
That was a constant strain for those around Trump during this campaign. All presidents are supremely confident beasts; most don't like to be told what to do and often get angry when criticized. "That's Donald times 10," says one former campaign staffer. "He s a very instinctive, determined person, and once he makes up his mind about something, he'll only acknowledge a mistake if something is truly going down in flames."
The first (and lasting) challenge for Trump campaign staffers was figuring out whom their candidate would listen to consistently. Not Stone, who was removed from the campaign payroll early on, though the two men would continue to talk. Not to the original campaign manager, Corey Lewandowski, who was canned this past June, replaced by Paul Manafort, a Republican fossil (he lived in Trump Tower) who had first helped run a presidential campaign in 1976. He was run off after just a few months.
It quickly became clear that Trump would listen to only family members: sons Don Jr. and Eric, and in particular daughter Ivanka and her husband, Jared Kushner—the inheritor of a New York real estate company, Kushner Properties, and the owner of the New York Observer, a conservative-leaning weekly newspaper. "That made the political people nervous," says a former Trump campaign official, who like many current and former campaign officials had to sign a nondisclosure agreement and thus spoke to Newsweek only on background. "It's good that he listened to somebody, but the family had no political experience. And even though—obviously—this was not going to be a traditional campaign, you had to think at least some of the old rules would apply."
To have a candidate as undisciplined as Trump is usually a campaign manager's nightmare: One insult or snide tweet could blow up the whole thing. But from the beginning, Trump, his family and his political staff understood that this candidate's brashness and political incorrectness were going to be assets, and that his celebrity would attract free media attention that opponents couldn't hope to match. Even with that confidence, family and staff all thought there were limits to even Trump's appeal and were aghast early on, when he said Arizona Senator John McCain wasn't a war hero, despite being a prisoner of war in Vietnam, "because he was captured. I like people that weren't captured." With that "we thought it was over before it had even started," says a family friend. "People were morose."
But not for long. Campaign aides say the McCain ruckus showed them this was a candidate who could get away with things conventional politicians could not. "Can you imagine what the reaction would have been if Jeb Bush or Ted Cruz had said that?" asks one Trump friend. "They would never been seen in public again." But crowds were still coming to Trump's rallies, and it became clear pretty quickly, a campaign insider says, "that he was going to survive the McCain episode. It was the damnedest thing."
It was also dangerous, because Trump increasingly believed he could say almost anything. He boasted in January, with the Iowa caucuses less than a month away, that he could "shoot somebody" and not lose any votes. While he lived up to his subsequent wry pledge not to do that, he regularly made his advisers nervous by saying things normal candidates wouldn't. His staff could live with the fact that in the debates and on the stump he belittled his GOP competitors with nicknames—Little Marco, Low-Energy Jeb, Lyin' Ted—because his fans thought it was all hilarious. But he went beyond that. In May, in the midst of his primary struggle with Texas Senator Ted Cruz, he suggested that Cruz's father was with John F. Kennedy assassin Lee Harvey Oswald just before he killed the president. It was, he would explain, right there in National Enquirer, "a magazine that, frankly, in many respects, should be very respected." Trump, his family knew, is friends with David Pecker, the CEO of the company that owns the Enquirer, but still, the comment made Kushner and Ivanka Trump "cringe," a friend of theirs says.
Manafort replaced Lewandowski as campaign manager and almost was able to guide Trump through a relatively uneventful Republican convention in Cleveland. Trump's wife, Melania, was to be introduced to the nation by her giving a primetime speech from the convention stage podium, but her speechwriter cribbed lines from a Michelle Obama address. The howls of derision that followed made Melania Trump very leery of doing much more public campaigning. "She was very embarrassed by the whole episode because it reinforced the stereotype she hates," says a Trump loyalist, "that she's some dim-witted trophy wife. Dim-witted, she ain't."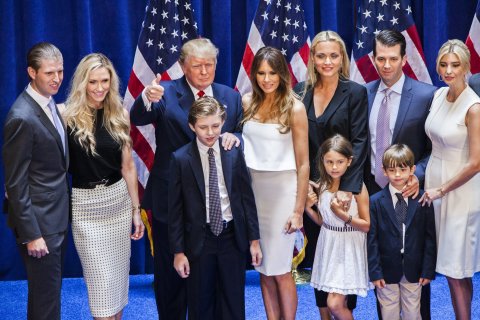 What a Good Candidate Does
The tumult in the campaign would soon intensify. Any efforts by staff or family to rein in Trump's inflammatory rhetoric—on Twitter or on the stump—were futile. He mindlessly went after the Muslim Gold Star parents who had criticized him during a speech at the Democratic National Convention. Trump obviously needed to focus and stop ranting at everyone who criticized him, several campaign aides say now, but no one was delivering the message to him. "At that point, the family would be gently chiding him after the fact. It wasn't enough," says a family friend.
A month later, with his poll numbers sliding, Trump made what may have been the most important move of the campaign: He fired Manafort, whom he had begun calling "low energy"—the same epithet he had used to bury Bush in the primaries. Manafort's financial ties to the Russian-backed former prime minister of Ukraine were dogging him, and when a newspaper story detailed the chaos in the campaign (based largely, Trump surmised, on leaks from his campaign manager), the Republican nominee got rid of him. He made Steve Bannon, a former investment banker and the Breitbart News CEO, campaign CEO and brought on Kellyanne Conway, who during the primaries had run a super PAC backing Cruz, as campaign manager.
Bannon pushed Trump to hone his message to the disaffected white working class and relentlessly pummel his opponent, Hillary Clinton, for corruption. The Trump communications shop started putting out a daily "Question for Crooked Hillary." Trump, not surprisingly, got on well with Bannon, and listened to him, even though Bannon had no experience running a political campaign.
That was Conway's lane. She had run her own polling firm and had worked with GOP heavyweights, from Jack Kemp to Newt Gingrich to Vice President-elect Mike Pence. She was smart and used to being on camera, because she'd been a frequent guest on all the cable network shows. She would quickly become one of Trump's most effective advocates on television.
She hadn't been on board long enough, however, to get Trump to focus on his preparation for the first presidential debate. That was left to Bannon and the recently deposed Fox News chief, Roger Ailes, who tried to help Trump with the first 90-minute, one-on-one debate he had ever faced. The prep sessions, held at one of Trump's golf clubs, rarely surpassed Trump viewing clips of Clinton's previous debates and Ailes telling war stories about previous campaigns and debates. The lack of preparation showed in that first debate, and Conway was furious.
That would quickly become a minor problem for the staff, because on October 7, NBC released the video of Trump making his now-infamous remarks about how much he enjoys grabbing women "by the pussy," and what a "star" can do with them—"anything." Conway had been an effective spokesperson on television in part because she was obviously an intelligent, capable woman—and she was a very visible signal that Trump had no problem appointing strong women to important positions. Now his campaign had to deal with this abominable tape. The family was mortified and began to worry not just that the campaign was foundering but also that the Trump brand was becoming toxic. That included Ivanka Trump's lines of jewelry and clothing (foreshadowing, perhaps, the conflicts those businesses will present as Trump governs).
The inner circle won't say exactly where and exactly when the family delivered that message to Trump, but deliver it they did. With Conway backing them, they insisted that for the remaining weeks of the campaign, Trump only read his prepared speech from a teleprompter at every rally. No riffing. Stay on script. Stay on message. If you don't, they told him, we are dead.
Trump was furious that the NBC tape had been released, but he was also pained that he had embarrassed his family. He did believe that what he said on that tape was little more than "locker room" talk, as he would say later, but he was contrite. He knew he had to apologize, and he knew the people around him were right about how he needed to conduct himself in the campaign's final stretch. That meant avoiding off-the-cuff embarrassments and relentlessly stressing his outsider's message—bad trade deals, Clinton's alleged corruption, building the wall. Those were the issues that had gotten him this far, and they were still resonating with voters. The attendance at his rallies, particularly in Pennsylvania, Ohio and the industrial Midwest, was surging. The intensity of the crowds was unmistakable.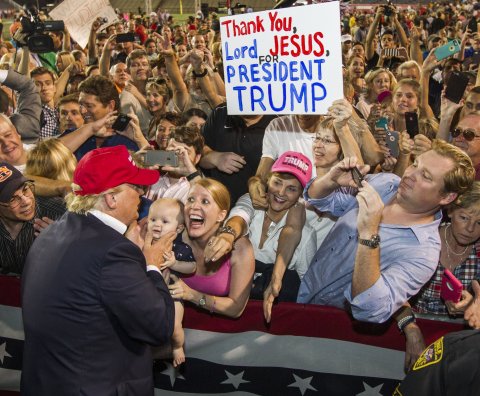 But Trump, his advisers knew, was still behind. And then, on October 28, he caught a huge break: FBI Director James Comey sent a letter to Congress saying new emails had been discovered in relation to the ostensibly closed Clinton server investigation. When the news broke, Trump had just landed in Manchester, New Hampshire, for a rally. He and his team sat on the plane for 10 minutes to strategize. "We gotta go straight at it," Trump said, and no one disagreed. When he told his crowd that the FBI had reopened the investigation, the people erupted. Having not had a chance to prepare much more than that, he riffed for a while on Clinton's email scandal. And then, with a smile, he said, "and now I'm going to give my regular speech, but after that it's probably going to seem so boring." And give the stump speech he did.
The Trump high-command members knew then they had an opening. The crowds Trump was drawing were enormous, and even before Comey's announcement, their internal polls said the race was tightening, but not enough to make many of them believe he would win. Now, though, they thought they had a shot. Trump remained focused, and the campaign laid on rally after rally—up to five per day in the last days of the race. Trump went back to Pennsylvania and Michigan and Wisconsin again and again. He even made a trip to Minnesota, the bluest of blue states, because—stunningly—polling had him drawing close even there. The Santorum strategy was playing out just as Trump had bet it would so many months before.
Still, on Election Day, few around the candidate were confident he had reeled in Clinton. "Cautiously optimistic, at best," is how one adviser put it as the returns started to come in. But Trump had called his campaign a "movement," and at his many rallies in those final days, in the many states he needed to win, he insisted he was going to do just that. By just after midnight on election night, outside the Hilton Hotel in midtown Manhattan—where his supporters still milled about nervously—a campaign aide told Newsweek she thought Trump was going to get more than 300 electoral votes. "We've won this."
That 300 prediction turned out to be overly optimistic, but she was right—they had won.
"Those states—Pennsylvania, Michigan, Wisconsin—were the targets," Conway would later say. "[Trump] had a `theory of the race,' and when it became clear that he had tapped into something very big, he rode it. And that is what good candidates do."
Donald Trump was not, by conventional standards, a "good candidate," but he and his small band of advisers were convinced that was their greatest strength. "Convention," Roger Stone said in August 2015, "isn't going to have anything to do with this." And it didn't.
On January 20, 2017, Donald J. Trump will be sworn in as the 45th president of the United States—and the most improbable one in American history.