Rest assured that when you inevitably meet your demise, there will be plenty of ways to store your corpse: coffins, ornate urns and—if you're extra wealthy—enormous booby-trapped pyramids. And now, custom 3-D-printed heads.
An Arlington, Vermont–based company called Cremation Solutions offers, among a number of more traditional urns and keepsakes, the ability to stuff one's ashes in a disembodied head made in your image. Think a cyberpunk Pharaoh Khafra.
The process is simple. Customers send in a photo of their face, and the company scans it, creates a 3-D model and then 3-D-prints an 11-inch polymer head (with an optional wig) and mounts it on a hollowed-out marble base, inside of which ashes can be stored. It costs a mere $2,600. Strangely, the site uses Barack Obama's head as an example.
"With a regular urn, you are undoubtedly asked questions about what it's for, and that leads to a conversation about the deceased," the site explains. "People who are unfamiliar with the urn might mistake it for a vase or some other container and try to open it. With these urns, you can avoid those questions."
I had many other questions, so I contacted Jeff Staab, the company's owner. Apparently, the heads aren't exactly in high demand. "They look so real that they actually creep people out.… Most people write what a stupid idea they are," Staab says, in a slight Long Island accent. "But we do sell 'em. There are some weird people out there who want Grandma's head on the mantel, looking at them all the time."
Staab started the business in the mid-'90s, leaving behind a 20-year career as a funeral director. He initially offered scattering urns, but they rarely sold—people were unsure what to do with them once they were emptied. After a customer mentioned he was going to scatter the ashes in his father's woodlot, where he liked to watch birds, Staab had an idea. "I said, 'Why don't you drill a hole in it and screw it to the tree, and the urn can become a birdhouse.' And that was the beginning of these birdhouse memorial urns that I invented and patented."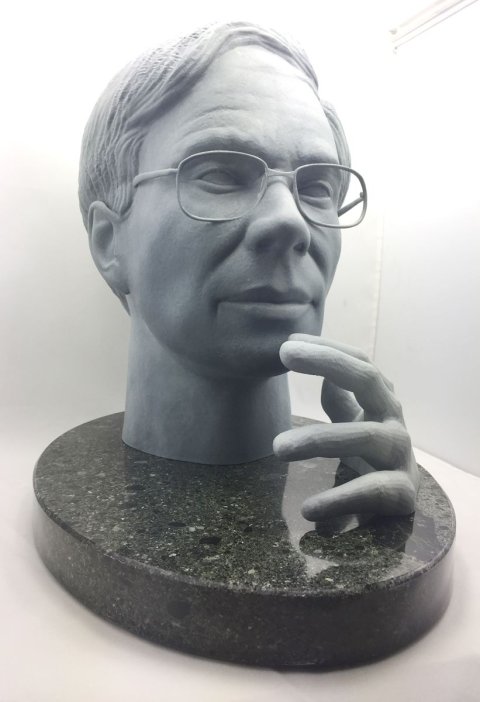 The birdhouse urns sold well and led to other experimental funereal products: crystals, diamonds, Pandora beads and fingerprint jewelry (the most popular). For many people, they made the process of coping with the death of a loved one less, well, grave. Emboldened, Staab got into the head game.
The process was created by a British company called ThatsMyFace.com, which specializes in converting 2-D imagery to digital models optimized to be 3-D printed. Staab purchased its software and a 3-D printer, and he started printing custom heads to order—excluding those of pets. "The fur gets too complicated."
Sometimes orders don't work out. Once, a customer sent a black-and-white photo and requested that Staab put glasses on him and have his hand touching his chin, as if he were deep in thought. "I think he was some kind of brainiac or something." The resulting product—a disturbing black-and-white head with pasted-on glasses—ended up horrifying the man so much that he canceled his order. "It sits in my closet," Staab says. "The Thinker, we call it."
And what's with the Obama head? It turns out it was a practical joke. "[The ThatsMyFace.com people] have a weird sense of humor. I wanted to get a nice sample, to display at funeral conventions and things. They were gonna do a George Clooney head for me," Staab says. "When I opened the box, it's Obama's head."
The presidential bust ended up generating a fair amount of press. "I get shit all the time, people saying how dare you have an urn made out of the sitting president's head," Staab says. "But it wasn't even my idea. I'd rather have a George Clooney head."
For a few decades now, the number of Americans who get cremated has been steadily rising, up to 48.6 percent in 2015, according to the Cremation Association of North America. With that, perhaps, will come a higher demand for novelty urns.
Staab is betting on it. In addition to the heads, his store sells custom urn action figures (to hold the remains of a real-life Human Torch?). More recently, he started selling a handheld cannon that shoots cremains 70 feet into the air, and he dubbed it the Loved One Launcher. (His buddy thought up the name at a local bar.) "We mix ashes and streamers and confetti," Staab says, "and it makes a really festive scattering."
On the sale page for the launcher, there's a disclaimer warning customers that improper use could result in injury or death—which wouldn't hurt sales.