Laura Marling, one of Britain's finest songwriters, is sitting in the window of the Almeida Theatre café in north London. Which in itself is a surprise: "I always felt theater was a bit above my head," she says, her small, bright face looking somewhat amused. "I've sat through a lot of very boring plays in my time, and I thought theater can be a bit too…theater-y. It can just get a bit too far up its own theater bum."
Marling, 26, is here to tell me how she came to be involved in a new production of Mary Stuart, Friedrich Schiller's play from 1800 about the last days of Mary, Queen of Scots. The show has already gained attention for the conceit of having its lead actors, Juliet Stevenson and Lia Williams, trade the roles of Stuart and her cousin, Elizabeth I, based on the nightly flip of a coin. With the addition of Marling's original score, it's an even more attractive prospect.
Over the course of five albums, Marling has earned a reputation for an exquisite voice as well as the precision and clout of her lyrics. "The play talks a lot about women and the female voice in a world dominated by men," says Mary Stuart's director, Robert Icke. "So I wanted it to have a really strong female vocal. Laura was the first person I thought of."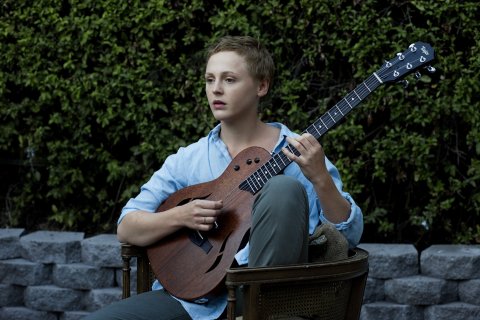 It was Icke who put Marling's reservations about the theater world to rest, telling her that if a play "doesn't hold the interest of a smart 14-year-old, then it's not doing its job." In turn, she acquainted herself with recorded versions of two of Icke's earlier productions for the Almeida, Oresteia (2015) and 1984 (2014). She found them "extraordinary. He's really good at drawing out the morality of plays and making them really compelling, at drawing out their relevance to the times we live in."
Marling has found working with Icke unusual but hugely rewarding—he is, she says with a laugh, the first person to ever ask her to rewrite her lyrics. "I sent him the demo and the final draft of the lyrics, or what I thought would be the final draft," she recalls. "And he sent a really amazing critique of what he felt was relevant and what he felt wasn't drawn from the play and couldn't be placed there."
Speaking over the phone during a break from rehearsals, Icke sounds sheepish when I bring up this redrafting process. "I sent her an email saying, 'I hope I haven't annoyed you by sending you all these thoughts,' and she sent one back saying she was enjoying the criticism so much she was trying to draw the process out," he says.
"Writing anything is pretty hard, I know from my own experience, and what you really want from people before it's published is honesty and suggestion," he continues. "The least helpful thing someone can say to you is a bland 'Yeah, it's great.' You want to know which bits are the least great, because then you've got a chance of fixing them before it's put out into the world. And, to be honest, I'm kind of hoping Laura's going to do the same thing when she sees the play, which is to say, 'That bit is amazing…what's that bit?'"
At the time of the interview, the play and its score were still under wraps, though Marling described it as in "very much a Laura Marling style. I have a tonal style that I'd call mine now—the way I play guitar and a folk-rooted form of storytelling. I thought [Icke might] ask me to do something that's really out of my comfort zone, like use synths or something. But that's not what he wanted at all."
'No Need' for 'Innocent Creativity'
Marling's involvement in Mary Stuart heralds her partial return to the U.K. after several years of living in Los Angeles; she will now divide her time, she explains, between California and Margate, a seaside town on the far southeastern tip of England. It also marks a broader shift in her songwriting career—a move toward what she calls "a more practical use for my creative output," and "pointed, purposeful storytelling rather than abstract, unconscious lyrics."
Her motivation is in part a reflection of the age. "The grander reason is the time and the political climate that we live in," she explains. "Innocent creativity had a little flourish in the past 10 years, but we're coming to a point where the sort of artistic expression that I've been a part of, there's no need for it now."
But it is also a sign of her advance into adult life. After a childhood in rural Hampshire, she has spent the past few years straddling two continents—well traveled, well read, increasingly concerned by the way the world lies. "I'm getting older," she says bluntly, "and now I look at that sort of carefree creativity, and I think, What use is it? It's not rooted, not pointed, not political. And there always will be moments in time where that's really important, but for me right now, I feel like it's more important that I have a practical use."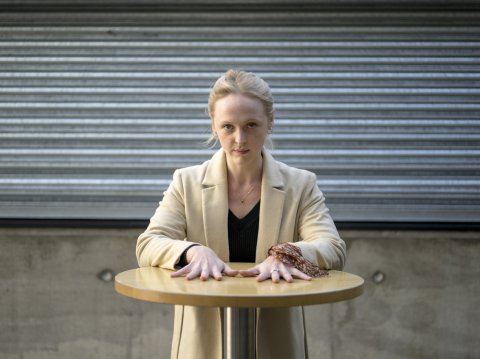 Mary Stuart is, of course, a play of some political substance, charting Mary's final weeks before she was executed by Elizabeth I for treason. Its revival seems timely, though Icke insists this was not wholly intentional. "I can give you the pat answer of it being about Theresa May and Hillary Clinton, and female power, and the relationships between politics and gender, and the need to tell lies when holding power," he says. "But the truth is, choosing a play is the same as falling in love: It's just something that happens, and you justify it afterwards." Still, he concedes that "it's one of those things where the world has caught up with the play—we programmed it before Brexit, before Theresa May came to power, before Hillary Clinton's campaign. But that's the sign of a really great play, that it resonates [with] whatever period you're in."
The subject resonated particularly loudly with Marling, who earlier this year began a podcast series she called Reversal of the Muse, exploring female creativity in interviews with singer-songwriters such as Dolly Parton and Emmylou Harris, as well as female record producers and sound engineers. Much of what they discussed has fed into her next album, Semper Femina, due early next year; it also echoed her work on Mary Stuart.
The play's depiction of femininity was, in part, what attracted her. "It's the weird duality of these two women representing very different ideals but also twinning each other," she says. "It felt quite relevant to my life in a way, figuring out where the young, innocent bit of me fits with the more practical bit. But it also felt relevant to what's happening in the world. [My] emotional resonance is with Elizabeth, because she's in this state of solitariness, and I found something very compelling in the whole tension of whether she's coerced into signing Mary's death warrant or whether it's really her inner want for control [that makes her do it]. There's something very raw to me still about how we look at women who make decisions."
This summer, in an example of what she calls "bizarre timeliness," Marling found herself reading a book called Writing a Woman's Life by the American feminist literary critic Carolyn Gold Heilbrun. "It's about how we still haven't taken control over the archetypes of what a woman's life is," she says. "Only late in the game did we allow women's biographies to be written by women, and even when they were, they were still written using the archetypes we felt women should fit into."
Bucking Archetypes
In her work for Mary Stuart, as well as her wider work as a songwriter, Marling has tried hard to buck those same archetypes. "When I was a teenager, in my head a woman was either a delicate tragedy or a muse," she says. "And they're both such horrifyingly subjugated roles." Even when she thinks of the subjects of the play, she admits she pictures "Elizabeth imprisoned in this giant theatrical dress, and Mary imprisoned in her quarters." She hesitates. "But I'm sure Robert will handle that in a really interesting and artful way."
Marling herself has been the subject, throughout her career, of attempts to force her into various poses. Emerging out of the same late-2000s London folk scene that birthed Mumford and Sons, her youth, physical slightness and early onstage shyness led some to portray her as a fragile, whimsical songbird figure. But she remains unruffled. "I'm interested in people's perception of the characters I've written and played with on my records," she says. "Because in my mind they're characters that can't be made tragedies of. But it's funny—sometimes my determination not to allow that narrative into my music means people make more of a thing of it."
She smiles, then goes on. "Our culture loves female tragedy. It's been so ingrained, over and over again, and there haven't been enough written alternatives to tragic, solitary woman. So that's my main focus now: rewriting that idea of the tragic woman. Because naturally, in my personality, I'm resistant to that kind of stuff. I'm not told what to do by anybody."
Mary Stuart will be at the Almeida Theatre, London, starting December 2.