"They came with machine guns. My granddaughters on the beach started screaming. They took away our phones so we couldn't call for help. Then they took our land."
It was a warm Sunday morning in September, and I was speaking with Maria Isabel Caro in Tulum, Mexico. A small town on the Caribbean coast, Tulum has become a popular tourist destination where "eco-chic" travelers can practice yoga, enjoy gourmet vegan meals and shop at bespoke fashion boutiques while staying at any of the dozens of luxury hotels lining the town's pristine tropical beach.
When Caro arrived here 30 years ago, however, there wasn't a hotel in sight: It was just a stretch of vacant land about 40 miles from the nearest city. She built a house on a small beachfront property and lived there with her family until three years ago. Then, on the afternoon of July 19, 2013, policemen stormed into her home. "My daughter-in-law was pregnant, and they just shoved her aside," says Caro. "They told us to get out, that they were taking our house."
The police declared her house had been built illegally and the state was repossessing it. Caro's home was one of 14 properties the authorities took control of that day, including several hotels from which tourists were thrown out on the street, luggage in hand. Since then, there have been three more forced evictions, with the latest occurring this past June when hundreds of armed men raided 17 more. "It's all about money," says Caro. "Getting rich by throwing people off their land."
Over the past five years, as Tulum has become increasingly popular and property prices have soared, environmentalists and residents like Caro have been battling business moguls and powerful politicians who are colluding to develop the land as quickly as possible. Meanwhile, the city's infrastructure is floundering, with raw sewage spilling into one of the largest underground river systems in the world. The damage may soon get much worse—a massive new real estate project with a murky past could see Tulum's population explode tenfold in less than 10 years. As Olmo Torres-Talamante, a local biologist, tells Newsweek, "This is the dark side of paradise."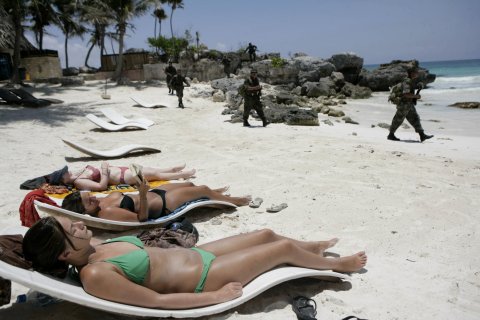 A Climate of Terror
The day we spoke, Caro and other evicted hoteliers and landowners met with Luz María Beristain, a state senator who was demanding the federal government intervene in Tulum to halt the forced evictions. As tourists lounged on the beach or swam in the turquoise water, Beristain told the group gathered at the Hemingway Romantic Eco Resort, "I'm ashamed that this is happening in my country."
The resort's owner, Paola Sbrizzi, a boisterous Italian woman who has lived in Tulum for 17 years, had invited the senator to speak at her hotel. "I came here on vacation," Sbrizzi says. "I fell in love, and I never left." Though she is now a Mexican citizen, many of the hotels and restaurants in Tulum are owned by foreigners—which is why the embassies of France, Italy, Portugal and the Netherlands sent a letter this summer to Mexico's foreign secretary demanding a "deep and serious investigation" into the forced evictions. "We are living in a climate of terror," Sbrizzi says. "I'm not taking deposits for reservations, because I don't know if I'll still be here in December."
Others feel frustrated that Tulum's rampant growth has led to this. In June, Larissa Juarez was evicted from the cabin her family built in 1999, when there was just a handful of hotels. "It was a place to be close to nature. We didn't even have electricity for years," she says. "Just candles." But five years ago, developers began building more and more hotels on the strip. "Everything changed when the New Yorkers arrived," she says. Tulum has become so popular with young American tourists that it's been referred to as "the Williamsburg of Mexico," after the hipster neighborhood in Brooklyn.
"We've had CEOs and millionaires from Berlin, Paris and New York," says Henning Schaub from Design Hotels, which manages the Papaya Playa Project hotel. René Redzepi, the chef behind famed Copenhagen restaurant Noma, recently announced he'll open a pop-up restaurant in town next year, serving meals for $600 a person. This kind of high-priced attention has made Tulum's real estate worth fighting for and, perhaps, worth killing for.
After a two-hour meeting with the hoteliers, Beristain led us all down the beach to survey the evicted properties. Many remain empty but heavily guarded, and as the group approached one of the hotels, half a dozen men swarmed upon us, some brandishing sticks and heavy chains. They demanded to know what we were doing there, why we were filming. The atmosphere was tense, but we assumed that having an elected official with us offered some protection. "We're just here to see the great work you're doing," said Beristain. "I'm a senator, so please don't hurt me. It would send you straight to jail."
"Where do you think I've come from?" replied a rough-looking man with a moustache. "I'm not afraid of you."
As we backed away, one of the men lifted his shirt to make sure we saw the pistol sticking out of his jeans. Beristain led the group farther down the beach. "They're the new pirates of the Caribbean," she said.
'Dark Legal Lagoon'
The complex story behind the evictions begins in 1973, when then-President Luis Echeverria designated some 25,000 acres in Tulum as communal farmland. Since then, the original farmers have divided the plot into many smaller pieces and sold them off, bit by bit. After 30 years of buying and selling, often with dubious contracts, it's hard to know who owns what. Almost all the original farmers have left, and much of the land is now owned by real estate moguls. "It's a dark legal lagoon," says Mario Cruz Rodríguez, the director general of tourism for Tulum. "And it's severely damaging our reputation."
The conflict in Tulum has proved deadly. In 2009, José Velázquez López, a local journalist who had accused local authorities of corruption and mismanagement, was shot and killed while driving through Tulum. Three years later, Álvaro López Joers, a lawyer representing some of the evicted hoteliers, was shot dead in his office. Neither crime has been solved.
Numerous investigative pieces by Mexican journalists, including a 2015 report in Newsweek en Español, have uncovered a complex web of forged land deeds, dubious lawsuits and counterfeit contracts pushed along by corrupt judges and government officials, including former Governor Roberto Borge. (Borge did not respond to numerous Newsweek requests for an interview. When contacted by phone and told he was speaking with a journalist, he said, "You've got the wrong number" and hung up.) "For evictions of this size, you need everything to work like clockwork," says Pedro Hernandez, who owned a hotel that was seized in 2014. "No one but a governor has that kind of power."
The Schiavon family from northern Mexico has laid claim to much of the beachfront land for years and reportedly instigated the latest evictions—signs outside many of the evicted hotels claim the land is their property. (A lawyer for the family did not respond to a request for comment.) Roberto Palazuelos, who owns several hotels in Tulum, says the Schiavons' claim is legitimate. Nicknamed "the Black Diamond" for his dark tan and piercing blue eyes, Palazuelos is an actor best known for playing villains on Mexican soap operas. He says that he bought his land back from the family a year before the last evictions and that other hoteliers should do the same. "They're just being stubborn," he says.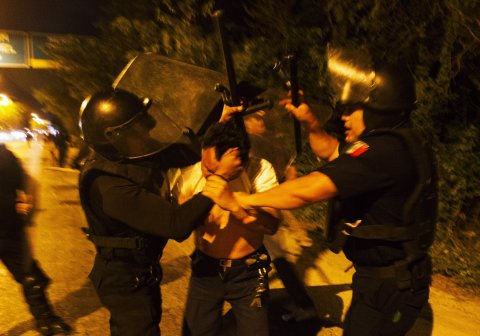 But hoteliers feel the matter should not be settled by buying back property they say is already theirs. "Ownership of the land should be respected," says Fernando Jimenez, owner of Naay Beach Club, who was evicted in June. "If there is a dispute, it should be resolved through a legal process. If we lose, too bad, we'll pack up and go. But that's not what's happened here."
As for the seized properties, many in Tulum dread what will happen to them and how radically the town may change. "They want to build huge hotels," says Sbrizzi, noting that several of the snatched lots sit side by side, creating one large piece of land. "Just imagine this place covered by giant, all-inclusive resorts."
'Don't Do Business With Mexico!'
When you drive into Tulum, you're slapped in the face with a dramatic choice between ancient culture and modern excess. On the left, signs point to the remains of an ancient Mayan city overlooking the ocean. On the right, they point to Aldea Zama, the largest real estate development in Tulum. As you draw closer to the city, the advertisements for it multiply, all depicting tropical vistas, infinity pools and bikini-clad models posing in front of brand-new condos.
The project was launched by MayaZamá, a real estate company that, according to its website, is "best known for the balanced sustainable communities it creates within the Yucatan Peninsula." The company's partners, "have been in business for the past 30 years.… Their respect for their land mandates that major parcels remain as they inherited them—pristine and preserved."
MayaZamá's partners include real estate mogul Emilio Díaz Castellanos, who, along with several others involved in the company, has been linked to cases of property fraud and corruption across the peninsula. Another prominent partner is Rodolfo Rosas Moya, a businessman who's been called "the man who made Donald Trump hate Mexico" because a deal involving properties owned by Rosas Moya ended in litigation. "I have a lawsuit in Mexico's corrupt court system that I won but so far can't collect," Trump tweeted last year. "Don't do business with Mexico!" (Neither Rosas Moya nor Castellanos responded to several requests from Newsweek for comment.)
The MayaZamá group has been buying property in Tulum since at least 2006. In September of that year, the company purchased nearly 800 acres from the Institute for State Patrimony, which manages government property assets. One week after that sale, the IPAE's director, Francisco Garibay Osorio, resigned following allegations of corruption.
Over the next 10 years, MayaZamá bought hundreds of acres from the IPAE, most of it at below-market prices. This includes nearly 50 acres that had been donated to the state university for a research and sustainable development campus. Documents show that the property was valued at $5.4 million in 2008; one year later, MayaZamá paid just $1.3 million. In 2014, MayaZamá's associates divvied up a separate, smaller property that had also been intended for the university. Included in the beneficiaries of the deal: a company registered to Garibay Osorio. (Garibay Osorio could not be reached for comment.)
For Tulum residents, dubious land deals like these are part of a long history of corruption and nepotism. According to Fabiola Cortes, an investigative journalist and lawyer, Borge sold at least 44 properties that were state land at undervalued prices to the benefit of his friends and associates.
Borge left office in September, and since then several investigations have revealed cases of real estate corruption involving the governor, including properties on the island of Cozumel that the Trump family had been considering as a potential investment. In November, the administration of Governor Carlos Joaquín filed a criminal complaint against Borge for selling off more than 23,000 acres to benefit his relatives, employees and business partners. "There has not been a single area where we did not find significant irregularities in the [previous administration's] management of resources," said Rafael Antonio del Pozo Dergal, secretary of public management. "The loss is enormous."
Pristine Beaches and Raw Sewage
MayaZamá owns over 1,000 acres in Tulum, including a stretch of pristine beachfront land. This makes it one of the largest property owners in a market that has grown exponentially in value. For analysts who have studied Yucatán's rampant real estate growth, this process is all too common. Luis Alberto Salinas, from the geography department at Mexico's National Autonomous University, spent a year investigating MayaZamá in 2012. "They're generating huge amounts of wealth by dispossessing public land," he says. He's witnessed similar processes across Latin America: "It's a device of globalization, creating exclusive spaces for the wealthy, for foreigners."
Nuri Paulina Arias Muñoz, a property consultant in charge of sales for Aldea Zama, says exclusivity is what sets Tulum apart from other megaresorts nearby, like Playa del Carmen and Cancún: "The people who live here are artists and models, people with high purchasing power." Still, she says the development also benefits locals, acting as an "economic pull" for people from all over the state and beyond.
Elidea López Menez, who has lived in Tulum for nearly 30 years, says Aldea Zama "creates a bit more work so people can prosper." She was a maid at a condo there, working eight to 12 hours a day, six days a week. Menez lives in the southern section of Tulum, and although it's less than a mile from Aldea Zama, the contrast couldn't be starker. Instead of wide, paved avenues, the streets in her neighborhood are cracked, broken and dotted with piles of garbage. While Aldea Zama's condos gleam in the Caribbean sun, Menez's home is a narrow concrete house she shares with eight members of her family. The smell of raw sewage is overpowering: The city has a water treatment facility, but only about 30 percent of the houses are connected to it. "Things aren't very good here," she admits. "There's no sewer system downtown."
Menez says her family members often get sick. "Every time there's a change in the weather, it affects my granddaughter. She gets a stomach ache and diarrhea." Jose Gabriel Lopez, a gastroenterologist and director of Tulum's Red Cross, says the health issues faced by Menez and her family have become common among residents, in part because of the sewage problem. "I've seen a 30 percent increase in gastrointestinal diseases in the last year alone," he says. "The health system here is still very deficient. The city just lacks infrastructure."
Down on the beach, things aren't much better. Juan Antonio Acosta Giraldo is a microbiologist and biotechnologist who runs a local plumbing and engineering company. He estimates some 80 percent of Tulum's hotels lack proper water treatment. "The hotels advertise themselves as being 'eco-chic,'" says Juarez, a recent evictee. "But they don't care at all about the ecosystem. They throw their sewage water straight into the ocean."
A 2013 study of Tulum's underground river system published in the Journal of Environmental Protection found that many hotels "dump sewage directly into mangrove swamps or inject the improperly treated wastewater into saline water just below the freshwater." As a consequence, "fecal contamination is widespread."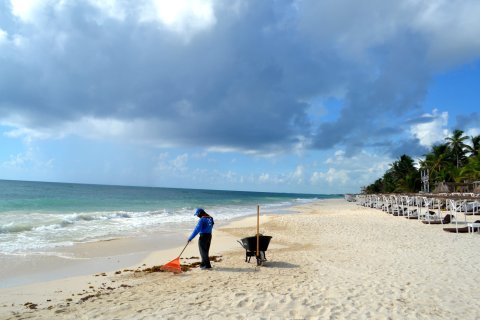 Local wildlife is also in trouble. From May to October, loggerhead and green sea turtles, both endangered species, arrive in their hundreds to lay eggs on Tulum's beaches. Female turtles lay up to 300 eggs, but the survival rate for their offspring is extremely low. "For every 1,000 turtles I help release into the ocean, only one will make it back to the beach," says Cuauhtemoc Sayago, who runs Tulum's turtle protection program. On an increasingly crowded and polluted beach, this abysmal survival rate could plummet. Developments like MayaZamá and others are also rapidly encircling Tulum National Park, home to endangered species like jaguars and ocelots.
Trash too has become a serious issue. "There is no garbage system," says Xavier Peralta, an environmental activist. "It's all just dumped in the jungle." Some 6 miles west of town, the city's dump is a sprawling, towering mass of waste. "Imagine what happens when it rains, and that rotten broth is filtered underground."
He adds, "Tulum is a ticking time bomb."
'One Big Piece of Swiss Cheese'
Tulum sits on the eastern edge of the Yucatán peninsula, a lush arrow of land made up of soluble rock like limestone and dolomite. This means rainwater doesn't stay on the surface to create rivers or lakes; instead, it filters underground, forming an intricate network of caves and rivers. Over time, some freshwater caves collapse, leaving sinkholes—the cenotes that pepper the peninsula.
"It's one big piece of Swiss cheese," says Sam Meacham, a cave diver and director of the Center for Investigation of the Aquifer System of Quintana Roo. He has spent two decades exploring the Yucatán. "We've got two of the largest cave systems on the planet," he says. "One is right here in Tulum." For Meacham, the importance of these cave systems isn't just their geology but also the insight they provide into human history, as many are filled with archaeological remains: In 2007, Mexican divers found the skeleton of a teenage girl dating back 12,000 years —one of the oldest skeletons ever found in the Americas. "These cave systems are time machines," says Meacham.
Torres-Talamante, the local biologist, says the significance of the underground cave system can't be underestimated: "It's like the Amazon." To show me exactly what he meant, he took me diving in the deepest cenote in the state, aptly named the Pit.
Just a narrow gash in the middle of the jungle, the Pit descends over 300 feet underground. Filled with clear, fresh water, the cave opens up into a huge cavern; shafts of light pierce the dark, illuminating giant stalactites pointing down into the deep. Embedded in the walls of the cave, Torres-Talamante pointed out, are fossils of seashells and other crustaceans dating back millions of years. At 90 feet, the cave's freshwater meets the heavier saltwater below, forming a ghostly green hydrogen sulfate cloud. Decomposing trees that have fallen from the jungle above stick up through the cloud, like a haunted forest. "It's nature's cathedral," says Torres-Talamante wistfully once we are back on dry land.
Unfortunately, cenotes like the Pit might not remain crystal clear for much longer. A 2010 study in Environmental Pollution found traces of domestic sewage and even cocaine in the cave systems beneath Tulum, concluding that "land and water management in the region is fragmented, and is often ineffective in the face of pressure to develop the tourism and recreational industry."
Because all these underground rivers are interconnected, polluting just one cenote can affect the entire system, but Torres-Talamante says the contamination is easy to ignore because it's happening underground: "The heart that can't be seen can't be felt."
Yet the water still flows into the ocean eventually, where the effect of this contamination is more obvious. "All of us who've worked in this field have borne witness to [reefs'] destruction," says Roberto Iglesias-Prieto, a professor of biology at Penn State University who's been studying the reefs off the coast of Mexico for 20 years. Over the phone, he explained that wastewater, even when treated for solid contaminants, increases the levels of nitrogen and phosphorous in the ocean, which produces algae. The algae competes with the corals for nutrients and causes disease and bleaching in the reef. "When combined with climate change," he says, "the result is disastrous."
The problem is widespread. Reefs off the coast of Tulum are part of the Mesoamerican Barrier Reef, the largest in the Western Hemisphere, touching Mexico, Belize, Guatemala and Honduras. According to the 2010 study in Environmental Pollution, the system has seen a 50 percent loss of coral cover over the past 20 years. "It's an ecocide," says Gustavo Marín Guardado, an anthropologist with Mexico's Center for Research and Higher Studies in Social Anthropology. "Everything is being thrown into the underground rivers as if they were black holes."
The Amazing Mysticism
Though the long-term outlook is grim, the environmental situation in Tulum is still manageable: The city receives just a fraction of the millions of tourists who visit nearby Cancún and is home to fewer than 30,000 people. But MayaZamá will attract thousands of new inhabitants — not just the development's actual residents but also people like Menez who will move here to work as maids, cleaners, cooks, gardeners and more.
Prospero Espinosa is an environmental lawyer who assessed MayaZamá's development proposals on behalf of the Mexican Center for Environmental Law. According to his report, if the group's current plans go ahead, the town's population could increase tenfold in less than 10 years. "The project isn't sustainable," says Espinosa. "It's not responsible. It's not viable."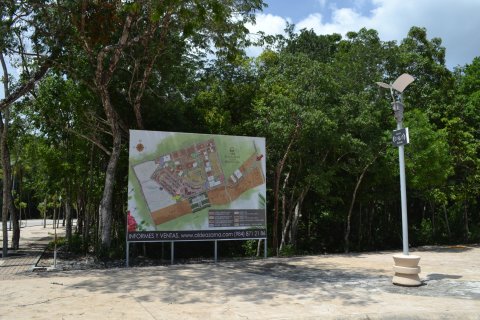 In a city already struggling with garbage disposal, sewage treatment and environmental conservation, the result could be disastrous. The report concluded that "the impact of this growth would be brutal, devastating and uncontrollable."
And while MayaZamá is by far the largest and the most controversial real estate project in Tulum, there are dozens more in development around the city, all offering the same luxurious eco-chic experience. On a warm Friday night in September, a real estate company called Los Amigos held an event to celebrate the launch of its next venture: Central Park, a new luxury condominium project billed as "the new icon of Tulum."
The launch took place on the southern side of the city, not far from where Menez lives. Illuminated with spotlights like a Hollywood premiere, the event was filled with elegant socialites sipping cocktails and nibbling hors d'oeuvres. A woman on stilts waltzed through the crowd, followed by a man dressed as a Mayan warrior but covered in sequins. Later, a group of acrobats spun flaming wheels above their heads, juggled torches and spit fire.
"The mysticism is so amazing in Tulum—you can almost taste it," said a prospective investor standing next to me, before being whisked off by one of the real estate agents to view the swanky showrooms. As the developers unveiled their pièce de résistance, a giant, flower-shaped solar panel, other prospective investors raced to put down deposits on luxury condos. "We've received 60 building permits this year alone," said a real estate agent as she wooed another client. "It's the Tulum boom."
This reporting was supported by the Fund for Investigative Journalism.