For centuries, going back as far as the days of the czar Ivan the Terrible, vodka has been Russia's drink of choice. Another czar, Peter the Great, always kept a goblet of vodka at his palace banquets—downing it was the penalty for arriving late. Dmitri Mendeleev, the inventor of the periodic table, wrote his doctorate on the distillation of vodka in 1865. And legend has it that Josef Stalin's father used to give his baby son a cloth soaked with vodka, rather than a pacifier.
But now analysts claim the country's national spirit is being replaced by lighter, trendier and cheaper alternatives, such as hard cider. The latest proof: Sales figures from Russia's Federal State Statistics Service showing that legal sales of fruity cider climbed by 35 percent during the first three quarters this year. Vodka sales, however, barely budged.
This decline began gradually in 2007 as a new generation of Russians grew up with a wider variety of choices. But it's accelerated rapidly in recent years, as the country's economic crisis has worsened, thanks in part to Western sanctions and a drop in oil prices.
Vodka, it seems, is not only out of fashion for young Russians; it's also too expensive. Since 2013, the Russian government has made steep annual increases in the excise tax on alcohol. In 2014, the government also hiked the minimum price for vodka, as Russia's recession hit consumer spending. Since the start of the financial crisis two years ago, alcohol prices have risen by almost 21 percent. The result: Legal sales of Russian vodka fell by 13.4 percent, compared with the same period two years before. Only in recent months has the industry showed signs of stabilizing, with the introduction of a new excise tax increase likely in 2017.
Just how much the market for vodka has declined remains unclear, because the analysts aren't factoring in Russia's huge black market for booze. Finam, a Moscow-based market research company, estimates that illegal sales make up at least 20 percent of the alcohol trade in Russia, while the U.S. Department of Agriculture has cited figures estimating that the number is 50 percent.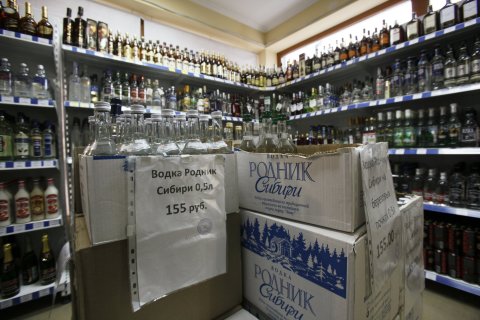 "Since the 1990s, a big share of the vodka market has been illegal, though it is often produced by the same enterprises as legal vodka," says Sergey Aleksashenko, a Russian economics analyst at the Washington-based Brookings Institution. "The financial incentive to avoid excise tax is big, because, other than that, vodka is simple and cheap to make. It is more profitable than oil."
With the holiday season approaching, how much vodka has fallen out of favor with Russians should soon become clearer. For the first time since launching its new nationwide bottle demarcation system in January, Moscow will attempt to electronically track all alcohol transactions in the country.
So when Russians toast the New Year, the Kremlin will be watching.