On a cloudy evening in August, Rezai Karim and his girlfriend were swimming in the pool outside of their new home in Roanoke, Virginia, when it started to rain. They headed inside, still damp, and made their way upstairs to their third-floor apartment. As they opened their front door, a man appeared behind them and forced his way inside. "Allahu Akbar!" he shouted, then slashed them with a butcher's knife. "The next thing I remember," Karim says, "is that I'm on the floor."
The now-34-year-old software engineer managed to stand up and wrestle the attacker off his girlfriend, and the couple bolted downstairs and out into the rain. The assailant followed, but then sprinted away into the night. "I was screaming, 'Somebody stop him!'" Karim says.
It was only when the man was gone that Karim realized he was bleeding—from his neck, his shoulder, his back, his face. Soon, he and his girlfriend, who had a deep gash on her leg, collapsed on the pavement, where they stayed until the neighbors called an ambulance.
It was their first day in their new home.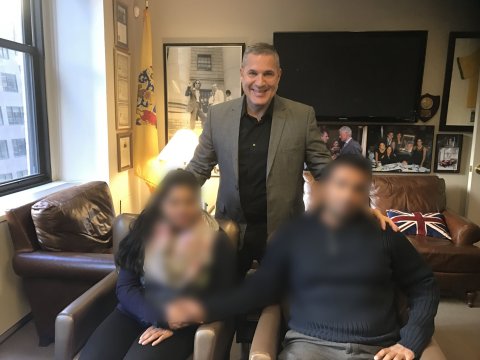 Some three months later, local authorities have turned their investigation over to the FBI. The suspected attacker, Wasil Farooqui, is in custody and was scheduled to undergo a psychiatric evaluation, but CBS News and CNN reported that the FBI had been tracking Farooqui for possible ties to radicalism. A spokeswoman for the bureau declined to comment to Newsweek, citing the ongoing investigation.
Either way, there's an upside for Karim, a Muslim immigrant with a temporary work status. While millions of immigrants fear deportation under President-elect Donald Trump, the assault may make him eligible for a long-term visa—and save him from having to return to his native Bangladesh, a country he hardly remembers. The only catch: There's a really long waiting list.
Related: Illegal immigration: myths, half-truths and a hole in Trump's wall
10,000 Victims
Once an immigrant without documentation, Karim came to the U.S. with his parents at age 5 and grew up in New York City, where his father worked as a dishwasher and sold books on the sidewalk. As a boy, Karim used to go to Yankee Stadium with his uncle, eating hot dogs and watching Yankees star first-baseman Don Mattingly. It wasn't until high school that he learned what it really meant to be undocumented. "I was looking toward my future," he says. "[But] I couldn't get a job. I couldn't do anything for myself."
He was finally able to get a job at Dunkin' Donuts, and the money he saved helped him pay for college. He considered a career in law, but his immigration status made that dream seem impossible, since he technically wasn't allowed to work. He graduated from John Jay College in 2009 with a degree in psychology. He says he "was just hoping something comes along" to help him get documented and start a career.
Three years later, something did come along. The U.S. Department of Homeland Security announced it would start a program called Deferred Action for Childhood Arrivals (DACA), which said certain immigrants who arrived in the U.S. before they turned 16 and were younger than 31 at that time could apply for work authorization. The status would also prevent them from being deported.
Immigration reform advocates praise the program. But not enthusiastically. That's because DACA status lasts just two years before it must be renewed, and it doesn't lead to citizenship or even lawful permanent-residence status. "It's tantamount to a Band-Aid because it doesn't give them a path to a green card," says Michael Wildes, Karim's immigration lawyer, who has also represented celebrities such as Gisele Bündchen, Boy George and Melania Trump. "DACA…is not really giving closure to these young souls," he says. "They have no accents. They know from no other flag."
Since 2012, 820,000 people have received deferment under DACA, according to the most recent numbers available. The renewal process is costly ($465), and the window for renewal is short: between four and five months before the expiration date. DACA's future is also precarious. Obama tried to expand the program in 2014, but some two dozen Republican-controlled states, and a few Democratic-controlled ones, sued the federal government to block it.
Now the program is in even more jeopardy; Trump has called DACA "illegal and unconstitutional." "DACA has become a political ploy," Wildes says, "and unfortunately it renders this entire community vulnerable" by granting people rights and then threatening to take them away.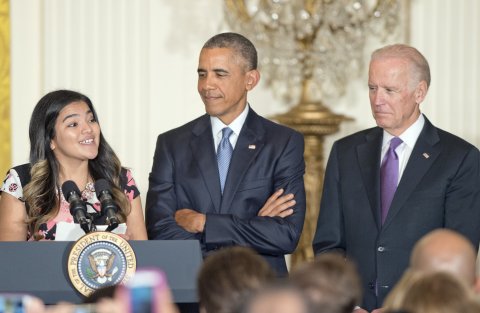 Yet registering with the program has made Karim's life better. Thanks in part to DACA, he found work as a software engineer. He moved to Roanoke for the new job, to start a new life with his girlfriend, whom Newsweek is not naming in this article on Wildes's request. Then, as Karim was reapplying for his DACA work authorization, the attack occurred.
Because of the assault, however, Karim is now eligible for something far better than DACA. It's called a U visa, and since 2000 it's been available to victims of certain crimes, such as abduction, blackmail, prostitution and torture, if they help law enforcement during the investigation of that crime. Family members of victims are eligible too. The visa is valid for four years and can be extended. For a crime victim to receive one, a local law enforcement official must confirm that the person is helping in the investigation. Up to 10,000 victims can get them each year, along with an unlimited number of family members.
The downside: According to the latest figures, U.S. Citizenship and Immigration Services received 29,661 U visa petitions between January and June of this year and approved only 1,274 of them. Last fiscal year, the agency received 52,666 and approved 17,694. As of June, the waitlist was 135,641 petitions, more than six times what it was in 2009. Some immigrants are shipped back to their birth countries as a result of the long wait. "I've seen cases where someone who is U visa eligible, their deportation is actually executed even though they're in line waiting for USCIS to process the visa," says Clara Long, an immigration researcher at Human Rights Watch, a nonprofit.
Yet U visa holders can apply for a green card and permanent residency, and eventually citizenship, unlike those enrolled in DACA. Even better: It would take more than a new executive action to overturn the U visa law.
'Removed From America'
The U visa program was designed partly to build trust between law enforcement and immigrants, who reform advocates say are often afraid to dial 911 for fear of entering the system. Many have real reasons to worry; since the mid-1990s, laws have given local police the authority to enforce federal immigration rules. The Priority Enforcement Program, for example, asks local law enforcement to share the fingerprints of the people it books with immigration officials. Such programs, originally meant to target gang members and terrorists, says Muzaffar Chishti, director of the Migration Policy Institute's office at the New York University School of Law, "became a rather convenient instrument for local police to put garden-variety unauthorized people in immigration proceedings." Thanks to these programs, he adds, "it was no longer [Immigration and Customs Enforcement] people running around the streets of Georgia. The funnel was coming from the local criminal justice system."
Today, many immigrants fear that any encounter with police could lead to deportation. In 2013, the Department of Urban Planning and Policy at the University of Illinois at Chicago reported that 44 percent of Latinos surveyed said they were "less likely to contact police officers if they have been the victim of a crime because they fear that police officers will use this interaction as an opportunity to inquire into their immigration status or that of people they know." For immigrants without documentation, the number was 70 percent. Even 28 percent of Latinos born in the U.S. said they were less likely to contact police because of immigration concerns. "If there is any kind of allegation of any kind of criminality," Wildes says, "any one of these [immigrants] could be removed from America."
Karim's record is clean, and he is fully cooperating with investigators as they try to figure out why he was attacked. Police apprehended Farooqui, his suspected assailant, the night of the slashing when he showed up to the hospital for the injuries he received in the struggle. He told a detective he had ambushed the couple because voices in his head told him to, according to a search warrant for the suspect's home. A grand jury is set to consider the case in early December. Sheila Moheb, Farooqui's lawyer, says her client traveled to Turkey in early 2016 (she would not say why) but added that he has no ties to extremist organizations and that the Roanoke incident was not a terror attack but something "fueled by his mental illness."
Karim is now living in a different apartment in Roanoke. His girlfriend has suffered panic attacks since the episode and is staying with his mother in New York City. The ordeal hasn't changed how he feels about his adopted country, and he wants more than ever to protect it from people like Farooqui. "I felt that this man was a terrorist, like he was there to hurt people," Karim says.
"I [don't] want him to get away and do this again. Or do something worse."
Read more from Newsweek.com:
- Opinion: On immigration, Trump has a slender grasp of the facts
- Trump vows to deport up to 3 million immigrants
- Immigration hardliners see allies in Trump Transition