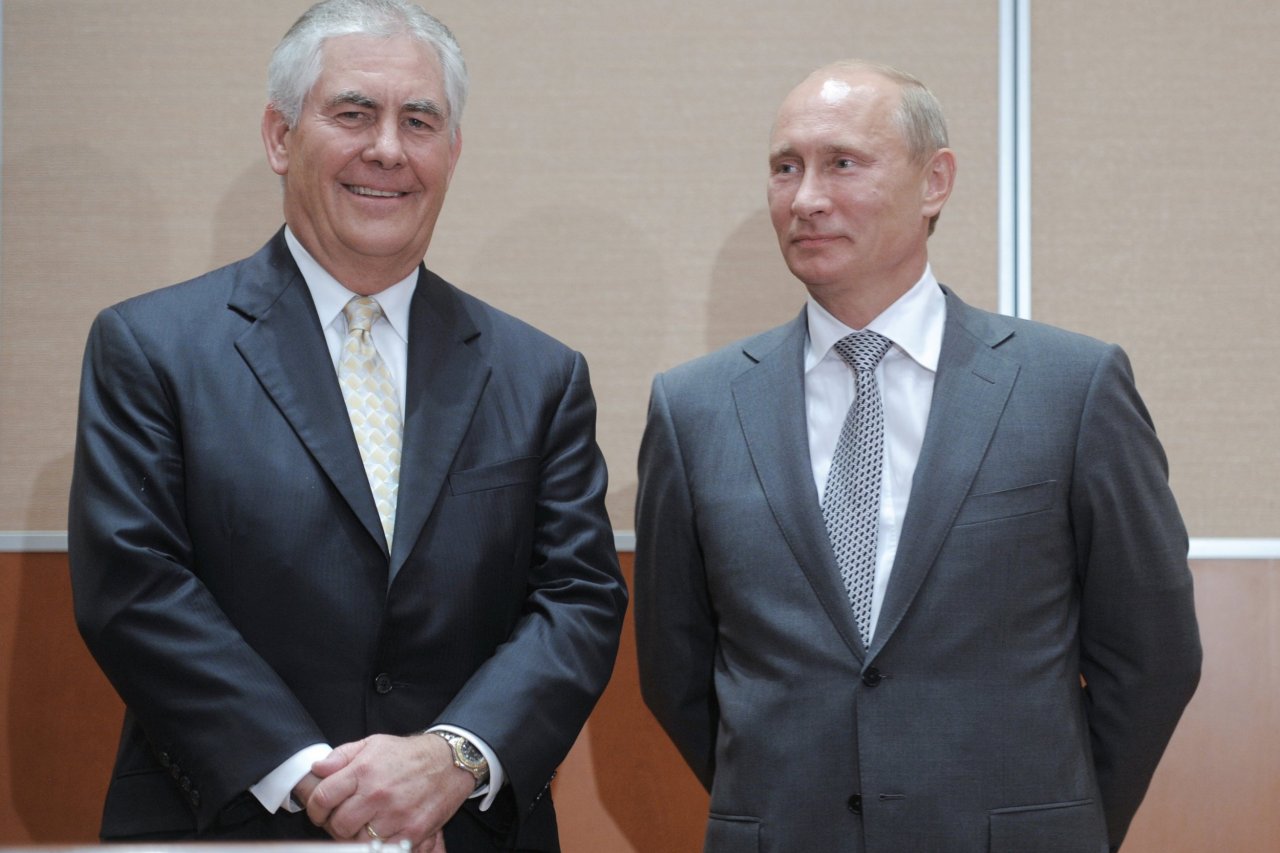 Rex Tillerson, President-elect Donald Trump's pick for secretary of state, personifies two major concerns about the incoming Trump administration: conflicts of interest and ties to Russian President Vladimir Putin.
As the long-serving CEO of U.S. oil giant Exxon Mobil, Tillerson has a close personal relationship with Putin, according to the latter's business associates in Russia, who asked for anonymity because they still live in the country. "Probably closer than any other American," says one senior Western banker who has worked in the country for nearly 20 years and has met Tillerson frequently. "There's no other private U.S. citizen," says a veteran oil industry financier, "that could get Putin on the phone."
Related: Trump's business ties are already jeopardizing U.S. interests
Both men, the Western banker notes, are pragmatists. "The main job of any oil major executive is to book new [oil] capacity, and Tillerson has to get that done in Russia, and in Iraq, regardless of political differences," he says. "And Putin knows that the main business of Russia is natural resources, and he needs Western know-how to get the oil out of the ground."
Exxon has been doing business in Russia for more than 20 years—but with Tillerson at the helm, the company's Russian operations have expanded massively. The Texas-born oil man has spent much of his 40-year career at Exxon managing the Russia account. In his book Private Empire: ExxonMobil and American Power, journalist Steve Coll writes that Tillerson was selected to succeed Lee Raymond as CEO in 2006 because of his relationships with top members of the Kremlin's inner circle.
Those friendships seem to have paid off. In 2011, Tillerson flew to Putin's villa in Sochi to broker a $723 million agreement giving Exxon Mobil access to huge untapped resources under the Arctic, in partnership with the Russian state-owned oil giant Rosneft. In exchange, Rosneft invested in Exxon Mobil's operations overseas.
Tillerson negotiated the deal with Igor Sechin, a former KGB officer who worked with Putin in the mayor's office in St. Petersburg in the 1990s and who has risen to become one of the Kremlin's most powerful courtiers. Putin has "received Tillerson several times for business discussions," Kremlin spokesman Dmitry Peskov said in a statement Tuesday, and in September 2012 Putin approved the Order of Friendship medal that he personally presented to the 64-year-old oil executive for his services to business. In 2014, Sechin told Rosneft shareholders that he would like to "ride the roads in the United States on motorcycles with Tillerson."
The Kremlin's close relationship with Tillerson is not simply a cordial byproduct of a lucrative business deal—it is the very basis of Exxon's business in Russia. "Anything to do with natural resources requires the personal approval of Putin and, to a lesser extent, Sechin," says Bill Browder, CEO of Hermitage Capital, who was the biggest foreign portfolio investor in Russia before being expelled in 2006 for exposing a massive tax scam by Russian officials. "They wouldn't approve it unless they get something from it, strategically or economically."
Other Western oil majors have run into major problems with the Russian state. In 2006, Royal Dutch Shell was effectively forced to sell a majority stake in the Sakhalin-2 exploration project to the state-owned gas company Gazprom, while in 2008 BP was pressured into dumping its assets after Moscow revoked its British CEO's visa and the Federal Security Service mounted a series of raids on TNK-BP's offices. BP was pushed out of the partnership, which was eventually bought by Rosneft in 2013.
But Exxon has never has such problems—largely thanks to its government connections. The company learned an early lesson on respecting Kremlin power in 2002. Tillerson's predecessor began negotiations with dissident oligarch Mikhail Khodorkovsky to buy a major stake in Yukos-Sibneft—at that time the last major privately owned Russian oil company. The talks quickly broke off when Khodorkovsky was arrested and jailed for tax evasion and his company broken up and swallowed by Rosneft. Tillerson understood that when it comes to Russia's oil, the Kremlin is the only possible partner.
"Exxon is too big to bully," says a senior Russian lawyer who worked for TNK-BP in the 2000s (he requested anonymity because he still works in the Russian energy sector). "And Rosneft needs Exxon's technical expertise because it's running out of easy-to-reach oil."
For instance, Exxon's Yastreb-1 state-of-the-art drilling rig, located off the northeast coast of Sakhalin Island in the Russian Far East, is one of the largest in the world, standing 160 feet tall. And the company's Z-12 well at the Chayvo oil field set a new world record for extended-reach drilling, boring an 11,680-meter-deep well.
By allowing Rosneft to invest in major Exxon projects abroad, the two companies have become deeply intertwined with each other, which "amounts to a kind of mutual insurance policy," says the TNK-BP lawyer. "Rosneft is protected from raids from inside the Russian elite by its foreign investments, while Exxon is protected against…the kind of disasters that befell BP and Shell."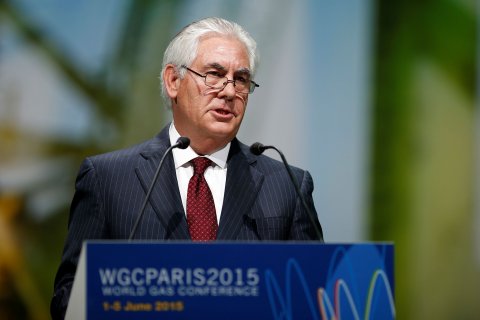 U.S. and European Union sanctions imposed on Russia in early 2014 in the wake of the country's annexation of Crimea were a major blow to Exxon—and Tillman was vocal in opposing them. The company had to suspend nine out of 10 joint oil exploration projects in the wake of sanctions—and in November 2014, Exxon applied unsuccessfully to the State Department for an exception to be made for the Pobeda drilling project on Sakhalin, which struck oil just two weeks before Exxon was forced to pull out. According to a February 2015 Exxon Mobil filing with the U.S. Securities and Exchange Commission, the company lost up to $1 billion from sanctions.
In a gesture of solidarity with Russia, Tillerson attended the 2016 St. Petersburg International Economic Forum—in defiance of sanctions and an unofficial U.S. business boycott of the Kremlin-sponsored investors' jamboree. According to the forum's website, Sechin—who has been targeted with personal travel and financial sanctions by Washington for his role in Russia's intervention in Ukraine—was also in attendance.
Tillerson's position on sanctions may lead to some rocky confirmation hearings. What might make them more heated: The hearing will likely coincide with a congressional investigation into Russia's role in the hacking attacks against Trump's opponent, Hillary Clinton, and the Democratic National Committee.
Related: Why Putin feared a Clinton presidency
Tillerson's open friendship with Putin insiders have riled many congressional Republicans. Senator John McCain has called his Russian ties a "matter of concern." Europeans, nervous about Russia's aggressive stance in Syria and regular saber rattling on the eastern fringes of NATO, will also be concerned. Tillerson's "vocal comments on withdrawing sanctions are clearly at odds with the global view about Russia," says Browder. "Russia invaded a foreign country. Sanctions imposed in response to that shouldn't be lifted unless Russia agrees to comply with the [cease-fire] Minsk Agreement."
Both Exxon and Tillerson—whose declared stake in company stock stands at $218 million, with a pension pot totaling a further $70 million, stand to gain massively from the end of sanctions and the resumption of business as usual with Russia.
According to Coll's book, Exxon Mobil sees itself as "an independent, transnational corporate sovereign in the world, a power independent of the American government." Tillerson, both in attempting to gain exemptions from sanctions against Russia in 2014 and with deals signed directly with the Kurdistan Regional Government in Iraq in 2011, has gone against State Department policy in the name of his duty to shareholders. Many fear that his years-old friendship, both personal and professional, with top members of the Putin regime will bring profound changes to U.S. foreign policy.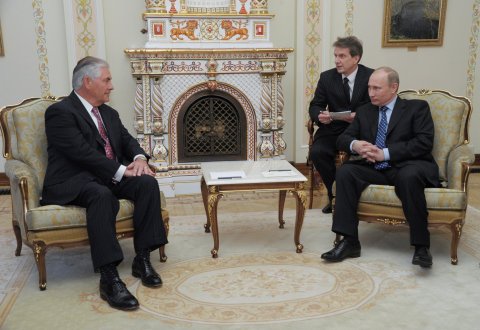 "You can't have strong views one day to another and change them according to your job," says Browder. "Putin has made his wish list very clear—he wants sanctions lifted, for NATO to remove its forces from areas bordering Russia, the repeal of the Magnitsky Act [sanctioning corrupt Russian officials] and compensation for the economic losses Russia has suffered from sanctions. I imagine at least some of those requests will be very acceptable to the new administration."
Read more from Newsweek.com:
- How Vladimir Putin is using Donald Trump to advance his goals
- Did Russia help Trump win the 2016 election? The CIA thinks so
- Donald Trump's Russia dilemma