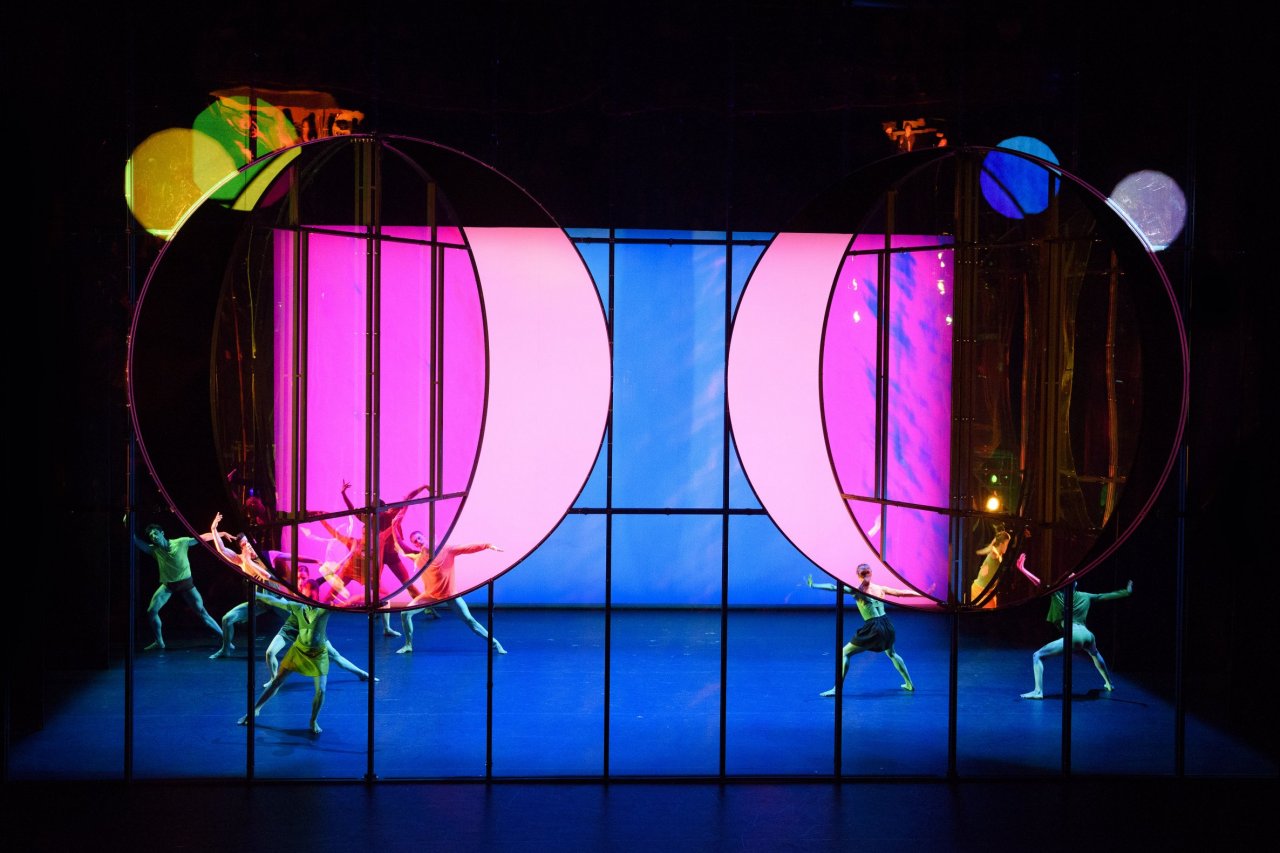 Although 450 miles of cold and choppy North Sea divide Aarhus, on the east coast of the Jutland peninsula in Denmark, and Kingston-upon-Hull on the northeast coast of England, the two ports have something in common. Stroll on both refurbished waterfronts and you feel the tides of change. In Hull, the futuristic, pointed prow of The Deep—an aquarium and ocean-research center—thrusts into the broad Humber estuary, while next to the marina, new arts venues and craft workshops are filling the sheds and stores of the old fruit market. On Aarhus's newly smartened dockside, the dazzling, seven-sided Dokk1 looks like a spaceship, but it holds a state-of-the art library and cultural hub. The reason for all this activity? Both places are 2017 cities of culture.
Aarhus, along with Paphos in Cyprus, is the latest city to win the EU's Capital of Culture title: a competitive accolade first awarded to Athens in 1985, and now granted to two bidders every year. Hull, meanwhile, has become the second place after Derry-Londonderry in Northern Ireland to benefit from the U.K.'s own City of Culture scheme. The U.K. devised this domestic spin-off, held every four years, after the success of Glasgow and Liverpool as Europe's Capitals of Culture in 1990 and 2008.
Both victorious cities promise a year-round jamboree of arts, spectacles and community events. From a Viking epic on a museum roof and a year-round residency by the singer-activist Anohni in Aarhus, to multimedia installations by the lighting designer of the Rio 2016 Olympics, a festival of Nordic music and even a live performance of the whole of David Bowie's The Rise and Fall of Ziggy Stardust, their calendars bulge with goodies. "This is a 365-day program," stresses Martin Green, chief executive of Hull 2017, and the mastermind behind London's Olympic ceremonies in 2012. "Many people in my industry are used to planning for a two-week festival. You have to find a different rhythm."
Different Cities, Different Needs
Bringing a festival that lasts a year to a city means not just appealing to art lovers, but providing something that connects with the city's residents. To that end, the chief executive of Aarhus 2017—Rebecca Matthews, a British woman married to a Dane—has planned a year of events "so broad and diverse that everyone can find their place in it." Her program was not dropped by parachute at the behest of remote mandarins, but rather it has grown out of consultation with locals. For Matthews, this is a very Danish virtue. Children have a particularly central role in Danish social life. So on January 20, Matthews will open her year with Dreamland, a participatory festival inspired by children, with events in 18 municipalities. At daybreak on January 21, a cycle parade will cross the region and converge on Aarhus city hall for the opening ceremony.
The twin programs, however, will flower on very different soils. Aarhus sits snugly in an affluent corner of Denmark, a nation that regularly appears at or near the top of the U.N.'s world happiness index. Lonely Planet rated Aarhus as the "second coolest place on earth." In a laid-back and low-key city center, more comfortable than showy, the Latin Quarter hosts designer boutiques and lively, student-thronged clubs. A little further out is a series of world-class museums, notably the 10-story ARoS art center. Matthews acknowledges that no crisis or decline prompted the bid. Rather than civic recovery, her program will focus on pan-European themes of sustainability, diversity and democracy.
Hull, in contrast, hankers for good news on its doorstep; it has more at stake than Aarhus. Since the 1970s, with the decline of its maritime trade and fishing fleet, the area has suffered acutely from post-industrial blight. Behind the waterfront, monuments to Victorian civic grandeur and the few picturesque streets of the Old Town sit beside bleak and charmless developments, thrown up after Hull suffered severe bomb damage during World War II. Hull has the lowest average wage of any city in the U.K. and, in a 2015 survey of 138 British locations, came next to bottom in a quality-of-life index. The city registered its discontent last June when 63 percent of voters opted to leave the European Union, one of the highest proportions in urban Britain. On the morning after the referendum, Green encouraged his team to use the City of Culture program as an opportunity to heal divisions. "It would be so easy for us as arty people simply to come from a position of, 'You are wrong and we are right,'" he wrote to them in an email. Instead, he hopes that the year will foster dialogue and "create mutual spaces where the leavers and the remainers can come together and find a common way forward."
In Hull, the program's planners have made public involvement essential to the project. By seeking the advice of residents, building a network of partners and volunteers, and fostering a sense of ownership, the city council says it boosted local approval for the year of culture from 20 to 80 percent. For his Sea of Hull commission at the renovated Ferens Art Gallery, American artist-photographer Spencer Tunick persuaded more than 3,000 Hull residents to strip off and coat themselves in varying shades of blue paint for a piece based on collective nudity. After the shoot, a beefy local—his feet still painted blue—told Green "in very colorful language" that it was the most liberating experience in his life.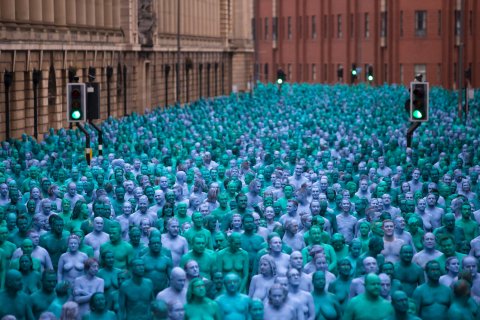 Each city launched its program in its main municipal theater. Hull's presentation felt homely, heartfelt, rooted in community, with a volunteer choir belting out soul classics. The Aarhus preview was more polished, as Matthews and her program director, Juliana Engberg, compèred a dizzying succession of taster videos. But it took care to avoid a slick Euro-corporate mood: After Mayor Jacob Bundsgaard began a formal welcome speech in Danish, a preplanned interruption by a young interloper told him that "you must speak in English so that the children of Europe can get the message." For now, Hull's offer has a rootsy, homegrown appeal, while Aarhus projects a much more cosmopolitan style. That may change: Martin Green promises a wider selection of international events and artists as Hull's year develops.
'Culture is an Investment'
The leaders of both programs hope to build on the evidence that a year putting the arts center stage can boost the reputation, the morale and even the economy of a city. "The legacy of these years," Matthews says, "is to show for the future that culture is an investment and that culture brings rewards." A searching, sometimes skeptical, analysis of the Capitals of Culture venture commissioned by the European Parliament in 2013 found that such festivals can affect different cities in different ways. It concluded that Glasgow 1990 had a long-term, positive effect on the city, while Liverpool achieved "unprecedented growth" during its festival year. "There are metrics and maths and science to evaluate what you have done," Green says, adding that the intangible payoffs, like pride and confidence, matter too: "Confident cities can do anything they like."
As with Glasgow and Liverpool, Hull has played culture as a trump card in the regeneration game. In 2014, Siemens made a $196 million investment in wind-turbine production that has lifted job prospects. The City of Culture is part of a broader plan to renew the city environmentally and industrially. "There's no point in having great new jobs in the city if nobody wants to live here," says Green. "Art is a welfare. It aids employability; it aids health; it aids education."
Art can also forge connections, and Hull and Aarhus have stretched friendly hands across the sea. They have co-commissioned a new production—which imagines life in 2097—from Blast Theory, an interactive arts group based on the south coast of England. And there are coincidental similarities between the two places: Both are ancient harbor towns with populations of around 260,000, and both supplied backing musicians for two pop giants who died in 2016. Prince's virtuoso bass player Ida Nielsen began her career in Aarhus. Hull bred Mick Ronson, the legendary guitarist-arranger who, as part of the Spiders from Mars, helped define Bowie's Ziggy phase.
Both cities will meticulously count heads, check returns and chart figures. Both hope to be able to shout about bigger audiences, more visitors and better venues. But leaving local people with a lifelong memory of, say, a street full of naked blue citizens, or a thousand-strong dawn cycle ride, will be a deeper, if more elusive, legacy.
For full program details visit Hull2017.co.uk and Aarhus2017.dk.