After covering the too long, too mean presidential campaign, I fled New York City for Nicaragua.
Witnessing the collapse of the American system has an edgy vibe I've always found compelling and even sexy, but I now realize it's much more fun observing institutional mayhem in places where (a) it's hot outside and (b) you can check out early and hop a C134 back to high ground.
The last time I paid attention to Nicaragua was in the 1980s, when the ostentatiously austere Colonel Oliver North was helping President Ronald Reagan covertly fund the rightist Contra death squads in their civil war with the Sandinistas, while his Farrah Fawcett-haired secretary Fawn Hall was shredding incriminating documents. As far as I was concerned, Central America—other than Costa Rica—is still, "Send lawyers, guns and money—Dad, get me out of here" territory.
But "Nica," as the natives call it, is now postrevolutionary. During the decades of the left's bloody effort to throw off a succession of dictators and their American-backed death squads, the literacy rate nearly doubled. Agrarian reform temporarily gave peasants a couple of acres and a rifle each. That experiment ended in national bankruptcy, and the oligarchs were invited back in. Nicaragua now has some peace, and a little prosperity. It also boasts thrilling apolitical diversions, like world-class surfing, "ash-boarding" down one of 17 volcanoes, zip-lining over jungles and sipping tropical cocktails made with the national rum at infinity pools overlooking crashing surf in the sunset.
The nation's few pockets of extreme luxury prove the leftists didn't completely succeed in their scheme to redistribute the wealth. One of the oligarchs who hid out in Miami and then came home to reclaim what was rightfully—capitalistically speaking—his, was Don Carlos Pellas, Nicaragua's first billionaire. Thanks to his love for Nicaragua and his vast wealth, visitors from El Norte and elsewhere can now live like Central American plutocrats at a five-star resort he carved into a Pacific mountainside.
Monkey, jaguar, lizard and mosquito ruled Nicaragua's Emerald Coast when Pellas, the fifth-generation descendant of 19th-century sugar and transport barons, first sailed past it on a yacht as a young man. Ten years ago, he bought 1,600 acres around the cove and carved out a vacation community called Isla Guayaquil. In the center, he planted a luxury resort. He named it Mukul, the Mayan word for "secret."
The cove is secret no more, at least not to wealthy Nicaraguans, who have bought second homes here, right near the mansions Pellas built for himself and his wife. Nor is it a secret to world-class surfers, who come for the wicked waves and warm water, and savvy travelers.
Or make that, intrepid savvy travelers with a little Cuban Hemingway in their souls. As in Costa Rica, its neighbor to the south, Nicaragua's roads are rather quaint. The two-lane road from Nicaragua's main airport to the Pacific coast is either an eyelid-peeling game of chicken with oncoming trucks or an eye-rolling slog in traffic. The best thing about this road is that it goes right by one of the country's coolest diversions: Masaya, an active volcano and one of the very few on the planet that is safe to peer down into. The approach to Masaya's lip is a switchback ascent from jungle up into surreal, apocalyptic light. After the first swerve, you can see the sulfurous yellow clouds above; then, after another turn, silhouetted against them is a huge black cross planted in 1520 by Spanish friars who thought it would keep the devil down in what they believed was one of the mouths of hell. We drove all the way up and walked to the edge, joining a small crowd Instagramming the bejesus out of a vast canyon, at the bottom of which was a pit of orange, bubbling lava.
On our way coastward again, we zipped in and out of the passing lane, swerving back and forth past men on horseback, pedicabs, semitrucks and corrugated-metal one-room houses, many with a cow, donkey or pig tied to a tree out front. Fields of corn and sugarcane in the rich volcanic soil stretched for miles in all directions.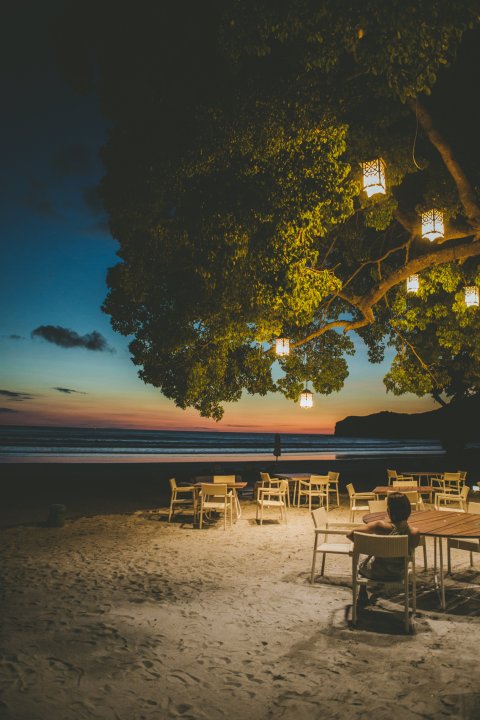 Two hours later, we pulled up at Mukul's central palapa, an open-air reception lobby with white wicker rocking chairs and spacious couches under a thatched roof built on massive, varnished, old tree trunks. Pellas opened his pet project three years ago, so the warm, friendly waiters and other staff haven't been serving high-maintenance rich people long enough to be stiff or pretentious. Mukul's manager says Pellas offers them classes in English and hospitality and also gave the community free health care, potable water and a soccer academy. (Mukul offers visitors the chance to spend a couple of hours at the local schools and talk to the kids in English, the lingua franca of the capitalist world.)
As a tangerine sunset tinted the Pacific, a waiter handed us the national drink, the Macuá, made of orange, lemon and pineapple, and a shot of Flor de Cana, the Pellas family rum. Dinner was alfresco, beneath a swatch of thatch, with solicitous waiters serving sizzling steak tacos and the Pacific pounding sand a few yards off.
The next morning, we woke just after dawn to the sound of coffee and cookies being delivered to the porch of our bohio, a large, one-bedroom villa perched cliffside with a wraparound porch and a small soaking pool on the deck. Every morning, a waiter drove up the steep hill in a golf cart, ferrying what he called a "rooster breakfast." While we sipped and nibbled and stretched, a trio of white-throated jays convened on the railing, pecking at cookie crumbs we tossed their way. Far below, the ocean was a glassy pink.
After breakfast, we hit the beach. I lay on a lacy hammock under a tree and read, alternating between Mary McCarthy's The Group, about the sexual and intellectual adventures of a set of Vassar graduates in the 1930s, and Lost Tycoon, a mind-blowing chronicle by Harry Hurt III of Donald Trump's personal and professional excesses. I occasionally gazed lazily down at my companion, who was surfing with a pair of Australian instructors. I sipped another Macuá. I squinted at a sailboat silhouetted on the sparkling horizon, framed on both sides by the vast cliffs that form the cove. I noticed the cliff off to the right was pocked with a large grotto and lazily thought of pirates hiding in there with barrels of rum, playing cards with profane pet parrots and a few monkeys on their shoulders...and then fell into a jaguar-black sleep.
In addition to long, languid loafs in palm-shaded hammocks, Mukul offers golf on a course designed by David McLay Kidd, who designed the Castle Course at St. Andrews in Scotland, an impressive fact that meant nothing to me since I don't golf. I was much more interested in the jungle along its edges, from which emanated the unmistakable hoot of howler monkeys.
Our morning checkout came way too soon, but at least I'd been off Twitter for a few days. We shared our last "rooster breakfast" cookies with the jays, had one last stroll on the sand and one last dip in the warm surf, then loaded up.
By midnight, we were back in New York, in a bleak, bitter JFK Airport taxi line. I had picked up a nifty Nica straw hat along with a tan and some sand in my pockets—oh so different from what the gun and drug runners packed home in the '80s but still a piece of Nica. I regretted not having had the time to ash-board or meet the rum baron so I could ask if he needed an English tutor for his kids.