It's a 15-minute drive from the Ferrari-lined streets of Johannesburg's Sandton suburb to Alexandra, one of South Africa's poorest townships. But for 56-year-old cleaner Mooko Dikotla and thousands of others who commute by foot from Alexandra to what's known as "the richest square mile in Africa," the four-mile trek over bustling highways takes an hour and a half.
"Sometimes I feel like...I need a space shuttle or something," says Dikotla, laughing and nearly out of breath while walking home after nine hours of cleaning and serving coffee at a large property investment company. "I spend my life walking back and forth between two universes."
Dikotla's daily commute is one part of the legacy of apartheid, when laws segregated urban areas by race and pushed nonwhites out of developed neighborhoods and into townships on the city's margins, often far from where they worked.
The contrast between Sandton and Alexandra is a "time capsule," says Noor Nieftagodien, chair of the History Workshop at University of the Witwatersrand. "It's the perfect indicator of how little South Africa has progressed since apartheid ended...of how divided the country still is and how forgotten these struggles are."
In February 2015, Johannesburg began building a potential solution: a pedestrian bridge, called "the Great Walk," that will make the commute more pleasant, though not shorter. The name is a nod to President Nelson Mandela's autobiography, Long Walk to Freedom ; the bridge links Alexandra, where Mandela once lived, to Sandton. Set to open in early 2017, the Great Walk is one of the city's ambitious transit projects and part of the "Corridors of Freedom," a partly government-funded initiative that Johannesburg's outgoing mayor, Parks Tau, launched in 2014 to undo apartheid-era city planning and improve black residents' access to jobs and education.
"It's a break from the past," says Siyabonga Genu, a senior development manager at the Johannesburg Development Agency. "It's only been 22 years since apartheid ended, so bridging these divides has and will take some time, but we're moving in the right direction."
Alexandra's residents are skeptical. They see the bridge as reinforcing the hierarchies established during apartheid that still govern South African society today. "Basically, this bridge will help me walk to the rich side more safely so I can work for them," Dikotla says as she gazes at rows of red construction scaffolding. "How is this supposed to help us? It's a nicer walk to our prisons, not to freedom."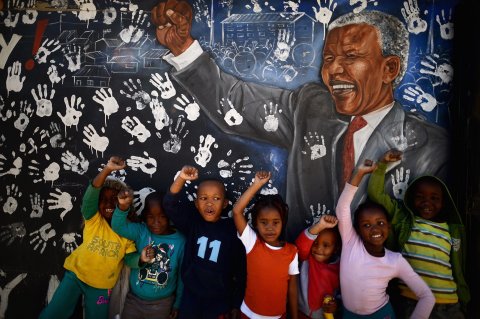 Construction of the bridge has been slow—it was delayed after a section collapsed onto the highway in October 2015, killing two people and injuring 23. Residents like Dikotla say they would prefer to see the $7 million being spent on the bridge go toward improving their township's anemic education system and decrepit infrastructure. Many residents in Alexandra can't afford electricity; conditions have hardly improved since the 1940s, when Johannesburg residents called Alexandra "the Dark City" because of the lack of electricity.
"Life in a township like Alex is still a death sentence for most youth. Most of the talented kids I know end up walking to Sandton to find jobs cleaning or gardening for rich people," says Mpho Motsumi, president of the Greater Alexandra Chamber of Commerce and Industry.
By "rich people," most South Africans mean whites. Two decades after Mandela ended apartheid, racial inequality in South Africa persists. Black people make up 80 percent of South Africa's population, but most of the economic power rests with the 8 percent of the country that is white. An estimated 54 percent of the black population lives in poverty, compared with 0.8 percent of the white population. While 94 percent of white children have access to piped water in their home , only 27 percent of black children do. The World Bank consistently ranks South Africa as one of the most economically unequal societies in the world.
The current government has struggled to address these frustrations. Once the party of Mandela that liberated South Africa from white minority rule , the African National Congress is now led by President Jacob Zuma. With his administration beset by corruption scandals and accusations of cronyism, Zuma's popularity has plummeted, and the ANC suffered its worst ever electoral performance in August. It maintained power over Parliament but lost many of the cities, including the capital, Pretoria, and Johannesburg.
Critics of the Corridors of Freedom say the misguided development projects will only add to a growing disillusionment with Zuma and his administration. "The black elite behind these development projects are just as disconnected from the normal black experience on the ground as the whites were during apartheid," says Frans Cronje, CEO of the Institute of Race Relations, a liberal think tank based in Johannesburg.
Motsumi, the Greater Alexandra Chamber of Commerce and Industry's president, agrees. "Why create employment initiatives or build a school with an actual library when you can just build a fancy bridge for them to walk to their menial labor? [Mandela] is rolling over in his grave," he says.
Perhaps no one feels the strain more than the "Born Free generation," the South Africans who grew up after apartheid ended in 1994 and now make up nearly half of the population. Youth unemployment in South Africa is over 50 percent, one of the highest rates in the world.
"We Born Frees don't really feel like we're free. None of us really see the government caring about us," says Dikotla 's 25-year-old son, Jeffrey Mulaudzi, who started a bicycle tour company six years ago so people could "experience the real township life." His clientele mostly consists of foreigners looking for an "authentic" township experience.
"I've never had someone from Sandton come on a tour in Alex," he adds, laughing as he walks by a statue of Mandela towering over a sushi restaurant at Sandton's gleaming mega-mall. "I don't think a nice bridge is going to convince them to come over. Traffic will always be one-sided. My mom will always go to them."
For Rene Kilner, a white South African who has been volunteering in Alex for seven years, the only way to change entrenched mindsets is to desegregate. Less than 40 percent of South Africans socialize with people of another race, according to the South African Reconciliation Barometer, and only a fifth of South Africans live in racially integrated neighborhoods.
For many Alex residents, Kilner is one of the only white people they've ever seen in the township. "When I hear the words 'Corridor of Freedom,' I throw up in my mouth," Kilner says. "Equality isn't just about sharing benefits; it's about sharing burdens. When I tell white South Africans that I volunteer there and that I've never once had any trouble, their eyes get as big as dinner plates. For them, townships are full of dangerous criminals. That's all they were ever told."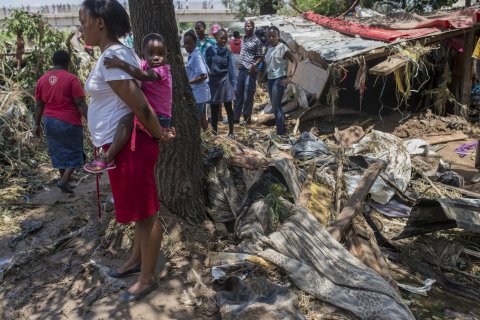 Back at home, Dikotla irons her clothes for another day of work in Sandton. The family's one-room shack is not far from Mandela's old home, which would be easy to miss if not for a laminated sepia information sheet, and a wall graffitied with his iconic smiling face.
Dikotla's 19-year-old daughter, Mokgadi, is the only one among her childhood friends who graduated from high school and attends college. For four years, she walked an hour every morning to a private school in a nearby leafy neighborhood lined with three-car garages and purple jacaranda trees. It was nothing like Alex's trash-strewn, urine-stained streets. Much of Dikotla's salary goes to Mokgadi's education so she won't have to serve coffee in Sandton's high-rises and villas, as her mother and grandmother did.
Mokgadi watches her mother fold laundry. "We'll both be free," she says, half laughing, half sighing, "when our feet don't hurt so much at the end of the day."
Lauren Bohn is the GroundTruth Project's Middle East correspondent, based in Istanbul. Reporting for this story was supported by the International Reporting Project.