Question: How did Mike Flynn get a security clearance?
A couple of weeks ago, I sued several federal agencies, including the FBI, CIA and Justice Department, to find out—not just about Flynn, the besieged White House National Security Adviser, but other top appointees in the Donald Trump administration who have dodgy foreign ties.
RELATED: Shuffle of NSC players lambasted
As I noted in my Freedom of Information complaint, "Gen. Flynn has close ties to the Russian government, has accepted money from allies of Turkish President Erdogan, and was forced to resign from the Defense Intelligence Agency for mismanagement, any one of which would raise serious concerns about granting him access to" classified information. Flynn also "inappropriately shared" classified information with foreign military officers in Afghanistan, "which would by itself warrant the denial of a security clearance for most federal employees," says my suit, filed by National Security Counselors, a Washington, D.C. public interest law firm.
Non-Denial Denial
And all that documentation came long before reports Friday that Flynn had possibly conspired over the telephone with Russia's ambassador in Washington to undermine President Barack Obama's sanctions against Moscow for interfering in the 2016 U.S. presidential election. The Washington Post's account cited nine—nine!—"current and former officials, who were in senior positions at multiple agencies at the time of the calls, [who] spoke on the condition of anonymity to discuss intelligence matters."
At first Flynn flatly denied that he had discussed sanctions with Russian ambassador Sergey Kislyak, The Post reported. But on Thursday Flynn revised his story, issuing a statement through his spokesman that "while he had no recollection of discussing sanctions, he couldn't be certain that the topic never came up."
That's a non-denial denial if there ever was one. But there's a doubly worrying aspect in the reports about the mercurial Flynn, who was reportedly forced out as head of the Defense Intelligence Agency in 2014 for his "chaotic management style." Did Flynn, who spent his entire, 33-year career in intelligence work, suddenly forget that U.S. spy agencies routinely eavesdrop on foreign diplomats in Washington, D.C., especially Russia's?
It's possible. Oftentimes officials tire of elaborate security protocols and talk "in the open" via emails or personal phones, as I reported on a case involving former California Congresswoman Jane Harman in 2009. Likewise in 2015, the NSA reportedly intercepted conversations between Israeli officials and "U.S. lawmakers and American-Jewish groups" who were trying to scuttle the Obama administration's nuclear deal with Iran, according to the Wall Street Journal. Then there is the most famous case of intercepted conversations of all, the leaked emails of Democratic National Committee officials that helped elect Donald Trump.
RELATED: Bannon's fever dream of an American Gulag
Flynn, in a great irony, apparently learned nothing from this. U.S. intelligence reportedly overheard him conspiring with a Russian diplomat to undercut the Obama administration's tough response to Moscow's interference in the 2016 election.
Nixon Era Redux?
The alleged plot might sound like an over-the-top episode of House of Cards, but something like it has happened before. In the fall of 1968, Republican presidential candidate Richard Nixon directed his chief of staff, H.R. "Bob" Haldeman, to "monkey wrench" a secret Vietnam peace deal in the works between President Lyndon Johnson, Moscow and the U.S.-backed government of South Vietnam. Of course, ending the war, which had already cost 33,000 American lives, would've greatly aided the Democratic candidate, Hubert Humphrey, LBJ's vice president. So Nixon set out to scuttle the deal. He secretly dispatched Anna Chennault, a Nixon fundraiser and a member of the pro-Taiwan lobby, to tell Saigon's ambassador in Washington to hold out for a better deal after the election, which the Republican was expected to win, according to papers unearthed by Nixon biographer John A. Farrell.
Johnson was outraged when he learned of the skullduggery. "They're contacting a foreign power in the middle of a war..." he exclaimed to Everett Dirksen, the Republican leader in the House, according to a 2012 account by former Newsweek reporter Robert Parry. "If they don't want it on the front pages, they better quit it," Johnson warned. Dirksen in turn told Nixon that LBJ was onto him, whereupon the Republican candidate called up Johnson—and denied any shenanigans.
Johnson's aides urged him to expose Nixon's scheming, but he demurred, in part because he lacked "absolute truth," in part because it would be seen as a dirty trick on behalf of Humphrey, and in part because it would erode Americans' faith in their elections. "I think it would shock America if a principal candidate was [exposed] playing with a source like this on a matter of this importance," Johnson said, according to a declassified tape of the conversation.
Sound familiar? Obama officials reviewed intercepts revealing Flynn's treachery and engaged in similar wrenching internal debates, according to The Post's astounding account. "U.S. officials said that seeking to build such a case against Flynn would be daunting. The law against U.S. citizens interfering in foreign diplomacy, known as the Logan Act, stems from a 1799 statute that has never been prosecuted," The Post said. "As a result, there is no case history to help guide authorities on when to proceed or how to secure a conviction." They "also cited political sensitivities." Lodging charges against Flynn, The Post reported, "would invite charges of political persecution."
Calls for Removal
The Democrats aren't lying down for this, judging by the flood of leaks and multiple corroborations of the Flynn flap. California Congressman Adam Schiff, ranking Democrat on the House Intelligence Committee, said that, "if General Flynn secretly discussed with Russia undermining U.S. sanctions, and misled American people, he can no longer serve." Eric Swalwell of California, top Democrat on the panel's CIA oversight subcommittee, tweeted that, "The @WhiteHouse should immediately SUSPEND National Security Advisor Flynn & REVOKE access to classified information until investigated." Likewise, the ranking Democrat on the House Foreign Affairs Committee, Eliot Engel of New York, denounced Trump officials for "misleading" Congress with denials of its back-channel intriguing and demanded Flynn be fired "immediately."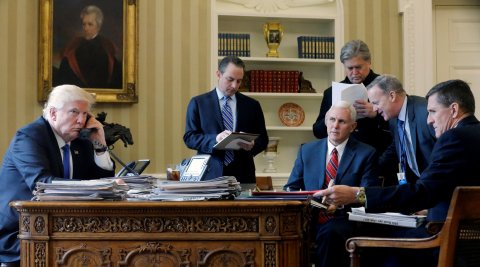 Flynn's prospects aren't likely to be improved by the FBI's ongoing probe of Russia's intrigues, not to mention the NSA's continued monitoring of Kremlin communications. The Senate Select Committee on Intelligence also is launching an investigation of the allegations. The top Democrat on that panel, Sen. Mark Warner of Virginia, released a statement Friday saying the new reports "underscore both the gravity and the urgency" of its investigation. On Friday, CNN reported that, "For the first time, U.S. investigators say they have corroborated some of the [Russian] communications detailed in a 35-page dossier compiled by a former British intelligence agent." And as a final kick in Flynn's pants, the CIA on Friday denied a security clearance to one of his aides, Africa specialist Robin Townley. He and Flynn share a disdain for the way the intelligence community works, according to Politico.
Congressional Republicans are hunkering down, battening the hatches against the growing storm, but also declining opportunities to stand up for Flynn. But they don't really matter so much now. The key action is among top Trump officials, who are circling Flynn like so many Brutuses. Flynn had already annoyed the administration's top national security officials, Defense Secretary James Mattis and Homeland Security Secretary John F. Kelley, by trying to plant his acolytes under their roofs. And then there's Trump's Svengali, Strategic Adviser Steve Bannon, circling for the kill.
'Guy is Dangerous'
"Bannon hates Flynn," a source with a White House connection tells Newsweek. Flynn "was Mr. Trump's top adviser on national security issues before a series of missteps reduced his influence," according to a New York Times story that had Bannon's fingerprints all over it. And that was 12 days ago, making the story a virtual Dead Sea scroll in Trump Time. Soon enough, Bannon and company will cough up Flynn like a hairball.
"He's just dangerous," a Republican who's worked closely with Flynn told Newsweek several weeks ago on condition of anonymity so to maintain his ties with party leaders. "This guy is dangerous," he repeated, citing several incidents illustrating Flynn's volatile personality and strange affinity for conspiracy theories.
He may be dangerous to Trump, too, considering what he may know about the president's mysterious affection for Vladimir Putin. All of which begs the question: How did he get a security clearance? How did Trump?
Newsweek National Security Correspondent Jeff Stein has been writing Spytalk since 2005. He can be reached more or less confidentially via spytalk@hushmail.com.