Updated | On a dusty construction site in the desert on the outskirts of Cairo, a blue glass building glints in the sunlight. The shiny new complex is home to the new Egyptian Space Agency, a reboot of an abandoned 1960s program that the country's cash-poor government says will produce satellites to drive innovation and discover resources, which it hopes are hiding under Egypt's vast deserts.
After sweeping to power in a popular military coup almost four years ago, Egyptian President Abdel-Fattah el-Sissi is now struggling to prove he can save a sputtering economy that has led to long lines at gas stations and inflated food prices and prompted one desperate citizen to set himself on fire. The space program is el-Sissi's latest attempt to reinvigorate the Egyptian economy with a series of mega-projects—from a new administrative capital city outside Cairo to a second Suez Canal. But while investing in infrastructure can create jobs and jump-start economic growth, many in Egypt question whether the country can afford el-Sissi's projects when so many Egyptians are living in poverty.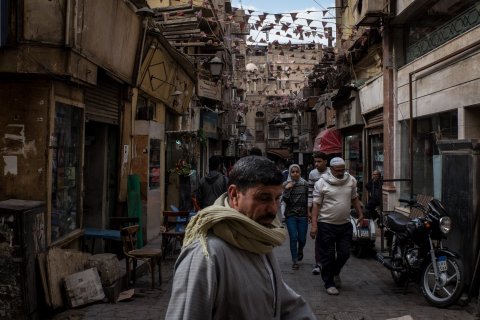 Egypt announced the establishment of a new space agency on August 3, near the end of a particularly worrisome summer. That same month, the country accepted a $12 billion bailout from the International Monetary Fund (IMF) in a bid, analysts say, to buoy its economy, plug the financial gap partially caused by a huge drop in tourism and survive a foreign exchange crisis.
As a condition of the loan, the IMF is counting on Egypt to keep cutting energy subsidies and overhaul parts of its tax code. Despite tentative signs—such as a stronger Egyptian pound—that foreign investors' confidence in Egypt is creeping back, in January net inflation reached its highest level since the IMF issued the loan, causing the price of staples like fruit and vegetables to balloon.
"One of the obligations under the IMF agreement is to reduce government deficit—so this might not be the right time to find new ways to spend money, such as on a space program," says Timothy Kaldas, a nonresident fellow at the Tahrir Institute for Middle East Policy, a Washington, D.C.–based think tank.
Economists say the government desperately needs the loan to ensure that Egypt's poorest people can afford to buy food—and to prevent riots by hungry citizens. At the end of summer, the rising prices of imported goods caused a shortage of subsidized baby formula, basic goods like sugar, and pharmaceuticals, including birth control pills. By the end of September, more than a month after he announced plans to build and launch a satellite, el-Sissi asked Egyptian citizens to donate their spare change to a fund to alleviate government debt; they reacted on social media by sharing a meme depicting el-Sissi as a toy cheekily grabbing coins.
Many Egyptians are increasingly willing to speak out about their economic hardship, a sign of desperation in a country that stifles political dissent. In mid-October, a taxi driver set himself on fire in Alexandria to protest rising prices; he later died. The same month, a video of an unnamed tuk-tuk driver ranting about the economy went viral.
"We see a picture of Egypt that's like Vienna—but when we get out into the street, we see a cousin of Somalia…the poor citizen can't find one kilogram of rice on the street," the driver said in the video. "[Officials] show up on television to say that Egypt is developing…and keep gathering money for unnecessary national projects while we have education levels the lowest you can ever imagine."
The new space agency is the kind of national project the tuk-tuk driver was complaining about—initiatives that have a history of failing to deliver economic benefits. In 2014, the government widened the Suez Canal by building a second channel next to the original, promising that the $8.4 billion investment would double the original canal's revenue, bringing in $13 billion in fees and taxes annually by 2023. The reality has been quite different: Monthly revenues throughout 2016 were down compared with the previous year, according to the Egyptian government's own data. The new administrative city planned in the desert outside Cairo to relieve some of the strain from the overcrowded capital hit a snag in January after a second international developer pulled out over a financing conflict.
Space travel is a particularly ambitious way for any government to spend its money, and Egypt hasn't proved to be the best at it; in 2010, Egypt lost contact with its first noncommercial satellite, EgyptSat 1, launched with Ukraine in 2007, a rare failure in space travel. The country's best success in space has been an inter-country partnership to launch commercial satellites that broadcast television channels throughout the Middle East. In 2014, Egypt's military purchased an optical imaging satellite worth $43 million, later boasting about using it to spy on Australia and the nearby Grand Renaissance Dam in Ethiopia (a source of contention between Egypt and Ethiopia), though the military failed to say how either posed a security threat.
Beyond these flashy projects, Egypt has made genuine attempts at economic reform. Just days after floating its currency (setting its currency based on foreign exchange markets, a liberal reform), the government announced a controversial cut to fuel subsidies—something many in the financial sector supported. But that led to panicked lines at gas stations around the country, and though many expect these cuts to spur long-term growth, the World Bank predicts Egypt's gross domestic product will shrink to 4 percent in 2017, down from 4.3 in 2016. El-Sissi may be hoping that his friendship with U.S. President Donald Trump will increase the $1.3 billion the American military provides Egypt each year. But in the meantime, a lot of hope is riding on a satellite.
A space program can be a good investment, economists say, but that depends on the government's commitment to developing a staff to run it. "In theory, a space program is not a terrible thing, even for a country with many other things to worry about right now," says Kaldas. But without investing in universities and freeing research from "cronyism and censorship," he believes the satellite could be another one of the Egyptian government's underperforming short-term solutions. "This fad diet approach to fixing Egypt's economy, political or security situation has undermined our ability to make real progress," he says. "There's no one politician that will save Egypt or one project that will fix its economy—real life is more complex."
Despite the criticism, the government argues that a satellite is the kind of innovative investment Egypt needs. "People ask whether it's a choice between a loaf of bread or space, but this satellite is a way for us to discover resources," Mohamed Adel-Yehia, head of Egypt's National Authority for Remote Sensing and Space, which oversees the space program, tells Newsweek . He argues that sensors on board this type of satellite can collect data from beneath the Earth's surface to find minerals and oil, or locate crucial resources closer to the country's sandy surface, like water. "This is essential for us to provide those loaves of bread. Our dream is to use this technology to develop our country economically," he says. Adel-Yehia wouldn't say how much money was allocated to the project, offering nothing but a knowing smile and an assertion that the budget is "big." (Newsweek checked the 2016–2017 budget and found no clear listing for the space program.)
Pro-government economist Mokhtar al-Sherif has argued that in a time of economic crisis, large-scale investments provide infrastructure that can help steer the country out of poverty. "You can't build a building without laying the foundations for it first," he told Egypt's largest newspaper, Al-Ahram .
Adel-Yehia insists that if Egypt doesn't launch its own satellites it could fall behind other countries in the region that have launched large space programs, including the United Arab Emirates and Algeria. Egypt's neighbors have stressed the economic benefits of such initiatives; Israel says that increasing its space program could net up to $6 billion in revenue. The UAE argues that its space program, including plans for a mission to Mars, will help create jobs, citing NASA's staff of over 17,000 as evidence.
Many Egyptians are unwilling to take the government at its word. "Everything the state says isn't to be trusted," says one young web developer, who asked to remain anonymous because he fears reprisal for speaking out against the government. At age 22, and tech-savvy, he is exactly the kind of citizen the space program should inspire—but he is unconvinced. "Egypt gets plenty of money so we probably have the funds, but we never know where it goes. I doubt this program will ever materialize."
The economy is due to benefit from the next tranche of the IMF loan this spring—but in Egypt, long-term economic stability seems as elusive as the dark side of the moon.
Corrections: This article originally incorrectly stated that the U.S. military provides Egypt each year with $1.3 million. It is $1.3 billion. And it said that 90 million people were living in poverty. It's believed that 27 per cent of people live below the poverty line—90 million is Egypt's total population.