Sipping her yuzu tea in a buzzy café in Tokyo's Shibuya district, 20-year-old university student Marin Minamiya is exactly what you'd expect of a fashionable young Japanese woman. Her hair is long and shiny. Her fingernails are painted a sparkly gold. She laughs easily and punctuates her conversation with breathless, OMG-style exclamations. What you don't expect is this: A few weeks later, she will be wrapped in up to seven layers of clothing, slogging through minus-70-degree temperatures, in an attempt to ski to the North Pole.
Minamiya—bubbly exterior, steely core—is one of Japan's youngest and most high-profile adventurers. During her teens, she quietly broke a string of records. At 18, she became the youngest woman ever to climb 8,163-meter (26,781-foot) Mount Manaslu in the Nepalese Himalayas. At 19, she was the youngest Japanese person, man or woman, to climb Mount Everest. When we meet, in February this year, she is in the middle of training for the North Pole trip, the final leg of her attempt at the famously grueling Explorers Grand Slam. To date completed by just 51 people worldwide, this demands that participants reach both poles and climb the tallest mountains on seven continents. If Minamiya reaches the Pole, she will be the youngest Asian to have completed the challenge.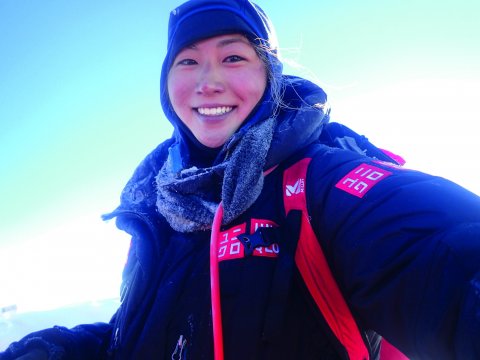 Minamiya juggles time spent on expeditions—which are partly funded by a sponsorship deal with clothing company Uniqlo—with studying international political economy at Waseda University in Tokyo. She tells me that in two days' time she will fly to the island of Hokkaido in northern Japan, and then on to the Alpine resort of Chamonix in France for final training.
She'll make the attempt on the North Pole in early April, as part of a small group—but exploring can be a lonely life. Minamiya is often not just the only woman in a group but also the youngest overall. Women can be competitive and men prejudiced: One male Japanese climber once said he was insulted just to be introduced to her.
"People are often really surprised when they learn about what I do," she says. "They say, 'Oh my gosh' and can't imagine me climbing a mountain, especially when I'm wearing my normal, everyday clothes. They ask me why I do it—and I want to tell them the reason, but it's not easy to say in one sentence."
Minamiya's longing to climb started as a way to connect with others. She was an only child, and her father's work as a financial trader meant the family was always on the move. At the age of 12, after time living in Malaysia, Shanghai and the Chinese city of Dalian, Minamiya moved with her family to Hong Kong, where she went to an English-speaking school for largely expatriate children. She had a difficult time there, she recalls: A culture of overreliance on technology meant there was very little human interaction. Every course was taught on laptops, and at lunchtime, Minamiya ate on the first floor while FaceTiming with her best friend, who sat on the eighth.
Things at home weren't any better. Her father was rarely there, and her mother had stayed behind in Japan. Then, when she was 13, her teachers started taking groups of 50 students on trips to the mountainous interior of Lantau, Hong Kong's largest island. On the mountainside, the group had to collaborate, with the participants helping one another navigate across the unfamiliar landscape and coming together to plan the group meal. "For the first time, there was a human bond between us," she says.
Climbing also gave the adolescent Minamiya a sense of perspective, a view of the wider world that she found invaluable. When she reached her first mountaintop with her schoolmates, she looked east across the waters of the South China Sea to the "concrete jungle of Hong Kong." In that moment, she saw the stresses of her preteen life for what they were. "We thought, Oh my gosh, our existence is so tiny. All these daily issues don't mean a thing."
After that, Minamiya climbed dozens of mountains around Hong Kong before joining a friend and two teachers on a 14-day climb to the Annapurna base camp in Nepal. There—still only 13—she glimpsed Mount Everest looming over a valley and vowed to climb it one day. She then completed an arduous ascent in Argentina, funded by a benevolent stranger who sponsored her after reading an article in Yomiuri Shimbun , Japan's biggest national newspaper. With typical quiet determination, Minamiya had asked the paper to write about her.
Her parents divorced when she was 17; climbing high kept her grounded, giving her a much-needed sense of control. "I knew the one thing that would get me back on track was climbing," she says. "It has always been like meditation for me. It's not only about healing—it's about self-empowerment and self-awareness.
I just thought, 'I have to get out of here and find myself, through basing myself on a mountain.'"
She experienced a different kind of grounding too. While she was descending Mount Amida in Nagano in March 2015, the snow beneath her crumbled, and she fell 250 meters (820 feet), head-first. That's nearly as bad as falling off the Eiffel Tower. "I really thought I was going to die," she says, but then adds, "When I was falling,
I screamed and prayed to God, saying, 'I don't want to die yet, please help me.'" Right after her prayer, her crampons got caught in the snow, and she stopped falling. "I didn't believe in God before," she says, "but, actually, since then I do."
She spent the night in a snow hole she'd dug for herself, before an emergency search team in a helicopter rescued her. The accident made her vulnerable in a different way. She cried for days afterward in an empty house; her parents hadn't visited her in hospital. Yet she completed her record-breaking Mount Everest ascent just 14 months later. "The accident made me realize that people die extremely easily," she says. "That made me propel myself even further."
Where does a woman who's reached both ends of the earth propel herself next? Assuming she makes it back from the North Pole, Minamiya's next plan is to sail around the world—this time, she hopes, not alone. She's looking for a companion to sail with "who is definitely committed, has a dream of their own, is excited about life—and basically has the same goal as me, which is to help others reach their full potential." It doesn't seem like an accident that she's choosing an adventure that requires another person to come along for the ride. I hope she finds someone.