Updated| The remains of the George Air Force Base on the edge of California's Mojave Desert are little more than a dusty sprawl of squat buildings, their roofs riddled with holes, their hinged windows flapping open and shut in the dry wind.
The George H.W. Bush administration decommissioned the base in 1992, but this crumbling ghost town carries a worrisome legacy—a stew of toxic waste that has been the target of a federal cleanup, which is still under way after two decades of work and more than $100 million in spending.
At George, as at many other military bases, chemicals and jet fuel were leaked or haphazardly disposed of for years, polluting hundreds of acres of groundwater. Trichloroethylene, a cancer-causing solvent, has contaminated two aquifers underneath the base and threatens a third aquifer, as well as the Mojave River. It has also tainted monitoring wells at a nearby wastewater reclamation plant and forced workers there to drink bottled water as a precaution.
Yet even as contaminants continue to spread, the Air Force wants to finish part of the cleanup with a laissez-faire strategy, raising alarm at the local water board. The approach—adopted by environmental agencies at toxic cleanup sites across the country—leaves contaminated groundwater to remain untreated and instead slowly diminish over time. It's a strategy that saves money for polluters but could jeopardize drinking water supplies and cost taxpayers dearly.
The strategy is called monitored natural attenuation, or MNA. With little public awareness or debate, it has become increasingly widespread since the 1990s as a way to cope with the enormous cost of some groundwater cleanups.
Despite the bureaucratic name, MNA basically involves keeping a watchful eye while natural processes purge groundwater of chemical pollution. According to Environmental Protection Agency guidelines, it's an acceptable approach under some circumstances. That includes when contaminants are expected to degrade over a period of years rather than centuries, and when there is no risk of polluted water seeping into, and spoiling, fresh water supplies. MNA can be effective with contaminants such as petroleum hydrocarbons that are eaten by microbes in the soil and groundwater.
But some analysts say regulators overseeing federal and state cleanups have at times approved MNA in violation of EPA guidelines. Because it is usually much simpler and cheaper than active cleanup methods—such as pumping water out of the ground and treating it—they say polluters increasingly push MNA at contaminated sites, often with too little resistance from regulators. "I have a very sour attitude towards this concept," says Robert Alvarez, a senior scholar with the Institute for Policy Studies, a think tank based in Washington, D.C. "It's a very big concern, especially for very contaminated sites."
There are obvious risks in leaving toxic contaminants in groundwater. If the pollutants aren't correctly monitored, they could continue to spread and contaminate nearby aquifers. And with large areas of the U.S. already facing dwindling water resources because of drought and population growth, particularly in Western states, any widespread reliance on MNA threatens to eliminate more water from public use. Meanwhile, if the land atop polluted groundwater is subsequently sold or if those responsible for the pollution go out of business, taxpayers could be left holding the bill.
Alvarez is particularly critical of the use of MNA at radioactive waste sites, where experts estimate that certain kinds of radioactive waste will take millions of years to naturally degrade to safe levels. The most dramatic example is the Hanford Site in southern Washington state, the location of the nation's biggest nuclear cleanup, where part of the problem is being handled with MNA.
Despite multiple requests over a period of months, the EPA refused to grant Newsweek an interview about the use of MNA. The agency, in one of the responses it provided via email, said that under its Superfund toxic waste site program, "cleanup remedies are selected to be protective of human health and the environment. EPA has developed numerous technical and policy guidance documents that present a logical technical approach…for assessing MNA's effectiveness."
There appears to be no comprehensive, reliable estimate of the number of places around the country where MNA has been employed, but according to data from the EPA, the method is in use at 85 of 141 U.S. military locations classified as Superfund sites. That includes Camp Lejeune in North Carolina, where from the 1950s into the 1980s hundreds of thousands of people may have been exposed to tainted drinking water. A separate assessment shows that in 2011, the most recent year tracked, 31 percent of EPA groundwater cleanup decisions involved some use of MNA.
The issue does not appear to be on the radar of most major environmental organizations, but it has come under attack by some regional officials and residents near polluted sites. In California, for example, water-quality authorities and the Air Force have been locked in a protracted battle over pollution at the George Air Force Base. The Lahontan Regional Water Quality Control Board, the agency overseeing the cleanup, claims the contaminants won't degrade to safe levels for up to 500 years if MNA is applied as proposed by the Air Force. This is happening in a region where water is already scarce and where the nearby towns of Adelanto, Victorville and Hesperia continue to expand.
"The Mojave Desert is the Mojave Desert," says Patty Kouyoumdjian, executive officer of the Lahontan water board. "Their only source of drinking water is groundwater."
The water board is pushing for a return to active treatment, such as pumping and cleansing the water and then returning it to the ground. But the Air Force disputes the water board's dim assessment of MNA for the site. In an email, the Air Force said it remains "in discussions" with the agency to "reach a common understanding of the nature and extent of the contamination."
Such tensions are commonplace, but they raise a question: Why can't the EPA and state regulators just demand an active cleanup?
It largely comes down to money. The cleanup of Defense and Energy Department sites depends on congressional appropriations, and the amount of available funding is limited. That narrows options and leads regulators to compromise.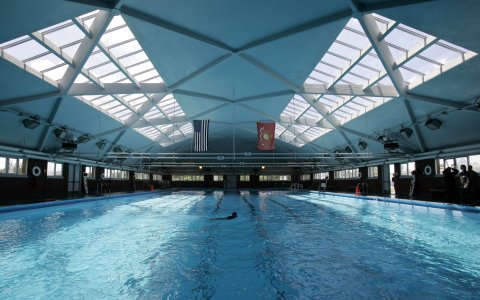 When the polluter is a small private company, money is often a problem too. Philip Chandler, a senior geologist with the California Department of Toxic Substances Control, says "cash-strapped" companies commonly struggle with the costs of installing, maintaining, and sampling monitoring wells. Because of that, Chandler—speaking for himself, not for his department—says he has come across cases of regulators in his agency letting polluters get away with doing things like not putting in enough wells to adequately track the movement of polluted water. The department, in an email, said on its cleanups "a rigorous evaluation process is followed to ensure the most appropriate technology for the site is chosen." But Chandler says that doesn't always happen. Sometimes, he says, "we effectively look the other way on the basic requirements of MNA."
The Air Force, frustrated with escalating costs and the slow pace of cleanups at a number of bases, took the lead in studying whether nature could do the job more quickly and cheaply. Officials at an array of agencies, however, struggled to figure out how to regulate the strategy, prompting the EPA to issue an MNA directive in 1999.
That directive and the EPA's updated guidelines state that MNA shouldn't be applied when, among other things, the source of pollutants isn't yet under control, when the tainted groundwater still is spreading and when the contaminants won't break down to safe levels within a "reasonable" period. "The notion of reasonable time frame has been such a big issue," says Peter Strauss, of PM Strauss & Associates, an environmental consulting firm. For many analysts, a rough estimate is 30 years, and for Strauss, MNA should work as quickly as proven active remedies: "Ideally, you should be looking to get as much done as possible without burdening future generations."
Many of the nation's most complex toxic cleanups are on the EPA's Superfund list. At some Superfund sites, critics say, MNA has been applied in circumstances that clearly violate the agency's guidelines. As an example, these critics point to Hill Air Force Base in northern Utah. It's the second largest U.S. Air Force base in size and personnel, and the site of a cleanup that has continued for about 20 years.
Perhaps the greatest concern among local residents and environmentalists is a contaminated area straddling the northern boundary of the base, uphill from an elementary school in the city of South Weber. It is polluted with an array of highly toxic contaminants, including arsenic and benzene.
For nearly 25 years, John Carter was employed as an environmental consultant by the South Weber Coalition, a local residents group. Carter says the Air Force has put out a "false image" of MNA as safe, despite the fact that contaminated water is essentially seeping downhill and underneath homes in the city. "And so, right away it does not meet the EPA's MNA criteria of no potential for movement of contamination," he says.
Worse still, says Carter, inadequate monitoring means the full reach of the contamination has never been accurately mapped. The result is that South Weber residents are at risk of toxic exposure to noxious gases that can seep into homes through the floor, often undetected, he adds.
Air Force officials say an estimated 5 to 10 percent of homes in a voluntary monitoring program had contaminants in their indoor air exceeding accepted levels from a contaminated sewer. The officials say the Air Force has put air cleanup systems in 123 homes to suck vapors from beneath their floors and that there is no "unacceptable risk of exposure" to residents. But many potentially at-risk residences have yet to be tested because the program is voluntary, says Brent Poll, a member of the South Weber Coalition. "The only thing you can say that's good about [MNA] is that it's very cheap," he says.
But in the long run, critics say, such projects could wind up being even more expensive if the contamination continues to spread. "If in 30 years you have to go in and say, 'Oh, Monitored Natural Attenuation isn't working,' who's paying for that?" says Strauss, the environmental consultant. "That's our children—it's a possible shifting of a tax burden to future generations."
This story was reported by FairWarning (FairWarning.org), a nonprofit news organization based in Pasadena, California, that focuses on public health, consumer and environmental issues.
Correction: A previous version of this story mistakenly said that the Clinton administration decommissioned the George Air Force Base in California. It was actually the George H.W. Bush administration that decommissioned the base.