Updated | In October 2014, the Yamal, a Russian nuclear icebreaker with enormous shark teeth painted on its bow, rammed through the thick ice at the North Pole as a research vessel followed behind it, firing its seismic guns. Its multiyear mission: find oil and natural gas and help claim the Arctic sea bottom in Moscow's name. In January, as Russian scientists were finalizing the test results, one of the mission's leaders was elated as he stood before a rapt audience in Tromsø, a stunningly beautiful Arctic city in Norway. "We assure you, there is oil there," said Gennady Ivanov of Russia's Marine Arctic Geological Expedition. "And the oil is recoverable," he noted later, in response to a question.
U.S. and European oil companies have long fantasized about tapping the Arctic's abundant reserves; the U.S. Geological Survey estimates they make up to 13 percent of the world's undiscovered oil and 30 percent of its natural gas. Now, as rising temperatures cause more ice to melt, which is clearing Arctic seas, the trillion-dollar race to own the region's riches is on. In 2012, Russia tried to claim 460,000 square miles of Arctic ocean floor—an area the size of France and Spain—as national territory. Moscow did so as part of a treaty called the United Nations Convention on the Law of the Sea, which allows countries to expand the undersea area where they own mineral rights beyond the currently recognized 200-mile limit. The catch? Russia must prove to a committee of international scientists based at the United Nations that the area is an extension of its continental shelf.
The committee initially rejected Moscow's claim, sending Russian scientists back to the High North to search for more evidence. Ivanov now insists the proof exists. If he's right, it will help Russian President Vladimir Putin achieve two of his primary Arctic goals: to boost his country's massive oil and natural gas reserves and to encourage commercial shipping through an Arctic shortcut between European and Asian ports.
Even as Moscow waits for the science committee's decision about the North Pole, its Arctic energy push is yielding results. Russian land-based oil and natural gas production in the Arctic is peaking year after year. In January, Russia's state-controlled Gazprom Neft company announced that four oil wells are up and running at the Prirazlomnoye fields in the Arctic Pechora Sea, and the company plans to put 28 more online. Meanwhile, a new, $27 billion liquid natural gas plant, based in the Arctic and jointly funded by Russian, Chinese and French energy companies, is moving gas south to Europe through a new 786-mile-long pipeline.
Competing for Resources
Once considered too remote and dangerous for commerce, the Arctic is about to get a lot more crowded. Norway is expanding its search for oil in the region and recently offered a new round of oil leases in the Barents Sea, farther north than ever before. Despite the challenges of High North drilling, an official from the Norwegian oil and gas association told Newsweek the break-even cost will be $45 a barrel. So even if global oil prices remain low, Norway's newest Arctic operation will quickly become profitable.
Profit has been less of an incentive thus far in the U.S., which has been much more cautious in the far north. President Barack Obama blocked most federal Arctic offshore areas from exploration in December, citing environmental concerns. Those include possible oil spills, which could damage or scare away marine life, some of which local Iñupiat Eskimos rely on for food and cultural identity. Now Donald Trump might try to reverse Obama's executive action, and Alaska's congressional delegation is lobbying for him to open up more of the American Arctic—on- and offshore—to oil exploration.
Regardless of what Trump decides, some fear that competition between the great powers over trade routes and natural resources could get out of hand. Already, there are signs of tension. In May 2015, Russia unleashed 250 aircraft and 12,000 troops in a massive Arctic war games exercise in response to a smaller NATO maneuver. Last month, the U.S., a NATO member, stationed 300 Marines in Norway full time.
Meanwhile, Russia has changed its war game strategy. It no longer offers advance warning when an exercise is planned—something that has unsettled its NATO neighbors up north. One of those countries, Denmark, has, like Russia, claimed the North Pole sea bottom under the Law of the Sea treaty. Canada, which is also in NATO, will file a claim by 2018, which is expected to include the North Pole too. If that happens, it is possible that all three countries will be able to prove the area is an extension of their continental shelves. The treaty, formally known as the Third United Nations Convention on the Law of the Sea, calls for the owners of legitimate overlapping claims to work out boundaries among themselves.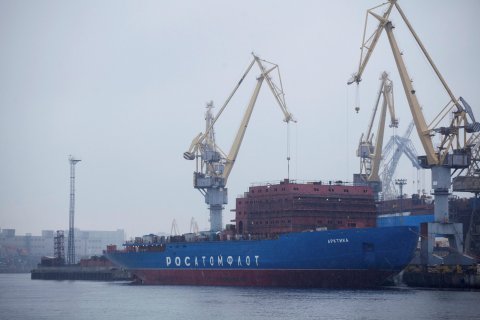 Which is perhaps one reason why Russian military planners have identified the Arctic as a likely place for future wars. "The Russian political and military leadership has systematically argued that there will be an acute shortage of energy resources worldwide, which may lead to conflict, and that the West, led by the United States, may attempt to seize Russia's oil and gas," says Katarzyna Zysk, an associate professor at the Norwegian Defence University College who specializes in Russian defense policy.
But not everyone believes a clash is inevitable. American and European diplomats routinely assure reporters that Russia and the other Arctic nations—the U.S., Canada, Norway, Sweden, Finland, Denmark and Iceland—continue to cooperate in the High North, especially on shipping and search and rescue efforts, despite tensions elsewhere. They also proudly point to an agreement signed in 2010 by Norway and Russia that peacefully resolved a maritime Arctic border dispute in the Barents Sea.
Security, however, may be a different matter as the region opens. Bobo Lo, a Russian foreign policy expert and the author of Russia and the New World Disorder, is cynical. "Once the Arctic becomes high profile, you'll have friendship break down."
America is Not in the Game
If that happens, the Kremlin is far better prepared for outright conflict or plain old competition. Moscow not only has more than 40 icebreakers; it's in the middle of the largest Arctic military push since the Cold War. Russia has more Arctic bases than any country and is building more, including 13 new airfields and 10 Arctic-based air defense radar stations scheduled to be in operation by the end of this year. Russia has also formed a new brigade, trained in Arctic warfare, and is constructing 16 deep-water ports and 13 airfields in the region. The way Lo sees it, the Russian response to NATO war games is "You think you can frighten us, buster? We can always escalate."
The U.S., however, is poorly prepared to react to any sort of challenge or emergency—and it's still unclear how the Trump administration will change America's Arctic policy. Washington has only two icebreakers, both old, and only one can break through heavy ice. The country has no concrete plans to build more. "We need Arctic ports," says the State Department's top Arctic diplomat, David Balton. "We're not prepared in terms of oil spill response or pollution. In the event of a shipping mishap, we have very little search and rescue assets nearby."
The U.S. is also the only Arctic nation that hasn't ratified the Law of the Sea treaty. It has no representatives on the scientific committee analyzing claims, and no way to make its own, even though, under treaty rules, the U.S. could possibly enlarge its undersea territory off the coast of Alaska by an area about the size of California.
If the treaty process were a baseball game, "the U.S. wouldn't be on the field, in the stands, even in the parking lot," Coast Guard Rear Admiral Gene Brooks told me in 2010. Seven years later, there has been little progress toward ratifying the treaty, despite support from both the Obama and George W. Bush administrations, the Navy, environmental groups, shippers and oil companies. A small group of Republicans keep blocking it in the Senate because they don't want to participate in any international agreement they believe will give foreign bodies power over American policy.
The irony is that the current lack of U.S. attention to the rapidly changing Arctic will provide foreign competitors with just that, by default.
Bob Reiss is the author of The Eskimo and the Oil Man and, under the pseudonym of James Abel, the novel Vector , due out this summer.
Correction: A previous version of this story called Bobo Lo, an independent Arctic expert. He is a Russian foreign policy expert.