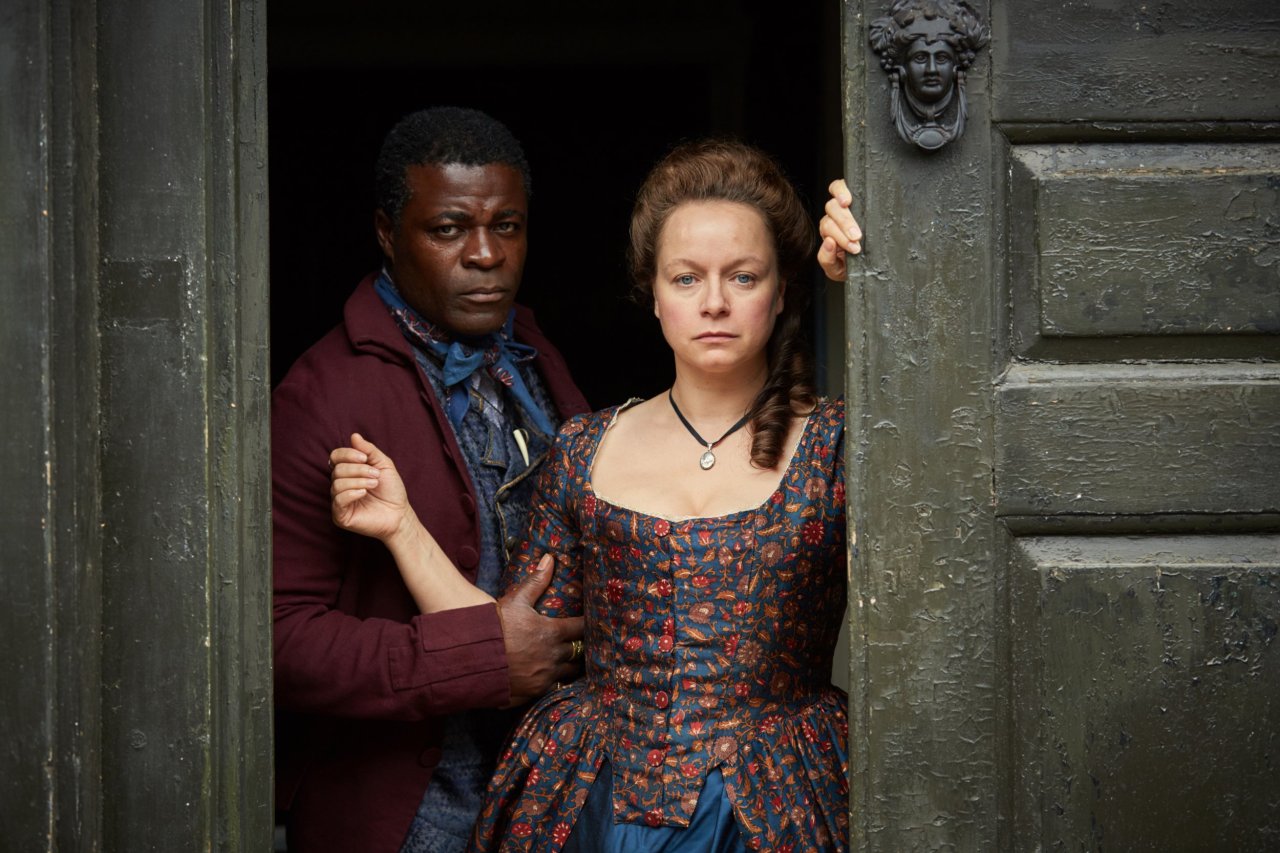 Harlots, ITV and Hulu's co-produced series about life in two brothels in 18th-century London, is not really a costume drama, it's more a take-off-your-costume drama. The first five minutes pass in a blur of dirty satin hems dragged through puddles, blond ringlets flying and naked breasts quivering, all to a headache-inducing soundtrack of rock and hip-hop. Within 10 minutes, we're treated to sex in the street using (almost) every position imaginable. This is the TV equivalent of what English people of a certain age like to refer to as a "marmalade dropper:" a story so shocking that you spill jam off your toast.
As the opening titles tell us, it's 1763, London is booming, and one in five women makes a living selling sex. Two rival madams—based on real historical characters—are fighting each other for a customer base: earthy bawd Mrs. Margaret Wells and elegant, conniving Mrs. Lydia Quigley. Wells is played by Samantha Morton (Sweet and Lowdown, Minority Report), as if Nancy in Oliver Twist had got away from abusive Bill Sykes, made a happy marriage and set up a small, if dirty-minded, family business. Quigley, the more upmarket of the two madams, is played by Lesley Manville, a fêted British actress with extensive stage credits and a habit of stealing scenes in Mike Leigh films. The subplot? The rivalry between Wells's daughters, Emily and Charlotte, the former a virgin, the latter a high-society courtesan.
Meanwhile, a pleasing undercurrent of moral menace is added by a blind lady crusader, who seeks to interfere with "a gentleman's right to go whoring" by shutting down all the brothels. "Burn, you sinners!" she cries. "These she-hounds are a cancer in our city!" At the other end of the moral spectrum is Morton, treading the line between compromised, guilty mother and venal fortune hunter. But it's Manville who really shines, her pink eyebrows, powdered face and porcelain embonpoint all deliciously reminiscent of Glenn Close in Dangerous Liaisons. "I want to see Mrs. Wells publicly flayed until her back resembles a lattice tart," she smiles, licking her lips.
A largely female creative team of producers, directors and writers leads Harlots. Slightly self-consciously, they made a lot of noise pre-transmission about providing a "whore's-eye view" of the world—thankfully, not in close-up—and "promising to show as much male nudity as female." (Though not yet; I counted.) Never mind the lack of bollocks. What they've produced is hugely enjoyable—if at times the tone is uneven. At one moment, we're granted a glimpse of the horrific antiquated condom owned by Quigley's lecherous son, Charles, at others, the visual delight of Jessica Brown Findlay as the older Wells daughter, Charlotte, who has only to stand vaguely within shot to be mesmerizing. It is Findlay who also provides the obligatory—for British television—link to Downton Abbey, where she played Lady Sybil Branson (née Crawley), the pretty daughter who disgraced herself by wearing pantaloons in public and marrying the chauffeur, only to die in childbirth of pre-eclampsia. (I am not joking.)
In the first episode, Wells is all set to sell off her youngest daughter to the highest bidder and move to an upmarket townhouse. Not if Quigley can help it: Behind the scenes, she's doing everything she can to shut down Wells's trade. But the showdown between the two madams at the playhouse where Emily's virginity is being auctioned is disappointingly brief. We are left wanting to see a lot more of Quigley's deludedly rarefied world, where she teaches her girls to talk about chamber music in French before getting down to les affaires. Wells's not ill-advised aim for her charges, on the other hand, is simply to be the best ride in London.
Moira Buffini, who adapted Jane Eyre beautifully for the cinema in 2011, has had a lot of fun with the dialogue, which manages to be rococo and Gothic at the same time. "When the time comes, I hope your quim splits," a prostitute says to a newbie. "You are the pineapple of Great Britain," a customer leers. "My husband loves the hymen," says the wife of another (easily the best line of the show, perhaps the best of any show this year). At times, the level of period detail in conversations is overwhelming, and even native Brits will struggle to follow all of the east London slang. But the only serious misstep is the music, composed by Rael Jones. His manic, modern soundtrack in the first half-hour is intrusive and more than a bit try-hard. Mercifully, in the second half, it calms down. The whores, however, show no such sign of acquiescence. "This city is made of our flesh. Every beam, every brick," growls Morton. "We'll have our piece of it." Something to look forward to.
Harlots begins on ITV Encore (U.K.) and Hulu (U.S.) on March 29.