Human hair bought in a specialist market in China, plastic rubbish fished out of the Atlantic, natural rubber tapped from trees in the Amazon—these materials are hardly typical of luxury design. But that has not stopped the London-based practice Studio Swine from making furniture out of them.
As its name is meant to suggest, Studio Swine—founded in 2011 by Azusa Murakami, a 32-year-old Japanese-born architect, and her 33-year-old British artist husband, Alex Groves—likes to subvert. "The word swine is not especially desirable or glamorous," Groves says. "Sometimes we think, Why couldn't we call ourselves something nice? But then we are interested in taking things and changing the perception of them."
Chief among the perceptions they want to change is how we all regard sustainability. Studio Swine aims to dust off the cardboard-and-self-flagellation reputation of sustainable design and turn it into something desirable, not just for the way it looks but in the way it's made. They'll be taking another step in that direction in early April, at Salone del Mobile, the gargantuan design festival held annually in Milan.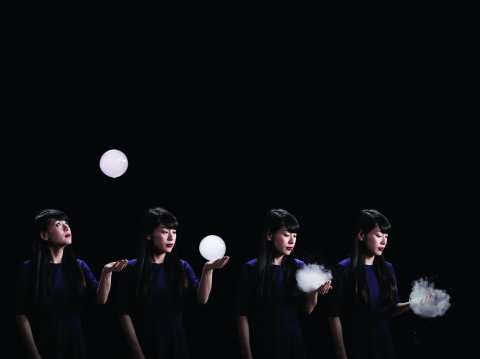 As part of clothes retailer COS's installation at the fair—in the past six years, its stand has become a favorite of the cognoscenti—the studio is using scaffolding poles to build a tree-like sculpture, titled New Spring , inside a decommissioned cinema. This tree will "blossom," as Groves and Murakami call it, with mist-filled bubbles that then float down around visitors, bursting when they contact human skin. It's typical of the studio's central principle: to create what Murakami calls "maximum effect with minimal resources."
Two weeks before they are due to ship their creation to Milan, Murakami and Groves are sitting in a fabrication unit under a railway arch in Peckham, south London. Despite the adventurous nature of their projects, the two are almost timid in conversation. Softly spoken and thoughtful, they answer questions reticently, looking to each other for support. They're articulate, but when they can't find the right words themselves, they quote others: Winston Churchill, Henry Ford. Even The New Yorker makes a showing.
They met at London's Royal College of Art, where they'd both enrolled for a master's in product design. It was a case, they say, of opposites attracting. "We wouldn't have sought each other out, that was the interesting thing," Groves says before Murakami interjects, "Our work was very, very different. But because we didn't come from a traditional design background, we both had a level of naïveté about what design could be."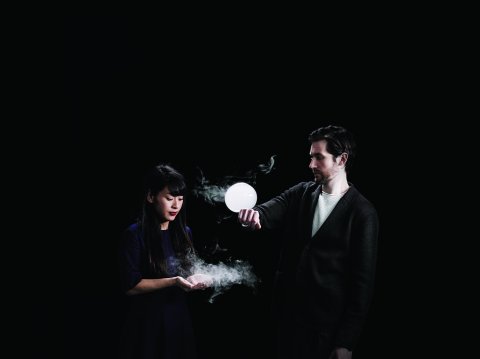 Perhaps because of this, Studio Swine's output is multilayered. For their graduation show in 2011, titled "Sea Chair," they collected plastic rubbish from a beach in Cornwall in southwest England, then melted and remolded it to produce three-legged stools. Their intention was that English trawlermen could make their own stools from plastic they pulled aboard in their nets.
As well as producing furniture for each of their projects—most of which can take more than a year of research, travel and manufacturing—they create films, printed matter and, occasionally, immersive spaces. "We love designing a world," Groves says. "In fact, we want to design the whole world. But that's not possible."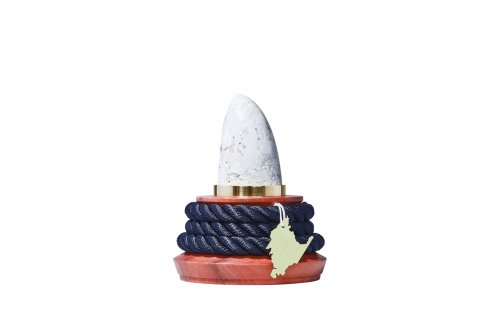 The most complete example of this is "Fordlandia," a project they showed at the London Design Festival in September 2016. The duo had spent over a year researching the history of an industrial town called Fordlandia, which was built in the late 1920s by American industrialist Henry Ford in the rubber-rich Brazilian rainforest and abandoned in 1934 after the development of synthetic rubber made it obsolete. Studio Swine questioned how the town might have developed had Ford's experiment been a success, and produced a set of furniture and a film on the subject. Inspired by Brazilian tropical modernism, the furniture collection was designed for the kind of home they imagined would exist in Fordlandia today, had Ford's project survived. For this collection, they developed a relatively environmentally friendly way of producing hardened rubber, which they used to make their furniture.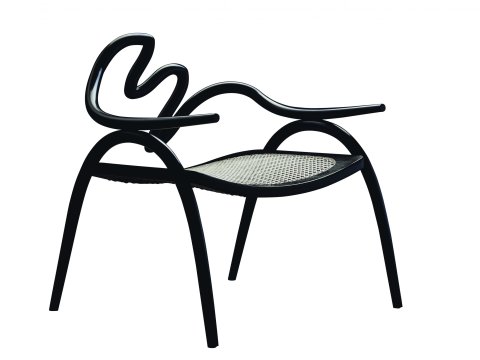 As a project, it was typical of both their magpie-like working process and their commitment to sexing-up sustainable design. "When we started in college, sustainability was very frumpy," Groves says. "But we realized it was vital that we address sustainability as designers. You can't carry on making new stuff." So they set about traveling the world to find new materials. In 2011, they made a series of five stools out of tin cans they picked off the streets in São Paulo, Brazil. In 2014, they took a boat from the Azores to the Canary Islands, passing through the North Atlantic Gyre, a revolving ocean current topped by what Groves describes as a "plastic soup" of floating detritus that covers thousands of square kilometers. They scooped up tiny fragments of this plastic in nets and used a solar extruder to turn it into a solid material; they then used this to make a set of sculptures for the London department store Selfridges.
That same year, they visited a market eight hours from Shanghai that sells human hair—China is the world's biggest hair exporter—and made a film examining what they called the modern-day version of the Silk Road, the old trading route between Asia and the West. Then they developed a tortoiseshell-like material that set hair in resin and used it to make a collection of Shanghai deco-style boxes, combs and dressing tables.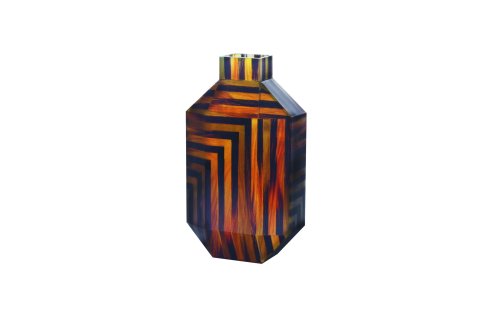 These projects are united not just by far-flung destinations but also by a ritzy aesthetic. "We've always felt that you can have sustainable things that are also very beautiful," says Groves. "If nobody wants it, then the world doesn't need it at all. Sustainability isn't a reason in itself."
Producing no more than is needed remains Studio Swine's central ethos, so much so that its pieces are typically one-offs. Selling does not seem to be the studio's chief concern: "We tend to avoid selling, which is bad. We don't really want to become slaves to the industry if it feels like it's going to take away from the freedom of what we do," Murakami says. That is all set to change as their reputation builds: The studio has recently paired up with the public-art agency FuturePace, and its first commission was a collection of seating for the public spaces at St. James's Market, a redevelopment of Lower Regent Street in central London. "It's perfect for us because the streets are a gallery without walls. It's what drew us into design—we love art in the public realm," Groves says. The way Studio Swine works is transforming sustainability and the luxury design industry, but it is time-consuming and expensive. Having "patronage"—as Groves calls the collaboration with COS—will enable them to finally show the world what they can do. "We've always tried to think big with our practice, but from a practical point of view, and when you are self-initiated, it's difficult to start at that scale of production. You won't get it off the ground," Murakami says. "You have to start somewhere, though—start at the beach collecting plastic and then eventually get to the North Atlantic Gyre." And then you take on the world.