"I'm in shock," says José Trinidad Baldenegro. "In despair."
On the phone from the city of Chihuahua in Mexico's arid north, he's telling me about his older brother, Isidro Baldenegro López, an activist and leader of the indigenous Tarahumara people. For years, Baldenegro had endured numerous threats as a result of his work protecting the country's ancient forests from illegal logging. But one stormy afternoon in January, standing by a goat pen outside his uncle's house in the village of Coloradas de la Virgen, Baldenegro was shot six times in the chest, stomach and legs. He died a few hours later.
His killing fits a deadly pattern across the region: Latin America is now the most dangerous place in the world for environmental activists, according to a 2016 report by Article 19, a British human rights group. More than 122 activists were killed in the region in 2015, one of the deadliest years on record, according to the most recent study from Global Witness, another nongovernmental organization.
Mexico has emerged as one of the most perilous countries in the region. Organized crime, state-sanctioned intimidation and near-total impunity have proved to be a hazardous and often deadly combination for the many activists trying to protect the country's natural resources. In January, Mexico's Center for Environmental Rights (CEMDA) released a report that documented 63 attacks against environmental activists in 2015 and 2016. However, this only included cases reported on by the media or other NGOs, so the number could be much higher.
The high rate of human rights abuses in Mexico has drawn increasing international attention: Baldenegro was killed while U.N. Special Rapporteur Michel Frost was in Mexico investigating attacks against activists. Still, the renewed global focus on the activists' plight doesn't mean the violence has waned. Baldenegro had been awarded the prestigious Goldman Environmental Prize in 2005 for his campaign to protect Mexico's ancient forests from illegal logging—the same work that led to his father's murder 30 years ago. His death came less than a year after the shooting death of Honduran activist Berta Cáceres, who received the Goldman prize in 2015. "It used to be that when you got to that level of awareness about your work, it gave you some measure of protection," says Article 19's David Banisar. "Now even that seems to be undermined. It's a good indication that things are getting worse."
The Mexican government has promised a full investigation of Baldenegro's killing. On March 8, authorities arrested Romeo Rubio Martínez, 21, the husband of one of Baldenegro's distant cousins, who claims he killed Baldenegro because of an old family quarrel. But Isela González, director of Alianza Sierra Madre, an organization that works with the Tarahumara to defend their land right, is skeptical. "We are urging authorities not to abandon the investigation into his environmental work which has resulted in so much violence, not just against Isidro but against many environmental activists," she says.
Giovanna Garrido Márquez, a subdirector of attention to appeal resources with Mexico's secretary of governance, says that the killing has "raised a huge red flag" and that her department will be holding a special meeting to discuss how to increase protections for environmental activists so that "Chihuahua can be a model for the rest of the country."
But for many, these measures have come too late. Two weeks after Baldenegro was killed, Juan Ontiveros Ramos, another Tarahumara leader, was found dead in the same region. Armed men had kidnapped him the day before, brutally beating members of his family during the attack. "It's incredibly painful," says González, who has received death threats herself and had known Ramos for 20 years. "He was very quiet and reserved. But he was an admired and distinguished person given a fundamental task: protecting his people."
Ramos was in charge of security for the Choréachi community and regularly took the 15-hour trip to the state capital so he could meet with authorities and discuss the challenges this indigenous group face, particularly organized crime. Known as "the Golden Triangle" for the intersection of Sinaloa, Durango and Chihuahua states, the region is a major heroin and marijuana production area for the Sinaloa cartel. The expansion of powerful cartels has brought traffickers into more close contact with local indigenous groups, and all too often the result is violence. According to González, Ramos had just returned from a meeting with state and federal authorities to discuss security and other matters before he was killed. "There's a dangerous cocktail of powerful landowners, sicarios [cartel hit men] and loggers," she says. "It's created a climate of terror."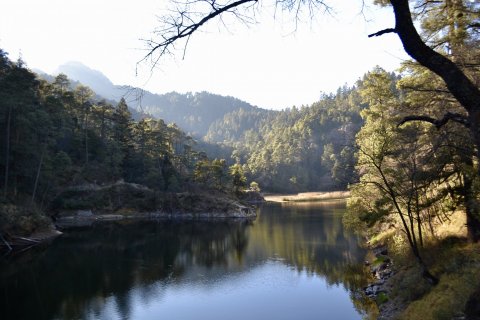 The deaths of Ramos and Baldenegro came as a shock to many environmentalists in Mexico, particularly indigenous leaders facing their own battles. "It's a deadly message to all defenders of environmental rights," says Mario Luna, a leader of the Yaqui tribe in the northern state of Sonora. Luna has been fighting the state government for years over control of the Yaqui River, which has sustained his tribe for centuries. In 2010, authorities began building an aqueduct to divert millions of liters of water from the river to the state capital of Hermosillo. According to Luna, he and his tribe were not even consulted—a common problem, analysts say, for indigenous groups. "Mexico is proud of its indigenous people in museums," says Astrid Puentes, co-executive director of the Interamerican Association for Environmental Defense (AIDA). "But they don't care at all about their real, living indigenous communities."
Luna and his fellow Yaquis sued the state government, but despite a Supreme Court decision in their favor in 2013, the aqueduct continued pumping water to Hermosillo. Luna and other members of the tribe organized protests, but in September 2014 he was arrested and taken to prison. "Like some kind of super-terrorist," says Luna.
A year later, the charges were thrown out and Luna was released, but by then the damage was done: The time and energy it took to free him hampered efforts to protect the river, and the aqueduct is still operating. The impact on the tribe, says Luna, has been devastating. After years of water exploitation, many of the tributaries that sustained Yaqui communities are drying up. He says up to 12,000 acres of agricultural land are now unusable. The effect on the tribe's spiritual practices, which revolve around the river, has been equally destructive. "They've killed the Yaqui River," Luna says. "Now they're killing Yaqui culture."
Luna is now under the protection of the Mechanism to Protect Human Rights Defenders and Journalists, created by President Enrique Peña Nieto in 2012. Everywhere he goes, Luna now carries a panic button, a GPS-enabled device to alert authorities in case of trouble, and he also has security cameras installed in his house. "But in the end," he says, "it gives you the feeling that they're watching you and not the bad guys."
For activists like Luna and others, the real problem lies in the government's failure to properly investigate crimes against environmentalists and bring those responsible to justice. "There is no political will," says AIDA's Puentes. "Here, it's a complete and murderous silence."
Ildefonso Zamora, a leader of the indigenous Tlahuica community, has been fighting to protect the lush forests that surround his home in San Juan Atzingo, 50 miles southwest of Mexico City, since 1998. After six years campaigning to stop illegal logging in the region, Mexico's federal attorney for environmental protection began investigating the issue. That's when the death threats started. "The loggers told me they were going to hit me where it most hurts," Zamora says.
On May 15, 2007, while Zamora's sons Aldo and Misael were surveying the forest looking for illegal loggers, they were surprised by armed men who fired at them several times. Aldo, 21, was killed—Misael, just 16 at the time, was badly hurt but survived. "It was an ambush," Misael says. "Everything was planned."
The killing drew national attention, and a few weeks later, Zamora was given the Ecological Merit Award by then-President Felipe Calderón, who promised that those responsible for his son's death would be brought to justice. Still, it took three years for two of the four suspects to be arrested. "The others are still unpunished," says Zamora.
Analysts say this kind of impunity is all too common. According to the Global Impunity Index, just 4.46 percent of crimes that get reported in Mexico result in convictions. "There's a dangerous cycle of impunity and corruption," says Márquez. "All too often, sentences aren't even carried out."
Even worse, activists say, is the government's complicity in acts of intimidation. According to CEMDA's report, 43 percent of the attacks carried out against environmentalists came from the authorities themselves. Márquez admits that this too is a serious issue. "Criminalizing human rights defenders does enormous damage," she says. "We need to recognize the work that they do as contributors to our democracy." She says her team is working on a publicity campaign on social and traditional media in support of activists, as well as holding meetings with state governors to investigate the problem and try to "restore confidence in authorities."
For Zamora, however, that confidence is long gone. Eight years after his son was killed, he was arrested by state police on charges of breaking and entering and theft. He was sent to the prison in Tenancingo, a place he calls "a rat's nest." It took nine months and a sustained campaign from both Amnesty International and Greenpeace to secure his release last year: A federal judge ruled that "his human right to a presumption of innocence was violated; there is no evidence against him."
Zamora says his arrest was part of a campaign to silence him and his campaign. "Behind all of this is the government," he says. "That's who we need to be afraid of." Those efforts have worked to a degree: After so many attacks, Zamora says, he's afraid to campaign as he used to. Still, he's resolved to continue the struggle. "The forest is a legacy given to us by our ancestors," he says. "It inspires me to keep fighting."
But back in Chihuahua, the future for communities like the Tarahumara and the forests they are trying to protect is more uncertain after so many years of violence and intimidation. For José Trinidad Baldenegro, his brother's killing remains an ominous warning. "Out here," he says, "no one is safe."